The latest coronavirus updates in football

BeSoccer
11 months ago
81.2k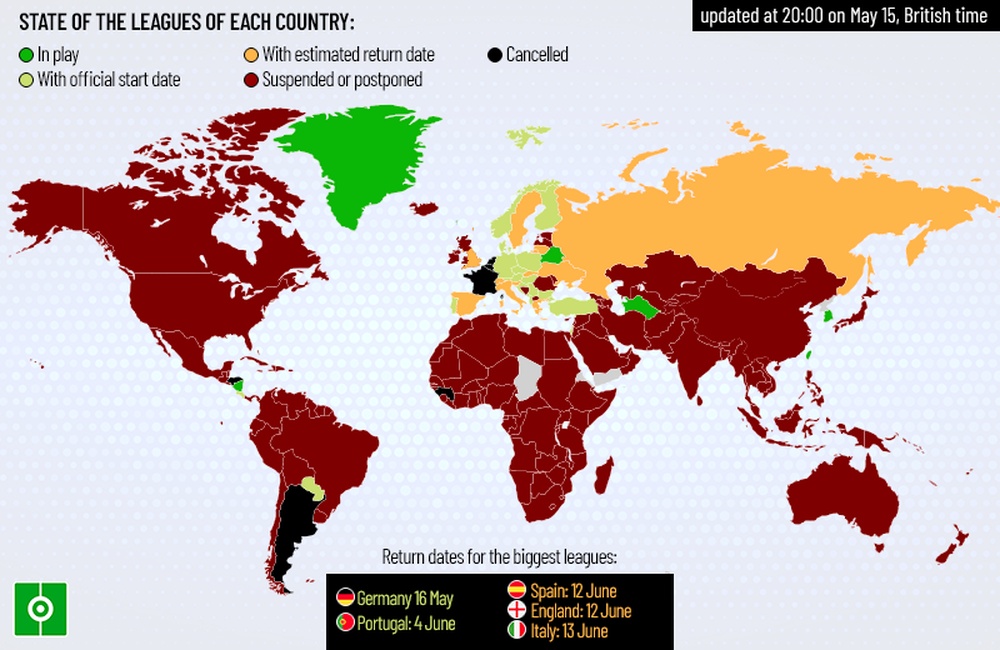 Coronavirus updates. BESOCCER
Monday 18th May
17:30 Everton return money to season ticket holders
The 'Toffees' confirmed that they will return the corresponding amount of the matches that are played behind closed doors to their season ticket holders.
15:00 Spanish clubs begin group training as La Liga eyes June restart
Spanish clubs began training in groups of 10 players on Monday, in line with health protocols, as La Liga takes another step towards the planned resumption of the coronavirus-hit season next month.
14:00 British government eyes mid-June Premier League return
Britain's Culture Secretary Oliver Dowden is hopeful the Premier League can resume by mid-June despite concerns raised by players and coaches over the need for an extended period of training before matches restart.
13:30 BREAKING: Celtic crowned Scottish Premiership champions
After an SPFL board meeting on Monday morning, Celtic have been officially announced as champions of Scotland for the 9th year in a row. Hearts will be relegated to the Scottish Championship after coming bottom. The season was decided on points per game.
13:00 Revolution that League Two and National League are planning
The coronavirus crisis is going to provoke big changes in many football leagues. League Two and the National League are already thinking about starting a revolution ahead of the next few seasons.
10:30 First victim of COVID-19 in Russia: Avangard Kursk quit 2nd division
The 2nd division side, who reached the Russian Cup final in 2018, assured that they can't stay in the 2nd division for economic reasons and confirmed that they will play in the 3rd division next season.
Sunday 17th May
18:00: Temperature checks, empty terraces for Union v Bayern
Union Berlin could normally expect their Alten Foersterei ground to be packed for the visit of defending Bundesliga champions Bayern Munich, yet the terraces stood empty on Sunday.
17:00: Argentina thinking of playing in north of country to avoid COVID-19
In Argentina they are looking for a quick solution to try and get the new Superliga Argentina season underway. Matias Lammens, the Minister for Tourism and Sport, has not ruled out all the games being played in the north of the country as there is little coronavirus there.
15:40: Two Osasuna players have antibodies against COVID-19
According to 'Diario de Navarra', two footballers from the first team, whose names have not been revealed, have had the coronavirus. However, they were asymptomatic and now have antibodies against the virus.
14:45: Premier League restart could be delayed
There will be a key meeting on this Monday, but the return of the English competition could be delayed by two weeks.
12:00: Supermarket or petrol station more dangerous than football, says Bruce
Newcastle manager Steve Bruce believes going to the supermarket or petrol station could pose a greater a risk of coronavirus than a return to football given the strict measures put in place to protect players.
11:15: La Liga clubs given permission to expand into group training
La Liga have told clubs they will be able to increase training to involve groups of up to 10 players on Monday as teams take another step towards the planned resumption of the season next month.
10: The team that threatened the resumption of the Bundesliga returns
It's Köln's turn to return to football. However, just a few weeks ago, the team almost threatened the resumption of German competition when three members tested positive.
La Liga have told clubs they will be able to increase training to involve groups of up to 10 players on Monday as teams take another step towards the planned resumption of the season next month.
Saturday 16th May
21:30: No punishment for Boyata after kissing Hertha teammate
Hertha Berlin player won't be punished for hugging and kissing as they enjoyed a much-needed victory when German football resumed on Saturday, the Bundesliga confirmed after the match.
20:00 Farfán tests positive for coronavirus
Lokomotiv president, Anatoli Mescheriakov, publically confirmed that Jefferson Farfán has contracted the coronavirus and is now separated from the squad.
14:00 Colombian league to train in June and play in August
Colombian football is trying to recover from the COVID-19 pandemic. Still confined without training, a meeting between the government and Acolfutpro brought the return closer.
Friday 15th May
23:15 Football with fans returns to the Faroe Islands
In the Faroe Islands, COVID-19 seems controlled. So much so that the Federation has given the green light to the presence of fans in the stand. However, with restrictions.
22:00 League-by-league guide to the return of football around Europe
As the German Bundesliga this weekend becomes the first major European league to resume following the two-month coronavirus shutdown, AFP Sport casts a glance at the situation in countries across the continent.
21:00 OFFICIAL: Belgian league declared over and Club Brugge announced as champions
The General Assembly of the Belgian Professional Football League decided to call the season to a halt on Friday and proclaim Club Brugge as champions, who were top of the league before the break. Waasland Beveren. who were bottom, will go down. The 2020-21 season will still have 16 teams, but with a shorter playoff for the title.
19:30 Werder Bremen put player in quarantine hours before Bundesliga returns
Werder Bremen have had to isolate a player and put him in quarantine after a person close to him tested positive for the coronavirus. The player, despite testing negative at the time, has also been separated.
16:15 Russian football now has return date
Bit by bit, the dates in which football will return around the world are being known. Russia were one of the latest countries to say when a ball will be kicked again: in the middle of June.
16:00 PSG and Lyon could play a tournament in Qatar
PSG and Lyon will have to play their Champions League last 16 matches, so they could play a tournament alongside Saint-Étienne and Lille in Qatar.
12:00:"If they don't make it to the end of the season in Germany, who will?"
Real Madrid's Toni Kroos will not miss out on any details of what happens in the Bundesliga. The German believes that his compatriots have handled the COVID-19 best and are a mirror in which to look at themselves. He told 'DPA' that if "they are not able to finish the Bundesliga, nobody else will."
11:35:"My father has asthma, if the PL comes back and I get covid..."
Chelsea's Tammy Abraham has publicly acknowledged his fear that the return of the Premiership is premature. The footballer's father suffers from asthma and is therefore highly vulnerable. If at any point Abraham were to catch the virus, his family would be exposed.
11:15:UEFA to ratify Champions League dates on 27 May
The Champions will return, almost certainly, on August 7, says 'Marca'. UEFA has scheduled a meeting on 27 May and will finally decide the dates for the return of the top European competition.
9:15: Toothpaste trip sidelines Augsburg coach from Bundesliga restart
Augsburg coach Heiko Herrlich will have to sit out the Bundesliga resumption this weekend after breaking quarantine rules to go and buy a tube of toothpaste.
Thursday 14th May
23:30:PL contracts may be extended past June 30
The Premier League issued a statement in which it made it official that clubs may, in agreement with the players, extend the contracts that end on June 30 so that they can finish the season in the same team in which they started it.
23:00: The government approves Premier League start in June
Oliver Dowden, Britain's Secretary of State for Culture and Sport, said Thursday that the resumption of the Premier League in June is feasible. "We agree that it will only go ahead if it is safe and healthy," he said after a meeting with the police and the English Federation.
22:40: Barzagli leaves Juve for family reasons
Andrea Barzagli, who was part of Sarri's coaching staff at Juventus, announced his departure from the club, citing "family reasons". "I've made a decision for my life. It was a decision made from the heart," said the former centre-half.
22:20: Leipzig planning limited-contact goal celebrations, says Nagelsmann
Julian Nagelsmann says his RB Leipzig squad is working on specially-modified goal celebrations that comply with the strict hygiene guidelines for the restart of the Bundesliga this weekend.
20:30: Debate swirls around adding Africa Cup of Nations to list of postponements
The Africa Cup of Nations is the latest international sports event to become embroiled in a debate about rescheduling in the fallout from the coronavirus pandemic.
19:00: OFFICIAL: Bundesliga approves five changes per game measure
The DFL (German Football League) has explained the changes agreed by the 36 First and Second Division clubs for the return to football. Five changes can be made and there will be relegations because the season is coming to an end.
18:45:German doctor warns footballers of 'irreversible' damage from coronavirus
Despite rigid hygiene guidelines for the restart of the Bundesliga this weekend, a leading German sports doctor has warned footballers are still at risk of suffering "irreversible" and potentially career-ending lung damage from the coronavirus.
16:20: Serie A could return 13th June
The Lega Calcio Assembly announced that the Serie A could return on 13th June, after the words of Italy's Minister of Sport, Vincenzo Spadafora, confirming that from 18th May it will be possible for clubs to train at their facilities.
15:00: Barcelona to lose more money than they thought
COVID-19 will hit clubs' finances very hard. According to 'La Vanguardia', Barcelona will lose millions of euros more than what they had predicted.
14:00: Mourinho denies asking for Premier League delay
Tottenham manager Jose Mourinho says he is "desperate" for the return of Premier League action despite mounting concerns about the English top-flight's restart plans.
13:15: Brighton's Murray fears PL 'rush' to restart
Brighton striker Glenn Murray fears Premier League football is being rushed back too soon, with death rates from coronavirus still stubbornly high in the worst-hit country in Europe.
11:30: PL's Project Restart could be delayed
The Premier League could start later than expected. The aim was to start on 12th June, but the coaches want more time to prepare and the players fear they are being rushed back into action. 'The Guardian' says that the start of the season could be delayed by a week.
Wednesday 13th May
23:10: Dembélé tests negative, trains at Barca's grounds
Ousmane Dembélé returned to the Barcelona's training grounds after a few months away. Although the club did not expressly report that he tested negative for coronavirus, seeing him there after the test made it clear. The Frenchman dreams of reappearing in the Champions League.
21:15:The new normal: socially-distanced buses and elbow bumps
Players arriving in several sparsely-populated team buses, substitutes wearing masks and goal celebrations limited to elbow bumps -- when German football returns to the pitch this weekend, it will have to follow a draconian set of guidelines.
19:00: Police chief fears 'legislation' only way to stop fans gathering
Greater Manchester's Police (GMP) chief has warned legislation could be the only way to stop fans gathering outside stadiums if the Premier League restarts amid the coronavirus pandemic.
18:30: Austria's Bundesliga to resume June 2
Austria's Bundesliga will restart its season on June 2, after more than two months on hold due to the coronavirus pandemic, the league said on Wednesday.
17:15 Serie A could return 13th June
The Lega Calcio Assembly announced that the Serie A could return on 13th June, after the words of Italy's Minister of Sport, Vincenzo Spadafora, confirming that from 18th May it will be possible for clubs to train at their facilities.
14:15 Hodgson has no fears over Premier League return despite virus
Crystal Palace manager Roy Hodgson is ready to take part in the Premier League's proposed restart during the coronavirus crisis despite being in the vulnerable age group.
13:15 Scrap promotion if Championship season cannot finish, says Norwich chief
Norwich sporting director Stuart Webber says promotion to the Premier League should be scrapped if the Championship season is not completed due to the coronavirus pandemic.
13:00 Portuguese league to return on 4th June
Slight delay in the return to competition in Portugal. La Liga NOS will resume on 4th June, not on 30th June as was originally stipulated.
12:00 Rabiot set to return to Juventus, laughs off 'strike' claim
Juventus's French midfielder Adrien Rabiot reacted with irony on Wednesday to reports his delay in returning to Turin was because he was on "strike" in protest at the club cutting wages amid the coronavirus pandemic.
10:15 MLS, to Disney World to orchestrate the return
The teams will gather in Florida to prepare a safe return to the MLS.
09:30 Quarantine puts Champions League in jeopardy
On Tuesday, the Spanish government brought to light that everyone who travels from outside Spain will have to be quarantined for 14 days, which clashes with the Champions League plans.
09:00 FIFA cancels 'The Best' awards
FIFA have decided to cancel the 2020 'The Best' awards ceremony. The trophy remains with no winner this year and Messi will continue to be the reigning champion.
Tuesday 12th May
23:00 Cáceres, one of the positives at Fiorentina
Fiorentina informed that the coronavirus test left 6 positives. Three of them are players and it has been revealed that one of them is Martín Cáceres.
22:30 Czech league to return on 23rd May
There is now a date set for the return of the Czech Republican league. After the meeting of clubs, it was agreed that the top flight will return on the weekend of 23rd May. The 2nd tier will do so one week later.
21:30 'Daily Mail': Premier League players refuse to train for fear of COVID-19
The Premier League may return in June. However, according to the 'Daily Mail', it's not so clear that it's like that. Some big stars of the English competition have reportedly told their clubs that they aren't considering training for fear of the coronavirus.
20:00 "What Neymar does in his life isn't criminal"
Dani Alves has come out to defend Neymar from the criticism he receives because of his private life and insisted to the player to concentrate on the football side of things and to give results on the pitch.
18:20 Rangers bid for SPFL investigation fails
Rangers' attempt to force an independent investigation into the Scottish Professional Football League (SPFL) has failed after clubs voted against an inquiry at an extraordinary general meeting on Tuesday.
18:00 Witsel and Can miss Bundesliga restart after quitting quarantine
Former Liverpool star Emre Can and Belgian international Axel Witsel will miss Borussia Dortmund's derby with Schalke 04 on Saturday as German football makes a tentative return.
16:30 Now talk of fourth Famalicao infected with COVID-19
Famalicao could have a fourth player infected by COVID-19. If that is the case, the Portuguese side would now have 2 members of staff and up to 4 players infected by COVID-19, bringing the number of infections to 6.
16:15: Women's Under-17 World Cup postponed to 2021
The women's Under-17 World Cup, due to be held in India in November, has been postponed for three months, FIFA said Tuesday, adding to a growing list of sporting events hit by the pandemic.
13:30: PL braced for TV losses as player protests increase
Premier League clubs face having to pay a huge refund to broadcasters even if they manage to complete the coronavirus-disrupted season behind closed doors.
13:00: Ibra returns to Milan and will have to quarantine
Ibrahimovic is now in Milan. The Swedish striker landed in Italy on Monday night and went straight to his home. He will have to spend two weeks in quarantine. in accordance with Italy's rules on those arriving from abroad.
11:30: "I don't give a f**k about the nation's morale, people's lives are at risk!"
Danny Rose is completely against football returning in England. The English defender accused the Government of wanting to raise people's morale by bringing back football without thinking of the players.
9:30: Atletico to cut annual budget by 100 to 200 million euros
The economic crisis caused by the COVID-19 stoppage will leave its mark on Atletico Madrid's coffers. 'AS' estimates that 'Los Colchoneros' will have to reduce next year's budget by between 100 and 200 million euros.
Monday 11th May
23:40 Cagliari players give up month's salary to avoid team layoffs
Italian top-flight club Cagliari announced on Monday that their first-team squad have agreed to forego their salaries for the month of April.
22:30 Lyon women awarded French title, 14th in a row
French women's football giants Lyon will be declared league champions for the 2019-20 campaign, collecting the title for the 14th consecutive year after the season was ended by the coronavirus pandemic.
21:30 Serie A set for team training on May 18 with adjusted protocol
Serie A clubs can return to team training from May 18 if they make adjustments to medical protocols, the Italian government announced on Monday.
20:30 Until when will Premier League matches be played behind closed doors?
In England, they are clear that until it's safe, there will be no fans in the stands. According to 'Mirror', the authorities plan to keep football behind closed doors until there is a vaccine against COVID-19.
20:00 Messi donates half a million euros to face COVID-19
Leo Messi donated, through the Lionel Messi Foundation, 500,000 euros to Argentinean hospitals for the purchase of "protective supplies for health professionals" to "face the pandemic", according to the Garrahan Foundation on Monday.
18:30 DFB-Pokal now has return date
This weekend the Bundesliga will resume, bu the German cup, the so-called DFB Pokal, will also finish on the park. The semifinals will be played at the start of June, and the final on July 4th.
18:00 Norwegian league to return on 16th June
Another competition that now has a return date. The Norwegian government has given the green light for the competition to return on 16th June.
16:15 BREAKING: Premier League could resume from 1st June
Elite sport in England could start behind closed doors from 1st June, according to government guidelines published on Monday, boosting Premier League clubs' hopes of completing their season.
14:30: Benfica's Tavares tests positive for coronavirus, club confirm
Portugal's reigning champions Benfica have confirmed that midfielder David Tavares tested positive for coronavirus on Friday, taking the tally for positive cases to at least eight players in Primeira Liga.
12:15: Real Madrid return to training at Valdebebas after 60 days
Real Madrid have come back to Valdebebas after 60 days. The team have begun individual training this Monday in groups of four people.
9:30: Division threatens Premier League's chances of resumption
Warring Premier League clubs will meet on Monday with tensions mounting over the divisive 'Project Restart' plan to finish the season amid the coronavirus crisis.
Sunday 10th May
23:00 1 positive in Benfica squad and 3 at Famalicao
After knowing of the 3 positives at Vitória de Guimaraes, Sunday continued to bring bad news in that regard. Benfica player David Tavares is also infected with the coronavirus, and Famalicao reported five cases, three of them involving players whose identity they wanted to preserve.
20:30 European leagues move at different speeds toward restart
As European leagues prepare to return from the enforced coronavirus break, screening tests are revealing cases in various championships, although, as yet, not calling into question plans to resume playing.
20:00 Brugge suggest 18 league team with no promotions or relegations
The proposal that Brugge have sent to the league and the rest of the clubs will be studied in detail at the next General Assembly. The Belgian leaders have proposed a competition formed of 18 teams, in which no side goes down, but the 2 scheduled promotion spots are maintained.
19:00 The image of hope: football in Shanghai bars without masks
The South Korean league continued with matchday 1 on Sunday with the match between Pohang Steelers and Busan I Park, a match which was already able to be enjoyed in bars.
17:00 UEFA deny that there's now dates for the Champions League
'La Gazzetta dello Sport' explained that the date of 7th August, which had been spoken about by Jean-Michel Aulas, is only one of the options considered.
16:30 The strange conditions in which Albanian football could return
The government and the Federation are speculating as 31st May as a possible return date of the competition, although football will return with some conditions different to the rest of Europe.
16:00 La Liga inform clubs that football will return 12th June
Spanish football now has a date marked in red on the calendar. It is the 12th June, the day in which La Liga intends to resume the championship. They have reportedly already advised clubs of the good news.
15:00: OFFICIAL: LaLiga confirms five players have tested positive
LaLiga has confirmed through an official statement that five players have tested positive for coronavirus. These are players from the First and Second Division.
12:15: Brighton confirms third COVID-19 positive case
Brighton & Hove Albion CEO Paul Barber confirmed in a statement to 'Sky Sports' the third positive coronavirus of a player of the team. A new case of COVID-19 that could put the return of the Premier League at risk.
9:30: Possible dates to conclude the Champions League
Jean-Michel Aulas revealed that Juventus-Olympique de Lyon will take place behind closed doors on August 7 and speculation began about the Champions League completion schedule.
Saturday 9th May
23:00 Now talk of possible cancellation of League 1 and League 2
In England, they have now started to talk about the definitive cancellation of League One and League Two, due to the impossibility of safely playing the rest of the matches because of COVID-19. They would follow the steps of the French leagues.
22:15 Bundesliga restart blow as Dresden squad placed in 14-day quarantine
Dynamo Dresden placed their entire squad into a 14-day quarantine on Saturday, just a week from the restart of the Bundesliga season, after the club reported two more cases of coronavirus.
21:15 Milan contradict Scaroni and assure that there are no positive cases
Just 24 hours after Milan president, Paolo Scaroni, assured that there were more coronavirus cases in the team, the Italian outfit themselves have denied publishing the COVID-19 test results.
21:00 Double negative from Wu Lei in coronavirus test
Espanyol midfielder, Wu Lei, is now fully recovered from the coronavirus after giving 2 negatives in the tests he underwent on 28th April and 7th May. He has now developed antibodies.
20:15: Dybala returns to training after overcoming COVID-19
Paulo Dybala is gradually returning to normality. After confirming that Juventus have now recovered from the coronavirus, the Argentine has been able to train with the rest of his teammates.
19.45: La Liga: Tests 48 hours before game and temperature check
Details of LaLiga's protocol are gradually being revealed. They include the tests for the players and what to do if someone tests positive prior to a match.
19:00 Maracaná to open as field hospital
The Maracaná stadium will open its doors to become a huge field hospital in which the thousands of people infected by COVID-19 in Rio de Janeiro can be attended to.
18:00 Besiktas confirm 2 positives
3 days after it was announced that the Turkish league would continue from 12th June, Besiktas alerted of 2 positive cases in the club. It's a player whose identity they wanted to protect and a member of the medical staff.
16:15 Brazil registers worst day of deaths... and Bolsonaro asks for return of football
Brazil is suffering the COVID-19 health crisis. It is the South American country with the highest death toll and they still haven't reached the peak of infections, while the country's president, Jair Bolsonaro, is asking for the return of football.
16:00 No fear of returning in Faroe Islands
Pedro Tarancón, who plays for Argja Bóltfelag, spoke about the conditions in which football in the Faroe Islands is returning this weekend.
14:55: 'Ideal': Yangel Herrera is third La Liga player with coronavirus
Granada returned to training this Saturday after almost two months of inactivity due to the COVID-19 crisis, but one player was missing. 'Ideal' reports that the third La Liga player to test positive for COVID-19 is Yangel Herrera of Granada.
13:30: Is this confirmation by Atletico that Lodi has COVID-19?
This Friday it was revealed in the Brazilian media that Renan Lodi was one of the La Liga footballers to test positive for COVID-19. Although Atletico Madrid have not confirmed it officially, they have hinted at it.
13:15: Barca players, at 45% of their best physical condition
Barcelona's physical trainers already have the results of the tests carried out on the field this Friday. The footballers are at 40-45% of their best physical capacity.
11:45: "Setting a date for LaLiga is too daring"
David Aganzo, president of the Spanish Footballers' Association (AFE) acknowledged that setting a specific date for the resumption of the competition "right now would be too daring".
8:30: Pandemic stopped Real Madrid signing Camavinga
Real Madrid are clear they want Eduardo Camavinga, the Rennes player. 'Marca' says that Real Madrid believe that, if it had not been for the health crisis, the young talent who has caught everyone's eye in Ligue 1, would now be a Real player.
Friday 8th May
23:00: AC Milan president: some players recovering from COVID-19
AC Milan president Paolo Scaroni revealed on Friday that some of his squad members were still recovering from coronavirus.
20:30: Barca return to training as La Liga aim to restart in June
Barcelona returned to training on Friday after the La Liga champions allowed their stars to enter their facility to prepare for a potential restart to football in Spain.
19:00: 'Globoesporte': Lodi tests positive for coronavirus
According to the Brazilian paper, one of the two players to test positive for COVID-19 is Atletico's Renan Lodi. He apparently presented symptoms of the virus back in March. The player no longer has symptoms and he is in quarantine in his home. There has been no officilal confirmation from the club or the player.
17:15 Gremio detect 3 positive COVID-19 cases
The Brazilian club informed through an official statement that the tests have left 3 positives for coronavirus. One of them corresponds to the player Diego Souza.
16:45: Inter, AC Milan back training after two-month lockdown
Italian football giants Inter Milan and AC Milan were both back training Friday two months after a strict lockdown which has hit the northern Italian city hard.
14:15 Man City's Walker says he is being 'harassed' after admitting lockdown breaches
Manchester City's Kyle Walker says he is being "harassed" after admitting he breached coronavirus lockdown rules to visit his sister and parents.
13:45 Real Madrid to start training on Monday
The new normality starts on Monday 11th May for Real Madrid. The club announced that that is the date chosen for the first training sessions and let it be known that the tests didn't leave any positives at the club.
12:45 Chinese Super League could kick off without foreign stars
The coronavirus-delayed Chinese Super League could kick off next month but without some leading foreign stars including Paulinho and Marko Arnautovic, the country's football president has warned.
12:00 La Liga deny football to return on 20th June
After Leganés manager, Javier Aguirre, assured that La Liga was going to return on 20th June, a report from Ramón Fuentes in 'Sport' alluded to La Liga sources denying it.
11:15 Danish government give green light for football to return on 29th May
Danish Prime Minister, Mette Frederiksen, deployed the countries' new de-escalation measures, which include the authorisation of sporting events to take place behind closed doors. The league's idea to return on 29th May is now feasible.
11:00 South Korean football kicks off with new audience, safety measures
South Korean football will reach new international TV audiences as it leads the way by restarting after the coronavirus on Friday, but there will be no crowds or wild goal celebrations -- and even talking is discouraged.
10:30 'RAC1': first tests leave 5 positive cases in La Liga
'RAC1' said early on Friday morning that La Liga bosses have already detected 5 positive cases in the tests that have been carried out amongst the teams the last few days. Three of them are reportedly in Primera Divsión, and the other 2 in Segunda División.
Thursday 7th May
23.45: Barca players to undergo speed and strength tests on first day
Barcelona's players will return to individual training this Friday. The session will involve tests on their speed and strength.
22.45: La Liga return: dates and protocol if anyone tests positive
LaLiga are preparing for football to return next month. While some clubs will resume training this Friday, the league are looking at a list of dates for matches and a detailed protocol if someone tests positive for COVID-19.
21:30: Four Sampdoria, three Fiorentina players have COVID-19
Four Sampdoria players, including one who had previously recovered, and three from Fiorentina have tested positive for coronavirus, the two Serie A clubs announced on Thursday.
18.05: Sheff Utd's Wilder to not pressure players who do not want to play
Sheffield United manager Chris Wilder said Thursday that he will not pressure any of his players to return to action if they are wary of health risks when the Premier League gets the green light to resume.
17:55: Portuguese football to return amid uncertain future
Portuguese football is due to resume at the end of the month as the country's relatively low number of coronavirus infections may allow Primeira Liga to make a swifter return than some of its European neighbours.
17:45 Tunisian league to return in July
The Minister of Youth and Sports, Ahmed Gaaloul, announced that training and professional sports activity will resume in Tunisia from 24th May after a suspension of more than 2 months because of the coronavirus.
17:30: Bundesliga on 'probation': DFL boss
The head of the German football League (DFL) on Thursday warned clubs they are "on probation" and must implement strict hygiene measures when the Bundesliga restarts in nine days' time.
17:00 Premier League planning to have fans back from October
England are looking for new formulas to return to normality in the world of football. Without knowing if the current campaign will be played yet, the Premier League are already planning to have fans back from October.
16:30 SPFL says no evidence of wrongdoing as Rangers release dossier
Rangers said they would "not be bullied into silence" as they released a dossier Thursday to support their case for an independent investigation into the handling of a controversial vote on ending the Scottish season.
14:15 OFFICIAL: Bundesliga to return on 16th May
Christian Seifert, president of the German Football League (DFL), confirmed in a press conference that both the Bundesliga and the German 2nd division will return on Saturday 16th May.
13:00 Italy decides fate of suspended football season
The fate of the Serie A championship hung in the balance Thursday as state scientists huddled with football bosses in a desperate effort to save the pandemic-interrupted season.
11:00 Inter Miami among MLS clubs making careful return to training
David Beckham's Major League Soccer team made a welcome return to training on Wednesday even if a raft of coronavirus protocols brutally laid bare the problems of battling a global pandemic and resuming normal service.
10:30 The 3 classic football gestures that Premier League want to ban
In England, they are working hard on the new health protocol that gives the all-clear to resuming the Premier League. According to 'The Telegraph', 3 gestures very much rooted in football are being considered getting banned, such as goal celebrations, swapping shirts, and spitting.
10:00 Flamengo detect 38 coronavirus cases!
The Brazilian club informed through an official statement of the number of tests carried out and the number of positives they had, although there are some asymptomatics.
9:30 CONCACAF chief eyes World Cup qualifying overhaul
CONCACAF chief Victor Montagliani said Wednesday the disruption caused by the coronavirus pandemic would likely force changes to the structure of the region's qualifying competition for the 2022 World Cup.
Wednesday 6th May
23:15 'Bild': Bundesliga to resume on 15th May
The return of the Bundesliga is on the brink of being made official. The German newspaper 'Bild' has leaked that the Bundesliga will resume on 15th May.
23:00 Majority of Liverpool fans don't think Atlético fans spread COVID-19 in Liverpool
The majority of Liverpool fans have cleared the Atlético ones of spreading COVID-19 in the Merseyside city, in the Champions League last 16 2nd leg, a controversial encounter.
22:30 Day 1 of the new normality in Madrid
Real Madrid were one the teams that underwent the COVID-19 tests on Wednesday. 'AS' spoke with a club source who explained how the return to the pitch was experienced. There are mixed feelings at Madrid.
20:30 Finnish league to start 1st July
The Finnish authorities confirmed what was already planned, that the 2020 season will finally start on 1st July in the Nordic country.
20:00 Torino player tests positive for coronavirus
Torino have informed that a player from their squad has tested positive after undergoing the coronavirus test. The player, whose identity hasn't been revealed, is asymptomatic and has been placed in quarantine.
19:30 Football set to allow five substitutions in 'temporary' response to virus suspension
Football's lawmakers are this week set to announce a "temporary" change to the laws of the sport allowing teams to make up to five substitutions in games when the sport resumes after the coronavirus-induced suspension.
19:00 German football has 'enormous responsibility' says Neuer
Germany captain Manuel Neuer says Bundesliga footballers have an "enormous responsibility" after the league was given permission on Wednesday to restart from mid May.
18:45 BREAKING: Dybala recovers from coronavirus
Juventus confirmed that the striker has now overcome the coronavirus and will be able to come out of isolation. He tested negative in a new test.
18:30 Premier League managers ask to play at neutral venue
The Premier League Managers Association is clear that, if the competition returns, all matches still to be played should be played at a neutral venue.
18:10 PSG donate further 100,000 euros to COVID-19 fight
The coronavirus is still here and PSG are going to keep the fight going until the end. The French side donated an additional 100,000 euros for the purchase of protective equipment to stop the disease.
18:05: Kalou handshake video 'shocked' German politicians
A video of Hertha Berlin forward Salomon Kalou shaking hands with his team-mates "shocked" key German politicians, who are set to decide Wednesday whether the Bundesliga can resume next month.
17:30 Test results to be made known in 2 days
All Primera and Segunda División players are undergoing the coronavirus tests. The results, if everything goes according to plan, should come back in 2 days. From that moment, they will be able to start training, according to 'AS'.
17:00 Dyche says Burnley back 'safe' return of Premier League
Burnley manager Sean Dyche says his team are willing to finish the Premier League season as long as the return to action can be handled safely.
16:00 Government prohibits competitions before 31st July in Belgium and league to be cancelled
Although it hasn't been confirmed, the Belgian league will be cancelled amidst the latest measures taken by the government.
15:30: Barcelona, Real Madrid and Atletico players begin virus testing
Players at Barcelona and Real Madrid started to undergo coronavirus tests on Wednesday as La Liga clubs planned to return to restricted training ahead of the proposed resumption of the season next month.
14:15: PSG dedcate their 9th title in Ligue 1 to healthcare staff
Paris Saint-Germain won the 9th Champion title in his history and dedicated it to all the frontline workers and healthcare staff.
12:00: Germany to give green light to restart football in May
The German government and state leaders are set Wednesday to give the Bundesliga the green light to restart behind closed doors in May after weeks of shutdown imposed to control the spread of the coronavirus, according to a draft government agreement seen by AFP.
9:30: No talking or goal celebrations as S. Korea reboots virus-hit football
South Korea's football season kicks off on Friday after a two-month coronavirus delay, leading the way for the global game as other leagues strive to return to action.
Tuesday 5th May
19:30: Eibar players and staff fear fresh outbreak from La Liga restart
Players and coaching staff of La Liga outfit Eibar said on Tuesday they are afraid that restarting competitive matches could contribute to a fresh outbreak of the coronavirus in Spain.
14:45: Palace chief Parish fears PL damage over virus
Crystal Palace chairman Steve Parish fears Premier League clubs will suffer the same "doomsday scenario" as struggling airlines unless the top-flight returns soon.
13.45: German health minister backs Bundesliga restart and slams Kalou
Germany's health minister has backed the Bundesliga's plan to resume in 10 days time with final approval on the league's return due on Wednesday.
13:00: Serie A decision to be made at end of May, Government want it completed
The Sports Minister Vincenzo Spadafora confirmed in an interview with 'Corriere della Sera' that there is still time to decide what to do with the Italian championship. He said he did not want the Italian league to go the same way as France.
11:15: Bundesliga to resume on 15th May
Subject to official confirmation, 'Reuters' confirmed that Angela Merkel will approve the Bundesliga's plan to return to action and the German league will resume in 10 days time.
9:30: Ronaldo arrives back in Turin following COVID-19 lockdown
Juventus star Cristiano Ronaldo flew back to Italy on Monday after almost two months in coronavirus lockdown in his native Portugal.
Monday 4th May
23:45: Ronaldo awaited as Serie A gets back training amid doubts
Cristiano Ronaldo has been recalled from Portugal as Serie A clubs get back to individual training on Monday after a two-month coronavirus lockdown, but doubts remain over whether the championship can return.
22:30: Ex-Chelsea forward Kalou suspended for handshake video
Former Chelsea attacker Salomon Kalou has been suspended by German club Hertha Berlin after posting a video showing him flaunting coronavirus social distancing rules by shaking hands with teammates.
20:00: Spain's La Liga eyes June restart date
La Liga announced on Monday it planned to restart the Spanish league campaign in June after more than two months without games due to the coronavirus pandemic.
17:55: Real Madrid to discuss when to return to training
This Monday is a key day for Real Madrid. According to 'Mundo Deportivo', the club have met to talk about how and when the return to training will take place.
16:45: 10 cases of COVID-19 at German clubs
The DFL announced that ten people had tested positive for COVID-19 in the tests they did on all 36 Bundesliga and Bundesliga 2 clubs. That is 0.58% of all those tested.
14:55: Proposed Premier League and CL dates revealed
'The Times' mentioned this Monday the Premier League's proposed dates to return to football. The matches would be between 12th June and 27th July and the Champions League would return on 9th August.
13:45: Lloris wants Premier League season to be completed
Hugo Lloris believes that ending the English Premier League season without declaring Liverpool champions would be "cruel", but the Tottenham captain wants the final table decided on the field.
12:30: English FA not expecting fans to return 'any time soon'
English Football Association chairman Greg Clarke does not believe fans will be allowed into stadiums "any time soon" and has warned that the coronavirus crisis could cost the governing body £300 million ($373 million).
Sunday 3rd May
17:40: Italy gives Serie A clubs hope with training ruling
Italy offered Serie A clubs a glimmer of hope on Sunday after it said footballers could take part in individual training sessions as the strictest coronavirus lockdown measures begin to ease.
14:15: De Bruyne: Premier League season will be completed
Manchester City midfielder Kevin De Bruyne believes the Premier League season will be finished despite the coronavirus pandemic "because the financial aspect is far too important".
12:00: Bundesliga players not happy with how positive corona cases are being dealt with
Birger Verstraete, the Cologne midfielder, expressed his opinion on the decision made by the club and the authorities to not quarantien the whole of the Cologne sqaud aftert three players tested positive for coronavirus.
11:30: Newcastle to return to training next week
Newcastle's squad have been asked to come back next week to return to training with safety measures in place due to the coronavirus.
Saturday 2nd May
23:00 Brazilian government give all clear to return of football
Despite Brazil suffering the hard effects of the COVID-19 pandemic, without reaching the peak of infections, Jair Bolsonaro gave the all-clear to resume football.
22:30 MLS to return to training from 6th May
The plan to return to normality in the MLS is starting to be defined. From 6th May, players will be able to return to individual training at the clubs' facilities.
21:30 Brighton chief's 'integrity' fears in neutral venues plan
Brighton chief executive Paul Barber fears plans to complete the Premier League season at neutral venues could have a "material effect on the integrity of the competition.
18:30 Corinthians to give players new wage cut
The Corinthians squad will suffer a new wage cut because of the crisis generated by the coronavirus pandemic. The economic situation is critical, and proof of that is this 2nd pay cut.
17:30 "Let's hope that football returns soon, they have permission"
The Spanish Prime Minister, Pedro Sánchez, confirmed that both La Liga and Spanish Football Federation "have permission" to resume training before the league resumes.
12:00: List of neutral stadia to complete Premier League season
The Premier League clubs met on Friday and agreed to resume the season on 12th June in neutral stadia coronavirus permitting. Which grounds would be used for the rest of the season?