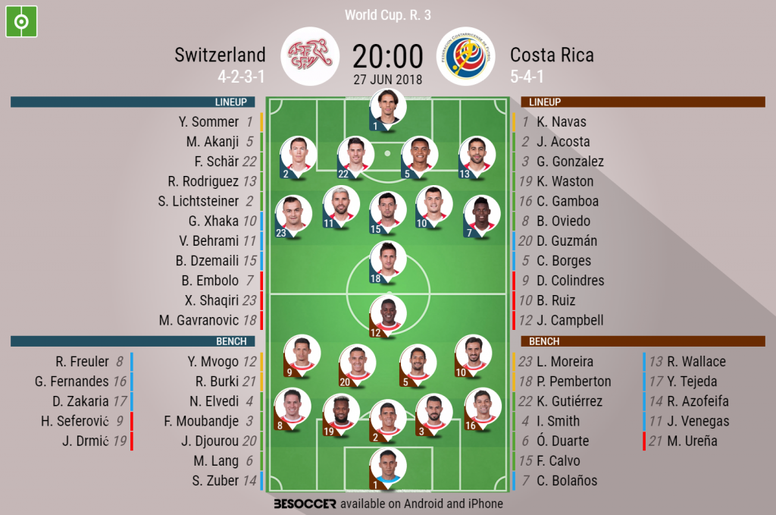 Switzerland V Costa Rica - As it happened
Suiza

Costa Rica

90'
[+3] It's all over! 2-2 at the Nizhny Novgorod Stadium as Switzerland book their last 16 spot, and Costa Rica can head home with their heads held high.
90'
[+3] In an unfortunate moment for Sommer, the ball touched his back before the net, so it will go down as an own goal. Oh dear!
90'
[+3] GOAL. COSTA RICA EQUALISE AGAIN! Having had one penalty decision overturned, it was followed by another being awarded moments later for a foul by Zakaria in the area. Ruiz takes it, and after a few seconds of bated breath, it finds the back of the net!
90'
[+1] CHAOS! Costa Rica earn a penalty, for real this time!
89'
NO PENALTY. It's gone to VAR, and the decision is overturned.
89'
OH WAIT! Costa Rica earn a penalty, with just minutes left on the clock!
88'
GOAL! A ball in from the right finds Drmic in the centre, who fires an angled ball home. Switzerland 2-1 Costa Rica. It seems as though the game is over...
85'
Schar seems to have picked up an injury, but with all subs having been used up, he will have to stay on.
83'
Schar will now join Lichtsteiner on the no-play list for the last 16 match. It's looking a bit holey in the Swiss defence.
81'
SUBS: Switzerland use up their last change by swapping Michael Lang on for Shaqiri. Whilst Rodney Wallace comes on for Colindres, who deserves a round of applause.
79'
SAVE! And a rapid solo break to the other end! Campbell makes a superb run and awaits support from Borges but he is thwarted by a save from Sommer.
78'
CROSSBAR! Drmic tries to head a cross from Embolo, but it hits the crossbar and goes wide.
75'
Spoke too soon. Oviedo fouls Gamboa on the right with some pulling and tugging and picks up a yellow card for his efforts.
74'
Oviedo gets lucky again by dodging a booking. Switzerland get a free-kick after a shove from the defender sends Shaqiri tumbling to the ground.
70'
A corner kick for Costa Rica sails over the heads, but Sommer is unable to get a flipper on the ball. Lucky for him, there were no players ready to pounce on the loose ball.
69'
SUB: Another one for Switzerland. Gavranovic comes off for Josip Drmic.
65'
Campbell is calling on the ref for a free-kick following a foul by Gavranovic, but Clement Turpin won't be told how to do his job.
64'
WIDE! Borges sends a confident ball forward to the goal from somewhere near midfield, and predictably it sails pretty wide.
60'
SUBS: First Swiss sub of the match as Behrami comes off for Denis Zakaria. There is speculation that Behrami is coming off because he is just one card away from a suspension, and Switzerland are hoping to avoid any more players joining Lichtsteiner in the stands.
56'
Switzerland still have a grip on a last 16 spot, if Brazil beat Serbia and they hold onto either a draw or a win over Costa Rica.
56'
GOAL! Costa Rica equalise with a stunning header from Waston, marking their first tournament goal!
54'
WIDE! Oviedo hacks a volley wide of the posts.
52'
SAVE! Embolo's tight angle on the goal is covered well by Navas, before Costa Rica clear.
48'
OVER! Rodriguez blasts the ball just over the top of the bar from 25 yards out.
47'
Oviedo narrowly escapes a booking for a kick on Shaqiri.
46'
And Costa Rica get the second half going!
45'
Can Switzerland stay ahead after the break? Who knows...but at least their flag is a big plus!
45'
[+1] PEEP PEEP. Half-time. Switzerland 1-0 Costa Rica.
45'
[+1] Another Swiss corner, and it's cleared to the edge of area, but sent back in again. Nothing comes of it.
42'
Costa Rica make an advance on the Swiss goal, but a cross into the box is punched away by Sommer.
38'
The free-kick is blasted towards the back post, but just misses an outstretched Waston.
38'
Given that Brazil are also ahead of Serbia in the other Group E match, the Switzerland captain will likely regret that tackle. As it stands, both Brazil and Switzerland are set to qualify.
37'
UH OH! Lichtsteiner picks up a yellow for dragging his studs down Colindres' leg, meaning that he will miss out on the last 16 game should the Swiss qualify.
35'
Shaqiri is down gripping the back of his leg following a shove from Waston.
35'
SAVE! Navas steps up to save a strike from Rodriguez.
33'
And there was nearly a second! Dzemaili again, but his shot deflects off Gonzalez.
31'
GOAL! Switzerland take the lead with a nifty finish from Dzemaili! Lichtsteiner's cross was met by Embolo's head, before Dzemaili fired it home from 8 yards out.
29'
Campbell picks up a yellow card for a foul on Akanji, who went down clutching at his face.
26'
A moment of handbags on the pitch, as Lichtsteiner is convinced that a pat on the head from Oviedo was a little more. The two make up pretty quickly though.
24'
BLOCK! Akanji delivers a near-perfect block, as Colindres looked to really menace Switzerland.
22'
Again Sommer is called into action, although he is tasked with gathering a low and not particularly threatening shot.
20'
Campbell takes the corner, but Sommer performs some amateur gymnastics to get a hold on the ball.
20'
SHOT! Colindres boots a scorcher across the goal, which Sommer just manages to brush with his fingertips to earn Costa Rica their first corner.
17'
SHOT! Gavranovic fires a strike wide of the post, but Navas likely would've had it covered.
15'
Gamboa goes down after a body slam from his own goalkeeper, but is up minutes later and raring to go again.
12'
First booking of the game goes to Gamboa for a foul on Embolo...
11'
OFF THE BAR! Colindres once again comes in for the kill, but it comes flying off the underside of the crossbar and bounces wide. Unfortunate for Costa Rica.
11'
Sommer has been working hard thus far. Although Colindre's shot was over, Sommer had it covered.
9'
Ruiz is fouled by Rodriguez in midfield, but Costa Rica don't make much of their free-kick.
7'
OVER! Costa Rica have a shot on goal, Colindres tees it up well from 20 yards out, but blasts the ball over the top of the crossbar.
5'
Shaqiri is picked out by Xhaka on the right, who then beautifully nutmegs Oviedo, but his shot hits Costa Rica's Guzman and is cleared out.
2'
Embolo is fouled within the first minute. Shaqiri takes the free kick but Gavranovic can't quite get on the end of it. Fast tempo start though...
1'
The whistle goes and the first-half gets underway!
Prev.
And this is how Costa Rica will field their starting XI: Navas, Acosta, Gonzalez, Waston, Gamboa, Oviedo, Guzman, Borges, Colindres, Ruiz, Campbell.
Prev.
Here's how Switzerland are starting their lineup this evening: Sommer, Akanji, Schar, Rodriguez, Lichtsteiner (C), Xhaka, Behrami, Dzemaili, Embolo, Shaqiri, Gavranovic.
Prev.
Hello and welcome to tonight's fixture at the Nizhny Novgorod Stadium as Switzerland hope to secure their spot in the next round of the World Cup against Costa Rica.