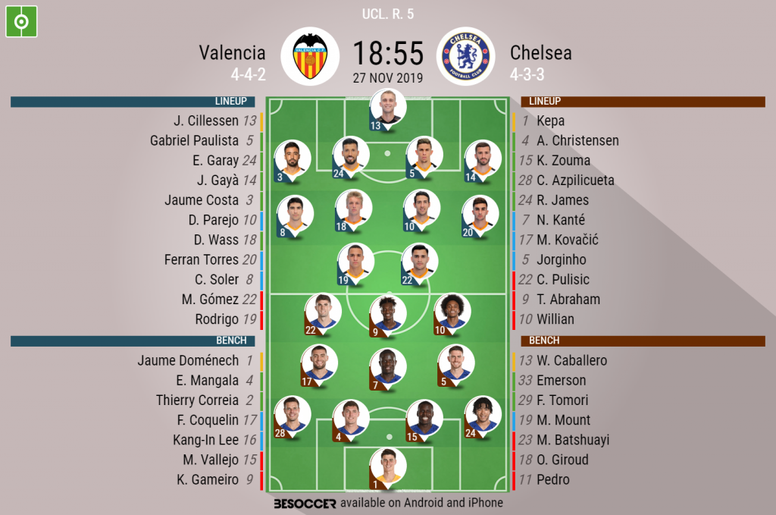 Valencia V Chelsea - As it happened.
Post.
As always, we thank you for joining us tonight! See you in a bit for some more Champions League football!
97'
FT: Valencia 2-2 Chelsea. Chelsea now need to beat Lyon to go through, but they will be happy with a draw after such an insane game. It had it all: VAR decisions, penalty, amazing saves and loads of chances for both teams. No clear superiority here in what was a very tight and tense game with equally stunning chances.
97'
FINAL WHISTLE! No team manages to get the win in what was an insanely levelled game. Unbelievable game of football and stunning to watch if you are a neutral.
95'
VALENCIA ALMOST SCORE!!!! HOW DID HE MISS THIS! Stressful last few minutes as Chelsea are split open at the back and it's an awful finish from Rodrigo!
92'
Azpilicueta switches play out to James on the right and the defender just isn't picked up. He puts his cross in from the byline, but Cillessen is quickly off his line to collect it at the near post.
90'
SEVEN minutes of added time! Long way to go still!
89'
SUPER CILLESSEN! Batshuayi cuts in from the right and batters a shot towards the bottom left. The ball takes a huge deflection off Gabriel, and looks to be heading into the bottom right, but Cillessen sticks out a strong leg to block!
87'
Gabriel receives a yellow card now after catching Mount with a late challenge.
86'
Gameiro is sniffing around again, but Christensen is positioned perfectly to block Gaya's cross from the left and stop it getting to the striker.
83'
Chelsea try to bounce back immediately for the second time this evening, and nearly manage it! The ball's swung into the Valencia box, and Zouma's header is cleared off the line!
81'
An unbelievable goal from Daniel Wass. He whips in a cross and seems to misjudge it, but Kepa leaves it and it cracks it in off the post!
81'
GOAAAAAAAAAAAAAALLLLLLLLLLL!!!! STUNNING!!!!!!
80'
An unbelievable goal from Daniel Wass.
80'
Yet another change as Willian is replaced by Mason Mount. They take their time here... More time-wasting then...
79'
Kepa is booked for time-wasting.
77'
Carlos Soler is replaced by Kang-In for Valencia.
75'
Valencia corner. Parejo clips it in from the right. Garay wins a header but that's an easy claim for Kepa despite the hosts' best efforts.
73'
Coquelin replaces Ferran Torres.
73'
Yellow card for Kanté for a challenge to Gaya, despite the fact that he had the ball. It looks like a dive to me...
71'
Jorginho is replaced by Emerson for Chelsea.
70'
End to end stuff now. Chelsea controlling possession, but Valencia have not stopped trying for a second.
67'
SUPER SAVE BY CILLESSEN! Willian makes a wonderful solo run and finds himself on a one on one with the goalkeeper, who makes a stunning save. Chelsea looking for a third.
66'
Costa makes way for Kevin Gameiro for the hosts.
65'
Valencia really looking to equalise but they're not quite succeeding at the moment. Lots of chances, but none on target at the moment.
64'
KEPA STOPS IT!!!!!! WHAT A SAVE!!!! CHELSEA STILL LEAD!!!
63'
And it's a penalty indeed! Parejo to take it...
62'
POSSIBLE PENALTY FOR VALENCIA! It was a very clumsy challenge as both Jorginho and Gaya ran to get on the end of Soler's throughball. The referee immediately pointed to the spot and after a VAR check, the decision on the field stands.
61'
Kante has drifted out onto the right wing as he picks up the ball and he whips another good cross into the box. Pulisic gets there first, but can't get enough contact on the ball to turn it towards the target.
57'
Valencia should be level. Christensen sticks out a leg to cut out a long ball down the middle. Kepa was rushing out to clear. The ball breaks to Rodrigo, who chips over the stranded Kepa towards the unguarded net ... but sends his effort sailing over the bar.
55'
Azpilicueta is shown a yellow card now after he catches Costa with a bad foul.
53'
Garay is shown a yellow card for dissent after he went over to the referee to protest the fact that the goal was given.
52'
VAR had to check the decision to disallow Pulisic's goal as they were looking to see if he was actually offside. It was a tight one, they took a long time to check it.
50'
IT'S GIVEN! The replays show that Garay was just playing Pulisic onside and the goal stands. It's 2-1 Chelsea!
50'
OFFSIDE! Kante's whipped cross into the box is brilliant as he picks out Zouma. The defender then nods it down to Pulisic, who squeezes his effort between Cillessen's legs but the flag goes up and it's disallowed.
48'
Soler plays a free-kick short to Parejo so he can put a cross into the box for the home side. It's poor from him though as Rodrigo picks it up wide on the right wing and he can't put the ball into the box before Azpilicueta dispossesses him.
45'
We're off again! The hosts get the second half underway!
45'
Almost back underway here! Tammy Abraham is replaced by Michy Batshuayi... Poor Abraham couldn't make it back to the dressing room under his own steam. They had to fetch a stretcher. Terrible luck for a player who has really blossomed this season.
45'
HALF-TIME: Valencia 1-1 Chelsea. What a first half this has been. Chelsea got the stronger start, but Valencia started to get comfortable towards the 20th minute and despite Chelsea's best attacking efforts - Cillessen having to intervene a couple of times - the visitors' defensive mistakes allowed them to create chances, which eventually lead to a goal. Still, Chelsea answered quickly and a minute and 48 seconds later they had their equaliser, with Kovaic's first goal for Chelsea.
45'
Abraham and Garay fell awkwardly in a tangle, and it looks like the big defender landed accidentally on the striker's leg. Abraham is rolling around in a lot of pain. He is now being escorted out. This could be serious.
45'
Corner for Chelsea and two minutes of added time! What a game this is! Willian takes, and Abraham really should plant a header on target from ten yards, but under pressure from Garay, allows the ball to skim off the top of his head.
44'
GOOD SAVE! Kovacic is already looking for his second goal of the game as Valencia don't clear their lines once again and it falls to his feet. It's a good strike from the midfielder, but it's at a comfortable height for the keeper who pushes it out of play.
41'
What a reaction by Chelsea! Valencia only half-clear a left-wing cross. The ball drops to Kovacic, just to the left of the D, with his back to goal. He takes a touch, turns, and fires a heatseeker into the bottom left! It's his first goal for Chelsea! And what a time to get it.
40'
CHELSEA EQUALISE!!!!! KOVAVIC!!!!!!!!!
39'
So simple for Valencia! A long goal kick, and suddenly Rodrigo is in space down the right. He crosses for Soler, who shoots messily straight at Kepa from the penalty spot. Kepa gets a hand on the powerful shot, but can't keep it out, palming it into the bottom left.
39'
GOAAAAAAAAAAAAAALLLLLLL!!!!! SOLER OPENS THE SCORE!!!!
37'
WHAT A SAVE BY CILLESSEN! Abraham almost opens the score but he is stunningly denied by the Dutch goalkeeper! Abraham improvises with a sidefooted stab to guide a right-wing James cross towards the top right.
36'
It's a poor pass out from the back by Kepa and he gifts the ball straight to Torres. He makes a run down the right side of the box, but can't seem to make his mind up about what he should do and ends up passing it back to Jorginho.
34'
Abraham chests it down to Kante, who takes it forward but the offload is disappointing. James keeps it alive, finding Abraham at the front post, and it's another solid block from Gabriel to deny the striker.
33'
Willian performs a couple of stepovers at great pace down the right. He curls in a low ball that's well claimed by Cillessen, with Pulisic lurking.
32'
Yellow card for Wass, fully deserved punishment for a cynical bodycheck on Azpilicueta in midfield.
30'
GOOD CHANCE! Parejo plays a good, low cross into the box and he's trying to pick out Torres in the middle. He misses it though and it runs through to Gomez who takes a touch before firing his shot towards goal. Kepa makes himself big though and puts it out for a corner.
27'
Gabriel returns, with a tight-fitting cap covering the bandages. It certainly looked very painful.
24'
Corner for Chelsea, but it doesn't lead to much... Unless you count Zouma getting accidentally headbutted by Paulista something. Both players seem ok, but Paulista is getting treatment and will be wearing a headband now.
23'
Valencia are growing in confidence now after Chelsea's fast start. A sloppy pass from Jorginho gifts possession to Ferran Torres and he picks out Gomez, who makes contact this time but his header is straight at Kepa.
21'
Parejo is down, complaining that he's copped one in the mush from Kovacic. Valencia surround the ref. There was a bit of contact, but it looked accidental enough.
19'
WHAT A MISS! It's a quick break down the field by Valencia and Rodrigo times his run perfectly to stay onside. He squares his cross to Gomez at the far post and it looks like it's going to be a tap-in for him, but it goes through his legs... Chelsea's defense caught napping.
16'
Valencia are just starting to push forward more now with Soler leading the attack down the right. He's trying to pull away from James to get some space down the left, but the defender does really well to stop him from putting a cross into the box.
14'
GREAT CHANCE! It's another brilliant cross into the box from James and this time he picks out Abraham at the near post. He's being tightly marked by Garay so has to get his shot away quickly, but can only fire it over the crossbar. James is creating all kinds of trouble for Valencia here.
13'
Chelsea have a free-kick in a good position after Costa slides in on Pulisic and Willian is standing over it. He goes for goal himself, curling his effort towards goal, but it's straight at Cillessen.
9'
Chelsea look dangerous every time they go forward. Azpilicueta whips a low ball through the Valencia box from the left. James meets it on the right ... and whips it back through the box and out past Azpilicueta for a throw to the hosts.
7'
Jorginho picks up the first yellow card of the game for that challenge on Torres.
5'
Chelsea are seeing a lot of the ball here in the opening minutes as they work they way upfield with intent yet again. Costa loses track of the pass into Willian on the edge of the box but recovers well to dispossess him.
2'
Good chance! GREAT CHANCE! It's a brilliant first-time cross into the box from James on the right and Willian pulls away from Costa at the far post to get his head to it. It's a good effort from the Brazilian but it sails over the crossbar.
2'
A fast start from Chelsea as Pulisic and Kovacic combine down the left and the latter earns a very early corner.
Prev.
As we get started, it's worth mentioning that this is Gabriel Paulista's 100th game for Valencia!
Prev.
It's winner-takes-all tonight in Valencia. The players are out and it's time for that iconic Champions League anthem.
Prev.
Here's his exact words, for those interested: There's a lot on it, but that's football. We've pulled a lot of ground back since the first game against Valencia, and it's very important we finish off the job. We've got two games to do it, but particularly tonight."
Prev.
Frank Lampard's press conference had a lot of interesting information, but the standout is that he's aware this is a must-win match. Ajax, Valencia and Chelsea are all tied on points, and whoever wins it will be going through to the next round.
Prev.
Chelsea make two changes to the side that gave it a good go at Manchester City last weekend. And they're both at the back. Reece James comes in for Emerson, while Andreas Christensen replaces Fikayo Tomori.
Prev.
There are four changes to the Valencia team sent out at Stamford Bridge on matchday one. Jaume Costa, Carlos Soler, Ferran Torres and Maxi Gomez replace Francis Coquelin, Geoffrey Kondogbia, Denis Cheryshev and Kevin Gameiro.
Prev.
Chelsea starting XI: Arrizabalaga, James, Christensen, Zouma, Azpilicueta, Kante, Jorginho, Kovacic, Willian, Abraham, Pulisic.
Prev.
Valencia starting XI: Cillessen, Costa Jaume, Garay, Gabriel, Gaya, Torres, Parejo, Wass, Carlos Soler, Rodrigo, Gomez.
Prev.
It's very tight in Group H, where Ajax, Chelsea, and Valencia are all on seven points after four matches, and with tonight's winner going through, an exciting game is guaranteed!
Prev.
Hello and welcome to our minute to minute coverage of this evening's Champions League clash, where Valencia host Chelsea and will be hoping to beat Lampard's men for a spot in the next round!