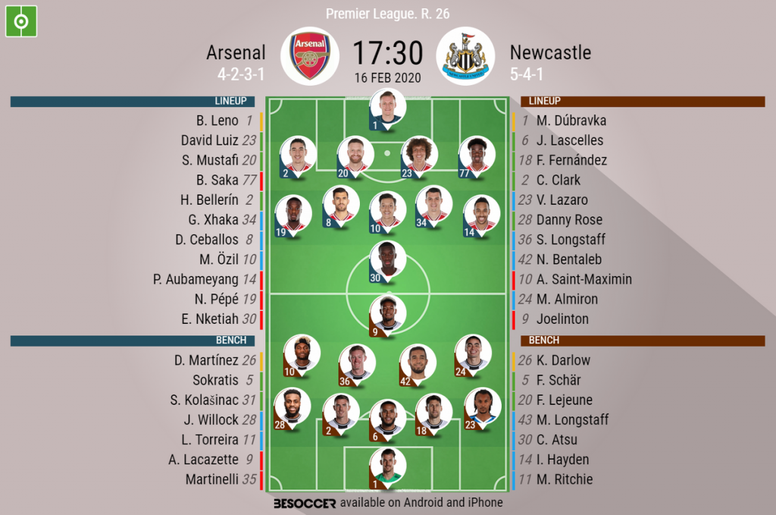 Arsenal v Newcastle - as it happened
Arsenal

Newcastle United FC

96'
Arsenal 4-0 Newcastle!! It was an easy win for Arsenal after the first 25 minutes of the match. Ozil and Lacazette's late goals added to the two early on in the second half to give Arsenal the three points. Clark and Saint-Maximin had chances to score at 2-0, but they were clearly second best in the second half. That's all from us, thanks for your company and see you again soon!
95'
Lacazette scores now for the home side!! There's a massive pile-on in the celebration! Crazy scenes. Willock passes to Pepe, he gives it to Lacazette and despite scuffing his strike, it goes in!
93'
Arsenal attack again and a Newcastle player clears.
91'
Arsenal sub: Willock on for Ozil.
90'
Ozil makes it 3-0 after a howler by the goalie! A long move sees Pepep lay the ball off to Lacazette, he turns inside the box and pass to Ozil whose weak shot is inexplicably spilled by Dubravka into the goal. A moment he'll want to forget.
89'
Arsenal are just keeping the ball now as we go into the final few minutes.
86'
Newcastle get a corner and Lascelles heads at the goalie. On the counter, Lacazette is centimetres away from tapping home Saka's cross.
85'
Arsenal sub: Nketiah is replaced by Lacazette.
84'
Ritchie hits wide for the away side!
83'
Newcastle sub: Schar on for Clark.
82'
Arsenal sub: Ceballos goes off, Torreira is on.
80'
Saka fouls Clark and both players are down injured after falling on each other.
78'
Almiron passes to Joelinton 20 yards from goal and his strike is blocked.
77'
Shots: 13-7, on target: 5-1,
75'
Off the post by Saint-Maximin!! He's had a great match and he nearly gets his goal! His strike from just outside the box beats Leno, but he's denied by the woodwork! So close.
74'
Newcastle double sub: Hayden and Ritchie on for Lazaro and Fernandez.
73'
Loud cheers go out around the ground as a fan runs onto the pitch.
73'
Xhaka is down injured after stopping his foot with the ball.
70'
Ozil is caught offside on the far side. Only just.
67'
Arsenal attack again, Pepe passes to Aubameyang and his attempted cross for Nketiah ends up hitting the top of the crossbar.
66'
Arsenal are very comfortable, but that Clark effort shows that Newcastle have not given up just yet.
63'
What a miss by Clark!! He is passed the ball inside the box by Saint-Maximin and his effort is deflected wide by D Luiz! Should have scored really despite it being good defending.
60'
Clark is down injured, but he seems good to return after a bit of treatment.
59'
Nketiah tries to dribble past a defender into the box, but is dispossessed.
57'
It's 2-0!!! Nicolas Pepe scores now!! Saka on the far side nutmegs Lazaro to get into the box and then he passes for Pepe in the middle to fire home! It's an uphill task now for the Magpies.
56'
Ceballos spots Bellerin and his cross is knocked out for a corner.
54'
It's in!!! Aubameyang scores and it's been coming! Pepe dribbles towards the box and sends a cross to the back stick where Aubameyang leaps above Lazaro to head in from six yards.
53'
77% possession for Arsenal in the second half.
52'
Ozil is brought down by Bentaleb. Saka's ball into the box is then caught by Dubravka.
50'
Off the bar!!! Ozil passes to Pepe who cuts back from the by-line to Nketiah in the middle. The ex-Leeds man then strikes the crossbar from very close range!
49'
Nketiah can't get on the end of a pass into the area! All Arsenal since the interval.
47'
Chance for Arsenal!!! Ceballos sends a long pass for Aubameyang who stretches out with his foot and flicks it wide.
45'
HT: Arsenal 0-0 Newcastle!! No goals at the break here at the Emirates Stadium! Newcastle were better for the first 25 minutes and nearly scored through Lazaro and Joelinton. Then Arsenal picked up and finished the half well. Aubameyang and Pepe had chances and Joelinton cleared a Mustafi strike off the line. Back for more in a bit!
43'
Saint-Maximin again!!! Another fantastic run by the Newcastle man to leave the defence the dead, he just lacked the killer touch though. His effort went across the goal rather than into it.
41'
What a vital intervention by Joelinton! Dubravka comes out for the ball from a corner and doesn't get there, Mustafi shoots towards goal and Joelinton clears it off the line! Arsenal's best opportunity by a distance.
41'
Nice stop!!! Pepe's free-kick is well tipped over by the keeper.
40'
Ceballos is caught in the head by Saint-Maximin and the Gunners have a free-kick 25 yards from goal.
39'
Aubameyang hits wide of the goal!!! It deflects off Clark and so Arsenal have a corner.
38'
Arsenal have done more in the last 5-10 minutes, but Newcastle have been comfortable in defence.
38'
Pepe hits over from distance.
37'
Nketiah shoots first time from inside the area and the Newcastle GK makes an easy save.
34'
Arsenal send the ball into the Newcastle area a few times and the away side clear their lines on every occasion.
33'
Rose is getting booed whenever he touches the ball because of his Spurs past.
32'
Good play by Arsenal!! Ozil spots Aubameyang on this near side and his tame effort doesn't trouble Dubravka at the near post. He holds on easily.
31'
D Luiz kicks Almiron from behind.
30'
Xhaka is penalised for a foul on Joelinton.
29'
Corner kick for the home side, their second of the match.
28'
A cross into the box is caught by Leno.
25'
What skill by Saint-Maximin!! He tries a turn inside the Arsenal box which doesn't quite come off.
25'
Almiron runs towards goal and then throws himself to the floor just outside the box.
24'
Chance again! Bellerin is dispossessed by Bentaleb. Saint-Maximin then picks up the loose ball and sprints 30 yards, passes to Bentaleb and then his shot is easily saved.
23'
Newcastle will be happy with the opening quarter of this game.
21'
Saka!!! He gets the ball on the edge of the box then plays a one-two with Ceballos before sending his curling strike over the bar.
20'
Longstaff hits the free-kick and it goes miles over the bar!
19'
Ceballos is penalised for a foul on Saint-Maximin.
18'
Arsenal have not got going yet despite all the possession.
17'
70% possession for the home side up to now.
16'
Pepe's ball into the box is caught by Dubravka.
15'
Joelinton!! From the second corner, Saint-Maximin beats the defender and passes to Joelinton who shot with the side of his foot goes narrowly wide.
14'
What a save!!!! Off the training ground, Lazaro plays it to Longstaff in the D, his volley is deflected by Ceballos' head and Leno has to make a great save!
13'
An Arsenal head gets on the end of the free-kick, it loops up in the air and Leno has to tip it for a corner.
13'
Ozil fouls Almiron and Newcastle can send this free-kick into the box.
11'
Bellerin's header goes wide. Not a great chance really.
9'
Xhaka is booked for a shirt pull.
9'
Newcastle attack through Almiron and then the move ends with a poor pass to Saint-Maximin which goes out of play.
7'
Newcastle penalised for offside.
6'
Brilliant play by Saint-Maximin and he goes down in the box wanting a penalty, but nothing is given. The contact was outside anyway, I think.
5'
Lazaro!!!! A ball into the box from the far side by Joelinton falls to Lazaro whose touch is poor and the defence clear for a corner.
3'
Corner for Arsenal after Bellerin's cross is deflected behind by Saint-Maximin.
2'
Bellerin concedes the first foul of the game.
1'
Arsenal get us underway from right to left! Both teams in their home kits.
Prev.
The players are out here at the Emirates!
Prev.
7 degrees and dry in London this afternoon.
Prev.
Newcastle's won at Oxford in the FA Cup after extra time 11 days ago, but their last league match was a 0-0 draw with Norwich. Yedlin, Ritchie and Hayden are out of the side, new signing Danny Rose, Lazaro and Longstaff are in.
Prev.
Arsenal make three changes from the 0-0 draw at Burnley. Guendouzi, Martinelli and Lacazette are replaced by Ceballos, Pepe and Nketiah.
Prev.
11th v 12th. Both on 31pts.
Prev.
Referee: Lee Mason, VAR: Kevin Friend.
Prev.
Newcastle XI: Dubravka (GK); Rose, Clark, Lascelles, Fernandez, Lazaro; Saint-Maximin, Longstaff, Bentaleb, Almiron; Joelinton.
Prev.
Arsenal XI: Leno (GK); Saka, D Luiz, Mustafi, Bellerin; Aubameyang, Xhaka, Ozil, Ceballos, Pepe; Nketiah.
Prev.
Hello and welcome to live coverage of the Premier League match between Arsenal and Newcastle from the Emirates Stadium!