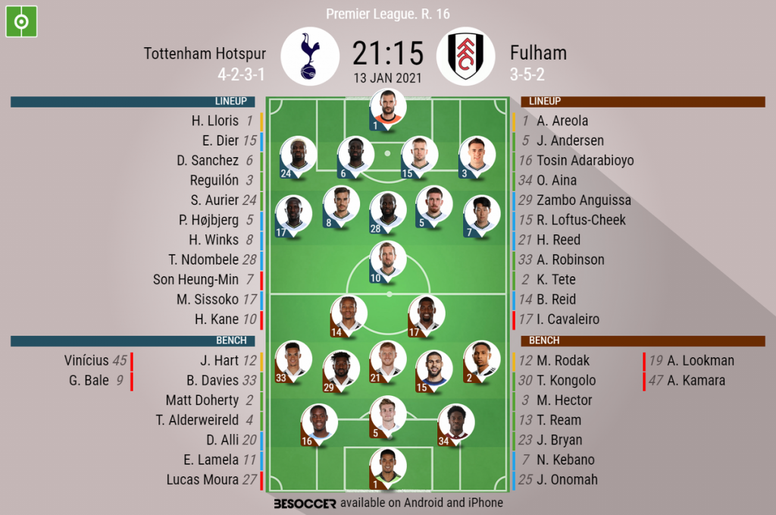 Tottenham Hotspur v Fulham - as it happened
Tottenham Hotspur FC

Fulham

Post.
That's all from us. Thanks for your company and see you again soon!
Post.
FT: Tottenham 1-1 Fulham!! All over in North London and Mourinho's men are held. Kane gave them a first half lead despite Fulham starting better and then in the second period, the hosts looked to have it under control despite Fulham's attacks, but Cavaleiro headed home Lookman's cross to give Scott Parker's men a share of the spoils. Both teams could have won it at the death, but it ended all square.
94'
Play continues, Reguilon launches a hail Mary into the box and Areola catches it! He kicks the ball down field and it's all over!!
94'
The corner is cleared, Lookman gets into the box, but nothing comes of it. And now it's a free.kick to Spurs.
93'
Kamara wins the corner off Sanchez. Will they win it??
92'
Andersen is booking for timewasting.
92'
Free-kick to Fulham in their own half and they are wasting time.
90'
Fulham sub: Onomah on for Loftus-Cheek.
89'
Reguilon scores for Spurs, but the flag is up!!! Lamela passes for Son, who squares for Reguilon to tap in. I think both Son and Reguilon were offside. Clearly off.
89'
This match is incredibly open!
88'
Robinson!!!! Fulham nearly win it!! Kamara goes forward and gets in the box, passes for Robinson and a defender slides in to take all the sting out of the shot. It's a simple catch for Lloris.
87'
Fulham sub: Kamara on for Cavaleiro.
86'
Son!!! Reguilon runs down Fulham's right flank and his chipped pass is headed wide by Son.
83'
Lookman and Cavaleiro go forward for Fulham, they lose the ball, Reguilon counters and Tosin has to boot away the cross.
82'
Both teams think they can win this and it's making for great viewing.
81'
Spurs sub: Spurs win a corner and Vinicius, who scored a hat-trick at the weekend, is on for Ndombele.
80'
Reguilon crosses for Kane a the back post, he lays it off for a teammate, but there is no one there.
78'
What a save by Lloris!!! Fulham think they can win this!!! The visitors attack through Lookman, he passes for Loftus-Cheek whose shot is saved! Lookman has made a huge difference since coming on.
76'
Mourinho's face says it all.
75'
Spurs had this game pretty much under control, but at 1-0 it's never enough.
75'
Spurs sub: Lamela on for Winks.
74'
Cavaleiro!!!!!!! Fulham are level!!!! Robinson passes for Lookman on this near side and his cross is headed in by Cavaleiro!!! All square!
71'
Off the post by Son!!! Spurs counter through Ndombele, he feeds Son who runs onto the pass and his scuffed effort hits the far post and stays out!
70'
Dangerous move by the Cottagers! Cavaleiro gives it to Lookman who cuts inside and his shot is blocked by Sanchez.
69'
Free-kick to Fulham here 30 yards from goal after Lookman is barged off the ball.
66'
Fulham sub:_ Tete is replaced by Lookman.
65'
Robinson wins a corner off Sissoko.
64'
Hojbjerg is carded for a foul on Loftus-Cheek.
63'
Spurs go forward through Kane and his cross is a poor one. Easy for Areola.
60'
Reid's free-kick smashes straight into the wall. Not sure they were the distance there.
59'
Hojbjerg is penalised for a foul on Loftus-Cheek.
55'
Son's corner hits Tete and goes out for another corner.
55'
Save by Areola! Son's corner is not dealt with and Winks' curling effort from 25 yards is tipped wide of the post!
54'
Spurs attack through Reguilon and the ball in is headed behind for a corner by Reed.
51'
Robinson's cross from this near side is dealt with by Reguilon.
49'
Tete!!!! Reed's ball into the box is flicked on by Reid and Tete hits the sidenetting!
46'
Fulham attack from the off, Cavaleiro gets into the box without being able to get a shot off and on the counter, Aurier threatens, before Kane tries to finish off the move to no avail.
46'
Spurs get us going again!
45'
Tottenham 1-0 Fulham!! Half-time in North London and despite Fulham playing the better football in the first 20 minutes, Spurs upped their game and Kane headed home a Reguilon cross to put the hosts ahead. Fulham have looked dangerous going forward though and both Anguissa and Loftus-Cheek could have scored. They aren't out of this one. Back for more shortly!
45'
45+1: Reed brings down Ndombele and it's a free-kick. Spurs take it short and it's half-time!
45'
Little to report in the last few minutes as we head into half-time. One added minute.
42'
A handball shout by Fulham this time after a backheel by Andersen, I think, hits a Spurs player.
41'
Anguissa!!!! He goes for goal from distance with a low strike and it's easy for Lloris.
40'
Opportunity for Hojbjerg!! Spurs threaten, but the final effort is a very tame one.
37'
Huge handball shout by the Spurs players, but ref Tierney says no penalty. It strikes Tosin's hand, but it's never a pen.
35'
What a chance for Fulham!!! Loftus-Cheek runs down the middle, he gives the ball to Tete on this near side and the cross is fouled narrowly wide of the goal by Loftus-Cheek! That was close.
33'
Ndombele is penalised for a foul on Reid.
31'
Spurs have picked up in the last 5-10 minutes here.
30'
Kane!!! Ndombele passes to Aurier and his cross finds Kane in the middle who heads over.
28'
Tete's cross is deflected behind for a corner.
26'
Spurs lead, but it's not been one way traffic at all.
25'
Kane scores for Spurs!! A long ball forward finds Reguilon on this near side, the Spaniard picks out Kane at the far post and his header goes in off the base of the post!
24'
What a stop!!! A chipped pass by Ndombele finds Son and his header is excellently stopped by the GK.
22'
Hojbjerg concedes a free-kick in his own half.
21'
Winks takes a knock after bumping into Reed, but he's fine.
19'
Dier's free-kick deflects off Andersen in the wall for a corner.
19'
Free-kick to Spurs just outside the area and Anguissa is booked for the foul.
18'
Areola!!! Spurs finally threaten as Ndombele's cross finds Son and Areola makes a good save!
16'
Anguissa!!!! A corner is only half-dealt with, the ball ends up going to Anguissa who controls and then forces a fine save out of Lloris!
15'
Dier is down with a problem here after diving into a challenge. Dier is limping heavily here. It's his left knee.
13'
Robinson's effort is deflected behind for a corner kick.
12'
Reid goes down this near side and Dier stops him as he looks to cut inside.
10'
Hojbjerg is penalsed for a foul.
9'
Robinson again makes a fine run into Spurs half, he passes to Loftus-Cheek and his effort is blocked, Fulham get the ball back and then hit well wide.
7'
Reguilon!!! The free-kick is taken quickly, the ball goes to Reguilon, his first effort hits Andersen, he gets a second chance and blazes over the bar.
6'
Ndombele is brought down by Anguissa during a promising attack.
4'
Chance for Fulham!! Robinson and Cavaleiro combine down Spurs' right and Mourinho's men finally get it away. Good start by the away side.
2'
The free-kick in is touched by a Fulham head and then Cavaleiro's leg, but the ball falls kindly for Lloris.
2'
Free-kick to the visitors 40 yards from goal after a foul.
1'
Fulham get us going from left to right in the yellow! Spurs in white.
Prev.
The players make their way out here!
Prev.
There's been controversy in the build up to this one as Spurs were meant to be at Villa tonight, but COVID cases at Villa meant that came was called off and Fulham were called in to face Spurs at 48h notice. That has not gone down well with Fulham boss Scott Parker. This game was postponed two weeks back due to coronavirus cases at Fulham.
Prev.
8 degrees in North London this evening.
Prev.
6th v 18th. 29pts v 11pts.
Prev.
Paul Tierney is the ref while Craig Pawson is the VAR.
Prev.
Fulham XI: Areola (GK); Tosin, Andersen, Aina; Robinson, Anguissa, Reed, Loftus-Cheek, Tete; Reid and Cavaleiro.
Prev.
Tottenham XI: Lloris (GK); Reguilon, Dier, D Sanchez, Aurier; Son, Hojbjerg, Ndombele, Winks, Sissoko; Kane.
Prev.
Hello and welcome to our live coverage of the PL game between Tottenham and Fulham!