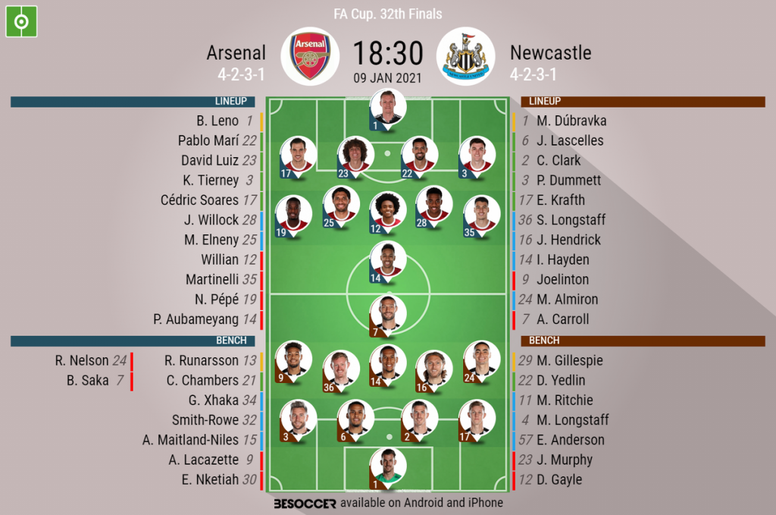 Arsenal v Newcastle - as it happened
Arsenal

Newcastle United FC

Post.
FT: Arsenal 2-0 Newcastle (AET)!!! All over here and Smith Rowe and Aubameyang's goals in 2nd half of ET sends Arsenal into the fourth round. It was a deserved win. Smith-Rowe was sent off just before the end of regulation, but was reprieved by the VAR. Thanks for joining us and see you again soon!
123'
Newcastle finish the game attacking, but there are no more meaningful attacks and it's all over.
122'
Two extra minutes and Lacazette fires over the goal!!
121'
Arsenal sub: Maitland-Niles is on for Cedric.
120'
Gayle appeals for a penalty, but nothing is given. Cedric's challenge looked fair. The Arsenal man is now getting treatment on his leg.
117'
Aubameyang makes it two!!! Brilliant play by the Gunners starting on the far side sees Saka find Auba, his header is blocked, Xhaka and Tierney combine and the Scot squares for Auba to tap in!
114'
Arsenal are looking very comfortable here now.
112'
Smith-Rowe has gone from being sent off to scoring!!
111'
That was a huge goal and now Newcastle need a goal.
109'
Smith Rowe scores for Arsenal!!! It's been coming. Clark loses the ball in huis own half, the ball is chipped by Saka to Lacazette who heads for Smith-Rowe, he chests down before firing into the far corner off the post!
107'
Tierney goes for goal and it hits the sidenetting.
106'
Arsenal sub: Pepe is replaced by Lacazette.
106'
Newcastle sub: Gayle on for Carroll.
105'
Carroll deals with it and it's HT in ET.
105'
Free-kick to Arsenal now about 25 yards from goal.
102'
Vital block by Ritchie this time from Pepe's shot.
101'
Arsenal threaten again through Saka and Newcastle get it clear!
100'
Saka shoots and it's easy for Dubravka.
98'
Aubvameyang goes down in the box very easily, the ref says no penalty and Clark wants a card for the Arsenal man for diving. Not a pen.
97'
Newcastle attack dangerously through Murphy and Carroll, but they can't get a shot off.
95'
D Luiz heads the corner at the far post, into the middle, it's half cleared and Elneny smashes over.
94'
What a save by Dubravka to deny Xhaka!! The Swiss volleys towards goal and Dubravka has to jump to tip over the goal!!
93'
D Luiz loses the ball, but Murphy can't take advantage, on the counter, Smith-Rowe's shot is deflected by a defender.
91'
Newcastle get us going again!
90'
90+5: Ritchie's corner is headed by Carroll, it hits a defender and we go to extra-time.
90'
90+5: The free-kick in is knocked away for a corner.
90'
90+4: The ref goes to the monitor and changes his decision to a yellow. It was a bad challenge and he could have seen red as well.
90'
90+3: Smith-Rowe makes a shocking challenge on Longstaff and he sees red.
90'
90+2: What a save by Leno to deny Carroll on the counter!! The first shot is blocked, the rebound goes to Carroll who is denied by Leno.
90'
90+2: Pepe's ball in is headed by D Luiz, but it's easy for the keeper.
90'
90+1: Clark is booked for a foul.
89'
ET would be fair given what we've seen in the second period.
87'
Carroll gets a corner for the Magpies.
87'
Free-kick to Newcastle at midfield.
84'
Ritchie's corner finds Carroll and his backheel goes wide.
83'
Carroll tries his luck, the ball strikes Mari on the back and goes for a corner.
82'
Aubameyang!! Tierney's ball in is headed by Aubameyang and it's a Newcastle defender.
81'
Newcastle double sub: Yedlin on for Almiron and Anderson on for Joelinton.
80'
A regulation cross is not dealt with properly and it has to be scrambled away.
78'
Smith-Rowe's ball in is easy for the Newcastle GK.
76'
Saka!!!! Tierney plays in Saka and then the shot goes just over.
75'
Aubameyang volleys one now and the ball goes just over the goal.
74'
Tierney crosses for Aubameyang and it's simple for Hendrick.
72'
Pepe shoots from inside the D and it goes wide of the goal.
68'
Newcastle sub: Murphy is on for Krafth.
66'
Arsenal double sub: Willian is replaced by Saka and Xhaka is on for Willock.
64'
Dubravka again!!! Pepe's ball in is headed into the ground by Willock and Dubravka dives to his left to knock it away for a corner.
63'
Krafth's ball into the area is cleared away by Mari. We could have ET here. Newcastle are looking sharper.
62'
Free-kick to Newcastle in their own half.
60'
Aubameyang!!! A long pass forward finds Aubameyang and he passes the ball wide.
57'
Carroll should have scored there. That was the best chance of the match so far.
57'
Arsenal sub: Smith-Rowe on for Nelson.
56'
Carroll!!! How did you miss that?? The free-kick isn't dealt with by D Luiz and Tierney, the ball goes to Hendrick on the edge of the box, he picks out Carroll at the far post and his shot across the keeper goes wide of the post! That should have been a goal.
55'
Willock loses the ball and then compounds his error by fouling Joelinton on the far side.
54'
The Magpies are picking up here.
54'
Carroll goes for goal and it's a simple catch for Leno!
52'
Pepe goes for goal and he can't find the target.
51'
Almiron's ball into the box is headed away by the Arsenal defence.
50'
Free-kick to the Gunners.
49'
The free-kick is taken short, then back to the taker whose ball in is headed wide by Carroll.
49'
Willock fouls Hendrick and it's a free-kick for Bruce's men.
47'
Tierney goes for goal after the free-kick is half-cleared and the ball flies well over.
46'
Ritchie fouls Cedric and it's a free-kick for the Gunners in a dangerous position.
46'
Arsenal get us going again!
45'
Newcastle HT sub: Lascelles is replaced by Ritchie.
45'
HT: Arsenal 0-0 Newcastle! Half-time at the Emirates and the Gunners have been the better side despite the scoreline. Dubravka had to make a fine save to deny Aubameyang while Nelson and Pepe tested the keeper early on. Nelson also had a good opportunity, but he was unable to control the ball. Arteta's men have had plenty of corners, but failed to make use of them. Newcastle have had a few attacks, but doing nothing of note going forward so far. Back shortly!
45'
45+1: The free-kick into the box is easy for Leno and the ref blows for half-time.
45'
45+1: Cedric is cautioned for a needless pull back on Almiron.
44'
Cedric's cross into the far post can't reach Nelson and Joelington shields the ball out for a corner.
41'
Another Arsenal ball in is headed away by Carroll for another corner.
40'
Newcastle concede another corner here.
38'
Arsenal win another corner here.
37'
Martinelli has just been shown in the stands as he did his ankle in the warm up and that is why Nelson is playing.
36'
Arsenal are picking up now in this one.
33'
Carroll gets his head to the corner and then acrobatically clears it away for another corner.
33'
Great defence by Hayden!!! Pepe and Auba pulled one a one-two and then Hayden dispossesses the former to concede the corner.
30'
Longstaff gives the ball to Almiron, but he's unable to find a teammate in the box. Willian counters, is knocked down by Krafth and is lucky not to be carded.
28'
What happened there?? Tierney goes down the far side, he cuts back for Nelson, but he's unable to control under pressure from Newcastle defenders and the chance goes a begging.
26'
Carroll is booked for catching Willock in the face with his arm.
24'
Aubameyang!!!! Arsenal win a free-kick, Aubameyang goes down Newcastle's left after a long pass by D Luiz and the Gabonese's powerful effort is terrifically saved by the goalie. Willian then hits the rebound over.
20'
Arsenal lose the ball to Joelinton, he attacks and then takes too long to give the ball to Carroll to his left and his cross is blocked by D Luiz. Almiron is caught offside later in the move. Missed out there the Magpies.
18'
Pepe passes to Willock in the box, his touch is too heavy and the ball goes out for a goal kick.
17'
Very little to report in the last few minutes, to be honest.
16'
Cedric seems to have done damage to his knee in trying to keep the ball in play.
13'
Tierney goes down the far side with a lovely run, but the flag was up for offside.
9'
Lascelles wipes out Nelson on the counter and is very deservedly booked.
8'
Several Newcastle attacks and crosses go into the box from Dummett and Arsenal finally get it away.
7'
David Luiz catches Carroll from behind and Newcastle get a free-kick at midfield.
5'
Pepe is brought down by Dummett 25 yards from goal and it's a free-kick for the Gunners.
3'
Almiron and Joelinton combine for the Magpies this time and the Arsenal defence prevent the later from getting a shot off.
3'
Pepe tries his luck this time down this near side, but the strike is tame.
1'
Nelson!! Mari sends a long ball forward to Nelson who controls and then hits a shot along the ground which is simple for Dubravka.
1'
Newcastle get us going from right to left! Both teams in their usual colours!
Prev.
The players make their way out here!
Prev.
Newcastle lost 1-2 to Leicester last time out and they also make seven changes from that match. Dubravka starts in goal, Lascelles, Dummett, Krafth, Hendrick, Hayden and Andy Carroll all start. Darlow, Yedlin, Fernandez, Schar, Ritchie, M Longstaff and Wilson all drop out.
Prev.
Arsenal field a strong side despite making seven changes from the 0-4 win over WBA last Saturday. Holding, Bellerin, Xhaka, Ceballos, Smith-Rowe, Saka and Lacazette are replaced by D Luiz, Cedric, Willock, Elneny, Martineilli, Willian and Pepe.
Prev.
Chris Kavanagh is the referee while Andre Marriner is the VAR.
Prev.
2 degrees and dry in London this evening.
Prev.
We'll have ET and pens if needed. There must be a winner tonight.
Prev.
Newcastle XI: Dubravka (GK); Dummett, Lascelles, Clark, Krafth; Joelinton, Longstaff, Hayden, Hendrick, Almiron; Carroll.
Prev.
Arsenal XI: Leno (GK); Tierney, Mari, D Luiz, Cedric; Martinelli, Willock, Willian, Elneny, Pepe; Aubameyang.
Prev.
Hello and welcome to our live coverage of the FA Cup tie between Arsenal and Newcastle from the Emirates Stadium!