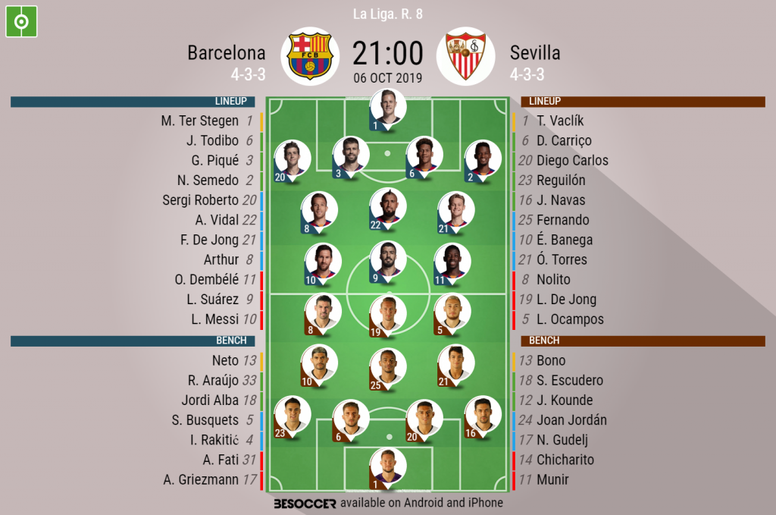 Barcelona V Sevilla - As it happened.
Post.
As always, we thank you for joining us! See you this week for some action on the interational break.
90'
FT: Barcelona 4-0 Sevilla. Barcelona have the three points and are now second in La Liga. Sevilla started off stronger, but despite an array of chances they could not get a single goal in. It was a tense game with questionable decisions by the referee, who had Barça end their game with nine men, but what else could we expect from Lopetegui's comeback to the Camp Nou?
90'
Into three minutes of added time. Barca with nine men...
90'
Yellow card for Banega for a foul on Suarez, It's getting messy.
88'
Discussions are still going and it now turns out that Busquets was booked too.
87'
And now it's a double red card for Barça! Ousmane Dembele is booked for protesting for the other red card. Seems a bit excessive by the ref now.
86'
RED CARD FOR ARAUJO! And on his debut!
84'
Gerard Pique is booked with a yellow and will miss the next match.
82'
Sevilla have quietened down since Busquets came on, but to their credit they're still trying. Munir counters down the left when Barca lose possession but can't find a teammate with his cross.
78'
GOAL! 4-0 BARCA! Messi curls a delicious free-kick over the wall towards goal. Vaclik gets a hand to it but can't keep it out. What Sevilla would give for a finisher like him.
77'
GOAAAAAAAAAAAAAAALLLLLLL FROM LEO MESSI!!! KING OF FREE KICKS!
76'
Possible handball from Ocampos in an action to Luis Suarez. Clearly not intentional, but handball nonetheless. It leads to a free-kick and a warning for Ocampos.
72'
Another one as Jean-Clair Todibo makes way for Araújo, making his debut.
68'
Rakitic comes on for goalscorer Arturo Vidal. Standing ovation for both of them in the Camp Nou.
67'
Dembele should make it 4-0, but slices a shot into the second tier behind the goal at Camp Nou.
67'
Barca win another corner, this time off Navas. Sevilla get it away, but Vidal picks up the pieces and finds Dembele in the centre of the box, who blazes over.
65'
Changes for both teams as Sergio Busquets comes on for Arthur and Luuk De Jong is replaced by Chicharito.
64'
Luis Suarez wants a penalty, but gets a yellow card instead from the ever-entertaining Antonio Mateu Lahoz for his protests. Boos from the Camp Nou crowd...
62'
Barca win a corner on the left, but it is played short and comes to nothing as Arthur is caught offside...
59'
Lionel Messi makes a wonderful solo run - the kind only he can do, dribbling everyone in his way - but his shot is saved by Sevilla's goal.
55'
Ocampos lashes a cross from the right of Barca's box against Pique and into the side netting. Sevilla corner. El Haddadi takes it and Carrico nods wide. What more can Sevilla do except score?
53'
Dembele is booked for a bad tackle.
53'
Dembele wins a corner off Fernando and sends it into Sevilla's penalty area. The away side clear it away with a minimum of fuss. It's insane how they're 3-0 down - they've had almost twice as many shots as Barca and just as many on target.
52'
Sergio Reguilon gets forward on the left and tries his luck from outside the box, but Ter Stegen dives low to make a comfortable stop.
51'
Another promising attack for Barca, but this time the flag is up for offside as Messi is stopped in his tracks...
48'
LUUK DE JONG HITS THE POST! Sevilla's luck just isn't in today. The striker robs Todibo on the edge of Barca's box and only has Ter Stegen to beat, but his effort rattles back into play off the upright!
45'
Lopetegui wastes no time in trying to wake up Sevilla. He makes two changes at half-time. First, Torres off for Jordan. Second, Nolito - who was fairly invisible in the first half - is replaced by former Barcelona player El Haddadi.
45'
Back underway in Barcelona!
45'
HT: Barcelona 3-0 Sevilla. A good start from the visitors saw them get a few really good chances, but Luuk de Jong missed three out of three and it now seems Sevilla are struggling now. Meanwhile, Barcelona woke up and answered with three goals. Luis Suarez's opener bicycle kick was the standout, but could this Barça be the "old" Barça? See you in 15!
43'
Messi just manages to keep a Dembele ball in play on the right and plays an extraordinary pass into the area looking for Suarez, but the Uruguayan can't quite reach it. The Camp Nou applaud the ball from the Argentine and Suarez, who is down and hurt, is soon back to his feet...
41'
Sevilla boss Julen Lopetegui booked for protesting... He'll be quite angry about those missed chances.
41'
Sevilla struggling to keep the pressure now. They had a really good start, but Barcelona's quality is in full display tonight and there's little they can do. All of this despite a slow start to the season for the Catalans.
39'
Nelson Semedo is booked for a foul.
36'
Dembele charges through on the left and has plenty of space. He cuts the ball back to evade a challenge from Diego Carlos and slots a shot between he and Daniel Carrico and pas Vaclik to make it 3-0. Golazo and Barca are flying here...
35'
OUSMANE DEMBELE!!!!! BARCELONA LEADING 3-0!!!!!!
34'
Carrico is booked for a crunching tackle on Roberto. Messi's free-kick again whistlers just over the bar.
32'
And it stands! Barca are just too good. Barca tiki-taka it on the edge of the box. Arthur curls a right-footed effort towards goal which Vidal steers into the net first-time. VAR takes a look but Navas is playing Vidal onside. No doubts there!
32'
AND ANOTHER ONE!!! Maybe? VAR is checking...
26'
WHAT A GOAL BY SUAREZ! Bicycle kick. no less!!!! The Uruguayan is in space in Sevilla's box and curls a fantastic overhead kick into the net. That's what you get if you don't score against Barca.
26'
GOAAAAAAAAAALLLLL!!!!!!!!!
25'
Sevilla just can't find the net at the moment! Barca win a corner which they take poorly and Sevilla counter. Fernardo finds Ocampos with a delicious cross-field ball. The winger whips one in first time and Luuk de Jong's header bounces to the ground and over the bar! Too many missed chances for Sevilla righ now.
23'
Todibo heads out Ocampos' cross from the right. This time Banega's delivery from the corner is poor. Sevilla need to do better with these chances, because Barcelona won't miss theirs...
22'
Reguilon is booked for hauling down Messi as he raced after an over-the-top ball. Barca now have a free-kick.
19'
And Sevilla with the counter! Luke de Jong and Ocampos and get a corner down their right. Banega fires in and Luke de Jong only has to tap in at the far post, but he somehow fires wide! The visitors may soon live to regret these missed chances...
17'
ALMOST!!!! Dembele puts the cleared corner back into the box and Pique's cute flick almost gives him a straight shot at Vaclik. Unfortunately for Barca's centre-back it's just a tad too powerful and bounces to Sevilla's keeper.
15'
Barca keep the ball at the back, gradually forcing Sevilla to retreat into their own half. Suarez gives Reguilon a hard time and pressures the defender into giving Barca a corner down their right
11'
Chance for Sevilla! Ocampos takes on Pique and cuts back for Luke de Jong. The shot looks destined for the bottom right corner, but Ter Stegen pushes it wide with his foot! The Barca keeper punches the resulting corner away. Encouraging!
10'
Sevilla looking like the stronger team at the moment. They look to make progress down their left flank but Barca nick the ball back. Dembele teases Navas on the end of the box and flashes a low cross across goal but no one is there to receive it.
7'
This game's pleasantly end-to-end so far. Semedo angles a pass into the box that's cut out by Carlos. Barca corner. Dembele's effort gets cleared away comfortably.
3'
Fast start to the game as Suarez tries a speculative effort from out on the right, but it's from way out and is easy for Tomas Vaclik...
Prev.
Sevilla change their entire team from their 1-0 victory over APOEL in the Europa League just three days ago. The goalscorer in that game, Hernandez, is on the bench.
Prev.
Arturo Vidal is rewarded with a place in the Barcelona XI tonight after he came off the bench and changed the game against Inter Milan on Wednesday night.
Prev.
Barca's opponents today are Sevilla, who sit just behind the Catalans in the table on goal difference. Julen Lopetegui's side have flip-flopped funnily in recent weeks, losing then winning 3-2 thrillers against Eibar and Real Sociedad. Let's hope for similar entertainment here!
Prev.
Sevilla starting XI: Vaclík; Navas, Diego Carlos, Carrico, Reguilon; Banega, Oliver Torres, Fernando; Ocampos, De Jong, Nolito.
Prev.
Barcelona starting XI: er Stegen; S.Roberto, Pique, Todibo, Semedo; Vidal, De Jong, Arthur; Messi, Suarez, Dembele.
Prev.
Line-ups are out! Let's take a look, shall-we?
Prev.
Hello and welcome to our coverage of this evening's LaLiga clash as Barcelona and Sevilla, tied on 13 points, try to get closer to Zidane's Real Madrid in the Camp Nou!