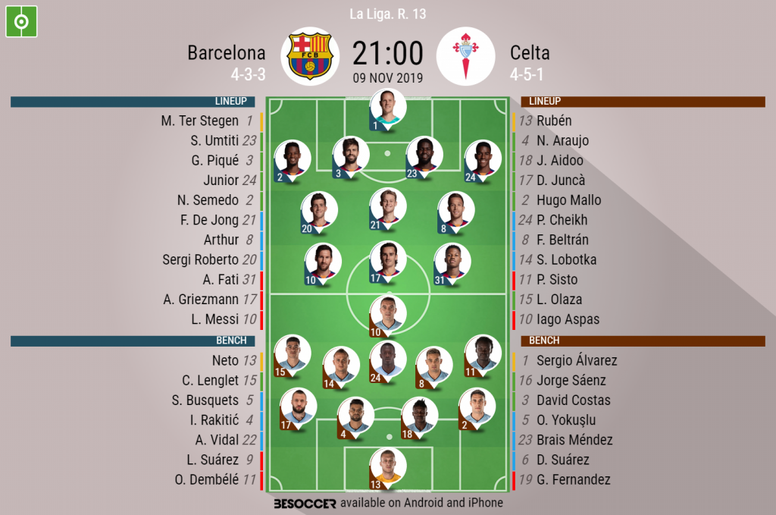 Barcelona V Celta - As it happened.
Post.
As always, we thank you for joining us tonight! See you soon for some more football!
92'
FT: Barcelona 4-1 Celta. A convincing win if you look at the scoresheet, but there's still a lot to do for Valverde to have his job secure. Still, Messi is still Messi and the entire team can go to bed knowing that's the case. Encouraging stuff for Oscar Garcia's men despite the result, with a much more entertaining second half proving there is progress to be made, but it's not all bad.
90'
One minute of added time! Reaching the end now at Camp Nou. Barca heading into the international break on top of La Liga...
90'
Mendez' corner from the right is straight down Ter Stegen's throat, and he makes an easy catch.
88'
Busquets gets a yellow card for dangling a leg and tripping Mendez by the right corner of the penalty area. Made absolutely no attempt to go for the ball. Couldn't be bothered.
85'
GOAL! 4-1 Barca, an unexpected banger from Busquets! Dembele holds the ball up on the left before crossing towards the back post. The cross is headed away by Junca but only as far as Busquets at the edge of the area, and the midfielder takes a touch before slapping it into the bottom-left corner.
85'
SERGIO BUSQUETS MAKES IT 4-1!!!!!
82'
Luis Suárez's right footed shot from outside the box is close, but misses to the left after an assist from Dembele.
81'
Final change for Celta, as the influential Cheikh is replaced by Fernandez.
79'
Griezmann, sat on the bench, does not look very happy...
77'
Denis Suarez (yes, the former Barça player!) comes on for Lobotka.
76'
Barca work a free-kick on the right and Sergi Roberto chips it towards the far post, but there's too much on it and the ball goes out of play.
75'
Barça with the possession now as Messi looks to flick the ball around the corner for the advancing Suarez at the edge of the area, but it's cut out.
73'
Griezmann's work for the night is done, as he's replaced by Suarez.
73'
Messi slides in to try to reach a Dembele cutback, but cannot quite get on the end of it. Very close!
72'
Barca are howling for a penalty after a robust challenge from Lobotka on Messi, but the referee isn't interested. He had exchanged passes with Griezmann at the edge of the area - the Frenchman has been much more involved since the hour mark.
67'
Celta with more of the ball now, but Barcelona are quite happy to sit back and soak it up. Ernesto Valverde's side pretty comfortable at 3-1 up, even if this hasn't been a vintage performance by any means...
64'
Celta make a change, as Mendez comes on for Sisto.
61'
Griezmann with a great chance, but his left-footed shot is smothered by Ruben. He needs a goal...
60'
Dembele carries the ball down the right before coming infield and looking for Messi with a dinked pass into the area. He shields it from Aidoo and exchanges passes with Griezmann, but Barca can't find a way through.
55'
Sisto gets in behind down the left, but he has no support and Umtiti and Pique force him out to a difficult angle. In the end, he fires a powerful low shot towards goal but Ter Stegen makes an easy save. Good stuff from both teams at the moment!
53'
Aspas sets Mallo free in space down the right and his cross deflects up into the air, but it just won't drop for a Celta player. The ball then comes back in towards Beltran who diverts it toward the top-left corner, but Ter Stegen springs up to make a decent save. Celta are having a go.
52'
Roberto is booked for a late challenge.
52'
Celta answer back as Ter Stegen makes a clinical save! Much better second half in terms of football quality. There could very well be more goals in this today.
47'
LIONEL MESSI SCORES AGAIN!!! Oh man, can this player score free-kicks. He makes it look easy. Barcelona now leading with three goals!
47'
Uh-oh. De Jong is fouled by Cheikh, and Barca have a free-kick just outside the area.
46'
WHAT A CHANCE FOR DEMBELE! He's been on the pitch all of 40 seconds as he gets the ball at the right corner of the penalty and drifts infield. He beats three defenders before shooting left-footed, but lifts his shot high over the crossbar.
46'
Valverde shuffles his pack at the break. Dembele comes on for Fati.
46'
HT: Barcelona 2-1 Celta. There's been some goals, but not a lot of football. Barcelona are nowhere to be found and the team is completely out of sync. Of course, there's Messi and youngster Ansu Fati, but not much more to be said about Valverde's men here. Oscar Garcia's side, on the other hand, have had quite an encouraging first half despite the current result.
46'
Messi bends the free-kick into the top corner, because of course he does! It might as well have been a penalty. 25 yards out, slightly to the right of centre, left foot, top-right corner. Honestly, it's just stupid how good he is at those. He's Barça'slight at the end of the tunnel. Every. Single. Time.
46'
LIONEL MESSI SCORES A STUNNING FREE-KICK!!!!
45'
Beltran is booked for pulling Arthur back by the shirt as he looked to burrow into the Celta defence through the centre. The Brazilian has been pretty busy whenever he's had the ball.
45'
One minute of added time! You'd probably say 1-1 would be fair enough at half-time. Celta haven't done a great deal, but neither had Barca and neither side especially deserved to go in ahead. Maybe 0-0 would be fairer.
41'
What a strike from Olaza! The free-kick is to the right of centre, eight yards or so outside the penalty area, and the left-back steps up to bend a brilliant left-footed strike into the bottom-right corner.
41'
OLAZA SCORES THE FREE-KICK!!!!!! WHAT A GOAL!!!
40'
Yellow card for Messi. He tracks back as Cheikh drives at the Barca defence, and trips him at the edge of the area. He did get a touch to the ball, but a foul is probably a fair call - and it's a good shooting position for the Celta free-kick.
39'
CHANCE! Messi drifts infield from the right, apparently looking for a shooting position and drawing three defenders towards him as he does. Instead, he slips a pass through to Fati who has escaped attention, and the youngster pulls off a brilliant turn with his first touch - but there's a defender waiting for him on the other side of it.
36'
Messi taps in from an Arthur cutback from the byline, but it looks like the ball was out of play before the Brazilian crossed... VAR confirms! No goal!
36'
GOAL! But it looks offside?
32'
CHANCE! Lionel Messi's left-footed shot from outside the box is saved in the top left corner after a wonderful assist from Ansu Fati.
32'
Worrying stat for this team: Barcelona's last two goals have been penalties.
30'
Fati knocks a pass through to Griezmann at the edgte of the area. He then either looks to return the pass or shoots - I'm not sure which - but it bounces about six yards wide of goal and out for a goal kick. He appeals for a corner, which he doesn't get.
28'
Fati looks to take on Mallo inside the penalty area, but he loses his balance and very gradually falls over.
26'
Aspas takes the free-kick, but it isn't a very convincing effort and it bounces wide to the right of goal. Ter Stegen then gets a bit of a telling off from the referee for time-wasting from the goal kick.
25'
Umtiti gets the first yellow card of the match for a late challenge on Cheikh. The free-kick will be taken just outside the penalty area, to the right of centre - pretty much in line with the edge of the D.
24'
Roberto has moved back into the right-back position with Semedo off, and Busquets has joined De Jong and Arthur in midfield. Possible injury?
23'
GOAL! 1-0 Barca, Messi scores from the spot! He jogs up and strokes the spot-kick left-footed into the bottom-left corner. Blanco falls the other way. It isn't exactly deserved, but Barca lead.
21'
Penalty for Barcelona! Out of nowhere! Firpo looks to pull a ball back from the left, and Aidoo handballs it as he attempts a sliding block.
20'
Busquets is warming up already. No surprise really with Barca struggling to build from deep.
16'
Sergi Roberto wins a free kick in the defensive half
14'
Messi involved for the first time with a dangerous shot from the edge of the box. Ruben Blanco gets down to make a good save to his left... Barcelona need to show more strength.
11'
Barca have moved forward now, but they are not finding it easy to build from the back in the absence of Busquets.
9'
Unusual at Camp Nou, but Barcelona are struggling to get out of their half at the moment.
8'
Sisto looks to show some trickery to the left of the penalty area, but Semedo marshals him well and wins the ball back with a clean tackle.
7'
Griezmann looks to have released Fati in behind with a measured pass down the left channel, but Aidoo reads the play well and has the pace to get to the ball first. He shepherds the ball out for a goal kick.
2'
Celta with a new coach tonight, former Barcelona player Oscar Garcia, who came through the youth system at La Masia and was a popular player at Camp Nou... Must be quite an interesting night for him.
Prev.
The teams are on their way out, the Camp Nou is set, and we're just a few moments away from kick-off.
Prev.
Celta, meanwhile, have real problems – they're two points adrift of safety in 18th, and sacked former manager Fran Escriba earlier in the week.
Prev.
Barca and Valverde are in crisis, which is to say they started the weekend top of La Liga on goal difference alone. They have catching up to do now, though, as Real Madrid have just swatted Eibar aside 4-0.
Prev.
Celta: Ruben Blanco; Lucas Olaza, Nesto Araujo, Joseph Aidoo, Hugo Mallo; Fran Beltran, Pape Cheikh, Stanislav Lobotka; David Junca, Iago Aspas, Pione Sisto.
Prev.
Barcelona: ter Stegen; Firpo, Umtiti, Pique, Semedo; Arthur, de Jong, Sergi Roberto; Fati, Griezmann, Messi.
Prev.
Hello and welcome to your minute to minute coverage of this evening's LaLiga clash between Barcelona and Celta!