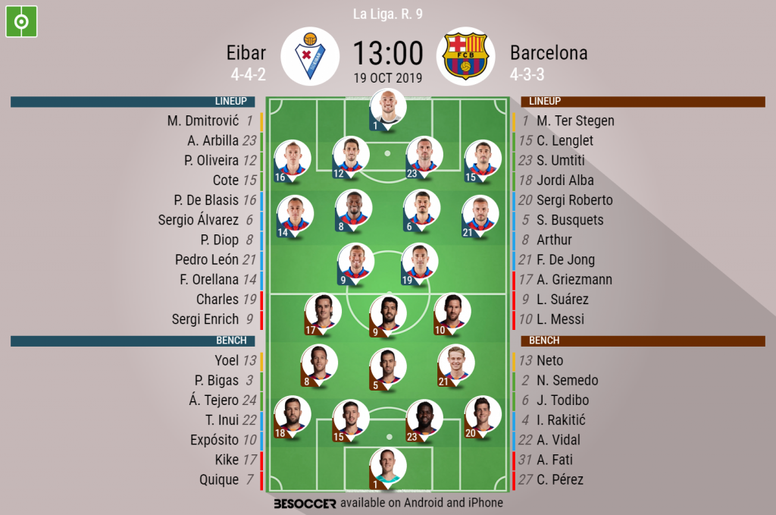 Eibar v Barcelona - as it happened
90'
FT: Eibar 0-3 Barcelona. Barcelona still have some tweaking to do, but things are clearly getting back to "normal" for Valverde's men as Griezmann, Suarez, and Messi all get on the scoresheet for the first time. Despite the result, it's a decent performance from Eibar, but Barça frontline was perhaps too much to handle for a sometimes weak defense.
90'
Three minutes of added time!
89'
Exposito booked for a foul on Rakitic.
88'
It's a poor late challenge by Inui on Vidal, with the Barca man getting to the ball first and Inui is shown a yellow card.
85'
CHANCE! Again it's Messi and Suarez linking up in attack, with Suarez the one with the effort towards goal. The striker tries to volley it into the bottom right-hand corner, but it's drilled narrowly wide of the post.
83'
Messi is the chosen one for the free-kick (no surprise there) but he shoots it just over the bar.
81'
Foul on Messi by Sergio Alvarez, who clearly stops his solo run which could have lead to a goal. Free kick for Barça...
78'
De Jong comes off for a struggling Rakitic, who has publicly complained about not getting enough playing time...
75'
De Jong and Busquets are controlling things in midfield for Barca, they've both improved in the second half and Vidal is now on the pitch to add another attacking threat... There could be more goals in this game.
73'
Eibar are keeping the ball, but Barcelona are getting everyone back behind the ball and limiting any time and space that they have in possession. They don't look like troubling Ter Stegen.
71'
Double change here: Arthur Melo comes off for Arturo Vidal as Enrich is replaced by Inui for Eibar.
70'
There were some doubts over whether the Griezmann Suarez Messi trident would work, and it looks like today was the day for the three players to shut down those who say they have no chemistry.
68'
Very unselfish play by Messi, who could've easily gone for goal himself and scored, but he choose to pass and now all of the Barca front three are on the scoresheet.
67'
Suarez makes it 3-0! That will surely be all three points secured for Barcelona now. Griezmann turns and plays a lovely ball in behind the Eibar defence, Messi races through on goal and only has the keeper to beat, but decides to square it to Suarez, who easily slots the ball into the back of an empty net.
66'
AND NOW LUIS SUAREZ GETS HIS GOAL!!!!
63'
Eibar have made their first substitution of the game, with Pedro Leon coming off the pitch and he has been replaced by Exposito.
61'
The second Barca goal seems to have sparked Eibar into life a little, they are showing more urgency now, but they'll surely find it difficult to come back from two goals down. And it looks like Messi is finding his groove...
59'
There was a quick VAR check on the goal, just checking to see if Messi was offside when he received the ball. However, the goal is allowed to stand.
58'
De Jong plays a ball into Suarez, the Uruguayan looks to make himself a shooting opportunity but loses control and it goes to Griezmann, who spots Messi in space to his left and squares to give the Argentine a simple finish for his second of the season. Barca lead 2-0!
57'
LIONEL MESSI SCORES!!!!!!!!
56'
De Jong wins the ball back on the left, cuts inside and squares a ball to Suarez on the edge of the box, but the Uruguayan's low shot is straight at Dmitrovic.
55'
Lenglet comes across to cover as Sergi Enrich gets into the box on the left. Good interception from the French defender.
53'
Barcelona would have preferred to be leading 2-0 but it looks like the second goal won't take too long. Dominating at the moment.
50'
GOAL RULED OUT! Suarez has the ball in the back of the net after a kick one-two with Messi on the edge of the box, with the striker then sliding the ball into the back of the net. However, it is ruled out for offside, the striker just strayed into an offside position.
48'
Eibar are enjoying the early possession here in the second half, Barca are just dropping deep and allowing them time on the ball in their own half.
46'
Barça make one change as Sergi Roberto is replaced by Semedo.
45'
HT: Eibar 0-1 Barcelona. Griezmann opens the score for a solid Barça despite some defensive mistakes. Eibar are reaching the box frequently, which means Barcelona are not enjoying their usual large possession, but they definitely still look like the stronger team at the moment. See you in 15!
40'
Barcelona are still dominating despite Eibar's efforts, which have been decent. Some clear defensive mistakes though, if Eibar had more clinical finishers this game would probably have a different scoreline.
37'
Decent effort! Another Eibar corner, which Arbilla meets at the far post, but he can't keep his header down and it flies high over the crossbar.
35'
Suarez sets up De Jong in the area, but the Uruguayan's pass is too long and the Dutch midfielder has to cut back, which allows Eibar to clear. Barcelona seem strong at the moment.
34'
Barcelona dominating the attack and Leo Messi and Suarez are clearly at the forefront despite Griezmann being the only player to have scored as of yet.
32'
A stunning solo run by Leo Messi sees Barcelona almost double their lead, but the Eibar defense reacts and the Argentina star is stopped.
27'
Good clearance by Umtiti right on the edge of his six-yard box, as Charles was piling in to try and win the header. The two Barca centre-backs have been busy so far.
26'
Reports of chants for Catalan independence and for the Catalan political prisoners to be released from the Barcelona fans at Ipurua... It looks like Barça can't escape this.
24'
It's a double yellow for Eibar as Charles is also booked, this time for protesting.
24'
Yellow card for Pape Diop for a tackle to De Jong.
21'
Eibar pressing well since the goal, but Barcelona have been solid at the back so far... Free kick for Eibar for a foul.
17'
Barcelona are still not at their very best, but there is certainly an improvement in their away form and it is most visible right now. The recent wins have provided a much-needed confidence boost.
13'
It's a french connection goal as Lenglet assist Greizmann for his 4th goal in LaLiga this season! De Blasis slips as he turns and tries to chase the ball, which sees Griezmann then run through on goal and slide the ball into the back of the net, off the inside of the post. Lucky play, but well deserved for Lenglet who saw it coming.
12'
GOOOOOOOOOAAAAAALLLL!!! GRIEZMANN IN THE COUNTER-ATTACK!!!!
12'
Another chance for Eibar and this time they get really close! Leon with the best opportunity of the game so far and he should be doing better! Excellent attacking play by Eibar, they work it well down the left, with Orellana laying it off to Cote on the overlap, who pulls the ball back to Leon on the edge of the area, but he drills his effort over the crossbar.
9'
Eibar get their first chance at a decent approach but Lenglet manages to clear it narrowly.
7'
Good pressing from Eibar, trying to keep Barcelona out of their final third, but the visitors are still dominating possession at the moment.
5'
Suarez with a lovely touch and then nutmeg to work space for the shot at goal, he tries to catch Dmitrovic off his line from long range, but the ball flies well wide of the Eibar goal.
2'
Strong start from Barcelona as they immediately get the possession and start getting closer to the box. Barcelona's dribbling has come out in force today.
Prev.
Match is moments away... Can Barça get the win?
Prev.
If Barcelona gets the win, they could gte back to the top of the table after a rocky start... And with the death trio on display, Barça fans will be hoping that they will finally find their much needed chemistry. Kick off in 5!
Prev.
Meanwhile for Barcelona, Alba returns from injury to take his place at left-back, with Semedo dropping to the bench. Lenglet returns after suspension and Umtiti replaces the now suspended Pique. Busquets and Griezmann also come into the team, replacing Vidal and Dembele.
Prev.
Gonzalo Escalante is missing for Eibar today, after being sent off against Betis and he has been replaced by Alvarez. Bigas, Inui, Exposito and Kike also drop out of the starting XI, they have been replaced by Cote, Leon, Charles and Enrich.
Prev.
Barcelona starting XI: Ter Stegen, Lenglet, Alba, Umtiti, Roberto, Arthur, De Jong, Busquets, Griezmann, Messi, Suarez.
Prev.
Eibar starting XI: Dmitrovic, Arbilla, Angel, Oliveira, Orellana, De Blasis, Diop, Leon, Alvarez, Charles, Enrich.
Prev.
Let's take a look at the line-ups shall we?
Prev.
Hello and welcome to our minute to minute coverage of this early afternoon's LaLiga match between Eibar and Barcelona, where Valverde's men could come out at the top of the table if they get the win!