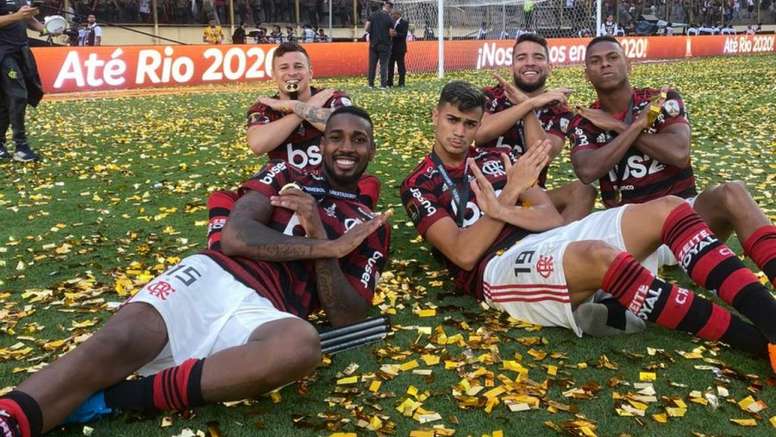 "Reinier is gifted, he will succeed at Real Madrid"
In some declarations with 'Marca', Jorge Jesus wanted to speak about Reinier's arrival to Real Madrid. The Flamengo coach is convinced that he will triumph in Spain.
"He is young with a lot of talent, but don't look at him the way you looked at Joao Felix, with all the pressure he had. I think a lot of Reinier, I has a few chats with him and we talked a lot from the point of view of how he could be revalued, how he could be better, of his faults, of what needed to be corrected. We talked a lot, I showed him several examples of players so that he would have a reference," said Jorge Jesus.
And he added about the players quality, seen as he is only 17-years-old: "Reinier is a very intelligent boy, he likes to learn and I can say that he is talented. Physically he is gifted for the position of a second striker, but don't put too much pressure on him. The system is fundamental so that he can perform. For example, he has difficulty playing 4-3-3".
The Brazilian team's coach is totally convinced that he will succeed in Spain at the hand of Zidane and Madrid: "I think he is going to triumph in Spain. He is only 17-years-old, but physically he has abnormal characteristics. Technically he is very strong and on the pitch he is 5 years older than what he is, he plays as if he were 22 in terms of emotions and intelligence".
"Now he has to grow, he is not Joao Felix, they are different. The Portuguese has more goal-scoring characteristics, whilst Reinier has a very strong individual technique and he doesn't like to play as a sole striker. he likes to have another player by his side and he is very strong in centre-midfield," he added.
Finally, Jorge Jesus commented: "He will arrive at Madrid safe and peaceful to do his work. But it is necessary to give him time so that he can grow as a player and this is also very important so that he can, one day, succeed at Real Madrid".