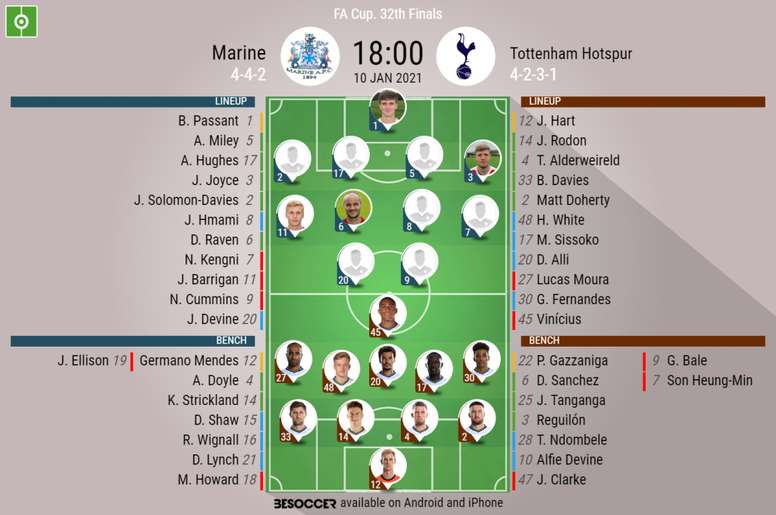 Marine v Tottenham Hotspur - as it happened
Marine

Tottenham Hotspur FC

92'
FT: Marine 0-5 Tottenham!!! All over in Crosby and Spurs got the job done. Carlos Vinicius got a hat-trick and Lucas Moura scored a free-kick in the first half. 16 year-old Alfie Devine added a fifth in the second half. Kengni hit the bar for Marine at 0-0, but they were truly outclassed. They'll still remember the day though. Thanks for joining us and see you again soon!
92'
Vinicius nearly makes it six!!!! Bale finds Devine, who gives it to Vinicius and he turns before firing wide!
91'
A long ball forward is dealt with by Solomon-Davies.
89'
Hart has had little to do here in the second half. Marine were in this game at 0-0 despite being second best, but the first goal opened the floodgates. The game was done before half-time. This day will be remembered by all Marine fans and players for the rest of their lives though.
88'
Spurs attacking now and Football's coming home rings out from one of the nearby houses.
86'
Bale, Clarke and Fernandes pass the ball amongst themselves to pass time.
84'
Music is playing now from the nearby houses as we reach the closing stages of this one.
84'
Bale miscues the ball wide of the goal!
82'
Clark looks to find a teammate, but it's blocked and the ball ends up in Passant's hands.
81'
Marine sub: Shaw is on for Raven.
81'
Still 0-5 here and it doesn't look like there will be any more goals.
78'
Joyce gets the first card of the match for a clear trip on Joyce.
75'
Marine double sub: Strickland on for Devine and Cummins makes way for Wignall.
74'
Harvey White goes for goal and the ball goes out of the ground.
71'
Spurs sub: Reguilon on for Davies.
69'
Bale's free-kick is fumbled by Passant and it goes wide of the goal.
69'
Another free-kick for Spurs here 25 yards from goal.
67'
Marine sub: Doyle on for Hmami.
64'
Tottenham double sub: Alli is replaced by Bale while Jack Clarke comes on for Moura.
64'
White hits the free-kick over the bar!
63'
Free-kick to Spurs just outside the D after Moura is brought down.
60'
Devine scores!! The 16 year-old gets on the scoresheet. Moura backheels the ball to Devine who cuts inside and then beats Passant at his near post.
59'
Moura!!! A cross finds Davies and his pass is turned wide by Moura.
58'
Free-kick for Tottenham 30 yards from goal.
56'
Alli, Vinicius and Davies combine and the ball in is blocked.
54'
Vinicius!!! He controls the ball down with his leg, turns and then shoots over.
53'
Spurs have definitely calmed things down in the second period and are passing the ball amongst themselves.
52'
Hmami goes for goal and it ends up being a low and tame effort which Hart has no issues dealing with.
51'
Marine send a cross into the box and Hart catches.
50'
Dele Alli threats for the visitors, he looks for Doherty in the box and Marine get the ball clear.
47'
Kengni goes for goal and it's easy for Hart.
46'
Marine sub: Howard on for Hughes.
46'
Marine get us going again!
45'
Spurs double sub: Tanganga and 16 year-old Devine on for Sissoko and Alderweireld.
45'
HT: Marine 0-4 Tottenham! Half-time in Crosby and it's been straight forward for Mourinho's men. They've dominated from the off, but Marine nearly scored when Kengni was denied by the crossbar, but when Carlos Vinicius scored minutes later, the floodgates opened. He completed a hat-trick and Lucas Moura netted a lovely free-kick to put Spurs four up at the interval. Back for more in a bit!
44'
The visitors are cruising here and the Marine players may as well just enjoy themselves now. They have no chance of getting back into this.
41'
Spurs attack again and Doherty is caught offside.
40'
Someone has got a cardboard cutout of Jurgen Klopp behind the fence!
39'
Alli's ball into the box finds the hands of Passant.
37'
Vinicius completes his hat-trick!! Alli passes to White whose ball is dealt with by Marine and Vinicius chips the ball into the far corner. 0-4.
36'
Chance for Marine!!! The home side attack, the ball is passed to Joyce and his goalbound shot is well blocked by the diving Rodon.
34'
Davies has a go and the shot goes wide.
32'
Moura makes it three!!! What a free-kick and now they've got no chance. A right foot free-kick goes over the wall and into the GK's right hand corner. I think Passant should have been more to the right and he may have had a chance of saving that. Was a good free-kick anyway.
32'
Marine have tried hard, but there's a huge gulf in class. Kengni's bar shot is the closest they've come so far.
31'
Free-kick to Spurs after Moura is fouled by Kengni.
30'
Vinicius gets Spurs' second and it's tough now for Marine!! Alli's ball in finds Doherty, the volley is saved by Passant and Vinicius taps in the rebound. Legal goal as Vinicius was behind the ball.
28'
Tottenham are the much better side here now.
26'
Fernandes goes for goal now from 25 yards and he hits the ball into the back of the stands.
26'
Spurs take the lead, but Vinicius' reaction is proof they know they're in a game here! Marine hit the bar five minutes back and now they're behind.
25'
Vinicius wasn't offside, by the way.
24'
Vinicius scores for Spurs!! Hands up by Marine, but it's given! Alli plays a one-two with Fernandes, he then picks out Vinicius at the back post, who miscontrols, then goes round the GK before furiously smashing the ball into the back of the net!
22'
White sends a ball in which beats everyone.
21'
Appeals for a handball by Marine as the ball strikes Fernandes' hand. Not given though.
19'
Kengni!!!! Off the crossbar!!! Kengni runs with the ball and tries his luck from 30 yards, the ball cannons off the crossbar and Hart has to then tip the ball over for a corner!
17'
Little to report here in the last few minutes. Spurs better, but Marine comfortable.
14'
A Marine free-kick is sent into the box by Hmami and Mourinho's men deal with it.
13'
Marine have struggled to do anything in attack so far, but are defending well.
12'
Another ball into the box finds the hands of Passant.
11'
Hmami is penalised for a foul on White just outside the box.
10'
Free-kick to Tottenham after a late challenge by the home side.
9'
Moura!!!! The Brazilian runs through the middle and then his shot strikes the seats in the stand behind the goal.
7'
Corner for Spurs won by Fernandes.
6'
Alli!!! Doherty's cross from the near side is laid off by Vinicius to Alli and the shot is regulation for the keeper.
5'
White's free-kick hits the wall and Miley prevents the corner.
3'
Moura and Fernandes combine, Marine get it clear initially, but then Fernandes is fouled 30 yards from goal.
2'
Spurs having the early possession here as you would expect.
1'
Vinicius goes down Marine's right and Miley slides in to concede the corner.
1'
Tottenham get us going from left to right in the white! Marine in gold with black shorts.
Prev.
People are watching from nearby houses and fences. Very non-league.
Prev.
The players make their way out here!
Prev.
Son, Bale and Reguilon are on the bench, but Kane isn't even in the squad.
Prev.
Spurs make nine changes from the 2-0 win over Brentford on Tuesday night in the Carabao Cup SF. Sissoko and Lucas Moura are the only players to keep their places.
Prev.
Michael Oliver is the referee for this one. There is no VAR as it's not a Premier League ground.
Prev.
A reminder we will have extra-time and penalties if needed.
Prev.
Marine are an 8th tier side from Crosby, near Liverpool. As only the first six tiers are allowed to continue during England's lockdown, their league has been suspended. Marine's players are part-timers and will be furloughed if they lose here today.
Prev.
Tottenham XI: Hart (GK); Davies, Rodon, Alderweireld, Doherty; Lucas Moura, White, Alli, Sissoko, Fernandes; Vinicius.
Prev.
Marine XI: Passant (GK); Devine, Barrigan, Cummins, Hmami; Kengni, Hughes, Joyce, Miley; Raven, Solomon-Davies.
Prev.
Hello and welcome to our live coverage of the FA Cup tie between Marine and Tottenham! What a moment this is for the home side.