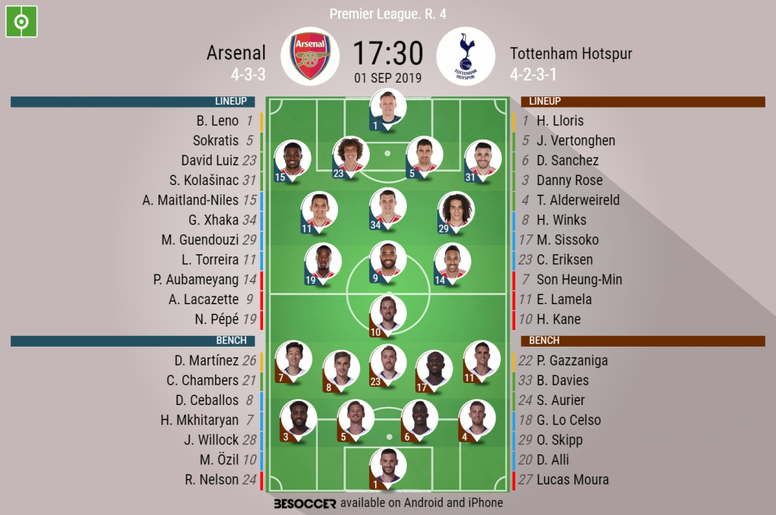 Arsenal V Tottenham Hotspur - As it happened.
Arsenal

Tottenham Hotspur FC

Post.
As always, we thank you for joining us this afternoon! See you soon!
95'
FT: Arsenal 2-2 Tottenham. Aubameyang falls to the ground, exhausted. And exhausting it was! Brilliant and breathless game from both teams here, although Emery's men had the upper hand during the second half. No Premier League for a little while now, so we hope you enjoyed.
90'
Dive from Harry Kane, but that could have been a penalty... What is Sokratis thinking?
90'
Ah, there we go. Xhaka receives a yellow card. Long time coming.
90'
Five minutes of added time! Could be even more considering the amount of fouls.
87'
Yellow card Sokratis. He slides in and starts a scuffle with Winks. It draws in both sides, but the referee opts to only book the Arsenal defender. He runs hot, doesn't he?
85'
Sanchez is ailing down the right for Spurs. He makes a clumsy mistake heading back towards his own, but neither Mkhitaryan or Pepe can capitalise on the opening.
83'
Starting to wonder if fouling is part of Xhaka's personality. Dele Alli seems upset and is seen complaining; rightly so.
80'
DISALLOWED GOAL! Sokratis believes that he has bundled the ball home at the back post from Kolasinac's cross, but the left-back was offside before he played the cross into the box. The Gunners are all over Spurs here. VAR checks it, but it is indeed offside.
80'
Lo Celso replaces Son for the visitors.
78'
WIDE! Tottenham clear their lines from a corner, but the loose ball falls to Pepe to strike. However, he loses his shape and slices his attempt wide of the target. Spurs starting to struggle hee
74'
Winks goes into the book for kicking the ball away following a foul.
70'
That's what you get from Aubameyang through the middle! He makes a darting run in between Rose and Vertonghen, and an exquisite long pass from Guendouzi lands right into his path. A toe is enough to take it past Lloris and Arsenal have come from two down.
70'
GOAAAAAAALLLLLLLLLLLLLL!!!!!!!! AUBAMEYANG!!!!
67'
Mkhitaryan replaces Lacazette, who seems to have a slight issue.
65'
Son has room once again on the break, but he tries to do too much himself. Best player for Spurs at the moment. The others are not following along.
62'
A few moments before, Lacazette got a yellow for pulling Eriksen back. Standard Premier League game in terms of yellows, this.
62'
Spain's Dani Ceballos comes on for Toreira. Why is he not getting a place in the starting line up you ask? Don't know, beats me. He should by this point... He's definitely not any worse than Xhaka.
61'
A few good approaches from Arsenal, but both Pepe and Aubameyang end up wasting them by shooting too inaccurately from outside of the box.
59'
Lamela gives way to the returning Dele Alli.
57'
Yellow card for Eriksen for stopping a free-kick from being taken quickly. Not the smartest behaviour when the referee is standing right there.
55'
Arsenal have dominated since the whistle in this half. Spurs will need to up their tempo a little here to stay in the lead. Spurs do break with Son and he tries to slip through a pass to Lamela but Luiz reads it cuts out the danger.
51'
Tackles flying around now... Xhaka is particularly awful here.
47'
Arsenal show some early intent, as Pepe lifts a cross onto the penalty spot where Lacazette is waiting but his header is well held by Lloris despite a difficult angle.
45'
HT: Arsenal 1-2 Spurs. Thrilling scenes at the Emirates Stadium as Arsenal come back from a 2-0 lead by Spurs. Very open game at the moment, but both team's usual cracks are starting to show. See you in 15!
45'
It's game on for Spurs and Arsenal. In just a couple of minutes, Arsenal get a free-kick, which is wonderfully taken by Aubameyang, but an even better save from Lloris denies Arsenal. Calls for a penalty go round as Spurs fail to clear the ball and it ends up back in the box with Lacazette, who takes two great touches and then smashes a shot beyond Lloris from close range. Wonderfully assisted by Pepe.
45'
GOAAAAAAAAAAAAALLLLLL! Arsenal!!!!!
45'
Two minutes of added time to this first half!
43'
Save! It's a packed penalty box, but Maitland-Niles still manages to pick out Pepe, who fires through a crowd but Lloris appears from behind to make a vital save for Spurs. A two goal lead isn't exactly safe territory for a North London Derby.
39'
Spurs double their advantage as Kane holds his composure fire his strike into the net. In true fashion, the England man rattles his attempt into the left bottom corner giving Leno no chance. Spurs are in control here. Ten north London derby goals now for Harry Kane.
39'
GOAAAAAAALLLLLL!!!!!!!!!!!
38'
PENALTY! Terrible foul, and Harry Kane will shoot... Son is brought down by a vicious dive from Xhaka and the referee points to the spot. Xhaka should not be making that kind of unnecessary foul anywhere on the field, let alone in the penalty area.
36'
Another poor piece of goalkeeping from Leno almost gifts a second to Spurs. Kane hits a weak effort from 20 yards which Leno palms away needlessly, allowing Son to put the ball back into the danger area, but Kane can't reach...
36'
Aubameyang is released down the right and lofts a cross into the box for Pepe to attack but Spurs have enough men back to clear it away. Lacazette tries to be decisive but instead just whacks a ball down the pitch and out of play.
31'
Yellow card for Lamela. Spurs starting to get more physical here.
29'
Pepe lifts the resulting free-kick into the box, but Kane rises highest to head behind for a corner. There's more defending ahead for Spurs as the same exact action repeats itself a minute later; this time Alderweireld clears it.
28'
Tottenham play themselves into trouble after the free-kick. Rose has to commit to a challenge with Lacazette and clips the forward late. Looks painful from this angle, and the referee seems to agree: first booking of the game!
26'
Alderweireld fouls Lacazette, which leads to a free-kick. Pepe looks focused and set to score, but he shoots it too wide.
23'
Aubameyang probes down the left flank before lifting a cross deep to the back post. Pepe rises to head across the face of goal, but Rose is on hand to divert it wide. Good attempt, but Arsenal are having a hard time with Spurs' counter.
20'
The goal has certainly had a positive effect for Spurs. Although their game is not as organised as Arsenal's, their counter-attack skills are providing enough danger for Emery to be at the edge of his seat.
17'
Beautiful curled strike from Son, who thinks it's gone in but the mid-afternoon sun tricks him. Instead, Leno makes a vital save. Redeeming himself after the goal?
15'
Right-footed strike to the top corner from Eriksen, who is clearly up for this game! Leno narrowly makes the save.
11'
Stats! Eriksen has now scored 50 Premier League goals – the first Danish player to reach this landmark – whilst also becoming the first Spurs player to register both 50+ goals and assists for the club in the competition.
10'
HUGE mistake from Arsenal both in defending and goalkeeping. In Spurs' first minute of possession, Son releases the run of Lamela through on goal and he strikes a right-footed effort towards the target. It's a tame strike, but Leno can only palm the ball out straight to Eriksen. The Dane accepts the gift and converts from close range.
8'
Arsenal bullying the Spurs midfield here... Emery's men are keeping possession and getting closer to the box. Interesting start.
5'
Corner for Arsenal! Does not lead to anything susbstantial, but it's an encouraging start for the Gunners.
3'
Good stuff from Arsenal in the first few minutes! Aubameyang sends Kolasinac on his way down the left flank and the defender cuts the ball back to the edge of the box. Pepe latches on to the low cross, but sends his strike over the bar.
1'
As the game gets started, here's a scary head to head record for Pochettino: Spurs have won one of their last 26 Premier League visits to Arsenal (W1 D10 L15), coming from 0-2 down to win 3-2 in November 2010.
Prev.
Arsenal get their first chance at something here! Good dribbling and passing from Aubameyang, who sends Kolasinac on his way down the left flank and the defender cuts the ball back to the edge of the box. Pepe latches on to the low cross, but sends his strike over the bar.
Prev.
Another intimidating presence at the Emirates today...
Prev.
Here's an interesting stat while we wait for the start of the game... Harry Kane is one goal away from reaching double figures in north London derbies. He's had a relatively quiet start to the season, but you'd be a braver man than me to bet against him getting there today.
Prev.
So this is happening today... Arsenal's attack certainly looks very intimidating.
Prev.
It was more of an unlucky loss for Pochettino last week, as they had 17 shots a week ago but just weren't sharp enough to convert. Will the off poor results a week ago be enough to create some positive momentum this week?
Prev.
But Arsenal are not the only ones to have gotten a bad result... Spurs got a reality check last week with a loss to Newcastle. There are some upsides, however: Pochettino said that if Eriksen had not left by Saturday, it would mean he won't leave at all... The European transfer market officially closes tomorrow, but it looks like the Danish star will stay put.
Prev.
We are at the Emirates Stadium and tensions are running high! The Gunners' defense has been inconsistent against Liverpool, who put three past them without much effort, and it looks like Tottenham has a chance to do the same here. Although Emery's attack is getting to a really good level, scoring goals might not be enough if Pochettino's men are having a good day.
Prev.
Arsenal starting XI: Leno, Maitland-Niles, Sokratis, Luiz, Kolasinac, Torreira, Xhaka, Guendouzi, Pepe, Lacazette, Aubameyang.
Prev.
Spurs starting XI: Lloris, Sanchez, Vertonghen, Alderweireld, Rose, Winks, Eriksen, Sissoko, Lamela, Son, Kane.
Prev.
Let's take a look at the line-ups...
Prev.
Hello and welcome to our live, minute to minute coverage of this afternoon's North London derby!