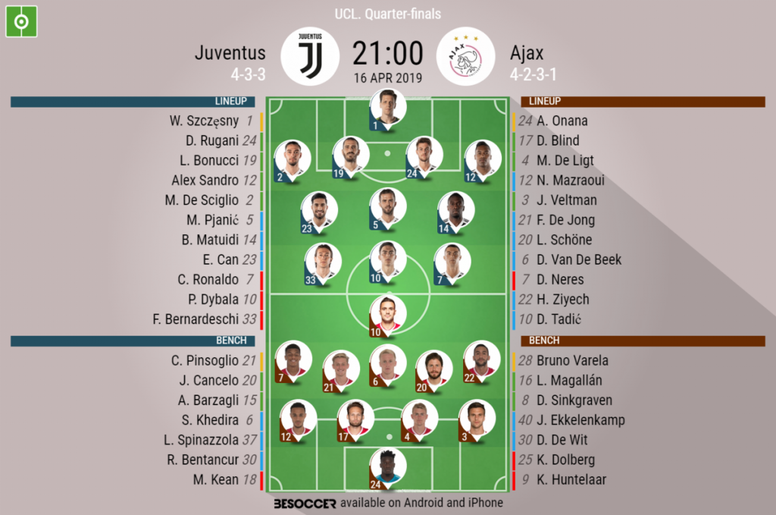 Juventus v Ajax - as it happened
94'
Thanks for joining us on this historic night for the side from Amsterdam! Please join us again soon.
94'
FT: Juventus 1-2 Ajax (agg 2-3)!!! It's all over! Ronaldo's face says it all! He is almost in tears. Ajax once again stun Europe with a sensational victory. A fully deserved victory and after knocking out Real Madrid, they now down Juve. Forget talk of a Messi v Ronaldo final, Ajax may be there. They will have to beat City or Spurs next, but why can't they?? Ronaldo was unable to take his side through like he did v Atletico and his side were dominated in the second half in their own back yard.
93'
Ronaldo goes in the book for a foul on Veltman. Clear. The Ajax fans are in full voice.
93'
Still playing here. I think he has given one extra minute. He has
92'
Schone is fouled inside his own area. Seconds left.
91'
Just two added minutes. Very surprising.
90'
Ref says play on! Good decision
90'
Cancelo then made a foul afterwards. It looks to close. Blind committed the potential handball.
89'
Kean makes a darting run down Ajax's left, he then cuts back and Bentancur wants a penalty for handball!! VAR checking. Not given on the field.
88'
Ajax sub: Huntelaar on for Ziyech.
87'
Time is running out for Juve! They are attacking and attacking, but Ajax are holding firm in defence. Juve have committed various fouls in the last few minutes. Frustration.
83'
Schone shoots wide! Shots 7-3 in the first half, 4-10 in the second!!
82'
Ajax sub: Magallan on for Sinkgraven
81'
Juve sub: Bentancur on for Bernardeschi
80'
It has gone to VAR and the offside is confirmed
79'
What a goal by Ajax, but it chalkked off!! Ziyech scores an amazing goal!!! Cancelo loses possession, Neres passes to Ziyech who is offside. and then there is a one-two before Ziyech fires in from the edge of the box. Offside is given.
78'
Another dangerous counter by Ajax is wasted after one pass too many
76'
Ronaldo's scuffed shot is diverted for a corner
75'
Moise Kean heads wide a Cancelo cross. Juve are pressing and pressing. If they score one, it could get interesting.
74'
How did Neres miss that? Tadic flicks it over his own head then Ziyech plays in Neres. Unfortunately for him, it was on his weak right foot and his effort went wide.
74'
The stadium is very, very quiet. Sandro launches a ball into the box, it is very overhit and Sinkgraven heads it clear
72'
Allegri only had one striker on the bench (Kean) and he came on at HT. He can't bring any other striker on. His team have 20 minutes to score twice
70'
Schone strikes it wide of the post!
69'
Juve need two and they are throwing everyone forward. Ajax counter and Ziyech is fouled by Emre on the edge of the box. He is shouting and shouting at the ref as he sees the yellow.
67'
It's 1-2!!! Unbelievable! But it was coming! Schone delivers a splendid corner and De Ligt leaps highest to head it into the goalie's right hand corner. Fully deserved
65'
Ajax again! This is absolutely extraordinary! Tadic makes a tremendous pass for Ziyech in the box. The Dutchman is far too unselfish and tries to cross instead of shoot.
65'
Juve sub: De Sciglio leaves the park and Cancelo joins us.
64'
De Ligt heads over the corner
63'
Unbelievable!! Juve nearly score an own goal! Neres fires a cross field ball for Tadic, he squares for Ziyech to tap in. Unfortunately for him, Pjanic turns it round for a corner.
61'
Kean nearly scores! Ronaldo controls with his thigh spots Kean, who is unable to hit the target with his shot
59'
Ajax on top in the last 10 minutes without doubt. Juve are rattled
58'
Turpin has a word with Sandro before the corner. The corner was taken short and nothing happened
57'
Ajax threaten once again! Another fantastic save by Szczesny to deny Van de Beek with his curling shot from just outside the box! He has to tip over! Just before that, Ajax caused problems in the Juve box.
56'
Ronaldo gets his head to it at the far post this time. It is misdirected though
55'
Corner to Juve after nice play by Matuidi down the far side.
54'
Blind tries to find Neres. He is unable to though
52'
What a save by Szczesny! Pjanic loses the ball to Neres, he passes to Van de Beek and then Ziyech shoots! It's going in but Szczesny has other ideas! Big moment!
51'
Chance for Ajax!! Schone passes for Tadic on the edge of box who gives it back to him with an amazing backheel!! Finally, Van de Beek's shot is deflected out for a corner kick. Blind gets his head on the corner and it goes wide
50'
Five minutes of intense Juve pressure here
49'
Throw in for Ajax in their own half
48'
Ronaldo makes a brilliant run down the middle, he lays it off to Matuidi and then his attempted pass for Kean is intercepted by De Jong
46'
Juve have made a very fast start to the second period
46'
No more goals here would mean ET
46'
Ajax HT sub: Kean came on for the injured Dybala
46'
Welcome back everyone! Ajax have got us back underway!
45'
HT: Juventus 1-1 Ajax! It was a very quiet first 20 minutes and Juve were very comfortable. Ronaldo then picked up and the Portuguese headed home a Bonucci corner in the 28th minute. Six minutes later, Van De Beek equalised after the ball broke fortuitously to him and from then on, the match was much more even. Please join us for the second half. Back shortly.
45'
Ronaldo's free kick smacks into the wall. Pjanic tries to win a corner off Tadic and it ends up rebounding back off him.
45'
Ronaldo is brought down by De Jong 30 yards out and this could be almost the last act of the first period.
45'
Juve send a ball into the box through Matuidi and it is headed away by De Ligt.
45'
Ajax get a throw in deep in Juve territory.
45'
Dybala is limping here. He is not 100%. He has felt something in his right leg. He is carrying on though for now.
45'
Five added mins because of the 2 VAR stoppages and the injury to Mazraoui
44'
De Sciglio pushes Van de Beek because the Juve player wanted to take the throw in quickly and the Ajax man kept hold of the ball. Nothing important in the end.
43'
This game is very open and both teams could score more goals. This is far from one sided.
41'
Neres makes a charging run down the far side and just runs out of room.
40'
Juve want a foul on the edge of the box, but nothing given! It was Blind on Can
39'
Szczesny suffers a scare as his clearance is charged down by Tadic, but it's his hand.
39'
De Sciglio played Van de Beek on by the way.
35'
We are going to et as it stands.
34'
Ajax equalise!! Van de Beek scores!!! It looked offside, but the goal is given! This will go to VAR! He's not off! This will stand. Neres shot from just outside the box and the ball took a deflection and fell to Van de Beek who tapped in. They also checked for handball, but there was nothing. Good play from Schone in the build up
34'
That was Ronaldo's 6th goal of the competition.
33'
Ronaldo shoots over the crossbar when he could have looked for teammates in the box.
32'
Seeing another replay and De Ligt clearly pushes Veltman, who was marking Ronaldo. Absolutely extraordinary.
31'
The ref sticks with his initial call! The Ajax coach can't believe it, but De Ligt pushes his own teammate over. Comical stuff and well done to the ref for not being influenced by his VAR.
30'
They are saying an Ajax player was bundled over before the ball came in. It's De Ligt who pushes Veltman. I don't understand the review.
29'
There is VAR though! Don't know why. He is going himself!!
28'
Ronaldo scores!!! It's that man again! He gets a powerful header at the near post from Bonucci's corner and Onana is left for dead.
27'
Bernardeschi gets the Italians a corner.
26'
Veltman's cross from this near side is awful after a good move in Juve's half.
25'
53% possession for the visitors. They are picking up
24'
Corner for Ajax now! A defender knocks away Ziyech's ball in. Nothing comes from it.
22'
Dybala hits it from the edge of the box and Onana dives to his left to catch! It's picking up now.
22'
Ronaldo forces a corner after his shot is deflected by Blind
21'
Good play by Ajax and Van de Beek nearly scores! Veltman finds Neres in the box, he passes to Tadic who plays a lovely backheel back to Neres. After a bit of pinball, Van De Beek fires over from close range.
19'
Not much happening here. The ball is mainly in midfield. Ajax are having a few touches of the ball, but nothing major
17'
A long ball is sent for Ronaldo from midfield and De Ligt heads it away. He has started well.
16'
Juve are having more possession and territory without testing the goalkeeper.
15'
Briliiant play by Cristiano Ronaldo down the near side! He didn't get much out of it though.
14'
Schone commits a bad foul on Sandro. The home crowd want a yellow, but Turpin says no. Borderline.
12'
Can fouls Schone and Ajax have a free-kick here in a dangerous position. Ziyech's free kick runs straight through to the goalie.
11'
Ajax sub: Sinkgraven replaces Mazraoui.
9'
Mazraoui goes down again. That's his game over. He was never coming back in all honesty.
8'
Matuidi gets a throw in after his cross is blocked by De Ligt.
7'
He has got up now and has gone off limping badly.
6'
Mazraoui fights for the ball with Dybala and his left ankle turns terribly.
5'
Onana what are you doing?? He nearly does a Ben Foster! The defender passes the ball back to the goalie and Can charges down his clearance. It goes wide though.
4'
De Sciglio attacks down the far side after receiving the ball from Ronaldo, but Bernardeschi cannot reach there before the defender.
2'
Juve started the better with good attacking intent.
1'
Ronaldo gets an arm in the face inside the first 15 seconds from Veltman. Nothing major though,
1'
Juve get us underway shooting from right to left
Prev.
Dybala and De Ligt have done the coin toss with the ref and we are about to start!!! Enjoy! Moise Kean, the Juve revelation, is on the bench, by the way.
Prev.
There's a great atmosphere in Turin and the players have now made their way out onto the pitch!
Prev.
Ronaldo is back tonight after resting in the loss to Spal at the weekend, Mandzukic misses out though as he is not 100% fit and Joao Cancelo is on the bench tonight. Frenkie De Jong starts despite picking up a knock on the weekend in the 6-2 win over Excelsior
Prev.
17 degrees and dry in Turin tonight
Prev.
The officials come from France this evening. Clement Turpin is the man with the whistle and Nicholas Rainville is in the van.
Prev.
The winner of this tie will play Spurs or Man City in the semi-finals.
Prev.
Remember the first leg finished 1-1. Ronaldo scored right on half-time and Neres equalised for the hosts just after the interval. Ajax played very well that night. Because of Juve's away goal, Ajax must score tonight.
Prev.
Ajax will try and cause another shock with these 11 men: Onana (GK); Mazraoui, Blind, De Ligt, Veltman; Neres, De Jong, Van De Beek, Schone, Ziyech; Tadic
Prev.
Juve's XI is the following: Szczesny (GK); Sandro, Rugani, Bonucci, De Sciglio; Matuidi, Pjanic, Can; Ronaldo, Dybala, Bernardeschi
Prev.
Hello everyone and welcome along to our live coverage of the Champions League tie between Juventus and Ajax. Will Juve progress or are Ajax going to cause another upset and qualify for the semi-finals? We will find out in the next few hours.