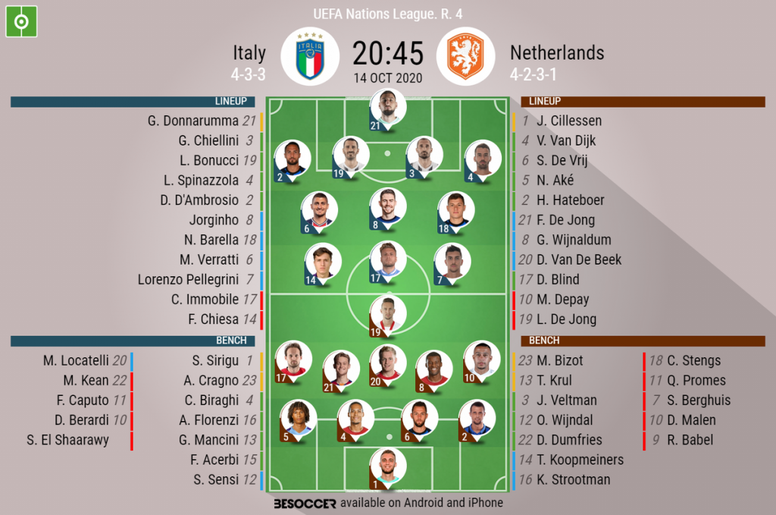 Italy v Netherlands - as it happened
Italia

Países Bajos

Post.
That's all from us. Thanks for your company and we hope to see you again soon!
94'
FT: Italy 1-1 Netherlands! All over in Bergamo! It's a point each here and I think it's very fair. Pellegrini gave Italy the lead and Van de Beek levelled in the opening 25 minutes. After that, the Dutch were the better team, but Italy also had their chances. Immobile was one on one in the second half and should have scored while Depay was denied by a fine Donnarumma save. Italy started to press more towards the end, but the Dutch held firm. The group remains wide open.
93'
Kean sees yellow for delaying the taking of the set piece.
93'
Moise Kean is caught offside here.
92'
Netherlands sub: Babel on for Depay.
92'
Cillessen sprints off the line as he sees a long ball is played into space and the keeper boots it into touch.
89'
The Dutch are throwing more bodies forward now and Veltman's launched ball is dealt with by the Italian defence.
88'
An opening for the Dutch sees Wijnaldum have a pop from just outside the box which goes wide.
86'
Veltman makes a good header away from Florenzi's cross.
84'
Immobile!!! Italy target the Dutch left again through Florenzi, Immobile is unable to turn the cross in though. Nearly reached it.
80'
D'Ambrosio is booked and is suspended for the next match which is against Poland.
79'
Veltman gets his head to an Italian cross and Mancini's men have a corner.
77'
Netherlands sub: Blind off, Veltman on.
76'
The Italians are looking the more positive in the closing stages.
73'
Vital cut out by Van Dijk! Florenzi gets his first touch of the ball immediately, he gets to the by-line and plays it back for Kean, but VVD gets there to clear.
73'
Italy sub: Florenzi on for Pellegrini.
72'
There's a spat here on the touchline!! Hateboer is fouled by Chiellini, the Dutchman doesn't like the sound effects and tries to lift the Italian, something Chiellini takes exception to.
71'
Both sides are looking for a winner, but I feel this may end in a draw. That would be fair.
69'
The Dutch bench are very animated as Depay seems to go down off the ball. Spinazzola catches the player in the face, but it looks accidental and little in it.
68'
Netherlands attack through F de Jong, he passes to Blind on his left and the cross in is headed by Italy for a corner.
64'
What a vital header by Chiellini!! Depay sends a perfect pass for Wijnaldum, it was going to be a tap in for Wijnaldum and Chiellini gets a vital touch.
63'
Kean makes a fine run down Netherlands' left, but it's all for nothing. He's played well since coming on.
60'
Chances aplenty at the moment!
60'
So nearly a goal for Italy again!! Pellegrini's free-kick is flicked on by Bonucci and the ball just hits D'Ambrosio.
59'
Free-kick to Italy after Ake brings down Kean.
57'
How did Immobile not score?? He's clean through on goal, he only has to put it either side of Cillessen and he hits it straight at him!!
57'
Italy double sub: Verratti and Chiesa off, Locatelli and Kean on.
56'
Tremendous save by Donnarumma! Depay drives into the box, he goes across the goalie and the keeper gets a vital hand to it.
55'
Spinazzola chases a ball near the byline, but it's easy for the GK.
53'
Another challenge by Verratti. This time on Van de Beek and he's getting dangerously close to a second yellow.
53'
Verratti is sliding in again and he's on a yellow. Needs to be careful.
52'
Wijnaldum makes a move into the box and the Italians knock it behind for a corner.
51'
Blind is caught on the knee after Jorginho kicks the ball.
49'
Another dangerous opportunity for the away side! Nice team play ends with Wijnaldum's strike deflected for a corner. Then Donnarumma has to tip over from the set piece.
48'
Depay sends a lovely delivery into the box and it's headed away for a corner.
47'
L de Jong is fouled by Verratti on this near touchline about 35 yards from goal.
46'
Italy get us going again!!
45'
HT: Italy 1-1 Holland! Half-time in Bergamo!! Italy started the better and hit the front through Pellegrini after a lovely pass by Barella. Van de Beek then levelled for the Dutch and since then, both teams have taken it in turns to have the upper hand and both sides have had opportunities to score more goals. Cillessen had to make a double save on one occasion. Draw fair at the interval. Back for more in a bit!
45'
L de Jong heads a ball wide of the goal.
45'
Bonucci is in trouble after the ball hits him on his right wrist.
44'
Corner for the Italians here.
43'
Italy lose the ball in their box and the away side can't take advantage. On the counter, Italy threaten through Chiesa and Ake runs back to clear it for a throw. Exciting contest this one.
42'
Barella is in some pain here!!! Wijnaldum jumps for the ball with him and the boot accidentally catches the Italian on the knee. Painful, but not malicious.
40'
Bonucci!!! Chiesa sends a ball from this near side and Bonucci heads wide of the goal.
39'
Great stop to deny Spinazzola and then D'Ambrossio's powerful effort from distance moves and Cillessen makes another fine save! Corner.
38'
Italy attack, but nothing comes of the move.
36'
Another good move by the away side and Blind's cross is headed well wide by L De Jong.
35'
Depay body checks Bonucci off the ball, Taylor sends play on and the cross in is headed wide by L de Jong.
34'
Immobile is flagged offside. A tight one.
34'
Clear run for the Dutch as Wijnaldum has the ball in Italy's half, but his pass towards Depay is inaccurate.
33'
L de Jong is spoken to by Anthony Taylor after having a bit too much to say.
32'
Italy win a free-kick in their own half.
29'
Chiesa fouls Ake in midfield.
28'
The goal has definitely lifted De Boer's men.
26'
Netherlands got a bit lucky as the ball stayed right at Van de Beek's feet, but it was a good move.
26'
Chiesa is just getting a bit of treatment.
25'
Holland level through Van de Beek!!! Blind is given the ball on this near side, he passes for Depay in the middle of the box, Depay's effort is blocked by Van de Beek who then stays calm to fire into the top corner!
24'
Immobile passes for Chiesa, but he pulls back the defender and is penalised.
23'
Verratti is booked for a challenge on Van de Beek.
23'
Save by Cillessen!! Verratti plays in Immobile who sets himself and is then denied by the Dutch GK! Fine save.
22'
De Vrij sends a ball into the box and Donnarumma easily catches.
21'
Barella looks to find Immobile and the Lazio man can't quite reach it.
20'
Italy again! The Dutch are caught out at the back, Immobile times his run to perfection, but he can't find Chiesa with the pass.
18'
The hosts have been better so far, but the Dutch were just starting to improve. The pass made the goal.
16'
Italy take the lead!!! What a pass by Barella! He passes the ball to Pellegrini, who takes a touch before firing home with his left foot from inside the box! Lovely play.
14'
A Netherlands free-kick goes into the box, Hateboer jumps for the ball and clatters into Chiellini.
14'
The Netherlands are starting to pick up now.
13'
Appeals for a handball by the Dutch, but nothing is given!
12'
The visitors go up the other end through Depay and Bonucci blocks the cross. Corner.
10'
Italy win a corner after Chiesa is found on this near side, he passes for Pellegrini and F de Jong concedes the corner.
8'
Spinazzola sends in a cross from the by-line for Chiesa, but he can't find him.
6'
The Dutch attack, Barella gets the ball just outside his own box and the ball strikes a Dutch hand.
5'
Free-kick for the Dutch in their own half after Depay is fouled.
3'
Italy having the early possession here so far.
1'
Chance for Pellegrini!!! Chiesa finds Pellegrini in space, but his shot is weak and it's easy for Cillessen.
1'
Netherlands get us going from right to left! Both teams in their usual kits.
Prev.
The players make their way out here!
Prev.
Holland have struggled since Koeman went to Barca and Frank de Boer became the Netherlands coach.
Prev.
Dumfries, De Roon, Promes and Malen drop out from the draw with Bosnia. Ake, Hateboer, Van de Beek and Depay come in.
Prev.
Acerbi, Emerson, Florenzi and Belotti are replaced from the Poland match. Chiellini, Spinazzola, D'Ambrosio and Immobile come in.
Prev.
Barella's goal in first half stoppage time gave Italy a 0-1 win in the reverse fixture back in September.
Prev.
The Netherlands were away to Bosnia in their last Nations League match three days ago while Italy were in Poland. Both matches ended 0-0.
Prev.
This is group 1 in League A and it's all very tight. Italy are on 5 points at the halfway mark, the Netherlands and Poland are on 4 points and Bosnia on 2. There are 3 games left for all teams. Poland host Bosnia tonight as well.
Prev.
Anthony Taylor is the referee for this one. We have no VAR this evening.
Prev.
Netherlands XI: Cillessen (GK); Ake, Van Dijk, De Vrij, Hateboer; Blind, F De Jong, Van de Beek, Winjnaldum, Depay; L De Jong.
Prev.
Italy XI: Donnarumma (GK); Spinazzola, Chiellini, Bonucci, D'Ambrosio; Barella, Jorginho, Verratti; Pellegrini, Immobile, Chiesa,
Prev.
Hello and welcome to our live coverage of the Nations League match between Italy and the Netherlands.