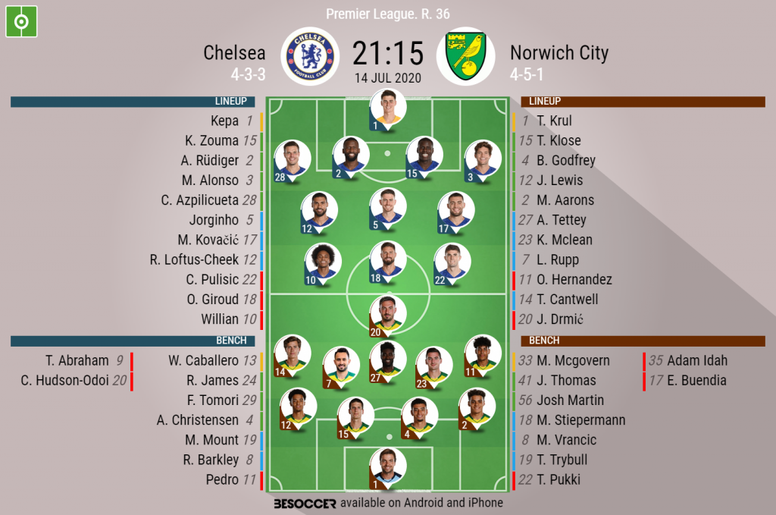 Chelsea v Norwich City - as it happened
Chelsea FC

Norwich City FC

Post.
Thanks for joining me here tonight. See you on Thursday for the Real Madrid match.
93'
FT: Chelsea 1-0 Norwich. Not the best of matches but Chelsea get those crucial three points which is all that will matter to them.
89'
Willian's free-kick from the edge of the box is parried by Krul.
89'
Norwich sub: Rupp off for Martin.
86'
Chelsea sub: Abraham on for Giroud.
85'
Almost two. Willian crosses and Giroud's sliding effort goes inches wide. He probably should have scored that.
84'
Norwich are still in this match.
80'
Chelsea sub: Hudson-Odoi on for Pulisic.
80'
Chelsea sub: James on for Alonso.
78'
Norwich sub: Tettey off for Stiepermann.
78'
Norwich sub: Hernández off for Pukki.
78'
Norwich sub: Drmic off for Iddah.
77'
Another chance for Chelsea but Krul saves again. This time it was from Alonso's header.
75'
The ball is played through to Pulisic and his volley is saved by Krul.
74'
There are two matches on the last day of the season which promise to be crackers: Chelsea v Wolves and Leicester v Manchester United.
73'
The ball hits Giroud's back and goes over the bar.
72'
If things stay the same then Chelsea would go four points above Leicester and Manchester United.
71'
Norwich sub; Cantwell off for Buendía.
68'
As long as things stay the same then Norwich aren't out this.
67'
Chelsea sub: Loftus-Cheek off for Barkley.
66'
Azpilcueta has a curling shot from outside the box that goes just over the bar.
62'
Lewis has a shot that is deflected over.
62'
Kovacic is booked for a challenge on Cantwell.
60'
Zouma is booked for a foul on Aarons.
58'
Cantwell is booked for a foul on Loftus-Cheek.
53'
And the header from Giroud goes well wide.
52'
Willian wins the ball and works into the box but his shot is deflected over the bar.
52'
Chelsea will be hoping to get another goal to make things more comfortable.
47'
Rudiger skews his header well wide.
45'
HT: Chelsea 1-0 Norwich. The game wasn't the brightest up until Giroud's goal but Lampard will be telling his players to push on for more.
45'
And Chelsea are in front. Pulisic puts in the cross and Giroud heads past Krul.
44'
Looks like we will be going in at the break level.
39'
Alonso has a shot which is deflected wide for a corner. It looked like it was going wide anyway.
37'
Zouma heads wide from the resulting corner.
36'
The closest we have come to a goal. Pulisic turns and gets a shot away but Krul gets a touch to it and it hits the bar and goes for a corner. A very good save.
35'
Norwich will be pleased with their performance so far, but they do have nothing to play for. Praying for pride.
32'
This game hasn't been a classic.
30'
The cross comes in and Giroud skews his effort.
27'
And Pulisic fires a shot into the side netting.
23'
65% possession for Chelsea.
20'
The ball is played through to Giroud but he hits a very weak shot at Krul.
18'
Chelsea do have to win this match otherwise they could find themselves fifth after the matchday.
16'
Literally just the one chance that we've had, but Chelsea are all over Norwich.
10'
Just the one chance so far. Norwich haven't threatened at all.
5'
As you'd expect, Chelsea have started as the better side.
3'
The cross comes in but Loftus-Cheek's weak header is into the side netting.
Prev.
Last time Chelsea lost to Norwich was in 1994. They last lost at home in 1993.
Prev.
Chelsea have got a tough run in after this with an away match at Anfield and then Wolves to come to the Bridge.
Prev.
I don't see anything other than a Chelsea win here as Norwich have nothing to play for. In theory, seven teams are fighting are fighting for two remaining spaces, but after the results this gamweek then Tottenham, Arsenal, and Burnley could be out the race for Champions League qualification.
Prev.
Norwich XI: Krul, Aarons, Godfrey, Klose, Lewis, Tettey, Hernandez, McLean, Rupp, Cantwell, Drmic.
Prev.
Chelsea XI: Arrizabalaga, Azpilicueta, Rudiger, Zouma, Alonso, Loftus-Cheek, Jorginho, Kovacic, Willian, Giroud, Pulisic.
Prev.
Hello and welcome to Stamford Bridge for this huge game as Chelsea look to qualify for the Champions League. Team news to come.