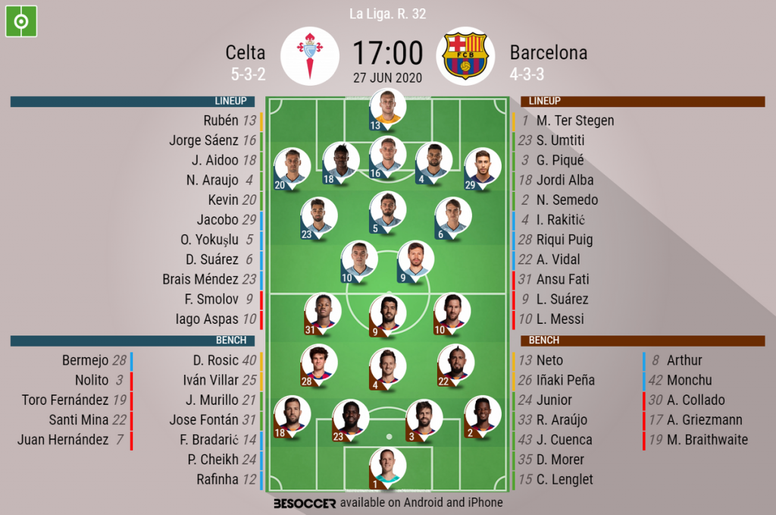 Celta v Barcelona - as it happened
95'
FT: Celta 2-2 Barcelona!! All over at the Balaidos as Barca lose further ground on RM! Suarez gave Barca the lead in the first half, but Smolov levelled for Celta in the 50th minute. Luis Suarez scored again in the 67th minute, but Aspas' free-kick two minutes from time gave Celta a draw and Nolito could have even won it for the hosts at the death. A fair score given what we've seen. That's all from us, thanks for joining us and hope to see you again soon!
95'
Arthur sends a ball into the box, Vidal is penalised for a foul and the whistle goes for full time!!
95'
Off the line by Ter Stegen!!!! D Suarez passes for Nolito at the back stick after a pass by Aspas and his shot is cleared by the GK on the line!!
93'
Two minutes left and it looks like we will be ending with a draw.
91'
Barca attack, but nothing comes of the free-kick.
89'
Aspas is booked for taking his shirt off. The ref gave red by mistake initially!!!
88'
Aspas scores for Celta Vigo! It's Celta's saviour!!!! 2-2 at the Balaidos!!! The ball goes to the side of the wall and goes right in the corner! It's a superb free-kick but there should have been another man in the wall.
87'
Free-kick to Celta just outside the box. Pique brought down Rafinha.
86'
Barca sub: Puig is replaced by Arthur.
85'
Braithwaite catches Kevin again and needs to watch his step. Not a yellow because he already has one.
83'
Pique blocks D Suarez's shot inside his own box.
83'
Chance for Celta! The set piece is taken short, D Suarez launches the ball in and Saenz heads over.
82'
Braithwaite catches Kevin in the face with his arm and sees yellow.
81'
Celta sub: Jacobo is replaced by Mina.
81'
Barca double sub: Junior and Griezmann on, Alba and Suarez off.
80'
Nolito!!! What a save by Ter Stegen to deny Nolito down to his right after a lovely heel flick by Aspas to play him in.
79'
The corner kick is batted away.
76'
Messi's free-kick strikes a man in the wall and it's a corner. Drinks!
75'
Free-kick to Barca just outside the box after a lovely Messi run.
74'
Puig catches Kevin late and that's a nasty challenge.
72'
Celta attacking now as they need a goal, but Barca keeping them at bay.
70'
Brilliant goal by Barca, but what D Suarez did just outside his own area was criminal. He was dribbling with the ball in circles! What was he thinking?
69'
Barca sub: Braithwaite on for Fati.
67'
Barca back in front through L Suarez!! D Suarez plays games just outside his own area, Semedo sticks his foot out, the ball breaks to Messi who passes to L Suarez. He turns brilliantly and scores!
66'
Barca win a corner and he goes down under pressure from Rakitic's corner, but nothing given.
65'
Celta move the ball towards the Barca goal and Pique shields it out for a goal kick.
63'
Barca threaten through Fati who goes down under pressure from Aidoo. No penalty says the ref.
61'
Araujo is carded for a very clear shirt pull on Suarez.
59'
Celta triple sub: Mendez, Okay and Smolov off, Rafinha, Nolito and Bradaric.
56'
Barca attack, a cross into the box is then headed out by Celta. Barca have responded to the goal.
54'
Messi hits wide of the goal now!
53'
Umtiti is booked for laying his arms on the Celta man's shoulders as he jumps for the ball. Never a card.
52'
Chance for Messi and Barca want a pen!!!! VAR checking as Messi's cross is cut out and then the Argentine's shot goes wide! He is clattered into by Saenz! A typical follow through which is not often given.
50'
Celta Vigo level at the Balaidos!!! Aspas plays a splendid pass from midfield to Okay, the Turk holds up the ball waiting for support, Pique doesn't stop him and he squares for Smolov in the middle to tap in.
48'
Barca pass the ball just outside the Cetla box and the move ends with Semedo cutting inside and then firing over.
47'
Celta attack and Aspas goes down wanting a penalty. It was a half-hearted claim.
45'
HT: Celta 0-1 Barcelona! Half-time in Vigo! Barca lead thanks to Suarez's header after 20 minutes from Messi's free-kick. Barca were the better team and Pique hit the bar early on. Since the goal, Celta have had two clear chances including a Mendez effort which struck the woodwork, but Barca have still had good possession and territory. Barca better, but Celta not out of this! Back for more in a bit!
45'
Messi's corner is almost in!!! Ruben punches away on the line straight from the corner and then Puig's shot is blocked and it's half-time after a brief VAR check.
45'
Barca caught offside as two added minutes are up.
45'
Fati gets on a long ball before the byline, but can't find a teammate in the box.
43'
Celta attack dangerously, Aspas is free, but then take s too long and the Barca defenders close him down.
40'
What a miss by Messi! Messi wins the ball off Okay, Rakitic passes back to Messi whose curling effort goes wide!
39'
Ter Stegen runs out of his goal to boot clear after a long pass forward.
36'
Messi finds Fati and his shot is deflected by Araujo's leg for a corner.
33'
Rakitic is pulled back by Mendez and the Celta man sees yellow.
33'
Vidal has a shot which Suarez cannot reach and it's a goal kick.
32'
Umtiti is penalised for a foul on Aspas.
30'
Rakitic looks for Suarez at the back stick, but it's too strong and drinks.
27'
Barca are not having it all their own way here. They are the better side, but Celta are not out of this at all.
23'
Celta denied by the post!!! D Suarez passes for Mendez and his shot is knocked onto the post by Ter Stegen and then the home side are denied by Ter Stegen on the rebound!
22'
GK howler by Ter Stegen!!! The pass goes to Smolov, the shot is blocked and then Aspas' effort is deflected by Alba for a corner. Aspas wanted the ball first time from the Russian.
20'
Barca score!!! Celta caught out!!! The home side thought Messi would go for goal, but he didn't!!! He passes for Suarez inside the six yard box and the Uruguayan heads home! Two Celta defenders on the line meant the offside was taken out of play.
19'
Arturo Vidal is fouled just outside the box by Araujo.
16'
Dangerous attack from Barca sees a Semedo pass in the area cleared away. Good build up play. 75% possession for the visitors.
14'
Corner for the Catalans as Semedo's cross is headed behind by Mendez.
12'
Jordi Alba is booked for a foul for catching Mendez in the face with his arm as he jumps for the ball.
11'
Chance for Barca!!! Celta can¡'t clear properly, the ball ends at Puig's feet outside the area and his first time effort goes well wide.
10'
Messi is found on this near side and his goalbound effort is turned behind by the head of Jorge Saenz.
7'
Smolov goes up the other end and his shot is deflected by Semedo for a corner.
6'
Off the bar!!! Messi takes the corner and Pique strikes the bar with his header from point blank range at the near post.
5'
Jacobo heads Messi's ball in over the bar for a corner.
5'
Barca have a free-kick on this near side.
4'
Alba sends in a cross from the far side and it's booted away.
4'
The away side are having all the early possession so far.
2'
Barca attack, Ansu Fati, makes a break into the area before Aidoo makes a clean challenge on him. Well, there was a bit of an arm pull on him!
1'
Barca get us going from left to right! Both teams in their usual kits.
Prev.
The players are out here in Vigo!
Prev.
Celta have got seven points from a possible nine since the resumption.
Prev.
In the last few hours, Celta manager Oscar Garcia has signed a new contract at the club.
Prev.
20 degrees and drizzle in Vigo this afternoon.
Prev.
Celta changes: Murillo and Olaza out, Saenz and Araujo in in defence, Rafinha, Bradaric and Beltran are replaced by Jacobo, Okay and Brais Mendez while Smolov comes in for Mina up top. Six changes in all.
Prev.
Barca changes: Umtiti in for Lenglet, Griezmann is replaced by Fati while Puig comes in for the suspended Busquets.
Prev.
Barca won 1-0 v Athletic in an unimpressive performance last time out while Celta won 0-1 at Sociedad thanks to an Aspas penalty.
Prev.
The big news here is that Ansu Fati and Riqui Puig play, Griezmann is on the bench and Arthur, who is set to join Juve tomorrow, is also on the bench
Prev.
Guillermo Cuadra Fernandez is the referee for this one while Jose Luis Munuera Montero is the VAR. There have been a couple of controversial incidents recently when these two have been together.
Prev.
16th v 2nd. 33pts v 68pts. Celta are seven points above the relegation zone while Barca are behind RM due to their inferior head to head record.
Prev.
Barca XI: Ter Stegen (GK); Alba, Umtiti, Pique, Semedo; Puig, Rakitic, Arturo Vidal: Fati, Suarez and Messi.
Prev.
Celta XI: Ruben (GK); Jacobo, Araujo, Saenz, Aidoo, Kevin; D Suarez, Yokuslu, Mendez; Smolov and Aspas.
Prev.
Hello and welcome to our live coverage of the La Liga clash between Celta Vigo and Barcelona at the Balaidos!