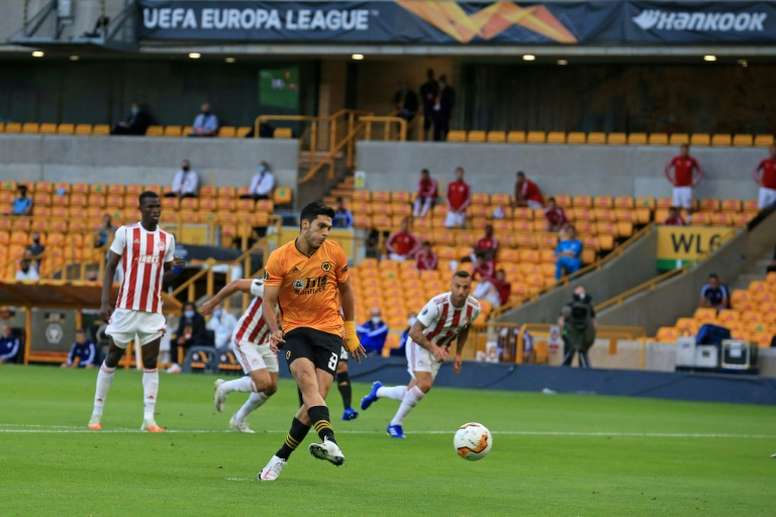 Wolves and Basel make Europa League quarter-finals
Raul Jimenez scored the only goal from the penalty spot in the ninth minute and Wolves survived a series of scares to edge Olympiakos 1-0 at Molineux for a 2-1 aggregate win in a tie that began in Athens on March 13.
At Molineux, Bobby Allain, the visitors' Franco-Scottish goalkeeper, failed to control a back pass in the seventh minute. Daniel Podence, who scored for Olympiakos at Tottenham in September but moved to Wolves in January, darted in and stole the ball. Allain clumsily bundled his former clubmate over and Jimenez converted the penalty.
The Greek champions, who had drawn at Tottenham in the Champions League and won at Arsenal in the Europa League this season, responded by dominating possession. They created a string of chances but were thwarted by good saves by Rui Patricio, a goal disallowed by VAR due to a very tight offside decision and their own inaccurate finishing.
Wolves, who began their Europa League campaign on July 25 last year against Crusaders in the second qualifying round, will next face Sevilla at Duisburg on August 11.
"A long, long season," Jimenez said. "Now we are in the quarter-finals and we want to keep going."
In the other 21:00 CET game, Basel, defender Fabien Frei scored the only goal in the 88th minute as the home team won 1-0 to complete an aggregate 4-0 victory over Eintracht Frankfurt. Basel will now play Shakhtar Donetsk in the next round.