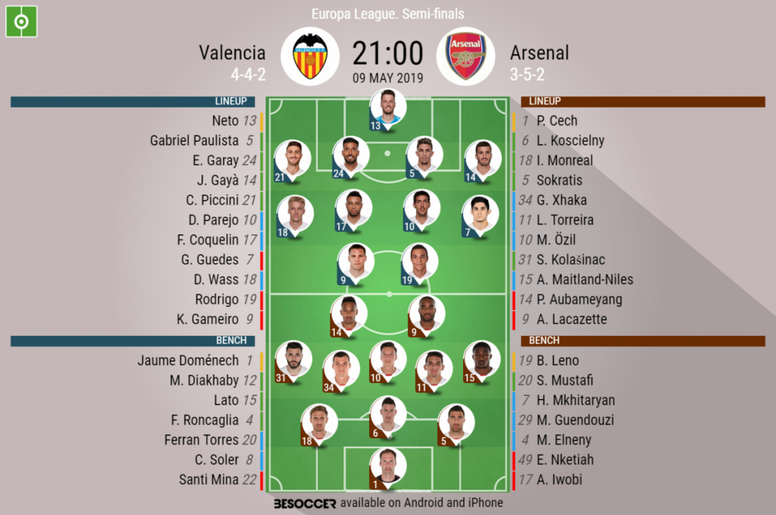 Valencia v Arsenal - as it happened
92'
FT: Valencia 2-4 Arsenal (agg 3-7)!! Full-time at the Mestalla! Valencia started well through a Gameiro goal, but then Arsenal made it 1-1 and there was no way back from there. Aubameyang got a hat-trick and Lacazette also netted for the Gunners. Gameiro got a second at 1-3 from an offside position, but it was a mere consolation. Arsenal outclassed their opponents and they fully deserved to go through to the final. Thanks for joining us and see you again soon!
92'
They are fighting!!! Ferran Torres argued with an ArsenaI player I think and then Paulista is also in their. Absolutely stupid. An Arsenal player sees yellow at the end. Valencia have got previous for fighting with their opponents. They did against Getafe as well. Fortunately, things seem to have been calmed down fairly quickly.
92'
Time is played out by the away side by the corner and the ref blows for full-time!
91'
Arsenal are just passing thr ball around. Some oles from the away section.
90'
Two added minutes. No need for them.
89'
That's Aubameyang's hat-trick and Arsenal have truly outclassed their opponents.
88'
Guendouzi plays with Aubameyang with various one-twos, then Aubameyang lets a pss go through to Mkhitaryan and thenthe Armenian plays it for Aubameyang who smacks home!
87'
This is game is fading out.
82'
Gaya has a pop from 25 yards! It goes harmlessly past Cech's left hand upright though.
80'
Arsenal sub: Guendouzi on for Torreira.
78'
Valencia are still looking for an equaliser, but they are being prevented by the solid Arsenal defence. parejo the latest to try his luck.
77'
Mustafi is the man now to clear the danger after a dangerous looking ball in by Wass.
75'
Soler's cross goes for a corner.
74'
Lacazette and Aubameyang combine again and it is nearly four. Only a defensive clearance prevents it.
72'
Valencia are trying, but they are wasting their own time now. I think they are just playing for pride. They will have to try and get 4th in the league and also have one eye on the Copa del Rey final
70'
Arsenal sub: Kolasinac leaves the pitch and Mustafi comes on against his old club.
69'
If there was any doubt before, there certainly isn't now! Maitland-Niles males a tremendous run down the near side, he beats Guedes before firing a cross to Aubameyang at the near post. He taps in from six yards.
68'
Kolasinac gets a knee in the back of his leg from Wass. The Dane helps him up.
67'
Coquelin plays for Gameiro and he nearly gets past Koscielny!
64'
Valencia doing all the pressing now! Garay just fires a long range effort wide after pressure from Marcelino's side before that.
62'
Arsenal sub: Ozil off for Mkhitaryan. Ozil is booked as he leaves for timewasting.
61'
Carlos Soler sees a cross headed out by Koscielny. The goal has lifted the home team.
60'
Bring Lucas Moura on! Where is he when you need him? Will this be the start of a Valencia comeback?
59'
Two claims for offside there. Wass was definitely off, Rodrigo wasn't. VAR would have chalked off the goal.
58'
It's 2-3!!! Game on! Gameiro scores. Wass gets the ball on the far side in an offside position from Parejo, he flicks it to Coquelin and then his shot on target is blocked by Rodrigo in the six yard box who taps in.
57'
Valencia claim for handball in the Arsenal box. Definitely not a pen. It hits Sokratis on the back.
56'
Valencia sub: Soler on for Piccini.
55'
Free kick by Xhaka in Valencia's half becomes a pea roller and it's a goal kick. Valencia shot wide a minute before that. No way back now for Valencia. There is no Lucas Moura here.
52'
Terrible challenge by Rodrigo and Sokratis. Was a clear yellow. Sokratis has pointed his finger at him. He has noted who the culprit was.
51'
The turn from Lacazette was absolutely amazing.
50'
Lacazette seals it here! Gaya makes a terrible error in his own half, Aubameyang disposseses him and the ball goes to Torreira. he then finds Lacazette in the box who turns past the defence and curls it into the corner! That was a tremendous turn. Valencia need four now.
49'
The corner comes to nothing for Arsenal.
47'
Valencia play a corner short anf then Piccini hits Coquelin (his teammate) with the shot. Goal kick.
47'
Good start by Valencia and Monreal has to concede a throw-in.
46'
Welcome back! We are back underway here! No changes.
45'
HT: Valencia 1-1 Arsenal (agg 2-4)!! Half-time at the Mestalla! Valencia started the game very well and took just eleven minutes to score through Gameiro. It was nearly 2-0 three minutes later, but Rodrigo's shot was blocked by Gameiro and shortly afterwards, Aubameyang levelled the scores. Since then, Valencia have tried, but Arsenal have been comfortable. Lacazette hit the post when should have really scored. Join us in 10 for the second half!
45'
Arsenal are caught offside and that's half time!
45'
Wass crosses to Parejo, but he can't find anyone.
45'
Two extra minutes. Not much been happening the last few minutes. Maitland-Niles was fouled at midfield as Valencia show their frustration
42'
Gaya goes down looking for a penalty near Maitland-Niles and the referee doesn't buy it. He was booked for diving just outside the box.
40'
Arsenal are really showing their quality when they attack.
39'
What a miss by Lacazette! Aubameyang makes a tremendous run down the far side to beat Garay, he squares for Lacazette and his shot hits the post! That should have been a goal.
38'
Garay is booked for a sliding challenge on Lacazette. He's not happy, but it not a good challenge.
36'
Valencia attacking more as you expect, but Cech has not had much to do. There is still plenty of time though.
34'
Parejo to take and it flashes past Cech's left hand post.
34'
Gameiro is brought down by Torreira on the edge of the box. Dangerous position.
32'
What a glaring opportunity! Valencia can't clear, Arsenal play some good passing football because Monreal passes to Ozil and he crosses to Aubameyang who hits a tame effort at the goalie.
29'
Coquelin is down injured after battling for a ball with Aubameyang. He seems to have hurt his lower back or shoulder.
27'
Parejo hits wide. Was way off target.
26'
Valencia are on top, but you get the feeling the away side have got this under control. That Arsenal goal has quietened the crowd a lot.
25'
Arsenal get a corner and Aubameyang heads over Xhaka's delivery.
23'
Rodrigo gets the ball and tries to find Gameiro, it is headed out to Wass who knocks it over!
21'
Valencia win a corner now!
18'
The home crowd are flat after that goal.
17'
Aubameyang makes it 1-1! Long punt forward by Cech, Paulista can only head it up in the air, he has a second go, but Lacazette gets there to head it to Aubameyang who fires past Neto!
16'
Rodrigo fires wide of the goal now from just outside the box!
13'
Valencia go again! Gaya to Guedes who beats Maitland-Niles and then Rodrigo shoots at goal, but Gameiro stops it from going in!
12'
You have to say that was coming.
11'
Gameiro makes it 1-0!!! Maitland-Niles has a shot and on the counter, the goalie rolls it out and then Rodrigo passes it to Guedes on the far side, Guedes gives it back to Rodrigo and then he crosses for Gameiro to tap in from four yards.
8'
Guedes fires off target! Parejo passes to Gaya on the far side, he nutmegs Maitland-Niles and then Guedes misses the target from inside the box.
7'
Kolasinac goes down after colliding with Wass. Nothing given.
5'
Chance for Valencia! Brilliant run by Gaya down the far side, he gives to Gameiro and then the cross in is headed by Gaya onto a defender for a corner. The corner then beats everyone.
4'
Rodrigo gets on the end of a long ball after Koscielny misjudges, but Monreal bails out his teammate.
3'
Arsenal have had a bit more possession in the last couple of minutes, but nothing major.
1'
Piccini makes a run down this near side, but his teammate can't control the pass and then Kolasinac causes problems for the Valencia defence after a defensive error. Lacazette is dispossessed in the end though. Open start here.
1'
The captains have shaken hands and we are ready for play! Valencia get us going in the white from left to right.
Prev.
What a great atmosphere here as the Europa League anthem sounds!
Prev.
The players are now out on the pitch here at the Mestalla!
Prev.
Valencia also make two alterations from the first leg. Diakhaby and Roncaglia drop out and Coquelin and Gameiro start. Coquelin will play against his old club and it seems a more offensive line-up for Valencia. The Spaniards come into this game having relegated Huesca after thumping them 2-6.
Prev.
Two changes from the first leg for Arsenal. Mustafi and Guendouzi are replaced by Monreal and Torreira. Arsenal drew 1-1 v Brighton at the weekend so winning this competition is their only chance of silverware this season.
Prev.
The game was also marred by some monkey chants and some Nazi salutes from the away section at the Emirates. Valencia condemned the incidents, but also said there may have been provocation. Let's hope we have no incidents this evening.
Prev.
Just a reminder that Arsenal won the first leg 3-1. Diakhaby gave the Spanish side the lead after 11 minutes before Lacazette scored two shortly afterwards. Aubameyang then made it 3-1 in the 90th minute to give the English side a good cushion for the return game. Chelsea or Frankfurt await in the final. Valencia would go through with a 2-0 win.
Prev.
Danny Makkelie from Holland is the referee this evening. There is no VAR until the final, but we do have the extra men behind the goal to stand there with their sticks and of course GLT.
Prev.
It's a hot night in Valencia this evening. 26 degrees the temperature at the moment.
Prev.
Arsenal XI: Cech (GK); Monreal, Koscielny, Sokratis; Kolasinac, Xhaka, Ozil, Torreira, Maitland-Niles; Aubameyang and Lacazette.
Prev.
Valencia team: Neto (GK); Gaya, Paulista, Garay, Piccini; Guedes, Parejo, Coquelin, Wass; Rodrigo and Gameiro.
Prev.
Good evening and welcome to our live coverage of the Europa League semi-final second leg tie between Valencia and Arsenal from the Mestalla. WIll Valencia overturn the 3-1 deficit from the first leg or will the Gunners do their bit to try and set up an all-English final? Stay with us to find out!