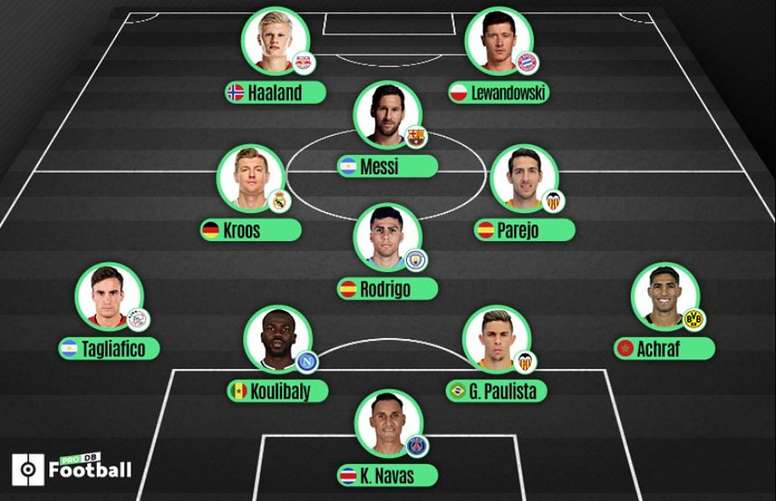 The ideal XI of the Champions League's group phase
Six matchdays full of emotion, goals, saves and, also, a few surprises. The Champions League closes its first phase and now we will have to wait for another two months. Now, BeSoccer and ProFootballDB have made sure to bring you the first phase standout performers.
Starting with the goal, Keylor Navas has been one of the highlights. The PSG goalkeeper has been key to his team finishing first in the group with 16 out of a possible 18 points, only conceding a draw against Real Madrid, in which he conceded the only two goals the team conceded.
For the left-backs, Nicolas Taglaifico was one of the standout performers. Yes, Ajax were eliminated, but their performance was one of the best of the Dutch team with their dangerous interceptions down the flank. In the right-hand lane, the breakout star was Achraf Hakimi. Little more can be said for the Moroccan, and it was he who kept Borussia alive against Inter with two goals. In all, he has scored four.
We then picked Kalidou Koulibaly and Gabriel Paulista as our defensive duo. The Napoli man continues to revalue himself one game after the other and the rumours linking him to a departure continue. The Brazilian, on the other hand, has been one of the sustenances of Valencia for his forcefulness and strength when it comes to stopping the rival. So much so that his performance has helped him possibly earn a place in the call-up for Spain's EURO 2020.
The middle three are known in Spain. Rodrigo has made his debut with City and has made Pep Guardiola fall in love even more with a stunning performance. Dani Parejo, on the other hand, continues to show that he is in the best moment of his career and is the undisputed captain of this Valencia that dreams of greatness. Toni Kroos, finally, has recovered his best version in this new season and has helped a Madrid that has gone from less to more in the competition.
With six Ballon D'Or, little more remains to be said about Leo Messi. Although he missed a game and a half, he's brought Barcelona's best. Two goals and three assists to assure Barça's qualification as firsts of their group. Each time he jumped into the field, he dazzled.
The attacking duo, finally, could not be formed by players other than Erling Haaland and Robert Lewandowski. The Pole scored in five of the six matches and is the top scorer in the group stage. The only one to keep up with him until the final matchday was the young Norwegian. Although Salzburg have been knocked out of the competition, his eight goals in their debut among the biggest at just 19 have aroused enormous expectation. In order to continue to enjoy it, the Europa League will have to be looked at from now on.