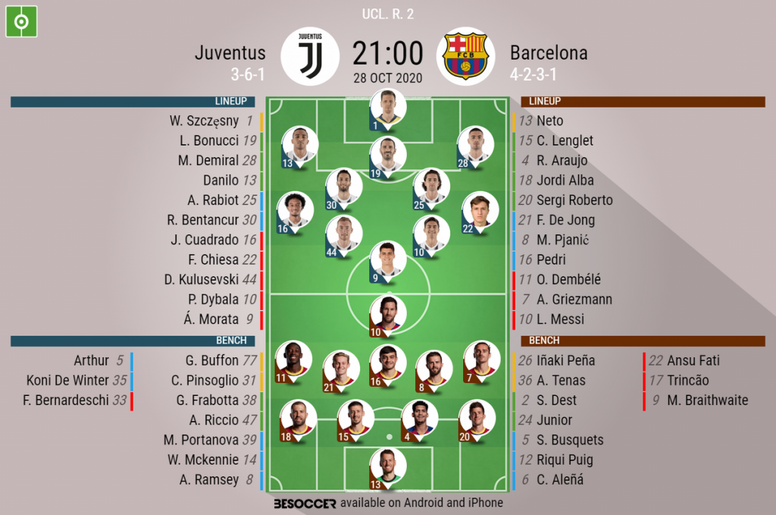 Juventus v Barcelona - as it happened
Post.
Barca are now on 6pts, Juve on 3pts and the good news for these two is that Ferencvaros and Dynamo Kiev are both on 1pt after their 2-2 draw in Hungary so Juve are still in a good position in the group. That's all from us, thanks for your company and see you again soon!
95'
FT: Juventus (10) 0-2 Barcelona!! All over in Turin!!! Barca were the much better team and spurned many chances to score more. Dembele put Barca ahead before HT, Morata thought he had levelled, but the VAR disallowed it for offside. That was his third goal disallowed for the night, but apart from those three goals, Neto had little to do. Demiral was sent off for Juve and then a Messi penalty sealed the win.
95'
Free-kick for Juve, Dybala's set piece hits the one man wall and it's game over!
95'
Morata also had three goals disallowed in a La Liga game for Real Madrid versus Las Palmas which ended 3-3 back in February 2017. No VAR back then.
93'
Fati!!! The ball is played straight to Fati who should have shot instead of trying to pass to Braithwaite.
93'
Handball given against Morata.
92'
Barca sub: Braithwaite on for Pedri.
92'
Five added minutes. No way back for Juve. Apart from the three disallowed goals, Juve have not really threatened. Barca have been wasteful and could have scored more.
91'
Messi scores after sending the goalie the wrong way!
90'
Penalty to Barca given away by Bernardeschi seconds after coming on! I think the foul may be outside the box.
89'
Barca sub: Griezmann is replaced by Junior Firpo.
88'
Another good Barca move and Juventus are running out of time.
85'
Demiral is sent off after a stupid foul on Pjanic. The ref could have kept the card in his pocket, but it was a silly challenge.
83'
Juve double sub: Bentancur and Rabiot replaced by Arthur and Bernardeschi.
82'
Juventus get a throw in after the linesman had initially given it to Barca.
79'
Rabiot is booked for pulling back Messi.
78'
McKennie has a goand he sprays it wide.
76'
Another dangerous move for Barca and Juve have to clear again. Barca should be well out of sight.
75'
Griezmann!!!! Messi plays in Griezmann and his shot across the goalie goes narrowly wide!! Very wasteful.
74'
Juventus sub: McKennie on for Kulusevski.
74'
Cuadrado is booked for an outrageous dive in the Barca box. Can't believe players still dive with VAR....
72'
Messi goes down under a challenge from Danilo and no penalty is given.
70'
Demiral is cautioned for a clear foul on Messi.
70'
Rabiot has an effort now and his shot goes wide of the near post.
69'
Morata passes to Kulusevski and the Swede fires over!!
68'
Alba wins a free-kick after a Cuadrado foul.
66'
Barca sub: Fati on for Dembele.
66'
Barca have still been the better side despite Juve having 3 goals disallowed, but the Italians have been unlucky. The Barca goal was deflected, remember.
65'
Messi goes one way and then the other, but Juve stop him.
64'
Pedri!!!! Messi makes the run, he gives to Pedri whose deflected shot goes for a corner! Messi tried to divert the ball in, but failed to do so.
62'
Messi!!! The ball breaks to the Argentine in the D and he shoots wide of Szczesny's right hand post.
60'
S Roberto is booked for a foul on Chiesa.
59'
Araujo went off with a right thigh problem at half-time. Wasn't tactical.
57'
Offside once again!!! The goal is taken away and it's off. Not just a few millimetres. A hat-trick of disallowed goals for Morata.
56'
It's very close, but I think he's just level.
55'
Morata makes it 1-1!!! And this time it counts!! Chiesa's ball in is only half-cleared to Cuadrado whose pass then finds Morata at the back stick and he makes no mistake. VAR checking.
55'
Pjanic brings down Dybala and it's a Juve free-kick after a very long Barca move which comes to nothing.
54'
Messi passes to Griezmann near the Juve box, he looks to play a return ball to Messi and it's cut out.
53'
Barca are controlling possession here.
51'
Demiral knocks over Lenglet just to the right of the box and this is in a dangerous area.
50'
Pedri finds Alba who then squares for Messi and Juve clear for a corner.
49'
Kulusevski gives the ball to Bentancur and his curling effort goes over the goal.
48'
Dembele gets the ball, runs and then tries a turn and Rabiot dispossesses him.
45'
Barca HT sub: Busquets on for Araujo.
45'
HT: Juventus 0-1 Barcelona! Half-time and Barca deservedly lead. Dembele's deflected shot in the 14th minute is the difference and despite Morata having two goals disallowed, the La Liga side have had several chances to score again. Griezmann hit the post, Messi and Alba have hit wide while Dembele and Griezmann then forced a double save out of Szczesny. Juve attacking, but have had few clear cut chances apart from the disallowed goals. Back for more in a bit!
45'
Kulusevski picks up the first card after a foul on Alba.
45'
Danilo has a punt from distance. It's neither a cross nor a shot and the ball flies wide for a goal kick.
45'
Two added minutes and Araujo is getting treatment.
45'
Juve threaten again and good Barca defending means it's a goal kick.
44'
Danilo makes a clear foul on Dembele.
43'
Juve having some attacks, but lacked the cutting edge apart from the two disallowed goals. Barca could have easily scored more than one goal.
40'
Free-kick to Barca in Juve's half.
38'
Juve attack and a ball into the area is caught by Neto. Koeman's men are fairly comfortable here.
35'
Double chance for Barca!!! Dembele and Griezmann are denied by the keeper after a good move down the far side.
33'
Alba!!! Nice play by Griezmann, he passes the ball to Alba with the help of a defender's touch and the Catalan hits it wayward. Should have hit the target.
31'
Dybala's ball in touched by Sergi Roberto in the box and Barca get it clear.
30'
Morata scores again for Juve and once again it's disallowed for offside!!! Cuadrado's pass finds Morata in the middle and he fires home. Doesn't count though. Clearly off.
28'
Lenglet is limping after accidentally being stepped on by Dybala.
27'
Half chance for Juve sees the ball goes straight into Neto's hands.
26'
The game has calmed down in the last few minutes as Juve have a bit of possession.
23'
Messi!!! What have you done? A lovely one-two between him and Griezmann sees the Argentine hit the ball wide of the far post.
22'
Long ball is aimed at Messi and Szczesny.
20'
Bentancur finds Morata at the back post and the Spaniard is penalised for a foul on S Roberto.
18'
What is Pjanic doing? He thinks he's still at Juve!! He passes the ball straight to a Juve man who blazes over! Crazy.
17'
Alba makes a foul and he gets a warning. Juve wanted a yellow.
16'
Dembele's shot took a huge deflection. Think it was off Chiesa.
15'
Morata scores for Juventus, but the flag is up for offside! The Spaniard is played in, but he's offside, the first shot is saved by Ter Stegen, the ball bounces off Morata's arm and he makes no mistake. It was offside and handball so rightly disallowed.
14'
Barca score!! Dembele scores with a good bit of fortune! A cross field pass is sent to Dembele on the far side, he cuts inside and goes one way and then the other before his shot takes a wicked deflection off a defender. That leaves the keeper with no chance.
13'
Cuadrado sends a ball into the Barca box, Chiesa gets a touch with his heel, but Barca clear easily.
10'
Alba finds Pedri in the box and Demiral has to concede the corner.
7'
A long ball is sent for Dybala and the ball ends up in the GK's hands.
6'
Araujo makes a foul with a stray arm and is given a verbal warning.
5'
What are the defenders doing?? Stupid lateral passes near their own goals.
4'
Juve having some attacking now, Pjanic does the same as Demiral at the other end and a teammate has to bail Pjanic out!
3'
Barca have started very strongly here.
2'
Pjanic has a shot, it's well saved by the GK and then Griezmann is denied by the post!!!
2'
Messi!!!! Demiral passes the ball straight to Messi after a stupid lateral pass and the Argentine's shot is blocked by Bonucci for a corner.
1'
Barca get us going in the pink from right to left! Juve in their usual colours!
Prev.
The players are coming out here!
Prev.
Both Juventus and Barca started their CL campaigns with three points. Juve won 0-2 at Dynamo Kiev thanks to two Morata goals while Barca beat Ferencvaros 5-1 at the Camp Nou. Ferencvaros and Dynamo Kiev face each other in Hungary this evening in the other game in group G.
Prev.
13 degrees and dry in Turin this evening.
Prev.
Juventus were held to a 1-1 draw with Verona at the weekend. Bonucci finally plays despite picking up a knock, but there are three changes. Bentancur, Chiesa and Kulusevski come in for Ramsey, Arthur and Bernardeschi.
Prev.
Juventus are still without Cristiano Ronaldo for this one after he once again tested positive for coronavirus yesterday. He is not at all happy at missing this one and he made his anger clear on social media.
Prev.
Barca make several changes from the 1-3 loss to Real Madrid in Clasico. Pique (suspended) and Dest are replaced by Araujo and S Roberto. Busquets, Coutinho and Fati also drop out from the XI and Pjanic, Dembele and Griezmann all start.
Prev.
We have Dutch officials for this match. Danny Makkelie is the referee, Kevin Blom is the VAR.
Prev.
Barca XI: Neto (GK); Alba, Lenglet, Araujo, S Roberto; Dembele, De Jong, Pedri, Pjanic, Griezmann; Messi.
Prev.
Juventus XI: Szczesny (GK); Demiral, Bonucci, Danilo; Rabiot, Bentancur; Chiesa, Dybala, Kulusevski, Cuadrado; Morata.
Prev.
Hello and welcome to live coverage of the Champions League clash between Juventus and Barcelona!