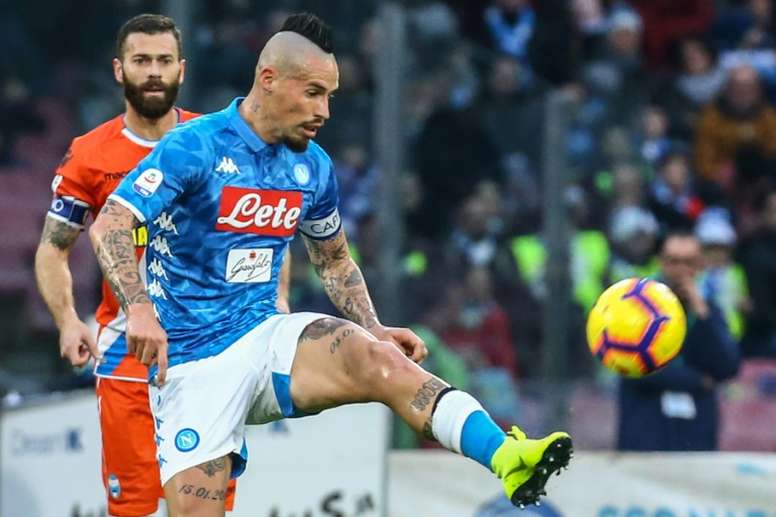 Elminating Barça, a miracle for Hamsik
520 matches in the Napoli shirt bear witness to the work of Marek Hamsik, who became a living legend at San Paolo. The Slovakian will be watching the play-off between his former team and Barcelona from a distance this Tuesday.
Hamsik is aware that eliminating the team coached by Quique Setién is anything but easy. "It's a big match we're all waiting for. The field will be full and Barça is not a daily occurrence. There is much desire to see if Napoli responds," he said to 'Marca'.
For Hamsik, Messi is the biggest danger on the pitch. "Given what he did against Eibar, it's impossible to beat Barça. But in football every game is different. If Napoli calm Leo and his way of playing, we have some options," he said of a player he described as "the best in the world".
"It's a kind of miracle to eliminate Barça, but in football everything is possible. Napoli must do everything right at home. We are strong in San Paolo, we have beaten everyone there. We've beaten Liverpool, drawn with PSG. At San Paolo you can see the strength of Naples. It will be tough for Barcelona," said Hamsik.
"We are strong at home and we need to consolidate the result. With Gattuso we've improved, we're more compact, more like Napoli used to be," he explained
He also reviewed his own team's stars. "Insigne is Neapolitan and really brings his 100%. He's the big 'capitano' now. He feels the club, the fans and the city as his own," he said of the team's flagship. "Fabian is a great talent and has grown a lot. He has a permanent position in 'la Roja'. He has a great future," he added about the Spanish midfielder.
Hamsik also spoke about a Mertens who is about to break the goalscoring record for the Italian team. "He's going to beat it and I congratulate him. I'm proud to have broken Maradona's record and now it's his turn," he said.
Coronavirus
Dalian Yifang's player, Hamsik was questioned about the coronavirus that has the entire world in high alert. "In January it wasn't that bad, but now it seems worrying. We must respect the disease process. It is not easy and everything must be reassured," he said.
Italy is the third most affected country in the world and the first in Europe. "There is a lot of concern and it is making everything worse. I just hope it gets better soon for the sake of everyone," he added about what is happening in the north of the country.