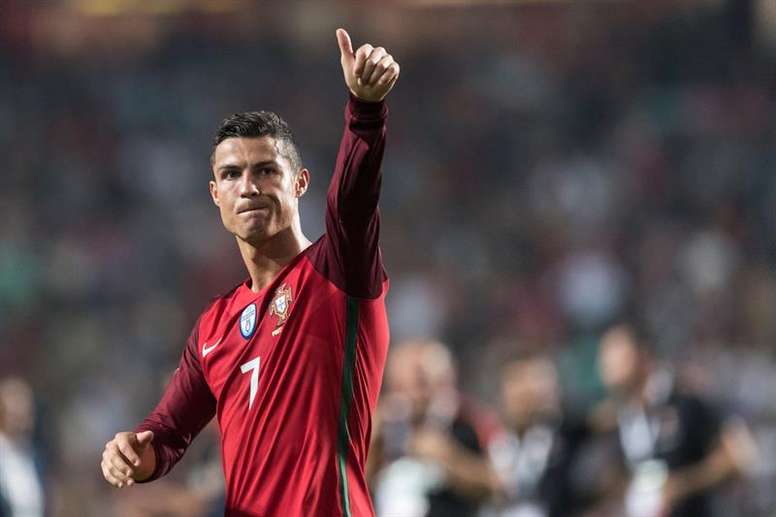 Cristiano Ronaldo, 702 goals and counting
Portugal was stuck in a miserable draw at half-time against Lithuania when, right on cue, Cristiano uncovered his best version with three goals in the second half, making it his second poker with his national team, after the four scored against Andorra in the qualifying phase for the 2018 World Cup.
At 34, Cristiano is within reasonable distance of Iran's Ali Daei surprising numbers, a footballer who played until the age of 38 and holds the record for the most goals with a national team, set at 109.
He "only" needs to score 16 more goals, which seems like a feat in itself, but if the Portuguese's goalscoring rhythm is taken into account, it should not prove too difficult provided he is free of injuries.
After his time with Sporting CP, having arrived in the country's capital as a teenager from Madeira, Cristiano scored 5 goals with the national team before even having signed for Manchester United.
The year 2008 was another turning point for Funchal's footballing stardom as he won the Champions League.
That year, at the individual level, he was awarded the Golden Shoe with 34 goals in the Premier League, with an additional 8 goals in the Champions League, the first of them against his home team of Sporting.
In 2008 he was also awarded the Ballon D'Or, an award he would later win with Real Madrid in 2013, 2014, 2016 and 2017.
The 2007-08 season ended with The Best award, which is awarded every year by FIFA.
His decisiveness and goalscoring ability was once again evident in Portugal when, at the Estadio do Dragao, he sent Manchester United into the semi-finals of the 2009 Champions League with a superb strike that unbalanced the contest in favour of the English.
His goal was awarded the Puskas Award (best goal of the season in Champions) but ultimately lost in the Champions League final to Barcelona in Rome.
That summer he arrived at Real Madrid, the team that saw his most successful side, scoring 451 goals in nine seasons.
In the 2010-11 campaign he won his second Golden Shoe, with Real Madrid, after scoring 40 goals in the LaLiga. He repeated that same honour in 2014 (31 goals) and 2015 (48).
His scoring ability also helped him to win the Ballon D'Or with Real Madrid in 2013, 2014, 2016 and 2017.
In the eyes of his fans, the five goals he managed to score against Granada (2014) and against Espanyol (2015) also solidify his status as a living football legend.
With the Portuguese national team, his leadership is overwhelming with 93 goals, followed by Pedro Pauleta, who kept the record for some years with 47 goals.
To these should be added the three goals he scored with Portugal's U21, two goals with the Olympic team and one with the U20.