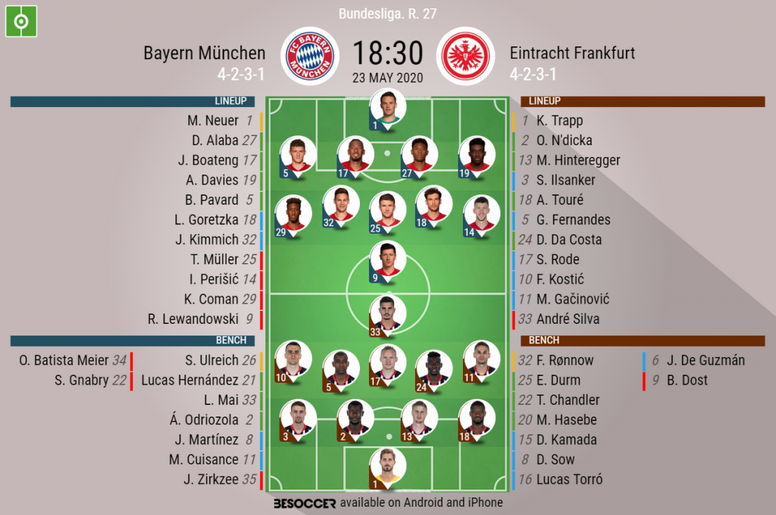 Bayern München v Eintracht Frankfurt - as it happened
Bayern München

Eintracht Frankfurt

90'
FT: Bayern 5-2 Frankfurt! Straightforward for Bayern. Goretzka and Muller gave the hosts a 2-0 lead at half-time, Lewandowski made it three seconds into the second half, but then Hinteregger made it 3-2 with two quick goals. However, a gift by Davies allowed Davies to make it 4-2 and then Hinteregger scored a crazy own goal as Bayern deservedly won 5-2. Thanks for joining us and see you again soon!
90'
Frankfurt still attacking and Bayern having chances on the counter. Corner for the home team, but Fritz just finishes it at 90 minutes!
88'
Camada penalised for a handball.
85'
Bayern subs: Zirkzee replaces Coman and Cuisance on for Kimmich.
84'
Toure tests Neuer and the German dives down to his left.
83'
Kostic strikes the post for the away team!!
81'
Bayern in complete control here now.
78'
Almost 6-2!!! Kimmich passes to Davies and Ilsanker has to clear to prevent Lewandowski making it six.
76'
E Frankfurt sub: Dost on for Silva.
76'
Hinteregger has got a hat-trick at least...
75'
It's 5-2 and it's a comical own goal by Frankfurt!!! Gnabry is felled by Trapp as he tries to square, it's going to be a penalty, but Hinteregger controls with both feet before knocking it into his own net! We said it was village defending!
73'
Bayern sub: Boateng is replaced by L Hernandez.
73'
Kimmich plays it to Davies and his cross is poor. Goal kick.
71'
Frankfurt double sub: Sow and Kamada on for Gavinovic and Rode.
68'
Double chance for Frankfurt!!!! Andre Silva plays a lovely backheel to Gacinovic, his shot is saved by Neuer and then Andre Silva sends the rebound wide! Park defending at both ends!
65'
Coman sees his shot saved by the GK!
64'
Bayern sub: Perisic is replaced by Gnabry.
61'
It's 4-2!!!! Davies kills off the contest!!! Fernandes intercepts Davies' pass before playing a fine assist back to Davies who keeps his cool, to fire in! What was Fernandes thinking? A lateral pass inside his own box straight back to Davies!
60'
Muller looks to find Perisic on the far side, but nothing comes of it.
59'
Kostic crosses from this near side and his ball in is headed away by Davies!
58'
Frankfurt attack again and the cross is caught by Manuel Neuer!
56'
We hope you're still with us!!
55'
It's 3-2!!! Once again from a corner! Game on!!! Hinteregger heads it, it hits the far post and goes in.
52'
Frankfurt pull one back!! Hinteregger wins the header from the corner and then scuffs his shot past Neuer into the goal.
50'
And now he heads Muller's cross wide.
49'
Perisic's shot is saved by Trapp.
46'
Lewandowski makes it 3-0!! Muller passes to Coman on this near side and his chipped pass is headed in by Lewandowski from eight yards out!
46'
The second half is underway here!
45'
Frankfurt HT sub: Chandler on for N'Dicka.
45'
HT: Bayern 2-0 E Frankfurt! Half-time in Munich and it's been one way traffic. Goretzka put Bayern ahead after 17 minutes before Muller made it two just before the break. The away side have done next to nothing and will struggle to come back from this. Join us for more in the second half.
45'
Kostic is flagged offside on the far side. 2 added minutes.
45'
Free-kick to Bayern 30 yards from goal.
42'
Muller had played a bad pass earlier in the move, but Bayern fianlly scored. The goal stands!
41'
Muller makes it 2-0 for the hosts! Frankfurt raise their hands for offside. Davies crosses for Muller who controls with his chest before hitting in. I think he's marginally off...
38'
Lewandowski heads wide the set piece.
37'
Alaba shoots and Trapp bats it away for a corner.
37'
Lewandowski is getting treatment and has been taped up just under his right eye.
36'
Hinteregger is booked for catching Lewandowski in the face with his hand. Not sure how accidental that was actually...
35'
Coman's shot is blocked and it's a corner for the Bavarians. Lewandowski is caught accidentally in the face in back play.
33'
Hinteregger goes for an ambitious effort from distance which flies over.
33'
Nice play by Neuer! Frankfurt try sending a long punt forward, Neuer anticipates it and comes out of his goal to clear.
30'
Free-kick to Bayern after a foul on Coman. Flick's men are taking things slowly now.
27'
Frankfurt send another cross into the area, but there's no-one there.
24'
Kimmich shoots wide from distance.
24'
Bayern comfortable here at the Allianz Arena.
21'
Perisic shoots at Trapp and then apologises after not seeing his teammates.
20'
Frankfurt attack again! Gacinovic goes down Bayern's left and Andre Silva can't get to his cross to the back post.
19'
It could be a long night for Frankfurt.
18'
Rode hits wide for the away side with a curling effort.
17'
Goretzka makes it 1-0!! It was a matter of time. A pass from Bayern's own half is left by Perisic, that does the defender, Muller picks up on the near side and he cuts it back for Goretzka to fire home.
15'
Perisic earns Bayern a corner. They're dominating proceedings.
14'
Pavard!!! Trapp saves after the Frenchman heads Kimmich's cross at the GK from point blank range!
13'
What a pass! Kimmich sends a lovely long pass for Perisic in the box and the Croatian just about reaches it, but can only get a flick on so Trapp claims easily. That was a brilliant chance.
11'
Off the bar!!! Kimmich's corner all along the ground finds Lewandowski whose powerful effort is fired violently against the crossbar!!!
11'
Brilliant by Davies! He turns one way then the other in the box before his pass is knocked out for a corner.
10'
Bayern have started the better here so far, but no major chances so far.
8'
Penalty shout for Bayern!! Kimmich's corner comes in, Muller wants a handball, but Fritz says no.
7'
Good move by Bayern!!! Kimmich has the ball on the edge of the area, he finds Muller to his right and his cross to Lewandowski at the back stick is slightly too high.
6'
A long ball is sent forward by the visitors, but Neuer deals with it easily.
6'
Perisic is penalised for pulling back Toure.
4'
Bayern counter after a Frankfurt attack through Coman, he charges towards the area and goes down under pressure from N'dicka! No foul is given.
1'
Lewandowski is caught offside.
1'
Bayern get us going from right to left and it's a free-kick for the hosts inside 15 seconds as Ilsanker fouls Lewandowski.
Prev.
Bayern in red, Frankfurt in white. We'll have a minute's silence before kick-off to remember all those who have lost their lives because of the coronavirus.
Prev.
The Frankfurt players walk out onto the pitch!
Prev.
Frankfurt have lost their last four matches.
Prev.
10 degrees and raining in Southern Germany this evening. Franz Beckenbauer is at the stadium for this one.
Prev.
Frankfurt were well beaten by Gladbach last week. 1-3, but were 0-2 down after seven minutes. They make four changes. Fernandes, Da Costa, Gacinovic and Andre Silva are in for Abraham, Sow, Kamada and Dost.
Prev.
Two changes for Bayern from 0-2 win at Union Berlin. Perisic and Coman start instead of Thiago and Gnabry.
Prev.
1st v 13th. 58pts v 28pts. Bayern will go four points clear with a win here, Frankfurt are five ahead of the relegation zone.
Prev.
The controversial Marco Fritz is the referee for this one with Martin Petersen as the VAR.
Prev.
E Frankfurt XI: Trapp (GK); Ilsanker, N'dicka, Hinteregger, Toure; Kostic, Fernandes, Rode, Da Costa, Gacinovic; Andre Silva.
Prev.
Bayern XI: Neuer (GK); Davies, Alaba, Boateng, Pavard; Perisic, Goretzka, Muller, Kimmich, Coman; Lewandowski.
Prev.
Hello and welcome to the Allianz Arena where Bayern Munich play host to Eintracht Frankfurt in an empty stadium in this Bundesliga clash.