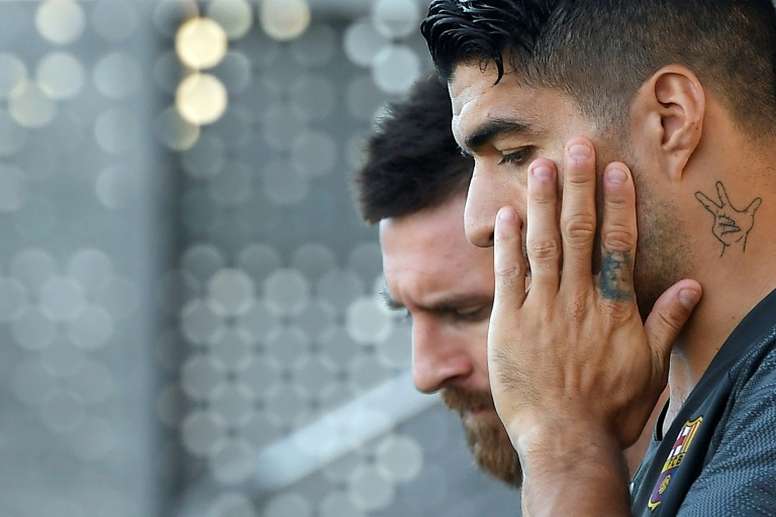 Barca has Siameses!
There are few places more difficult than the Metropolitano in this league. With Atleti fighting to stay in the top zone, Barcelona know that these three points are crucial in making Real Madrid's pulse quicken and keeping Atletico further away.
It is said that it is in the most difficult games when big players come to light. Both Leo Messi and Luis Suarez have shown this throughout the years. They form a fearful partnership, the base on which this Barca functions.
The number '1' almost stands on his own. He has created 64.3% of the team's goals. We could speak about 'Messidependence' on some occasions, but it is also true that Luis Suarez plays a big part.
Off the pitch they are friends, almost inseparable. You can often see the pair chatting or making jokes in each Barca training session. And on the pitch, when they play together, they are wonderful.
And this is a benefit for the whole team. Against Borussia Dortmund, the Siamese society of Barca reappeared to unbalance the equality with 0-0. First it was Messi who assisted Suarez. Later, Suarez left so much in tray to the Argentinean.
Two players that have returned to being the best version of themselves. So much so that the team can return to their best possible level, but they need both players to perform at their best to do so. And they're already getting started.
After playing his 700th game with Barca, the captain has scored 613 goals (0.87 per game). Almost inhuman, as many would describe it. But Suarez isn't far behind.
In the 262 games he has played for the team, the Uruguayan has already scored 187 goals (0.71 per game). Although in recent seasons he has been lowering his records, in this he seems to have regained his sense of smell.
And what better way to show that the society Messi-Suárez has returned than with a great performance in the Metropolitan. A good encounter of both would confirm the great level that already they showed in Champions League and would elevate to Barça in its way to arrive in full conditions to the month of May.