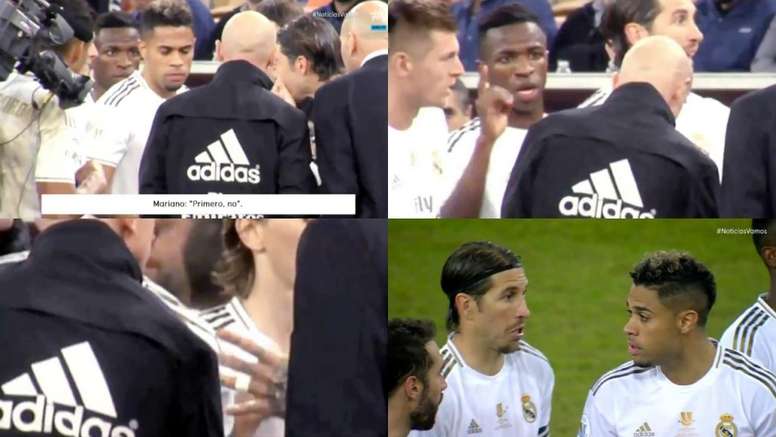 Vinicius ignored, Ramos the fifth... The secrets from the penalty shootout
Once again, the penalty spot gave Real Madrid success against Atletico Madrid. It got a lot of people talking. About whether Oblak would be unstoppable, about the Whites and their penalty shootout choices. The video from #Vamos gives us more light in this respect.
To start with, it is clear that it is the players who decided who took the penalties. With Zidane present, they were the ones left to decide.
The first person to be asked to take on was Mariano, but he was scared of the respnsibility. "First no", he repeated bluntly and with a look of fear on his face. After him, Carvajal offered to take one and lifted his finger.
One of the more stand-out scenes, and one that left Vinicius' role clear. The Brazilian raised his hand on a couple of occasions, but is in the background and nobody listens to him, or wants to listen to him. He is ignored.
As it continues, Sergio Ramos asks Varane and, although he doesn't appear in the videa, everything indicates that his response is negative.
January 13, 2020
Toni Kroos suggests Rodrygo, but the captain looks at him and he doesn't seem to take much notice, he simply names Carvajal as the first penalty taker.
And then, another key moment: Marcelo seems to ask Sergio Ramos when he will take and then you see him show his find, with five fingers sticking up, indicating that he will take the last penalty.
After this brainstorming, with the penalty shootout underway, the Sevillan converses with Mariano and seems to change the order so that he is taking the fourth: "You take it, you are going to score it." In the end, it was the deciding goal.
January 13, 2020
Ramos explained in the press conference after the game that it was decided that he should take the fourth penalty. Did he lie and change it as he went along to throw away "the glory", as he claimed?