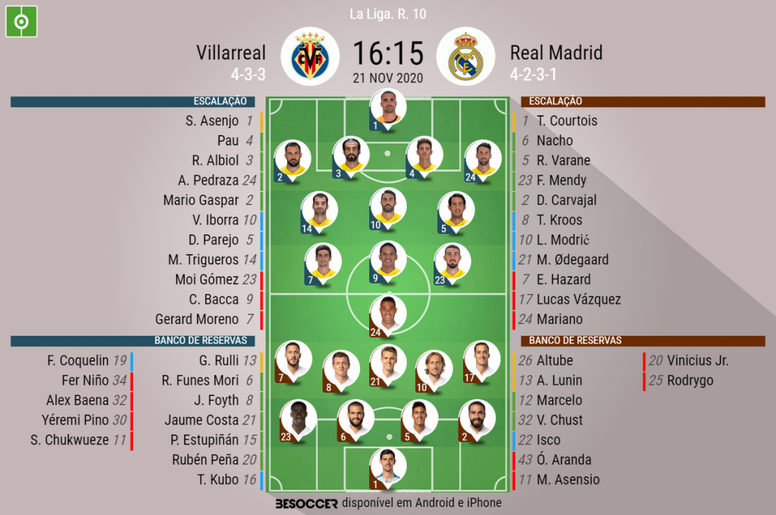 Villarreal v Real Madrid - as it happened
Villarreal

Real Madrid

Post.
That's all from us. Villarreal remain in 2nd and will be happy with the point while RM, who were not at their best, stay in 4th. Thanks very much for your company and see you again soon!
Post.
FT: Villarreal 1-1 R Madrid! All over in Villarreal and a draw is fair. Mariano put RM ahead after two minutes and Zidane's men were comfortable, but Emery's men woke up after HT. They had 3-4 clear chances and then finally levelled after 76 minutes through Gerard Moreno from the spot after Courtois fouled Chukwueze. The last 15 minutes were very open and Kubo could have even won it for Villarreal at the death.
94'
The free-kick into the box is headed behind for a corner by Varane and the ref blows for full time!!
93'
An Asensio ball in is cleared away and then Kroos is booked for a foul. Free-kick to Villarreal and it's the last chance.
92'
Kubo!!!!! Villarreal attack through Moreno, he passes for Kubo to his left who takes too long before shooting and the shot is saved by Nacho from a tight angle.
91'
Yeremie Pino sees yellow for a foul.
91'
Three added minutes. A draw would be fair.
90'
Vinicius looks to find Modric and Asenjo catches.
89'
Villarreal double sub: Kubo on for Gomez and Pena on for Gaspar.
87'
Gaspar has picked up an injury and he won't be able to continue.
87'
RM attack now and a pass across the area is cleared by the Yellow Submarine,. Very open.
84'
Estupinan gets a corner for the home side.
83'
Chukwueze plays in Moreno now, he sets himself up for the shot and Nacho blocks it. Cracking game now.
82'
Moreno!!! RM lose the ball stupidly, Iborra gets it back, the pass for Moreno is too slow and that allows Varane to get back to concede the corner.
81'
Both teams are trying to win this. We could see another goal.
79'
The last five goals RM have conceded in La Liga have been four penalties and an own goal...
78'
Modric's shot hits Moreno on the head.
78'
RM have finally woken up and they've got a corner.
77'
We said Villarreal were pressing and they've got their reward.
76'
Moreno to take it and he scores!!! Just! He hits it ti the Belgian's right, it's not in the corner, but Courtois doesn't quite reach it despite going the right way. 1-1!
75'
Penalty to Villarreal!!! Courtois brings down Chukwueze after a lovely ball by Estupinan. Clear pen.
73'
Vazquez!!! He is given the ball by Mariano and the Galician's effort is deflected behind by Pau Torres. Corner.
72'
Pino wants a handball by Carvajal in the box, nothing is given and then a shot flies wide of the goal! The hosts are pressing! The ball didn't strike Carvajal's arm.
71'
RM are doing very little going forward while Villarreal are looking dangerous now. The problem is they aren't hitting the target.
70'
Parejo!!!! Estupinan plays a lovely pass across the middle of the box from this near side and Parejo's strike goes wide of the goal!!! He really should have hit the target.
69'
Chance!!! The free-kick comes in, Courtois doesn't deal with him and the goalbound shot is blocked by the defender. It was offside though.
67'
Nasty collision between Gaspar and Nacho here! Nacho clearly fouls Gaspar with his head on the Villarreal man's chest. Clear booking.
65'
A pass is played through for Moreno, Courtois has to come out to clear, but the flag is up.
65'
RM double sub: Odegaard and Hazard replaced by Isco and Vinicius.
63'
Chukwueze!!! He cuts inside from the far side, plays a one-two with Parejo and then volleys well wide of the goal!
61'
Villarreal triple sub: Trigueros, Bacca and Pedraza off, Yeremy Pino, Estupinan and Chukwueze on.
57'
Moreno! What have you done?? RM lose the ball stupidly by Kroos as his clearance is deflected by Parejo's foot, play continues, Moreno is passed the ball and his effort across goal goes narrowly wide of the far post! Should've hit the target.
56'
Bacca looks to find Moreno in the box, but the ball beats him and goes out for a goal kick.
55'
A defensive error sees RM get the ball and Odegaard has a pop at goal which is blocked.
52'
Vazquez crosses the ball into the box and it's a regulation catch for the goalie.
50'
The hosts are showing more attacking intent here now.
49'
Vazquez!!! Mariano is played in, he passes for Vazquez on the edge of the box who fires over, but Mariano was offside.
48'
Mistake by RM at the back, Bacca looks to find his teammate Moreno and Nacho cuts out the pass! Vital intervention.
48'
Pedraza launches a ball into the box and RM boot it away.
46'
Pedraza goes down this far side and looks for a cross in, but he is unable to.
46'
RM get us going once again here!
45'
HT: Villarreal 0-1 R Madrid! Half-time in Villarreal and Zidane's men have been very comfortable. Mariano headed in a Carvajal cross after two minutes and have then just kept the ball with long possessions. Villarreal have done nothing going forward apart from a Parejo header over the bar while Carvajal's shot off the sidenetting was RM's best chance to make it 0-2. Back for more shortly!
45'
Gaspar puts a cross into the box, Varane heads away and then Trigueros fouls Hazard to end the half.
45'
Yet another offside! Mariano is caught offside.
43'
A long ball forward by Mendy sees Hazard is caught offside. Tight one.
42'
Moi Gomez tries to win a corner off the defender on the far side, but he is unable to.
39'
Another RM move ends with a shot blocked and then Varane fouls Bacca.
39'
Real Madrid are looking quite comfortable here. They have their goal and they are waiting patiently.
36'
Emery is being warned by the referee for protesting.
35'
Mariano makes a lovely run down this near side, he plays a one-two with Vazquez and Mariano strikes the post when it was easier to score! The flag was up though.
34'
Free-kick for Villarreal here, but the set piece is poor.
31'
Carvajal!!!! Off the side netting!!! A long psosession ends with a lovely pass by Kroos for Carvajal and he slices wide under pressure from Pedraza. The ball hits Carvajal's standing foot and the RM made a hash of it.
28'
A Pedraza cross from the far side is easily caught by Courtois.
27'
Free-kick to the home team here. Apart from the Parejo header over the bar, there have been no chances since the goal.
25'
A cross from the far side for Trigueros is headed behind by RM for a corner. It's once again taken short and RM clear it.
23'
Carvajal fouls Pedraza and the hosts get a free-kick.
23'
Pedraza has a pop from his distance and his shot is blocked.
21'
Parejo!!! Moreno puts in a lovely cross for the former Valencia captain and he heads over.
19'
It looks like RM are very comfortable here, but there has been very little to speak of since the goal. 0-0 would be fair.
16'
Bacca wins a corner for the hosts, but nothing comes of it.
15'
Gaspar is penalised for a foul on Hazard.
15'
Pedraza makes a lovely run towards the RM box, he looks for Bacca, but his pass is cut out.
13'
RM having some possession here now, but no major chances in the last few minutes.
10'
Moi Gomez is fractionally offside.
9'
Lucas Vazquez is fouled just inside Villarreal's half.
6'
Villarreal attack now, Pedraza has the ball in the RM box and Carvajal slides in to dispossess him.
4'
What a start for the visitors.
3'
The linesman raised his flag and then quickly lowered it, but there was no offside at all. Legal goal.
2'
Mariano scores for RM but Villarreal aren't happy!!! A lovely move by Carvajal, Lucas Vazquez is offside, but he stays away from the ball, the ball hits a Villarreal man and the ball goes back to Carvajal whose cross is headed home by Mariano!
1'
In paly in Villarreal!!! Villarreal get us going from left to right in yellow. Madrid in black.
Prev.
The players are out here!
Prev.
Changes from the Valencia game: Ramos, Marcelo, Valverde, Vinicius, Isco, Benzema and Asensio out, Nacho, Mendy, Carvajal, Kroos, Odegaard, Hazard and Mariano in.
Prev.
RM lost 4-1 to Valencia in their last match. They conceded three pens and they are without several players today. Ramos and Benzema are injured, Jovic has the virus, but Hazard returns.
Prev.
Villarreal are without Paco Alcacer for this one due to a hamstring strain. and Carlos Bacca replaces him. That is the only change Villarreal make from the 1-3 win at Getafe.
Prev.
16 degrees and sunny in Villarreal this afternoon. This same fixture last season ended 2-2. Bale scored twice for RM before being sent off.
Prev.
2nd v 4th. 18pts v 16pts. Real Sociedad are top of the tree with 20pts.
Prev.
Alejandro Hernandez Hernandez is the referee for this one while Guillermo Cuadra Fernandez is the VAR.
Prev.
This is actually RM's 2nd visit to the Estadio de la Ceramica this season. Back on 4th October, they beat Levante 0-2 at the same stadium as Levante's ground was undergoing renovation work.
Prev.
RM XI: Courtois (GK); Mendy, Nacho, Varane, Carvajal; Hazard, Kroos, Odegaard, Modric, Lucas Vazquez; Mariano.
Prev.
Villarreal XI: Asenjo (GK); Pedraza, Pau Torres, Albiol, Gaspar; Parejo, Iborra, Trigueros; Gomez, Bacca and Moreno.
Prev.
Hello and welcome to our live coverage of the La Liga clash between Villarreal and Real Madrid!!