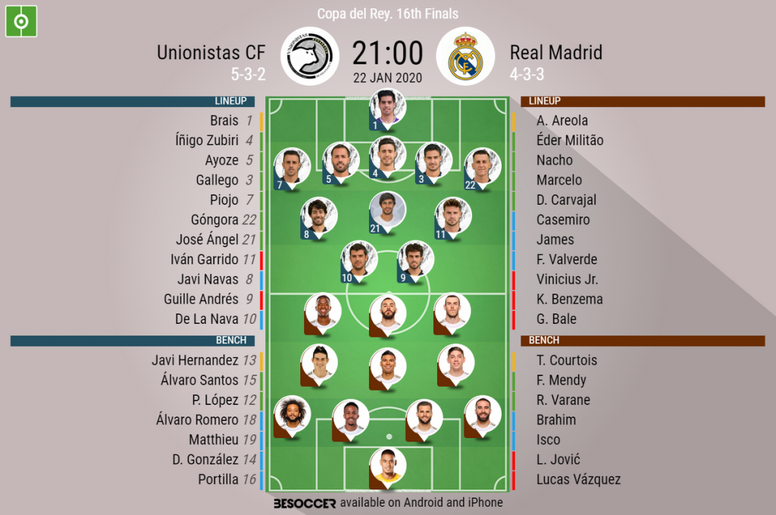 Unionistas CF v Real Madrid - as it happened
Unionistas CF

Real Madrid

93'
FT: Unionistas 1-3 Real Madrid! It's all over at Las Pistas! Unionistas gave it their best shot and levelled through Alvaro Romero after Bale had put RM ahead, but two goals from Brahim Diaz sent RM into the last 16 of the Copa del Rey. RM were the better team and were always in control bar the scare when Unionistas equalised. Job done for Zidane's men. That's all from us. Thanks for your company and hope to see you again soon!
92'
RM are running out the clock out in Unionistas half and Brahim Diaz then scores!!!! He gets the ball on the far side, cuts inside, beats a couple of players before firing a right footed shot into the far corner.
91'
Two minutes left. Still 1-2,.
90'
Three extra minutes as Unionistas throw everyone forward, but no one can get on the end of the balls in.
87'
Unionistas sub: Matthieu on for Ayoze.
84'
Triple chance and two post shots! Brahim Diaz hits the post, the ball breaks to Carvajal, his cross is headed by Vinicius and Brais makes an excellent save. Then, Jovic hits the post on the rebound and the ball rolls along the line before the GK holds onto the ball. A miracle how that didn't go in.
82'
Militao is stepped on accidentally and he wins a free-kick.
81'
Alvaro Romero causing problems again, but no one can get on the end of his ball in.
80'
RM sub: Isco on for James.
80'
Unionistas sub: Navas goes off and Diego Gonzalez comes on.
79'
De la Nava!!!!! What an opportunity! The corner is flicked on and then De la Nava hits it with his knee and the ball ends up going straight at Areola. Didn't connect sweetly otherwise it could have been a goal.
78'
Brilliant pass by Gongora into the box and Carvajal has to slide in to concede a corner.
75'
RM sub: Karim Benzema leaves the park and Luka Jovic is on.
73'
Benzema tries to beat Brais at his near stick and the GK knocks it for a corner.
72'
Benzema tries his luck from just outside the area and the ball goes just wide of Brais' right hand post.
72'
A RM cross into the Unionistas box is headed away by Jose Angel.
70'
RM try and threaten again, but nothing comes of it. Goal kick for the home team.
68'
Romero is booked for a bad challenge on Carvajal.
65'
What a save! De la Nava plays a one-two with Andres and Areola knocks it away for a corner.
62'
RM go back in front through Brahim Diaz!!! Benzema passes the ball to Marcelo whose cross into the box finds Brahim at the far post. However, he slips while hitting it, the ball trickles towards goal and the Unionistas defender's clearance hits the post and then himself before going in. Unlucky.
60'
This would be a massive upset! RM have now started to attack again, something they should have been doing at 1-1.
58'
What were RM doing at the back? 0-1 is never enough. They got complacent and they've been punished.
57'
Unionistas level the scores!!! It's the substitute!!! It's Alvaro Romero!!! Marcelo plays a lateral pass in his own half to Militao, the ex-Porto man can't reach it, Romero picks up and runs into the box before shooting into the roof the net!!!
56'
A hopeful effort by a Unionistas player flies well over.
55'
Unionistas sub: Garrido goes off and Romero joins us.
54'
RM have got this game under control, but they don't look keen to a score a second. 0-1 is never enough.
53'
RM sub: Bale goes off for Brahim Diaz.
52'
Unionistas playing down RM's left and then move ends after Navas is penalised for a foul on Nacho.
49'
What a save by Brais!!! Superb team play sees Valverde give to Bale, his cross is flicked on by Vinicius, Benzema can't get on the end of it and James at the back post sees his strike brilliantly saved!
47'
De la Nava shoots after a cross is deflected and Areola catches easily.
45'
HT: Unionistas 0-1 RM! No added time so it's half-time!!! RM lead at the break thanks to a deflected strike by Gareth Bale in the 18th minute. RM have been the much better team and the goal calmed any early nerves. Unionistas are trying, but they are lacking the quality to trouble RM. Back for more in 10 minutes!
45'
Very little is happening here. It looks like both teams are waiting for half-time.
44'
Navas' cross into the box is easily headed away by Casemiro.
40'
Unionistas putting the odd ball in, but they are not causing RM any problems at all.
37'
Off the bar!!! Good build up play by RM, Casemiro plays a lovely chip pass to James and his lob hits the crossbar before going over.
35'
Marcelo gives a nice pass to Marcelo and Benzema hits the side netting while trying to beat him at the near post.
33'
Benzema is offside from Benzema's pass.
32'
Marcelo barges Navas off the ball right by the touchline, but no foul is called.
31'
Gongora's free-kick is touched by a home player, but it's blocked inside the crowded 18 yard box.
30'
James is penalised for a foul on Ivan Garrido and the hosts and send this one into the area.
29'
Vinicius is caught offside once again. Miles off.
27'
Unionistas attack down this near side and his ball into the box goes past the far post.
26'
Casemiro is pulled back by Jose Angel.
25'
Good run by Javi Navas in RM's half, but the ball ends up with Marcelo.
24'
The last few minutes have been fairly quiet here. RM look fairly comfortable now.
20'
RM give away the ball and Unionistas' shot is deflected behind for a corner.
19'
Gongora!!! His long range effort is well tipped away by Areola! He dives to his right to concede the corner.
18'
Gareth Bale scores for RM!!! A hopeful cross by James is poorly headed away by Gongora, the ball lands at the feet of Bale and his shot is deflected into the goal.
15'
James and Bale over the ball. James takes it and it hits a Unionistas head in the wall.
15'
Casemiro is fouled by Gongora and it's a free-kick in a good area for RM.
13'
Vinicius caught offside again.
13'
A shot by RM takes a deflection and it goes for a corner.
12'
Bale looks to have picked up a little knock.
12'
James passes to Vinicius and the Brazilian is offside.
11'
Bale gets the ball on this near side and his cross looking for a teammate is easily cleared.
9'
Andres passes to Ivan Garrido who is in space, but Nacho makes a clean challenge to dispossess him.
8'
RM taking this easy so far.
6'
Unionistas are passing the ball around here early on. The home crowd are certainly enjoying the occasion.
5'
RM attack and Benzema is caught offside.
4'
Navas go down under the challenge by Militao, but nothing is given on the far side. Looked a foul to me.
3'
It's been a quiet start so far. Just a few throw-ins.
1'
Unionistas in black and white, RM in green. Unionistas get us going from right to left!
Prev.
The players are out here, there has been a minute's silence and we are about to start! It's a full house and there's a great atmosphere!
Prev.
Just 4 degrees in Salamanca this evening. There was snow the other day and they had to clear the pitch.
Prev.
RM won 2-1 v Sevilla at the weekend. Carvajal. Militao, Marcelo and Casemiro start from that fixture.
Prev.
Unionistas are currently 16th out of 20 in Group 2 in Segunda B. In other words, they are currently in the relegation play-off spot. They drew 0-0 at Real Sociedad B in their last fixture.
Prev.
Unionistas play at Las Pistas del Helmantico stadium, a tiny 4000 seater stadium just 50 metres from the El Helmantico stadium where UD Salamanca used to play and where Salamanca CF UDS currently host their matches. The relationship between the two clubs is very bad and incidents occur when the two meet. Salamanca is just over 200km to the North West of Madrid.
Prev.
Who are Unionistas? They are team formed by fans of the former club UD Salamanca who went out of business in 2013. Despite that club reforming just a few months later and becoming Salamanca CF UDS, some fans decided to form their own club and created Unionistas de Salamanca. A bit like AFC Wimbledon, if you like. They were formed after Wimbledon moved to Milton Keynes to become the MK Dons.
Prev.
The ref is Mario Melero Lopez from Malaga. A reminder that there is NO VAR for this fixture. That comes in from the next round, the last 16. We will have extra time and penalties if needed.
Prev.
RM have put their second choice GK, a reasonably strong defence, but no Ramos or Varane, and a strong midfield and strike force. They seem to be taking this fairly seriously.
Prev.
RM team: Areola (GK); Marcelo, Militao, Nacho, Carvajal; James, Casemiro, Valverde; Vinicius, Benzema and Bale.
Prev.
Unionistas XI: Brais (GK); Gongora, Gallego, Zubiri, Ayoze, Piojo; Ivan Garrido, Jose Angel, Navas; Andres and De la Nava.
Prev.
Good evening and welcome to live coverage of the Copa del Rey last 32 clash between Unionistas Salamanca and Real Madrid from the Las Pistas del Helmantico stadium. It's a tiny stadium with just one stand, non-league like, and it has all the ingredients for a giant killing. We will see one? Stick around to find out!