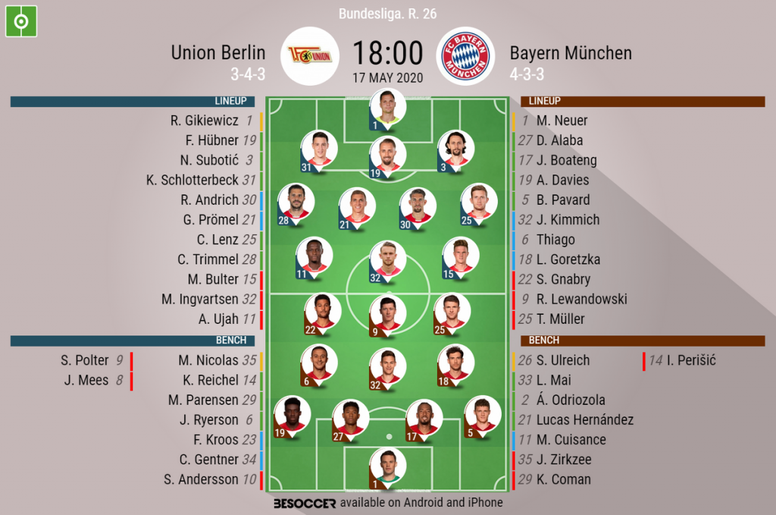 Union Berlin v Bayern München - as it happened
1. FC Union Berlin

Bayern München

93'
FT: Union Berlin 0-2 Bayern Munich! Bayern go straight for goal from the free-kick, the ball flies into the terraces and it's all over! Union had a good opening 20 minutes, but Muller had a goal chalked off by the VAR and from then on, it was one way traffic. Lewandowski scored a penalty after a foul by Subotic before the break and then Pavard headed home a corner 10 minutes from time. Bayern restore their four point lead at the top. That's all from us, thanks and see you again soon!
93'
Nasty clash here between Lenz and Pavard which sees both players down for a short while. They are ok though.
92'
Bayern win a corner kick. It's flicked on at the near post by Perisic, but Union then clear it.
90'
Neuer makes a fine save!! Lenz passes the ball to Kroos and the shot is well stopped by the goalie! Mees wanted Kroos to leave the ball for him as he felt he was in a better position.
90'
Bayern sub: Cuisance on for Muller.
88'
Bayern send a cross in from this near side and it's cleared by a defender.
85'
Bayern sub: Perisic on for Gnabry.
85'
Union's final two changes: Bulter and Promel off, Kroos and Ryerson on.
83'
Lenz has a shot blocked by Pavard as the home side try and pull one back.
81'
Union sub: Mees on for Ingvartsen.
80'
Pavard heads home Kimmich's header and it goes into the goalie's left hand corner! Had there been a defender on the near post, it would have been a simple stop... Union punished for not protecting the posts.
80'
Bayern have another corner here.
79'
And now Gnabry almost makes it two for Bayern after a lovely one-two with Davies! Gnabry's strike is saved by Gikiewicz and then Subotic boots it clear.
78'
Gentner shoots, the ball hits a defender and Gentner fires over with his second effort!
76'
What a chance for Bayern! On the counter, Coman plays to Gnabry, the ball is played back to Coman and his shot across goal almost sees Gnabry slide in to tap home! Subotic lost the ball there.
76'
Union launch balls into the box on two or three occasions, but Bayern deal with them!
74'
Lewandowski is caught offside.
72'
Bayern threaten again through Davies on the far side after he is fed by Davies who looks for Muller and the defender clears it off the Bayern man for a goal kick.
71'
Bayern sub: Coman on for Goretzka.
70'
Union Berlin double sub: Andersson and Gentner on for Andrich and Ujah.
68'
Neuer catches, but Subotic was centimetres away from heading it in!
67'
Union Berlin win a corner off Pavard.
65'
Bayern are keeping the ball amongst themselves in Union's half looking for the opening. They've had 66% of the possession.
62'
Bulter runs down this near flank and sends a cross into the box which Neuer gets a hand to!
60'
Tempers flare after a poor challenge by Andrich on Kimmich. The ref just calls for calm.
57'
Union go up the other end, the ball breaks to Promel and he hits it first time wide of the goal.
56'
The corner comes in and Pavard heads wide!
55'
Bayern!!! Muller puts in a lovely cross at the back post, but Lewandowski tries to head back to his teammate instead of tryingo to score and Trimmel concedes the corner.
52'
Trimmel!!! Bayern loses the ball and his cross into the box is turned towards his own goal by Boateng! Neuer is alert though.
51'
Schlotterbeck is carded for fouling Goretzka a midfield.
49'
Lovely play!!! Goretzka and Muller combine with a lovely one two and Goretzka's shot is deflected behind by Schlotterbeck for a corner.
48'
Union go forward and Neuer knocks the ball away. At 0-1, Union are still in this.
47'
Gnabry has an effort now and it's blocked!
46'
Davies sends the ball into the box, it is half cleared and then Muller tries to backheel Pavard's pass into the goal!
46'
Back underway here! Union get us going.
45'
Even though the stadium is empty, it's interesting to see so much terracing. 18,000 of the 22,000 seats at the ground are standing room.
45'
Welcome back! The players are back out here in East Berlin.
45'
HT: Union Berlin 0-1 Bayern Munich! Half-time at Stadion an der alten Forsterei! The home side started well and had a couple of early chances early on, but once Muller had a goal disallowed by the VAR after 19 minutes, Bayern took charge. Lewandowski scored a penalty in the 40th minute and the Bavarians are looking comfortable. Back for more in a bit!
45'
What a chance for Pavard!!! Bayern attac again, Muller passes to Pavard while falling over and the Frenchman's curling effort hits the sidenetting!
45'
Union have a corner kick here, it's half cleared and then Promel hits over the goal after a bit of pinball. Neuer wasn't troubled by that.
45'
Four extra minutes as Muller chests down a cross on the far side before his effort is blocked.
44'
Union Berlin are trying to get back into this one, but the champions are looking comfortable.
43'
Union claim a handball on the edge of the box, but nothing is given. Bayern counter and Goretzka gets a corner.
40'
Lewandowski tucks it away!! He stutters in his run up and hits it to the goalie's left, it's not in a corner at all and the GK, who goes the right way, almost saves it!
39'
Penalty to Bayern!! There looked to be no danger and Subotic kicks Gretzka's leg after Lewandowski's cross into the box. He doesn't even argue.
37'
Promel is getting treatment after that tackle.
36'
Davies is booked after a poor challenge on Promel.
34'
The players are having a drink here after Ujah goes down injured. Neuer accidentally stepped on his football as he caught a cross.
32'
The game has just quietened down in the last few minutes. I think it will remain goalless until half-time.
30'
Talking of that, they've just shown it us. Actually he was offside by a fair bit. He was in line with Gnabry, but he had to be in line with the ball and the ball was a lot further away from the goal than Gnabry's foot.
29'
They still haven't shown us a virtual line of the offside decision.
28'
Davies goes down Union's right again and his cutback for a teammate is cleared by Subotic.
26'
Trimmel's ball in is headed behind by a defender for a corner.
25'
Kimmich gives away a free-kick just outside his own box after obstructing Lenz.
24'
Gnabry passes the ball to Kimmich and his long pass forward can't find a teammate.
23'
It looks only a matter of time before Bayern score.
22'
What an opportunity for Bayern!!! Davies puts a lovely square pass across the box and somehow Lewandowski after Gikiewicz gets a hand to the ball, but can't hold on.
21'
Bayern are looking the much better team here now!
19'
The goal is taken away!!! Gnabry was just onside, but Muller was just off! That was extremely tight!
18'
Muller scores, but the VAR is checking! Kimmich's delivery is headed by Goretzka, he then heads to Gnabry and Muller taps in! Union had their hands up straight away.
17'
Muller wins a corner for the away side.
15'
65% possession for the Bavarians.
15'
Davies passes to Gnabry on the edge of the Union box and his effort is blocked by a red player.
13'
Flick's men move the ball again, but Hubner manages to clear away before Muller leaves his foot in on him. No need to do that.
12'
Lenz has his name taken after sliding in late on Pavard. He catches the Frenchman's foot and is deservedly carded.
11'
Union are looking good so far. Another move sees Trimmel's cross intercepted by a Bayern defender. The hosts are playing direct football, but that's to be expected.
10'
Ujah is in again down this near side, but the flag is up. Correct call.
9'
Bayern attack down the far side and the ball in looks for Goretzka in the middle, but he slips.
7'
What a chance for Union!! Hubner's long pass finds Ujah and he takes a couple of touches before firing narrowly wide of the goal! Union are giving it a go here!
5'
Bayern attack again, bu Goretzka is penalised for a high boot.
4'
Shot for Bulter!!! Promel turns past the defender and his pass finds Bulter whose shot is saved by Neuer from point blank range!
3'
Lewandowski shoots and his effort is deflected behind for a corner by a defender! The ball lands on the top of the net and then the team from the capital deal with the set piece.
1'
Bayern doing the early attacking and the first stoppage sees Union caught offside.
1'
Bayern get us going from right to left!
Prev.
Union Berlin are in red here and Bayern in their change strip of white.
Prev.
Trimmel and Neuer take part in a coin toss with Bastian Dankert. Social distancing respected!
Prev.
The players are out on the pitch as music plays on the stadium's speakers here in East Berlin.
Prev.
It's 19 degrees and sunny in Berlin this evening.
Prev.
A reminder that the game is behind closed doors because of the coronavirus and teams can make a maximum of five substitutions rather than the usual three. That said, they must make them in a maximum of three breaks in play (excluding half-time).
Prev.
The referee for this one is Bastian Dankert with Tobias Reichel the VAR.
Prev.
12th v 1st. 30pts v 55pts.
Prev.
Bayern Munich XI: Neuer (GK); Davies, Alaba, Boateng, Pavard; Thiago, Kimmich, Goretzka; Gnabry, Lewandowski and Muller.
Prev.
Union Berlin XI: Gikiewicz (GK); Subotic, Hubner, Schlotterbeck; Lenz, Andrich, Promel, Trimmel; Bulter, Ingvartsen and Ujah,
Prev.
Hello and good afternoon to live coverage of the Bundesliga clash between Union Berlin and Bayern Munich! It's been a long time away, but football is finally back!