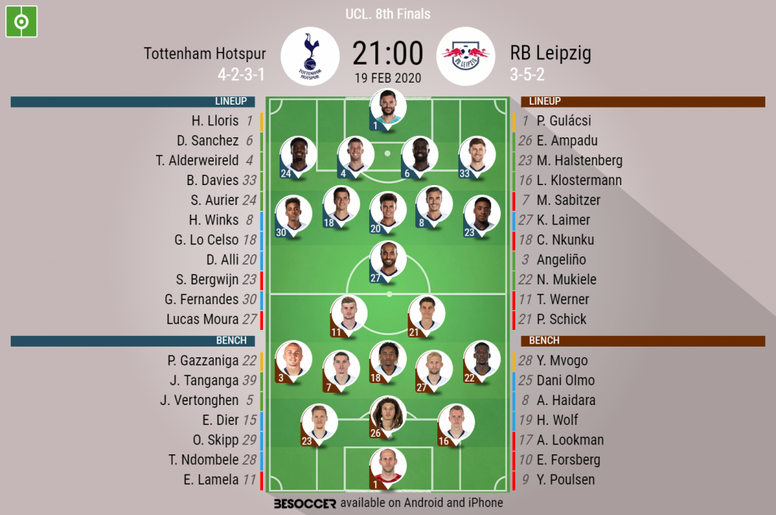 Tottenham Hotspur v RB Leipzig - as it happened
Tottenham Hotspur

RB Leipzig

Post.
Thanks for joining me tonight. See you tomorrow for some Europa League action.
95'
FT: Tottenham 0-1 RB Leipzig. A huge win and away goal for the Germans that was probably deserved. Spurs have it all to do in the 2nd leg.
95'
Looks like Leipzig are heading for a crucial win.
94'
Lamela is booked for a flailing arm.
92'
Winks tries his luck from about 25 yards out but hits it straight at the keeper. Time is ticking.
89'
Spurs won't get many more chances and certainly not as good as this one. The ball is crossed in and Moura gets up and heads it over the bar from about 7 yards out. He should be getting it on target.
86'
Lamela steps up and it has Gulacsi scrambling who puts it out for a corner.
85'
Moura is fouled. Another chance for a shot on target. About 35 yards out though.
83'
Leipzig sub: Forsberg on for Laimer.
80'
Just under 10 mins left plus injury time.
77'
Leipzig sub: Poulsen on for Schick.
73'
Terrific save from Gulacsi. Lo Celso steps up and it's curling in the corner, but Gulacsi gets a touch and it hits the post and goes out for a corner.
72'
Nkunku is booked for a foul on Lo Celso. Good chance for them to get a shot on target with this free-kick.
71'
In the other game tonight Atalanta are beating Valencia 4-1. WOW.
70'
Wondering if Spurs can get an equaliser here.
64'
Spurs sub: Alli off for Ndombele.
64'
Spurs sub: Lamela on for Gedson.
62'
Great play from Leipzig. Angelino gets down the left, plays it in the box, Werner dummies, Schick shoots but Lloris makes a decent save.
61'
Lo Celso has a shot from the edge of the box, but it's a fairly routine save for Gulacsi.
59'
Huge away goal for Leipzig, a kick in the teeth for Spurs as it means if things stay the same they have to score at least 2 in Germany.
58'
Werner steps up and fires into the bottom corner. Lloris guesses right but the shot is too accurate and powerful.
57'
Ball comes in and Davies takes out Laimer. Clear penalty. Yellow for Davies.
56'
Penalty Leipzig!!!!!!!!!!!!!!!
55'
Only real attacker on the Spurs bench is Lamela. Leipzig have Lookman, Forsberg, Poulsen and Olmo...
52'
Nkunku steps up and fires over the bar.
51'
Free-kick for Leipzig at the edge of the box. Good chance for a shot.
50'
A draw wouldn't be a bad result for Leipzig, It means they have got a point away to a good side. Spurs, on the other hand, will probably look to get a goal as it'll be tough in Germany in a few weeks.
48'
Good chance for Spurs. Aurier crosses, it misses everyone and Gulacsi gets down and parries away. Bergwijn hits the follow up wide.
46'
Slight stoppage in play with the Leipzig fans throwing toilet paper on the park and holding a banner in favour of fair prices.
45'
HT: Tottenham 0-0 RB Leipzig. A bright start to the match has died down recently. Hoping for goals in the 2nd half. Leipzig probably deserve to be in front.
43'
Leipzig had a lot of chances at the start of the game, but have had just 1 clear cut chance since the 18th minute.
41'
Mukiele is back up and playing by the way.
38'
Mukiele is down here. Looks like it could be his hamstring.
36'
Great chance for Leipzig. The ball is played to Werner in the box, but he hits it straight at Lloris. Probably should have done better.
33'
Werner is booked for a foul on Winks.
32'
The ball is headed clear form a corner and Gedson blazes the ball over the bar.
27'
Angelino is doing ell on the left. He puts the ball in trying to find Werner, but he can't reach it. Looked offside though.
23'
Leipzig are passing the ball around well.
19'
Like pinball in the Tottenham box trying to get the ball clear. Leipzig are looking very dangerous.
17'
Schick is playing very well here. The corner comes in, he gets up and heads just past Lloris' left-hand post.
12'
Sabitzer is booked for a bad foul on Bergwijn.
11'
And breathe. Not short of chances in this game with both teams going for it.
10'
Lo Celso is booked for a foul on Sabitzer as he was breaking.
9'
Schick has a shot straight at Lloris.
8'
Great chance for Spurs. Bergwijn has a shot from inside the box that Gulacsi gets down well and parries, the rebound comes to Ali who sticks out a leg and goes over. It was an open goal.
3'
Struggling to keep up here. Werner intercepts a shot and hits it at Lloris from close range who makes a terrific reaction save and denies him. Could be 3-0 already!!!
3'
This time Angelino has an effort that is well saved by the legs of Lloris then hits the post.
1'
Almost an early goal for Leipzig. Schick has an effort form just outside the box that goes wide.
Prev.
Happy 80th birthday tomorrow, Jimmy.
Prev.
Last time Tottenham played at home to a German side it ended with Bayern winning 7-2...
Prev.
This will be the first-ever meeting between the sides. Last time Leipzig played in the U.K was when they lost 2-1 to Celtic in 2018. Tierney and Edouard got the goals that evening in Glasgow.
Prev.
3 of RB Leipzig's XI could actually be playing in England next year. Angelino and Ampadu are both on loan from Manchester City and RB Leipzig respectively, while Werner has been linked with Liverpool.
Prev.
RB Leipzig: Gulacsi, Mukiele, Klostermann, Halstenberg, Angelino, Laimer, Ampadu, Sabitzer, Nkunku, Schick, Werner.
Prev.
Tottenham XI: Lloris, Aurier, Alderweireld, Sanchez, Davies, Winks, Fernandes, Lo Celso, Alli, Bergwijn, Lucas Moura.
Prev.
Hello and welcome to the Tottenham Hotspur stadium for this Champions League match. Team news to come.