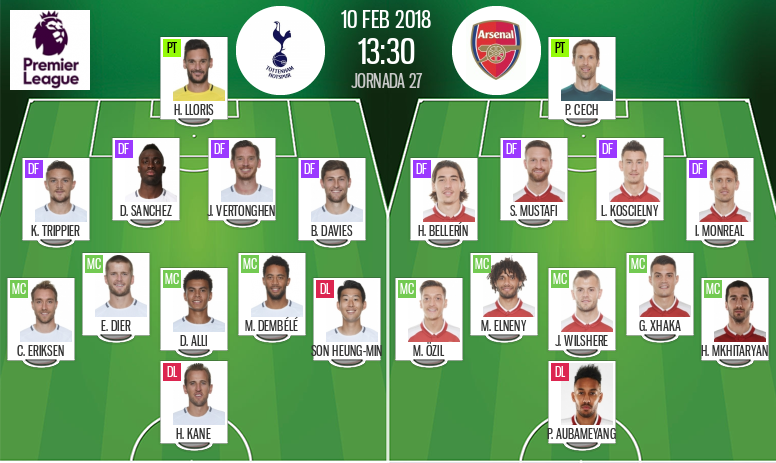 Tottenham Hotspur V Arsenal - As it happened.
Tottenham Hotspur FC

Arsenal

95'
FT: Tottenham 1 - 0 Arsenal! Lacazette will rue those late missed opportunities as Tottenham secure a victory over their North London rivals at Wembley thanks to a goal from Kane in the 50th minute. It was an action-packed second half with clear-cut chances for both sides but it will be Pochettino's team who walk away with all three vital points.
94'
Dier is booked for protesting after Dembele concedes a foul just outside the box.
93'
Lacazette beats Sanchez to run through on goal but draws his shot agonisingly wide of the far post.
90'
Bellerin crosses to Lacazette who finds himself free in the box. The Frenchman tries to volley the ball and it goes high over the crossbar. Wasted opportunity.
86'
Welbeck is involved straight from the start as Wilshere puts him through in the box but the substitute can't connect.
85'
Arsenal respond with a change of their own as Welbeck is brought on for Xhaka. Wenger is searching for an equaliser.
84'
Dele Alli comes off for Wanyama.
82'
Ozil puts Aubameyang through on goal but the Gabon international is deemed offside again.
79'
Lamela is booked for a late sliding tackle on Wilshere.
72'
Substitute Lamela nearly scores with his first touch as he is invited to shoot. Cech is up to the challenge and pulls off a fine to prevent the Tottenham winger.
71'
Cech nearly gifts Tottenham an opportunity as he gives possession away in the box but thankfully Dele Alli wasn't prepared as it rebounds off him to trinkle out for a goal kick.
70'
Lamela replaces Son for Tottenham.
69'
Son finds himself in loads of space on the left but skies the pass from Dele Alli in a wasteful opportunity.
67'
First real chance of the half for Arsenal as Lloris is called into action to save a shot from Iwobi.
65'
Mustafi makes a crucial last-ditch interception to stop Eriksen getting on the end of a ball from Son.
64'
Mkhitaryan and Elneny are brought off for Lacazette and Iwobi.
62'
Wenger looks like he is going to make a double change to stop this Spurs' enslaught.
56'
Cech is forced to save a curling set-piece from Eriksen which was headed for the left-hand corner.
55'
Free-kick for the home side just outside the box after Bellerin took out Son from behind.
53'
Kane is certainly fired up for the second half. Once again he is in the box to meet an incoming ball, but this time with his right foot. He connects cleanly but the powerful shot is straight at Cech who parries it away.
51'
Kane has a chance to make it 2-0 in two minutes from another header but the England international directs it wide of the far post.
50'
Wenger will not be happy that his team have conceded so early on in the second-half. However, it does give Arsenal plenty of time to still get something from the game.
49'
GOAL!! Kane! Davies whips in a dangerous ball from the left which Kane comfortably heads home after rising above the Arsenal defence in the box. Game on!
48'
Arsenal free-kick as Trippier fouls Mkhitaryan.
46'
Early chance for the home side as Son puts through Davies on the left but Mustafi is quick to meet the Welshman's shot.
46'
Tottenham get the second half underway at Wembley. Let's hope for some better finishing in the next 45 minutes.
45'
HT: Tottenham 0 - 0 Arsenal! A tame first half in the North London derby with a few chances for both teams. However, a lack of top-class finishing means that the fixture is still goalless going into the break.
43'
Dembele gives away a free-kick for a tackle from behind on Wilshere.
40'
Good chance for the visitors! Bellerin lets loose from long-range and his shot goes inches over the near-post.
39'
Wenger's side are straight down the other end and Monreal finds himself free in the box but can't get much power behind is header and it bounces in the six-yard box. Sanchez nearly makes a hash of it but Lloris thankfully still gathers the ball.
38'
Mustafi is the one who heads away the dangerous ball from Eriksen and Arsenal hold strong to kick the ball out for a Tottenham throw-in which is also dealt with well.
37'
Free-kick on the left for Tottenham after Mustafi stages a late challenge on Son.
34'
Mkhitaryan again wastes another good opportunity. Wilshere sets him up on the left but the Armenian connects horribly and sends it sky high for a throw-in on the other wing.
32'
Tottenham are definitely looking the most promising of the two teams, although Arsenal still look dangerous on the counter.
30'
Dele Alli pulls a ball back from the left for Kane but it is inaccurate and promptly secured by Cech.
29'
The home side have another perfect opportunity to take the lead! Tripper directs the corner back across the box from the right but it somehow misses a vital deflection and instead falls to Dembele whose shot is blocked and just evades Son to trickle across the goal mouth for Cech to gather.
26'
Best chance of the game so far! Kane stays onside to leave Arsenal's central defenders behind in the box as he goes to meet an Eriksen cross. However, he jumps too early and his header goes over the bar!
24'
Tottenham have a free-kick in the middle of the park after Koscielny fouls Kane.
22'
Cech is unhappy with the match ball and asks for a replacement.
21'
The visitors do look dangerous on the break but waste an opportunity as Mkhitaryan's wayward cross-field pass gives possession back cheaply.
18'
Now it is Arsenal's turn for a chance. Bellerin cuts the ball back to Wilshere but the England international kicks at clean air!
17'
Son tries a long-range effort which forces a save from Cech, who has been the busier goalkeeper so far.
14'
From the resulting free-kick, Dier gets up above everyone to meet Erikesen's cross but cannot direct his header on target. Wasted opportunity.
13'
Tottenham have a corner after Son is closed down by Arsenal's defence in the box.
12'
Aubameyang is called offside by the officials but it's a tight call. The Gabon international may have just been leaning off but could have easily gone the other way.
11'
Another free-kick for the visitors against Trippier on Mkhitaryan.
10'
Kane is adjudged to have fouled Mustafi which halts a promising Spurs counter.
8'
Great chance for Spurs! Dele Alli breaks free on the left and pokes it to Kane in the box but the striker can't get enough contact due to a deflection and it's easily blocked by Cech.
6'
Lively opening minutes to the North London derby as both defences have to contain dangerous runs from their opposition attacks.
4'
Aubameyang wins a corner but Tottenham easily deal with the resulting set-piece from Xhaka.
3'
Son picks up possession on the left and drives into the visitor's area but Mustafi is over quick to cover and halt the danger.
1'
Dele Alli gets free on the right but his pass is intercepted easily by the Arsenal defence.
1'
Aubameyang gets the match underway for Arsenal.
Prev.
The players are leaving the tunnel as kick-off is now just minutes away!
Prev.
Here is a video of the Tottenham players preparing for the derby:
Prev.
Warm-ups are well underway at Wembley as we have less than 30 minutes until kick-off.
Prev.
Special mention must also be given to Arsenal's Nacho Monreal, who makes his 200th appearance for the North London club today, as he looks to continue his fabulous form.
Prev.
The only major absentee for the 'Gunners' is Aaron Ramsey, who scored a spectacular hat-trick against Everton, as he misses out with a minor groin problem.
Prev.
Wenger will be delighted that Cech and Monreal have overcome their respective injury woes to take their places in Arsenal's almost full-strength starting XI. Meanwhile for their rivals, new signing Lucas Moura will have to make his debut from the bench as Pochettino decides to go with his seasoned pros for the match.
Prev.
Cech; Bellerin, Koscielny, Mustafi, Monreal; Elneny, Xhaka, Wilshere, Ozil, Mkhitaryan and Aubameyang. Subs: Ospina, Chambers, Kolasinac, Maitland-Niles, Iwobi, Welbeck and Lacazette.
Prev.
Tottenham: Lloris (c); Trippier, Sanchez, Vertonghen; Davies, Dier, Dembele, Eriksen, Dele, Son and Kane. Subs: Vorm, Aurier, Rose, Wanyama, Sissoko, Lamela and Lucas Moura.
Prev.
Hello and welcome to the North London derby between Tottenham and Arsenal at Wembley. The reverse fixture ended in a 2-0 victory for Arsene Wenger's side, will we be in for a similar showing today?