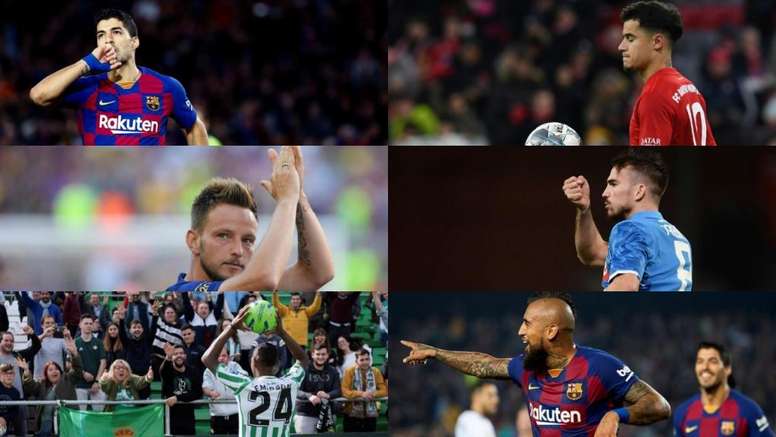 The six protagonists of Setién's transfer market
Quique Setién's priorities are as follows: his first game, the reaction by fans and media alike depending on the performance, and the subsequent ins and outs in the winter market.
There are three names that are dominating the headlines for Barcelona's transfer moves. Luis Suarez, Ivan Rakitic and Arturo Vidal. At least in the short term... The Uruguayan is sidelined for four months, which means the Catalans are looking for a suitable replacement for a player of such stature. Although there are options in the squad - Ousmane Dembélé should be coming back from injury soon - it seems Barcelona are looking for a reliable replacement to prepare for the worst-case scenario.
Meanwhile, the Croatian and the Chilean have been linked to a number of teams for a few months now, but Setién is in no hurry to make any decisions. "It's still too early to make decisions. I like to think about things, not make impulsive decisions. I want to know what I have and then evaluate the situation" said the coach in his presentation.
Then there's the long term options: Emerson, Coutinho and Fabián Ruiz. The Real Betis winger has been impressing crowds with his performance for the Sevillian team while on loan from Barcelona, and although he is not expected in the Catalan capital for another year, the club would be allowed to call him up earlier.
Setién knows Emerson well from his time on the Real Betis bench, but he was never his first choice for games. However, the same cannot be said of Fabián Ruiz. Although rumours have linked him to Real Madrid, Setién's weight could make him change course.
Last but not least, Philippe Coutinho. If Bayern decides to sign him definitively, the newly appointed Barcelona coach will have to accept their decision. But if the Germans decide against it, Setién could be gaining yet another powerful asset, despite Barcelona officials expecting the Brazilian not only to leave, but also to bring them a large sum of their initial investment back.