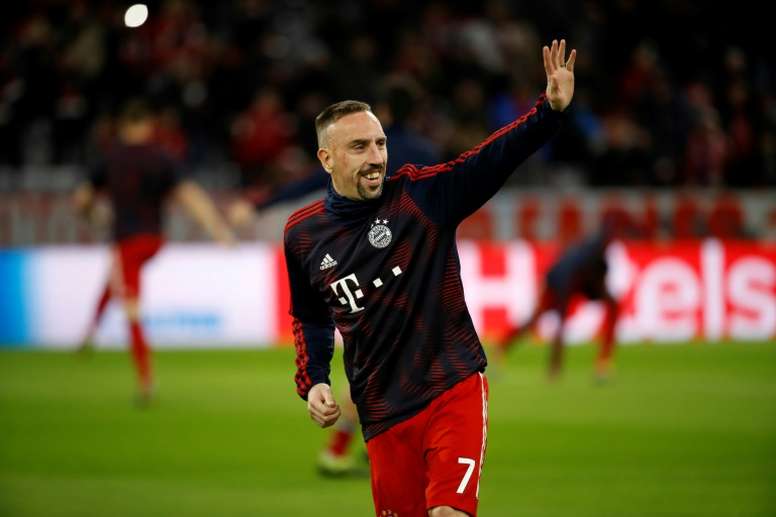 'Staying at Bayern was one of the best decisions of my life'
"It was crazy, seven top teams wanted me. Juventus, Inter, Milan, Chelsea, Real Madrid, Barcelona and Manchester United. I thought about a lot of things, it was not easy", Ribery said, who will leave Bayern Munich at the end of this season after 12 years with the club.
Ribery had arrived at Bayern from Marseille two years earlier and the German club paid 25 million euros. The offers that Bayern received for him were between 60 and 80 million but the president of the club, Uli Hoeness, rejected all of them.
"Do you know what Uli Hoeness said to me? Barcelona have Messi, Madrid have Ronaldo, here we have you", Ribery recalled.
The Frenchman recognises that at the time he had doubts, but he added that retrospectively, staying in Munich was one of the best decisions of his life.
"It was one of the best decisions of my life staying at Bayern. What happened afterwards was better than everything I could have hoped for. I have to thank Uli Hoeness and my agent Alain Migliaccio once again", he said.
Ribery is on the brink of winning his ninth Bundesliga title, overtaking the record which he currently shares with Oliver Kahn, Bastian Schweinsteiger and Philipp Lahm.
He also has the 2013 Champions League title under his belt.
Now, at 36 years old, the Ribery era at Bayern will come to an end and the Frenchman recalled the meeting he had with the club in which he found out that they would not renew his contract.
"Uli Hoeness said to me: 'You arrived when we weren't even qualified for the Champions League. We have grown together.' I remember that Uli and Karl Heinz Rummenigge had difficulty finding the right words, but the three of us knew that I had reached my end", he said.
In his final season, partly due to injuries, Ribery has not had a lot of game time.
Now he is back in form and two weeks ago scored a goal at home during the 3-1 victory over Hanover which he celebrated with a certain sadness.
"The problem was that I remembered that soon everything would end, that the Munich fans would not celebrate with me in the stadium. I wanted to celebrate, but it hurt", he stated.