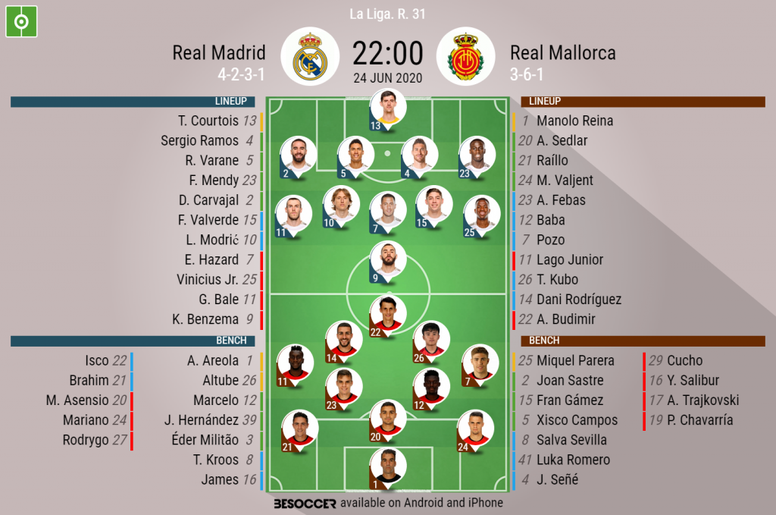 Real Madrid v Real Mallorca - as it happened
Real Madrid

Mallorca

Post.
Thanks for joining me tonight. See you tomorrow for the Arsenal match.
94'
FT: Real Madrid 2-0 Mallorca. The hosts get the win in the end but it wasn't short of controversy as the Mallorca players thought Carvajal committed a foul in the build-up to the first goal. Los Blancos won't mind though.
94'
Mariano has a shot which goes wide.
90'
Brahim has a shot which Reina tips wide.
87'
Another shot from Mallorca that goes flying over the bar.
87'
Kroos is booed for a foul on Kubo.
84'
Mallorca sub: Baba off for Romero.
84'
Real Madrid sub: Vinicius off for Mariano.
83'
Real Madrid sub: Brahim on for Benzema.
83'
Salibur blazes his free-kick over the bar.
78'
There have been no chances in the last 15 minutes. Looks like Real Madrid are happy to win 2-0. It's all they need.
71'
Real Madrid sub: Asensio on for Modric.
71'
Real Madrid sub: Isco on for Bale.
70'
Mallorca sub: Junior off for Salibur.
69'
I wonder if this could be Real Madrid's year. They do, however, have some big games coming up. 7 cup finals left.
62'
Mallorca could be level. A very good chance for Kubo that he fires into the side-netting.
61'
Mallorca sub: Budimir off for Hernández.
61'
Mallorca sub: Febas off for Salva Sevilla.
61'
Mallorca sub: Valjient on for Gamez.
61'
Real Madrid sub: Hazard off for Kroos.
60'
Another chance for Budimir and again he hits it straight at Courtois.
59'
Budimir has a header which is saved by Courtois. It was a decent chance as it wasn't from that far out.
57'
What a goal from Ramos. He steps up and curls the ball into the top corner.
55'
A handball from Mallorca right at the edge of the box.
54'
Bale's shot is deflected behind for a corner.
51'
Benzema has a shot which is straight at Reina.
47'
From the free-kick, the eventual header is straight at Courtois.
46'
Modric is booked for a foul on Febas.
45'
HT: Real Madrid 1-0 Mallorca. Vinicius' goal separates the sides but the visitors are by no means out of this.
45'
Lago Junior heads over from a corner.
41'
So, the million-dollar question is who do we think will win the league?
37'
Madrid's task is simple: keep winning and they win the league. They have still to play Getafe, Alavés, and Villarreal at home. They are away to Espanyol, Athletic Bilbao, Granada, and Leganés.
36'
Ramos is booked for a foul.
27'
Hazard has a shot from outside the box which goes wide.
25'
A few predictions coming in. joseph_23978 predicts 4-2 and 3-2 to Madrid, while kamal_522839 thinks it will be 5-2.
24'
Almost 2-0. Vinicius is played through and chips the keeper but it hits the bar.
23'
Kubo hits a free-kick but it goes miles over.
21'
And the goal has been given.
21'
VAR is checking the goal for a possible foul.
20'
Such an odd goal. Modric passes to Vinicius and from a tight angle he chips the keeper. Everyone thought it hit the side-netting. They all count though!!!
13'
A shot from a tight angle is saved by Courtois.
10'
Baba has a shot from far out which Courtois gets his fingertips to and its a corner.
9'
Budimir is booked for a challenge on Varane.
8'
Carvajal has an effort which is blazed over the bar.
7'
Then Bale's effort from outside the box is saved well by the keeper.
7'
Benzema's close-range effort is beautifully saved by Reina.
4'
No chances yet. Both sides are happy to knock the ball about and then try and create chances.
2'
Huge game for Real Madrid this. They want to win the La Liga title this year.
Prev.
Another interesting stat. Bale hasn't scored a home goal for Madrid since March 2019.
Prev.
This is Bale's first start since the 16th February.
Prev.
Real Madrid have scored 9 goals in their last two home games against Mallorca. Mallorca last won away to Real Madrid in 2009.
Prev.
Big game for Real Madrid tonight. If they win they return to the top of La Liga. If Mallorca win they will go level on points with Eibar. They will actually move above Eibar on h2h.
Prev.
Mallorca XI: Manolo Reina, Valjent, Raíllo, Sedlar, Pozo, Baba, Febas, Lago Junior, Dani Rodríguez, Kubo y Budimir.
Prev.
Real Madrid XI: Courtois, Carvajal, Ramos, Varane, Mendy, Valverde, Modric, Hazard, Bale, Vinicius, Benzema.
Prev.
Hello and welcome to Madrid for this top of the table v bottom of the table clash. Team news to come.