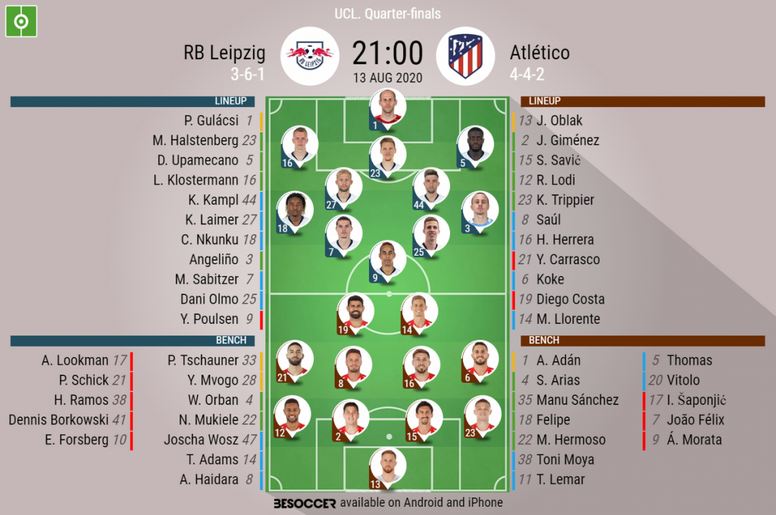 RB Leipzig v Atlético - as it happened
RB Leipzig

Atlético

98'
FT: Leipzig 2-1 Atletico! What a shock here in Lisbon!!! Leipzig deservedly took the lead through Olmo after 51 minutes, but then Joao Felix came on and changed the game. He won and then scored the penalty, but a deflected Adams goal in the 88th minute sent Atletico home. I think ET would've been fair, but it's the Germans who'll play PSG on Tuesday. Thanks for joining us and see you again soon!
98'
Atletico attack again, but Morata fouls Gulacsi, a free-kick is given and the final whistle goes!!
97'
Leipzig still keeping the ball and now a scufflehas broken out on the far side after a foul on Angelino.
96'
Morata is penalised for a foul and then Gimenez sees yellow for protesting.
94'
Atletico siege now and Halstenberg clears. They send it back in for Morata, he can't control and Leipzig knock it away. Frenetic stuff!
93'
An Atletico free-kick is only half-cleared and then Carrasco's shot is deflected behind for a corner. Oblak has gone up!!
92'
Atletico sub: Felipe on for Koke.
92'
Leipzig sub: Sabitzer is off, Mukiele on. Five added minutes.
90'
Sabitzer is down after getting kneed in the back.
89'
That was a wicked deflection and it looks like we won't have extra time.
88'
Leipzig make it 2-1!! Just when Atletico were looking more dangerous. Angelino runs down the near side, he squares for Adams in the D and his shot deflects off Savic and leaves Oblak with no chance.
87'
Haidara is booked for a foul seconds after Leipzig lose the ball.
85'
Atletico send the ball into the box, Leipzig clear and then try and counter, but it comes to nothing.
83'
Leipzig double sub: Schick on for Olmo and Haidara on for Nkunku.
82'
Kampl is booked for a foul on Llorente.
81'
Atletico are caught offside.
80'
Corner taken short by Atletico Madrid and Carrasco wins another corner.
79'
All Atletico here and Leipzig are holding on now. Will there be a late winner like last night!
75'
Leipzig free-kick goes into the box and Atletico clear.
74'
Joao Felix has definitely been the difference here.
72'
Leipzig sub: Adams on for Laimer.
72'
Atletico sub: Morata on for Costa.
71'
Felix scores the penalty!! The ball goes to Gulacsi's right, the GK goes the right way, but it's right in the corner.
71'
Klostermann sees yellow and it was a clear pen.
70'
Penalty to Atletico Madrid after Joao Felix is brought down by Klostermann.
68'
Joao Felix attacks again, he's that extra bit of quality, but then when the ball goes to Carrasco, he can't get a corner.
68'
Leipzig attack, but Poulsen fires off target.
64'
Nkunku is kicked in his own box and the Germans get a relieving free-kick.
63'
Atletico win a free-kick and then two corners.
62'
What Lodi did there was really inexplicable in a VAR game...
61'
Lodi is booked for diving after Joao Felix passes the ball to him. Upamecano doesn't touch him and the Brazilian dives. Why dive for a pen when there's VAR??
59'
Leipzig threaten again through Angelino, but a wayward pass sees the move come to nothing.
58'
Atletico Madrid sub: Herrera is replaced by Joao Felix.
56'
Joao Felix is going to come on.
52'
Llorente looks to get on the end of a pass, but Upamecano does just enough to prevent him getting there.
51'
Atletico have been sub-par and they now need a goal.
50'
Leipzig make it 1-0!!! The Germans make a good move, the ball goes out to Sabitzer on the far side and his pass is headed in by Dani Olmo!
48'
Llorente is penalised for a foul.
47'
Good play by Leipzig ends with Angelino's pass cut out by the Atletico defence.
46'
Second half underway in Lisbon!!
45'
HT: Leipzig 0-0 Atletico! No goals at the break in Lisbon. Leipzig started and ended the half the better while Atletico had a good spell in the middle. The Germans have been on top and had chances through Halstenberg and Upamecano while Carrasco came the closest for Simeone's men. We'll see whether Savic and Halstenberg come back out after HT. Back in a bit!
45'
Leipzig make another dangerous attack, Laimer runs out of pitch and it's half-time!
45'
Atletico head Lodi's free-kick wide in the final minute of stoppage time.
45'
Upamecano!!! He heada a corner, but it's straight at Oblak. Leipzig finishing the half well.
44'
Olmo concedes a foul now.
43'
Nkunku is caught offside.
42'
Corner for Leipzig now, but nothing comes of it.
41'
Leipzig continue to threaten and Atletico finally scramble it away through Trippier.
39'
Corner for Atletico Madrid.
38'
Play finally resumes after lengthy treatment.
35'
Nasty clash of heads between Savic and Halstenberg! The Leipzig man has blood piuring out of his head and Savic also has blood from his left eyebrow.
34'
Good run by Carrasco and Klostermann has to clear. Carrasco's playing well.
30'
Saul jumps in and catches Sabitzer late.
26'
Free-kick for Leipzig is sent into the box and it's cleared.
22'
Leipzig attack through Nkunku, but his pass doesn't Angelino in the Atletico box and Trippier clears.
22'
Leipzig attack through Nkunku, but his pass doesn't Angelino in the Atletico box and Trippier clears.
20'
Carrasco makes a promising run down this near flank and a goal kick is given. He unsuccessfully tried to a get a corner off Laimer.
19'
Leipzig clear the set piece. The La Liga side are now on top after a good start by Leipzig.
18'
Still no score here in Lisbon and Atletico have another free-kick.
15'
The GK seems to trip Saul with his foot. It makes him fall to the ground. It's not deliberate, but I think he's lucky not to concede a pen.
14'
Lodi delivers, Gimenez's header hits a teammate and then Saul goals down in the box, but no pen is given.
13'
Carrasco!!! Lodi goes down Leipzig's right and passes for Carrasco whose shot is well saved for a corner.
12'
Angelino looks to find Poulsen in the box with a pass along the ground, but the ball is cut out.
10'
Savic heads a free-kick towards goal and Gulacsi catches!
8'
Sabitzer brings down Carrasco on this near side and the free-kick will be sent into the box. Nothing comes of it though.
6'
Atletico win a free-kick.
4'
Halstenberg volleys over the bar after the ball in from Nkunku wasn't dealt with.
3'
A cross by Laimer on this near side is only half dealt with and Angelino wins a corner.
2'
Atletico Madrid are caught offside now.
1'
Kampl is penalised for a handball.
1'
Atletico get us going from right to left in black while Leipzig are in white.
Prev.
The players are out here!
Prev.
We'll have ET and pens this evening if needed.
Prev.
It is a much changed team for Leipzig from that match. Only Halstenberg, Upamecano, Angelino and Olmo remain.
Prev.
Leipzig have not played a competitive fixture since winning 1-2 at Augsburg on 27th June. The Germans have lost Timo Werner to Chelsea since then.
Prev.
Gimenez comes in for Felipe while there are three other changes. Thomas, Vitolo and Morata are out, Saul, Carrasco and Llorente come in.
Prev.
Atletico's last match was on 19th July when they drew 1-1 with Real Sociedad, but they suffered a setback on Sunday when Correa and Vrsaljko were ruled out of this game after picking up coronavirus.
Prev.
We have Polish officials for this game. Szymon Marciniak is the referee while Pawel Gil is the VAR.
Prev.
24 degrees in Lisbon tonight.
Prev.
Tonight's match comes from Sporting Lisbon's ground, not Benfica's. PSG will face the winners of this game.
Prev.
Atletico Madrid XI: Oblak (GK); Lodi, Gimenez, Savic, Trippier; Carrasco, Saul, Herrera, Koke; Costa and Llorente.
Prev.
Leipzig XI: Gulacsi (GK); Upamecano, Halstenberg, Klostermann; Kampl, Laimer; Angelino, Olmo, Sabitzer, Nkunku; Poulsen.
Prev.
Hello and welcome to our live coverage of the Champions League quarter-final between Leipzig and Atletico from Lisbon!