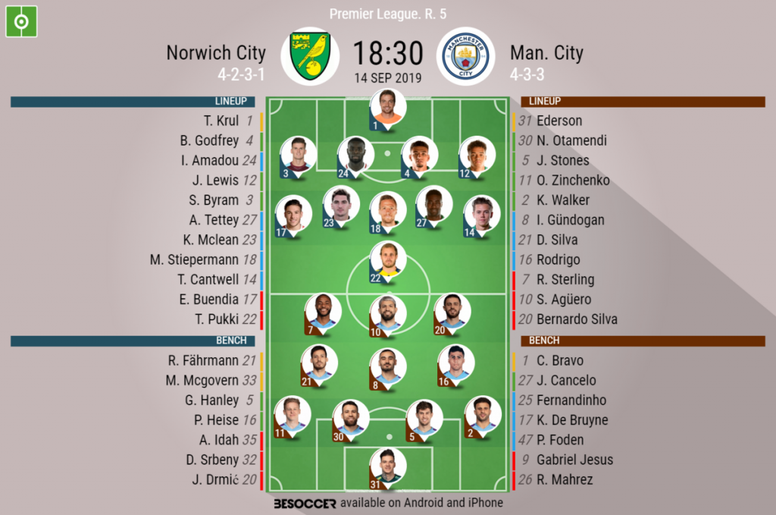 Norwich City v Man. City - as it happened
Norwich City FC

Manchester City FC

90'
Man City taste Premier League defeat for the first time since January. Norwich have given it their all and you can tell by the players reactions, they are absolutely exhausted as they did everything they could to hold on to their lead. What a result for Norwich, which will leave Daniel Farke proud. The stadium is going mental as they have achieved the impossible. 3-2 Norwich City, they have beaten the Champions!!
90'
Aguero's shot is dealt with by Krul. Such a nerve-racking end to this game!!
89'
Corner for City. All bodies in the Norwich box as they try to hold on to their lead.
88'
Norwich City players are giving it their all, some going down with cramp and having to hold on for another 5 or so minutes until they can achieve what they thought they wouldn't coming into this game.
88'
Stiepermann comes off for Norwich and is replaced by Srbeny
87'
Rodri gets another one back from range at the edge of the box after it slips through the Norwich defence. This will now be a long few minutes for Norwich
86'
Cantwell gives away a lazy free kick as he feels he can't get back in time and so does a late challenge. Free kick to City which Krul deals with a remarkable save to deny Aguero. Corner
81'
Norwich make their first change of the game. Buendia goes off to a standing ovation after having an excellent game today, his replacement is Drmic, meaning him and Cantwell have changed sides
81'
Corner for Man City as Godfrey gets a touch on Jesus's head.
79'
Free kick for Norwich on teh edge of the box after Walker fouls Pukki. Ederson catches the ball.
78'
This time last year Norwich were 19th in the Championship table, this year, after being promoted as champions, they are 12 minutes away from beating last year's Premier League champions and making what everyone thought impossible, possible.
77'
Sterling crosses the ball in for Aguero, who gets too much on it in a powerful header that goes over the bar
72'
Buendia's free kick goes wide and Man City make their final change, as Bernardo Silva comes off and makes way for Mahrez
72'
Byram wins a free kick on the edge of the box. Sam Byram has been outstanding today
70'
Foul on Stiepermann by Rodri
68'
Bernardo Silva goes into the book for a bad challenge on Buendia, as frustration is starting to show for last years Champions
67'
City have a corner. De Bruyne takes and slots it onto Otamendi's head, but his shot goes straight to the keeper.
63'
Mclean goes into the book fora very bad challenge
61'
After a free kick from De Bruyne, which was a great delivery, Krul was able to follow the ball and stop John Stones' header.
60'
A long half an hour to go for Farke and Norwich City as Manchester City keep piling on the pressure.
57'
Corner for Norwich as Aguero's shot is blocked. Nothing comes of it as it is cleared again by Norwich for another corner
56'
Man City make a double substitution, Gondogan goes off for De Bruyne and David Silva comes off and allows Gabriel Jesus to return from injury as his replacement
53'
Man City certainly are not at their best today. Pep Guardiola has seen enough as he prepares to make some changes to the team.
52'
Corner for City as Aguero's shot is blocked and cleared
49'
Norwich's two goal cushion is restored after City defenders mess up massively, just messing about with the ball in the box, Buendia takes it off Otemendi and passes to Pukki, who of course, does not miss. 3-1
48'
Wave after wave of Man City attack has come in the first half, but then Pukki counters and runs down the pitch from the centre, has a shot and clips it just wide of the post.
45'
The second half is underway! No changes made at half time
45'
Nothing comes of the free kick and the referee blows the whistle. A late goal sees City on the come back, but what a performance so far from Norwich. 2-1
45'
Byram picks up the first yellow card of the game as he downs David Silva to stop the run of play. Free kick for Man City
44'
Aguero gets one back to repair some of the damage for City. Norwich just switch off and their defence is split. Ball is crossed in to Aguero and he heads it in the back of the net.
43'
Norwich have defended excellently so far to deny City any sort of goal. This will be a memorable first half for Norwich City fans
40'
Stiepermann and Zinchenko are being spoken to by the ref as there is a dispute over the throw-in decision (that went City's way), Stiepermann just clips Zinchenko's ankle in the dispute.
38'
Corner for City, which comes to nothing as David Silva can't make anything of it
36'
Norwich are missing four of their first team players today, two from the back line and two from the middle, but Daniel Farke surely has to be happy with his team's performance so far
36'
Byram defends well against Sterling and wins his team a goal kick to deny Man City of having a shot
34'
Sterling is denied a goal again as he shoots right at the keeper, who is obviously able to make an easy save
33'
Nothing comes of the second corner as it goes a bit too far. Amadou volleys the cleared ball to Buendia on the wing, but he is offside
32'
Another corner for Norwich, Pukki's shot is deflected off a defender and another corner is given
31'
Free kick to Norwich in their attacking end. Buendia takes, but Zinchenko clears
30'
Sterling tries his luck again at the other end, but his header hits the post.
28'
Norwich City counter and Pukki makes an excellent run up the pitch, who passes to Cantwell in the box, who just slots it in the back of the net with a simple touch. Walker not happy as he believes it is offside, but VAR checked and the goal stands
28'
GOAL!!! NORWICH DOUBLE THE LEAD!!
26'
Great chance for City as Aguero can't seem to get to it!!
24'
Sterling crosses the ball in from quite far outside the box, but Krul easily catches it
22'
Corner for City as Sam Byram clears. Krul gets his gloves on it and hits it away
20'
The crowd is buzzing now, nobody came here today expecting to be in the lead at all and so there is chaos at Carrow Road!!
20'
Man City look to try and find a response as Sterling has a shot from outside the box, but he hits it wide.
17'
What a goal!!! Mclean just sneaks up past the defenders and heads the ball past the keeper into the back of the net. No chance for Ederson. Perfect delivery from the corner by Buendia to the near post too. This is sure to give Norwich some confidence now
17'
Norwich powers forward and Tettey earns them a corner as his corss into the box is blocked and cleared
13'
Bernardo Silva tries to cross the ball into the box and maybe have a shot, but it goes well wide and nobody is there to receive it.
12'
Nothing much to report at the moment, Norwich have started well and have managed to stop all of City's advances so far, however they haven't really had a proper chance themselves yet.
6'
Norwich are playing very narrow, which is to be expected against City, but there is still space to play wide for City as they look to get the scoring underway
5'
Free kick given to Norwich as Sam Byram manages to stop David Silva from getting a ball into the box. It is Byram's first appearance this season
2'
Man City have a corner as they press early on! It comes to nothing as Krul easily saves the head in.
Prev.
Norwich City kick us off today!
Prev.
For Norwich City: There was bad news across the defence and midfield, with several players out of action. Farke has named 2 keepers on his bench due to a lack of fit players. Timm Klose, Christoph Zimmermann, Grant Hanley and Ben Godfrey are all out. Tom Trybull, Mario Vrancic and Moritz Leitner all unavailable and Patrick Roberts and Onel Hernandez are also doubtful.
Prev.
For City: John Stones comes in for long-term injury victim Aymeric Laporte while Ilkay Gundogan and Bernardo Silva are also handed starting roles. Gabriel Jesus is also named on the bench for the blues
Prev.
Manchester City: Ederson (GK); Otamendi, Stones, Zinchenko, Walker; Gundogan, Silva, Rodrigo; Sterling, Aguero, Bernardo Silva
Prev.
Norwich City: Krul (GK); Godfrey, Amadou, Lewis, Byram; Tettey, Mclean, Stiepermann, Cantwell, Buendia; Pukki
Prev.
Join us for live coverage of the Premier League game between Norwich City and Manchester City at Carrow Road. Manchester City will be clear favourites going into this game, but will be under pressure after Liverpool's win earlier today.