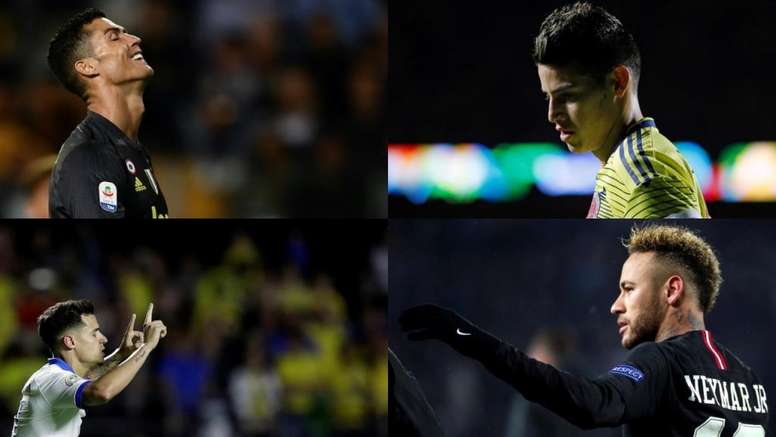 Neymar, James, Coutinho... money is always spent on the same players
Modern football sees transfers for extortionate amounts of money. Everything has got more exaggertated since the day PSG activated Neymar's buyout clause from Barcelona. Just that transfer alone would leave him as the player which has caused the second highest amount of money to be spent on him in history. A figure which will become even higher if he returns to Barca in the coming weeks.
The top 10 (top 11 in this case because two of them are tied) is made up mainly of current players although the odd ex-player is in the list.
Neymar is first obviously. Because as well as his departure from Barcelona, you have to add the 88.2 million euros it cost to sign him from Brazil. So 310 million in just two transfers. If the third one is carried out, he will at least break the 400 mark.
Cristiano Ronaldo is in second. Juventus paid 105 million euros for him. Added to the two previous transfers from Sporting Lisbon to Man Utd and from Man Utd to Real Madrid, it comes to 230 million.
In third place is someone who you would not expect to be there. Three expensive transfers have put him there. It is Angel di Maria. Real Madrid signed him from Benfica for 33 million, He was sold to United for 75 and PSG bought him off United for 63. The total is 179 million because Benfica paid Rosario 8 million to get him from Argentina.
In fourth is a guy who is a very interesting individual: Zlatan Ibrahimovic. The Swede has changed club no less than 14 times, although a transfer was only involved in half of them.
From the 7.8 million which Ajax paid Malmo to the 69.5 million which Barca spent when they signed him off Inter, Juve, AC Milan and PSG are the other clubs which contributed to making Ibra's figure 169 million euros.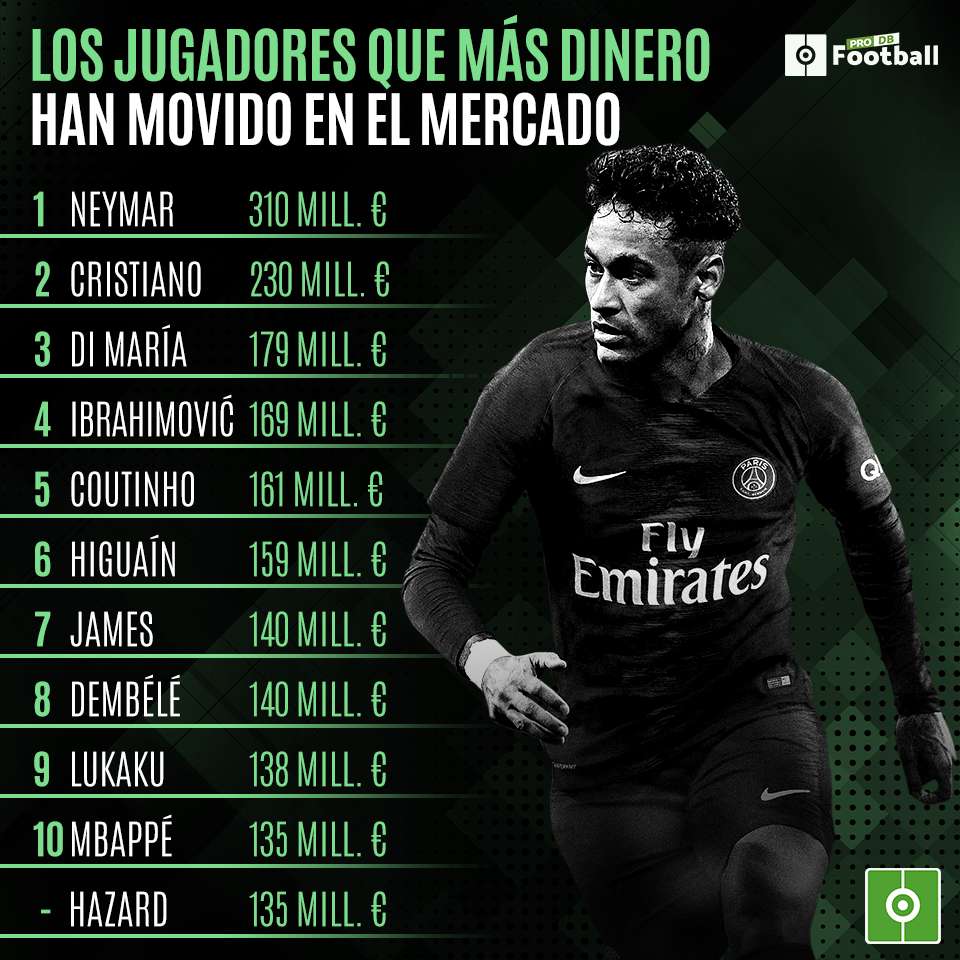 Those which can alter the top 10
Coutinho (161), Higuain (159), James Rodriguez, Dembele (both these leave on 140 million), Lukaku (138), Mbappe and Hazard (135) complete the top 10. However, many of them look like they could climb positions this summer.
That is the case of the Barca players and the Colombian, who are very close to leaving. Although it will be very difficult for both Dembele and Coutinho to leave at the same time. At least one will go especially if Neymar arrives. Coutinho is the more likely to leave and he could go into the top three.
With respect to James, it is more of the same. Napoli seem to have hit the front ahead of Atletico and a return to Real Madrid is still out. Lukaku will also climb up the ladder if United accept any of the offers on the table for him, especially if it is Inter's.
We also have to say that the table will change once Griezmann's buyout clause has been paid for and if Pogba leaves United, he could go for another three figure sum. Man U paid 110 million for Pogba and they are one of the main reasons for all of these high figures.
Alvaro Morata is just outside the top 10 with 123 million in four transfers. When his move to Atletico Madrid is completed next season, he will be there with a figure of around 200 million. And he will have done it in just five years.
This table also allows us to show the role of agents and their power in world football. The historic influence of Jorge Mendes is clear. Cristiano Ronaldo, James Rodriguez, Di Maria...
That said, Mino Raiola, who has caused a lot of money to be spent on Ibrahimovic, could knock some of Mendes' players off the list when he seals the sales of De Ligt and Pogba.