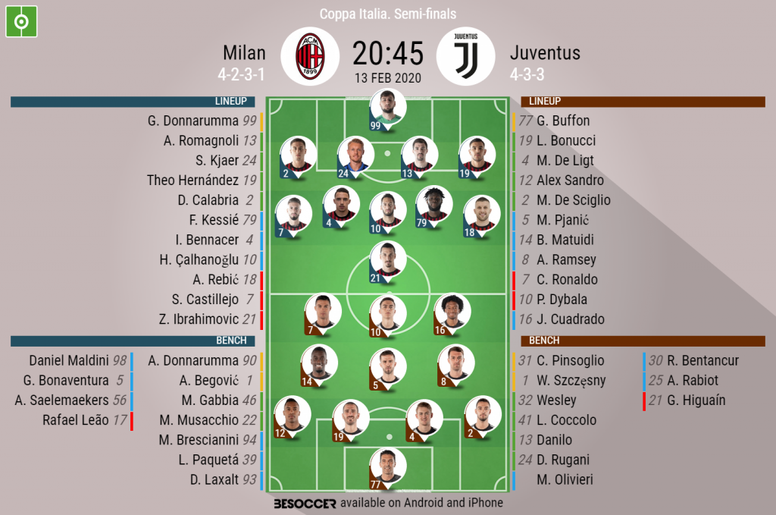 Milan v Juventus - as it happened
Post.
Thanks for joining me here tonight. See you next time for more action.
90'
FT: AC Milan 1-1 Juventus. A late Ronaldo strike sees the game finish level, which means it's all to play for in the 2nd leg.
90'
Last kick off the ball. Kessie's header is straight at Buffon.
90'
Laxalt's deflected shot is straight at Buffon.
90'
Pjanic tries an ambitious effort that goes over the bar.
90'
Ronaldo steps up and puts it straight down the middle. 1-1
90'
RONALDOOOOOOOOOOOOOOOOOOOOOOOOOOOOO
90'
Penalty Juventus!!!!!!!!!!!
88'
Ball comes in and Ronaldo tries the bicycle kick and it appears it hits the Milan player's arm. Let's see what VAR says.
86'
Milan sub: Calhanoglu off for Paqueta.
86'
What a result this would be for Milan ahead of the 2nd leg.
84'
Dybala is quite greedy and puts his shot from just inside the box wide.
80'
Milan sub: Castillejo off for Saelemaekers.
80'
Dybala puts in the corner but De Ligt heads miles wide.
78'
The ball comes sin but De Ligt heads straight at Donnarumma.
77'
If Juventus can knick a goal then it'll be a great result to take back to Turin.
74'
Milan sub: Laxalt on for Rebic.
73'
Juventus sub: Rabiot on for Matuidi.
72'
And Hernández is off!!! He was late with the challenge on Dybala and has his 2nd yellow card.
70'
Juventus sub: De Sciglio off for Higuaín.
69'
Castillejo is booked for his protests. He will also miss the next match.
64'
Cuadrado is brought down in the box. VAR is getting involved but no penalty given.
63'
Juventus sub: Ramsey off for Bentacur.
63'
And it's completely deserved. The ball is crossed in and Rebic is there at the back post to knock it in the net past Buffon.
62'
GOOOOOOOOOOOAAAAAAL MILAAAAAN
61'
Hernández's deflected shot is touched behind by Buffon.
60'
Unlucky from Ibrahimovic. He has a shot from inside the box that rustles the side netting. Buffon got a touch.
59'
Dybala has a shot from the edge of the box straight at Donnarumma.
58'
Kessie is booked for a foul on Dybala.
57'
Ronaldo has had a few slack passes tonight.
52'
Rebic has another shot that Buffon gets down and saves.
51'
A reminder that the 2nd leg takes place in a few weeks.
47'
Rebic gets into the box but hits it straight at Buffon and he saves with his legs.
45'
HT: AC Milan 0-0 Juventus. Not so much to scream and shout about so far. All to play for in the 2nd half.
45'
Milan manager Pioli is booked for his protests.
42'
Off the ball incident. After Bennacer is brought down by Dybala, Hernández isn't happy and goes through Dybala and earns a booking.
42'
And the free-kick hits the wall.
40'
Ibrahimovic has just won a free-kick at the edge of the box. Great chance for a shot on target.
36'
Cuadrado tries his luck from the corner of the box but Donnarumma gets down to his right and saves.
31'
Incidentally, Ibrahimovic will miss the 2nd leg due to his booking.
30'
Ramsey is booked for pulling back Hernández.
29'
Ibrahimovic is booked for hitting De Ligt in the face when he was going up for a jump.
27'
Another chance for Milan. Ibrahimovic passes to Rebic in the box who hits it first time, but Buffon gets down and saves.
25'
Juventus haven't created much in the game, Milan have had most of the chances.
22'
Calabria has a shot from just inside the box, Buffon gets down and parries it out for a corner.
17'
Ibrahimovic gets the ball in the box but his touch is too heavy and it goes to Buffon.
11'
Hernández puts the cross in and Ibrahimovic tries to backheel it in but it goes far wide.
10'
We've not seen much of Ronaldo here.
8'
Ramsey goes down in the box but the referee is having none of it.
6'
Milan are the better side so far.
5'
Rebic has a shot from about 25 yards out straight at Buffon.
4'
Safe to say that Ronaldo is the most popular figure here. He is getting boos from all over the stadium.
2'
Kessie gets the ball 25 yards out and fires wide. Good start from Milan.
1'
Ball comes in and Ibrahimovic leaps like a salmon and heads it over the bar. He was about 15 yards out though.
1'
And Juventus get us underway.
Prev.
What a stadium the San Siro is. It's a full house.
Prev.
Juventus now in the tunnel.
Prev.
Napoli beat Inter 1-0 yesterday in the other semifinal 1st leg.
Prev.
I wonder if Ronaldo and Ibrahimovic will get on the scoresheet tonight. Of course, no matter the score no team is through as we have the 2nd leg in a few weeks.
Prev.
Milan haven't beaten Juventus since a 1-0 win in 2016, Juventus won the last meeting 1-0 in November.
Prev.
What a game we have in store for you tonight. Both Ronaldo and Ibrahimovic are playing. Also involved are world-class players such as Buffon, Bonucci, Dybala, and Donnarumma.
Prev.
Juventus XI: Buffon; Bonucci, De Ligt, Alex Sandro, De Sciglio; Pjanic, Matuidi; Ramsey; Dybala, Cristiano Ronaldo, Cuadrado
Prev.
AC Milan XI: Donnarumma; Calabria, Kjaer, Romagnoli, Hernandez; Kessie, Bennacer; Castillejo, Calhanoglu, Rebic; Ibrahimovic
Prev.
Hello and welcome to Milan for this big Coppa Italia first leg match. This promises to be a cracker. Team news to come.