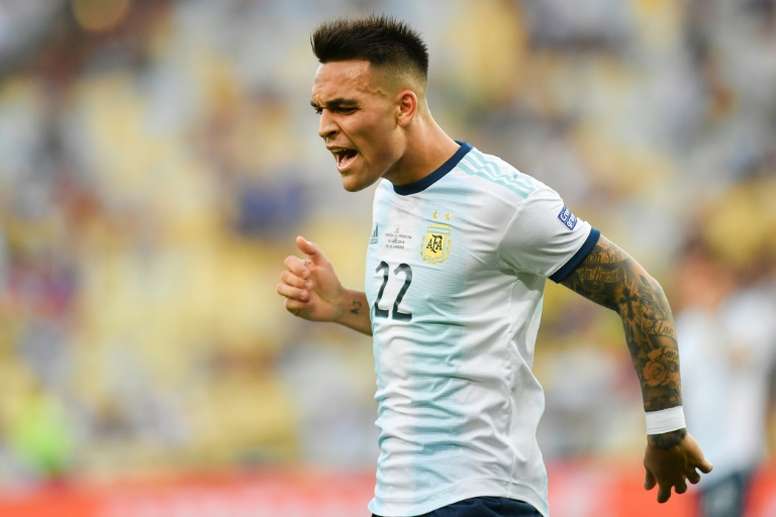 Lautaro: "I had to make a lot of sacrifices to get here"
Lautaro Martinez was "happy and excited" after scoring a hat-trick for Argentina in an impressive friendly win over Mexico on Tuesday.
Martinez struck a first-half hat-trick in Texas as Lionel Scaloni's men ended Mexico's unbeaten record under Gerardo Martino with a 4-0 victory.
"You can't always score three goals," said the 22-year-old, who plays for Inter Milan. "I am emotional because I had to make a lot of sacrifices to be able to achieve this. Only my family knows about the sacrifices and hard work that led me to achieve all this.
Inter forward Martinez, who impressed at the Copa America earlier this year, dominated, producing three clinical finishes for his first international hat-trick.
Martinez, 22, was delighted with his performance as he moved onto nine goals for Argentina in 13 appearances.
"I am happy and excited," he said, via the team's Twitter account.
While scoring three times, Martinez also helped Argentina win a penalty that was converted by Leandro Paredes in a ruthless opening 45 minutes.
The former Racing Club forward paid tribute to his team-mates after his match-winning hat-trick.
As for the fact that he has a better goal average than Messi in the national team, Martinez said it is something secondary, as the Argentina team is rebuilding and it needs to find its groove first.
"It is very difficult to get here and stay. There are very good players," Martinez said.
"I am very happy and grateful to my team-mates and the coaching staff. We train to give joy to the national team. Hopefully we continue along this path."