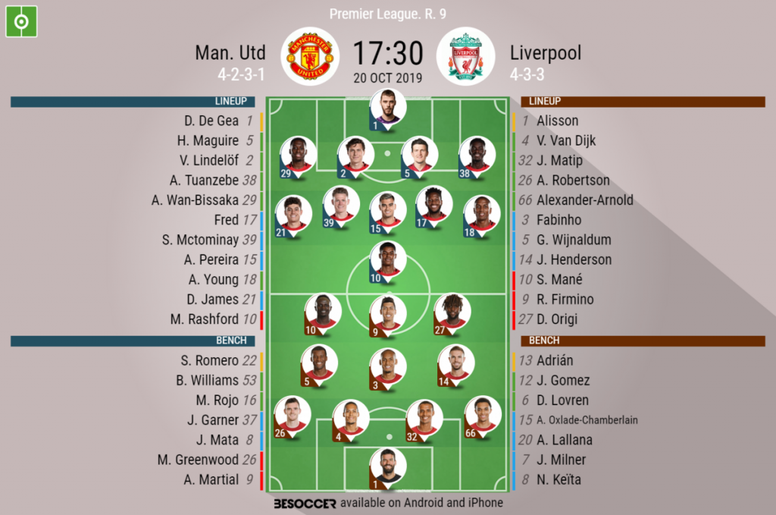 Man. Utd v Liverpool - as it happened
Manchester United FC

Liverpool

95'
FULL TIME!! Liverpool's winning run ends at 17 as they could not beat Manchester United at Old Trafford. Man U will be disappointed to not have won that game, as they were the better team for most of the game. Liverpool will be delighted with the point, as they were far from their best in toda's derby game. Final score, Manchester United 1-1 Liverpool!
95'
Corner given not a penalty! But the corner comes to nothing!
95'
Corner given and a VAR check going on for a potential Liverpool penalty due to handball
93'
United sub as Pereira comes off and Williams comes on! This game is going right to the wire
92'
Corner for United as James cross is blocked
91'
Oxlade-Chamberlain goes for goal and is not too far away from the bottom corner! Liverpool doing everything they could have been doing in the first 90 minutes of this game!
87'
Alexander-Arnold nicely kicks the ball, but it flies just over the bar, an awkward ball for him to receive.
84'
LIVERPOOL EQUALISE!!! The ball is crossed in for Lallana from Robertson, who runs in between the defenders and receives the ball in from the far post, United switch off and Lallana taps home. Now things get interesting! Almost 18 months since his last goal, but the sub has made a difference
83'
First Man U sub: Rashford comes off and is replaced by Martial!
82'
After some great play by United, Fred has a shot on his left foot from the corner of the box, but it goes wide. Looks like De Gea would have got to it anyway!
82'
Final change for Liverpool, as Wijnaldum comes off and Keita is his replacement
77'
Free kick in United's favour as Oxlade-chamberlain fouls Dan James. United have been excellent here and are giving a performance. Poor decisions have been made from Liverpool as well as giving away silly fouls!
76'
Young fouls Lallana and a free kick for Liverpool, which goes onto Firmino's head, but De Gea easily gets to it
70'
Straight swap for Liverpool, as Jordan Henderson comes off and Adam Lallana comes on!
70'
Firmino goes into the book for a foul on James, free kick now for United!
66'
Man U counter and Rashford, who is far better than previous games, has a shot from the penalty arc, but it is just wide at the right-hand post.
63'
Oxlade-Chamberlain has a shot from outside the box, but it has a hook on it and goes wide. The game has changed in the last few minutes.
61'
Liverpool playing a lot better now, as they are starting to hold Man U a lot more! They are not dominating just yet though
58'
Liverpool make their first change of the game, as Alex Oxlade-Chamberlain comes on for Origi, in a 4-4-2 combination now.
57'
Dan James is down again after another nasty collision in which he has just come off worst both times. He has a bust nose and is receiving treatment
56'
Alex Oxlade-Chamberlain getting ready to come on!
53'
Man U have started this half similar to the last, Liverpool really need to buck their ideas up if they want to continue their winning run.
49'
Foul on Dan James by Van Dijk as he knocks into him, he goes down and it is a suspected head injury, as Liverpool played on and then the whistle blew, so Klopp is fuming as this is why the goal happened before.
45'
No changes at half time, but Liverpool have changed formation to 4-3-2-1
45'
The second half is underway!
45'
The corner is headed away and the ref blows the whistle for half time, as Klopp runs off down the tunnel to make an important half time team talk. A scoreline that reflects the game at half time, as United have surprised everyone!! Liverpool players strangely nervous and need to regroup and get back into this game in the second half! An exciting half to come!! 1-0
43'
Another VAR review, as Mane scores, but as the ball is crossed into him, it hits his hand and so needs to be reviewed. VAR says no goal!!! Very tense moments at the moment, mayhem in the ground now!
42'
Liverpool and stunned and don't know how to react! They just need to wait for half time to get themselves together now. They have been so bad on the ball in this half!
38'
The goal counts! 1-0 Manchester United! It did look like a foul, so Klopp is absolutely livid!
38'
UNITED TAKE THE LEAD! Liverpool are fuming as Lindelof makes a foul on Origi who stays down in the Liverpool box, Man U counter and make a run, Rashford overturns Matip in the box and slots the ball into the net. Sensational run from Rashford and a sensational finish. Awaiting VAR confirmation for a foul!
35'
Henderson crosses a ball in for Firmino at the back post, who heads it towards the goal, De Gea makes a dive and saves it, but he is offside anyway and the flag goes up.
34'
Best opening so far for Liverpool, as Mane and Firmino make a break through, but Mane has no conviction to finish it off and hits the ball straight at De Gea!
33'
Liverpool have won once here in their last 13 games in all competitions, when they beat Man U 3-0 in 2014. Liverpool will certainly need to improve if Klopp wants to get anything out of this game!
31'
Young makes a great pass down the pitch to Pereira, who is not targeted, but he is a mile offside
29'
Free kick for United as Henderson and Young battle for the ball, a stray arm from Henderson in the face of Young sees him give away a free kick for his team
27'
Terrific ball in from Wan-Bissaka at the near post sees Liverpool's saviour Van Dijk beat Pereira to it and clear the ball away for a corner. The corner also comes to nothing!
27'
Brilliant play from Rashford as he scoots into the box and tries to have cross the ball into the box, but it lands straight to Alisson! Liverpool full-backs not quite getting it right at the moment, as they aren't sure when to go out and when to stay in!
25'
Mctominay has a run and is pressured by Liverpool defence, but he has a shot from just inside the box, but it goes straight to Alisson.
21'
Alisson punches the ball away from the corner and Liverpool regain possession of the ball, showing no panic at all as they calmly pass it back and forth to each other
20'
Corner for Man U as Perreira works his way through Van Dijk and Matip manages to block it for a corner
18'
Liverpool have settle down and are starting to look more of a threat, as Wan-Bissaka tries to get the ball into the net, but United's defence read it and managed to clear the ball away
13'
It is said Tuanzebe's injury in the warm up today was a hip injury, which caused him to drop out of the starting eleven at the last minute.
12'
Wijnaldum has a shot as he skipped past some of United's defence and tried his luck from the edge of the box, however his shot was easily saved by De Gea.
8'
Alexander-Arnold clears a United shot, as they look more and more threatening, it does seem to be all Man U at the moment! I'm sure Solskjaer will be happy with the way his team has started. They then had a free kick, which was crossed into the box, but Robertson is able to block the ball
5'
United have a nice bit of play in their attacking end, Ashley Young receives the ball on the right hand side and crosses it into the box, but nobody is there to get it!
4'
United have come out fighting and showing positive signs in the early part of this game!
2'
Origi and James battle to reach the ball, but Origi pushes James and a free kick is given to Man U in their own area.
Prev.
United get the game underway!
Prev.
BREAKING NEWS: Manchester United have been forced into a change after the training session: Marcus Rojo has come into the back three for Tuanzebe and Phil Jones comes onto the bench.
Prev.
Solskjaer says he is not settling for the draw, their approach is to attack and to try to win the game, being more creative. He wants the boys to express themselves and take more risks. He is happy to have a few key men back in the squad.
Prev.
Manchester United have a few surprises, as De Gea starts, despite Solskjaer not knowing if he would be ready for today's game! Aaron Wan-Bissaka returns from injury in right-back and Anthony Martial is fit enough to be on the bench!
Prev.
Some surprising editions to the starting elevens! Alisson Becker returns in goal for Liverpool for the first time since injuring his calf against Norwich City on August 9th. Joel Matip is also back after a knock, but the Reds are without Mohamed Salah at Old Trafford. Divock Origi replaces him.
Prev.
Liverpool: Alisson (GK); Van Dijk, Matip, Robertson, Alexander-Arnold; Fabinho, Wijnaldum, Henderson; Mane, Firmino, Origi
Prev.
Manchester United: De Gea (GK); Maguire, Lindelof, Tuanzebe, Wan-Bissaka; Fred, Mctominay, Pereira, Young, James; Rashford
Prev.
Line-ups have been revealed!
Prev.
Join us live for the big Premier League game of the weekend, as Manchester United host Liverpool at Old Trafford. Can Ole-Gunnar Solskjaer turn his fortunes around? Or will Liverpool triumph for the 18th league game in a row?