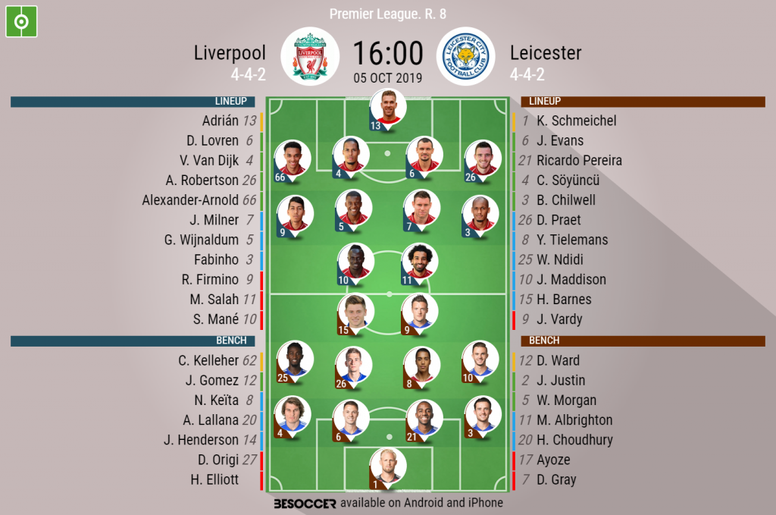 Liverpool V Leicester - As it happened.
Liverpool

Leicester City FC

96'
FT: Liverpool 2-1 Leicester. That will feel like a huge point dropped by Leicester. Mane put Liverpool ahead in the first half and Maddison equalised 10 minutes from the end, but Leicester created their own problems by trying to play out from the back and it allowed Mane to charge in ahead of Albrighton, steal the ball and draw a foul. Milner made no mistake from the spot deep into added time at the end of the second half and it's a massive win for Liverpool, who maintain their 100 percent recor
96'
It's all over at Anfield... Or is it? Perez and Milner are near enough nose-to-nose! That's not the wisest move in the age of VAR, but tempers are FLARING here!
94'
GOAAAAAAAALLLLLLL!!!!!!!!!
93'
PENALTY TO LIVERPOOL! Late, late drama at Anfield! Albrighton dribbles back into his own box, gets in a muddle with Schmeichel, loses the ball and then gets some contact on Mane in the box. Is it enough for a penalty? The Liverpool man goes down, Kavanagh points to the spot. Wow.
91'
It looks like Choudhury's tackle may have injured the Egyptian, who leaves the pitch in considerable pain. He is replaced by Lalana.
90'
Four minutes of added time to this intense game.
88'
He's just come on, but Choudhury has somehow already gotten a yellow. Terrible tackle. No other way of stopping Salah, I guess.
85'
Choudhury in for Maddison for the visitors.
84'
CLOSE! Lovren reaches Alexander-Arnold's corner to the far side but heads it down and into the ground, and Pereira knocks it behind again for another.
80'
MADDISON LEVELS! What a beautiful move that is and Maddison gets on the end of it! He gets in behind Van Dijk - a feat in itself - and it's an excellent shot, low and powerful enough to go through the legs of Adrian, despite a touch off the keeper.
78'
A double change coming up for Liverpool as Wijnaldum comes off for Henderson - Klopp just injecting some fresh energy into midfield, while Origi replaces Firmino at the front.
76'
BLOCK! Firmino's bouncing pass has Salah through, or it looks like it until it holds up on the grass and gives Soyuncu a chance to catch up.
72'
Praet comes off for Ayoze Perez. Very offensive change here.
71'
CHANCE! Winjaldum turns Ndidi and drives into the area - after collecting a smart pass from Firmino - but he shoots wide and this game somehow carries on with the same score!
68'
Evans receives a booking for a foul on Salah.
67'
Chance after chance now! Robertson receives the ball in space from a one-two with Salah, Albrighton is nowhere to be seen and he runs through on goal.
66'
SO CLOSE FOR LEICESTER! Adrian has just kept Liverpool in front. Albrighton lifts a brilliant curling ball which catches out the Liverpool defence and finds Vardy on his toes.
65'
FIRMINO SHOOTS WIDE! Alexander-Arnold picks him out with a lovely dinked pass and Firmino drops his shoulder, turns his marker and fires just wide of Schmeichel's right-hand post.
61'
An hour in and Lecester have not had a single shot on target! It's not that Leicester have seriously struggled creatively, it's more a case of Liverpool defending excellently. Van Dijk and Lovren have been alert and first to everything in the Liverpool box.
58'
Liverpool are all over this now. They've already had half as many shots as they did before half-time and have had seven per cent more of the ball than they did before the break.
54'
Leicester safe, as Salah's free-kick hits the wall.
53'
YELLOW! Soyuncu knows he's in trouble when Salah gets wrong side of him and he pulls him back, so clearly, just outside the box. Great position for a free-kick though...
50'
A lot more purpose in this second half. Both coaches probably told their players to really focus on looking for the goals here. Very fast paced game at the moment.
47'
What an energetic start to this second half! LLiverpool come close to doubling their lead barely a minute since the break. Alexander-Arnold picks up Robertson's ball into the right channel, totally unmarked, sends it in from out wide and sees Salah pull a wonderful reflex save out of Schmeichel with his diving effort.
45'
We are back! No changes in this second half.
45'
HT: Liverpool 1-0 Liecester City. A levelled, exciting game here. The hosts have been the better side, but Brendan Rodgers' men have provided their fair share of chances. If it wasn't for Liverpool's solid defence and Adrian San Miguel's surprising performance, this could easily be 1-1. See you in 15!
45'
2 minutes of added time at Anfield and Leicester are trying their best to score here. Very good performances from both teams here, with the Reds' defending standing out.
44'
SAVE! Mane can double his team's lead but he's not as clinical this time. He plays a little give and goes off the left but when he gets the ball back off Firmino, he shoots it straight to Leicester goalkeeper Schmeichel.
41'
Just when Leicester was starting to provide the best chances here, Liverpool have answered accordingly. Wonderful ball down the outside of Evans by Milner, Mane takes it in his stride and waits for Schmeichel to come and tucks it in the far corner. Brilliant finish, wonderful assist.
40'
GOAAAAAAAAAAAAAAAAALLLLLLL!!!!!!!
39'
YELLOW! Fabinho is booked for taking down Maddison when the Leicester man nutmegs him. Brad Bobley would have enjoyed that one.
38'
OOOF! Chilwell takes it in the end, bends it back round looking for a header and Soyuncu powers one goalwards which Adrian knocks away with a really good save. The offside flag goes up on the far side and it was, just, off.
35'
Terrible foul from Alexander Arnold to Tielemans. He tries to block Tieleman's efforts, but the local man instead steps on the Leciester's player ankle, it looks quite painful... Should have been a booking!
34'
CHANCE! Liverpool are still on the attack - Alexander-Arnold with a cross to the back post and it's Firmino this time sticking out a foot, but he doesn't get a proper connection. That's a great opportunity that goes begging!
33'
Risky move from Schmeichel! He comes out of his box to head a long Van Dijk pass out for a throw. Mane was chasing and was only inches away from making contact!
30'
Yellow card to Ndidi for a foul.
29'
Fabinho, with a long pass into Alexander-Arnold who manages to get there right on time. He does well to keep it in and a hook a cross into the box that Evans heads behind for a corner. It's Alexander-Arnold to take, but it evades everyone.
25'
Praet shows exactly what Rodgers wanted from him when he signed him in the summer, knocking Milner off the ball with a great slide tackle on the edge of the Liverpool box after Barnes had lost it. Corner.
22'
Liverpool are reaching the goalkeeper's box somewhat comfortably, but Leicester's defending is proving very difficult to get through at the moment.
20'
Leicester have a free-kick inside their own half and it's a chance to put a passing move together, but Evans receives the ball under minimal pressure and boots it out of play for a Liverpool throw.
18'
Firmino, wide to Robertson, back inside to Mane and on again to Alexander-Arnold on the right. His cross is blocked, but it's all Liverpool at the moment and Leicester are having to withstand an aerial bombardment from the flanks.
15'
Pereira looks inside to Vardy and his first-time pass inside Van Dijk is perfect to meet Barnes' run. He's got space but little to aim at with Leicester's players still catching up and his low cross is easily cleared by Alexander-Arnold.
12'
What a chance after a stunning play from Alexander-Arnold! The Liverpool academy product nutmegs a Leicester player and volleys it to Millner, who shoots it just over the bar!
11'
Fabinho misses a pass altogether and Barnes nips in before he can recover. Vardy looks to find space on the edge of the box from that move but Van Dijk stands tall and doesn't allow him past.
8'
Already Leicester are looking to thwart the attacking threat of Liverpool's full-backs. Twice Adrian floats the ball out to Alexander-Arnold, twice he's closed down straight away.
3'
Liverpool - in their customary 4-3-3 shape - are attacking left-to-right and they're on the front foot early on, Robertson attacking the empty space on the Liverpool left. He passes inside to Salah, who tries to feed Mane, but Leicester cut the attack out.
Prev.
Win this one and Liverpool will have Manchester City wondering when exactly they are going to drop points again. Feels like a big one before the international break.
Prev.
Brendan Rodgers is making a comeback to Anfield! He spoke about coming back after so many years to SkySports: "It's great to be back, I haven't been back since I left, the stadium's progressed and looks really good, and it's nice to see friends who were really good to me in my time here."
Prev.
Liverpool's last Premier League game gave them a win against Sheffield United, but it was not their prettiest game. However, Klopp has not been shy about favouring points over performance at the moment, with this being the last of seven games in three weeks.
Prev.
There's only one change for Leicester, with James Maddison fit enough to be recalled and Ayoze Perez dropping to the bench. That aside, it's as-you-were from last weekend's win over Newcastle.
Prev.
Joe Gomez and Jordan Henderson are dropped after Wednesday's win over Red Bull Salzburg, while Dejan Lovren is in at the back for his first Premier League start this season.
Prev.
Leicester: Schmeichel, Ricardo Pereira, Evans, Soyuncu, Chilwell, Ndidi, Praet, Maddison, Tielemans, Barnes, Vardy.
Prev.
Liverpool: Adrian, Alexander-Arnold, Lovren, van Dijk, Robertson, Milner, Fabinho, Wijnaldum, Salah, Firmino, Mane.
Prev.
Line-ups are out! Let's take a look, shall we?
Prev.
Join us for live coverage of this juicy Premier League clash between Liverpool and Leicester as the visitors aim to keep impressing with their performance and Klopp's men try to take the three points!