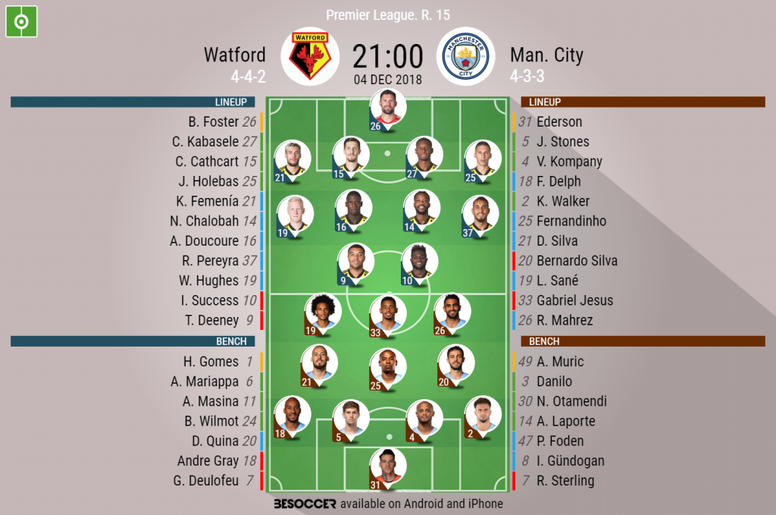 Watford V Man. City - As it happened.
Watford FC

Manchester City FC

94'
An incredibly, and surprisingly, nervy ending for Manchester City who dominated the game. Overall, a comfortably 80 minutes for Manchester City, however Guardiola will not be happy with his side's defending at the end there.
94'
FULL TIME: WATFORD 1 - 2 MANCHESTER CITY
92'
ANOTHER CORNER WHAT AN ENDING: Well defended by Manchester City.
91'
CORNER! Surely the keeper comes up here...HE'S UP! Ederson fumbles the corner, danger not fully averted.
90'
Ederson has been booked for time wasting, silly.
89'
Final change for Manchester City, Jesus OFF, Laporte ON.
86'
EDERSON SAVE: It's on! Ederson easily saves Troy Deeney's header.
84'
A scruffy goal, Deulofeu put in a good cross after Delph gave the ball away, with Doucoure doing well to bundle the ball home after an initial Ederson save.
84'
GOAL: DOUCOURE: WATFORD 1 - 0 MANCHESTER CITY
83'
Kompany OFF, Otamendi ON.
82'
GREAT STOP: Another brilliant save from Ben Foster, he has had an outstanding night. He does really well to get down to his right and claw away a Mahrez effort.
74'
Change for Manchester City. Silva OFF, Gundogan, ON.
70'
Easy save from Ederson to stop Success.
67'
Bad miss, Success blazes well over from the edge of the box.
59'
Nearly a third, Mahrez' deflected effort nearly drops in Foster's goal.
53'
City players celebrate their goal.
50'
Leroy Sane was the architect of the goal, as he did well do have the ball down by the byline. The Germany international had a look up hit a crisp cross across the face of the goal. The bell fell perfectly for Mahrez, who finished first time The Algeria international did not hesitate as he confidently put the ball past Ben Foster with a perfectly executed first time shot.
50'
Mahrez with a lovely first time finish to put clear daylight between the two teams.
50'
GOAL: MAHREZ: WATFORD 0 - 2 MANCHESTER CITY
45'
SECOND HALF: WATFORD 0 - 1 MANCHESTER CITY
45'
Teams are back out with Darude Sandstorm playing over the speakers, what a banger.
45'
City dominate during an impressive first half.
45'
HALF TIME: WATFORD 0 - 1 MANCHESTER CITY
44'
Leroy Sane with his sixth goal of the season has given Manchester City a well deserved lead at Vicarage Road.
40'
After a brilliant Ben Foster save Sane bundles the ball home after a sublime cross, a well deserved goal - City have dominated so far.
40'
GOAL: SANE: WATFORD 0 - 1 MANCHESTER CITY
31'
EDERSON SAVE: This is a game of two goalkeepers, Ederson does brilliantly to save from Deeney with his feet, Ederson stuck out a long left leg and really saved his side there, brilliant goalkeeping.
18'
FOSTER IS PLAYING VERY WELL: Three saves in a row for Ben Foster, he did well to save from Mahrez and then Silva, it's going to be a very long night for the former Manchester United keeper.
18'
So far, there has only been one team in this game..
16'
Yet another corner for City, taken short...Delph to company and eventually an offside call against Manchester City. More good work from Ben Foster, very commanding goalkeeping.
12'
Another corner for Manchester City. Pep's side starting to crank up the pressure.
10'
GREAT SAVE: That was brilliant from Ben Foster, he was out 1 v 1 against the former England goalkeeper, tries to chip him, however Foster manages to claw the effort behind for a corner.
8'
CLOSE: Pereyre tries to curl an effort in to the bottom corner and it goes just wide.
7'
Tame opening few minutes with little support, there is however a good atmosphere at Vicarage Road tonight.
3'
Troy Deeney strays offside, sloppy from the Watford captain.
1'
KICK OFF: WATFORD 0 - 0 MANCHESTER CITY
Prev.
FOUR MINUTES TIME ADDED ON
Prev.
Bournemouth last two home games against Manchester City ended 0-5 and 0-6, will we see the same again?
Prev.
The teams are out! Kick off in three minutes.
Prev.
The hosts have arrived at Vicarage Road:
Prev.
A brisk 8 degrees in London tonight, Vicarage Road is looking brilliant for what should hopefully be a competitive encounter between two clubs who play brilliant football.
Prev.
The visitors have arrived at Vicarage Road:
Prev.
MANCHESTER CITY XI: Ederson, Walker, Kompany, Stones, Delph, Fernandinho, Silva, Bernardo, Mahrez, Sane, Jesus.
Prev.
WATFORD XI: Foster, Femenia, Cathcart, Kabasle, Holebas, Hughes, Doucoure, Chalobah, Pereyra, Deeney, Success.
Prev.
Good evening and welcome to today's live Premier League text coverage! Team news to follow shortly.