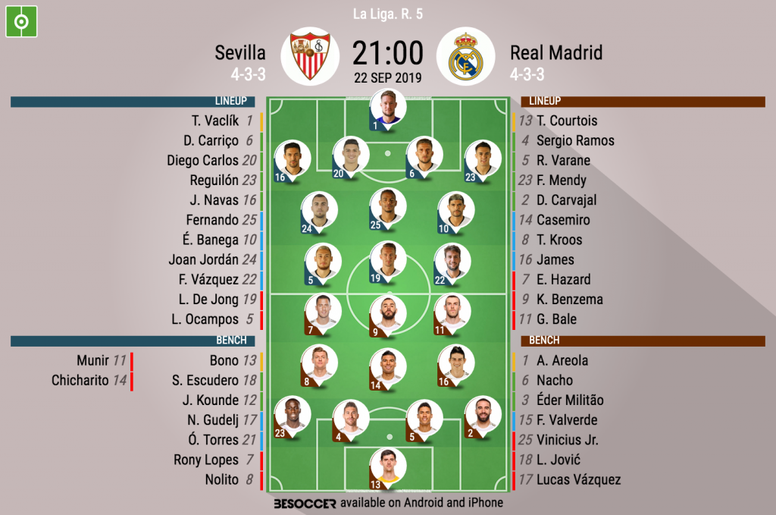 Sevilla V Real Madrid - As it happened.
Sevilla

Real Madrid

Post.
As always, we thank you for joining us this evening! See you soon for more LaLiga action.
90'
FT: Sevilla 0-1 Real Madrid. Zidane's players can't help but celebrate this. Real Madrid end a bad spell and the Frenchman will be able to breathe again. Not the prettiest of wins, but they leave with the three points. Meanwhile, Lopetegui ends his winning run despite an okay performance by his men, but the lack of quality from both sides meant that one of Real Madrid's four shots on target was enough to get them the win.
90'
Four minutes of added time in Sevilla.
89'
Hazard comes off for Lucas Vasquez.
87'
Chicharito scores... But it's offside. The crowd had already gone wild by this point but there's not much they could have done here; the touchline referee spotted it from a mile away.
84'
Reguilon keeps fighting for possession but his teammates cannot seem to keep up with him at the moment.
80'
Sevilla players starting to look increasingly tired as the game nears its end.
77'
Ocampos, who has been the standout performer for Sevilla for the entire game, plays a great ball in from the right with opponent Mendy helping the ball all the way to De Jong by mistake, but the Dutchman can't head in.
75'
James Rodriguez comes off for Valverde in Real Madrid.
71'
Chance for Sevilla as De Jong leaps high in the box, but it rolls just wide for a corner.
69'
Chance for Sevilla as Ocampos is left unmarked in the box, but he shoots it over the bar!
69'
Chicharito comes in for Jordan on Lopetegui's side.
68'
Madrid coming back for more! Bale picks out Hazard with a switch of play; they work it wide but the Welshman is met with a strong defence.
66'
It's somehow Benzema's first goal against Sevilla in his time as a Real Madrid player, although he has his fair share of assists - eight, to be exact.
64'
A stunning header by Benzema after a superb pass from Carvajal leads to the first goal of the game. Madrid kept the pressure and worked the ball wide to Bale, who slipped it through to Carvajal. Rare moment of brilliance from the visitors.
64'
GOAAAAAAAAAALLLLL!!!!! BENZEMA OPENS THE SCORE!
61'
Yellow card for Sergio Ramos for a bad tackle to Ocampos. Bets were high for this one.
54'
Dani Carvajal clears Sevilla's (200th?) corner. Ocampos gets possession but Bale stops him in his tracks.
52'
Yellow card for Sevilla's Joan Jordan for (awful) shirt tugging at Hazard.
51'
Benzema gets Carrico under pressure, but the centre-back doesn't back down and manages to get the ball under his control and pass back to Vaclik. Good strength shown all-round there.
51'
Vasquez out for Oliver Torres in Sevilla.
48'
Ocampos bustles his way into the box with some neat footwork, but Mendy wins possession back without conceding a corner! That's a first for this game!
46'
No changes in the interval as Benzema gets us underway.
45'
HT: Sevilla 0-0 Real Madrid. The pace of play has been very slow in this first half and it's probably because of the number of fouls both sides have conceded so far - Sevilla eight and Madrid seven. No real leader here as both teams are pressing hard but the constant fouling and poor refereeing is not allowing for much, despite James and Ocampo's good performances so far.
43'
Ocampos fouls Casemiro at the corner, in turn gifting Real Madrid control approaching the interval.
41'
Play has been stopped so Sevilla's Vasquez can receive treatment. Very unclear as to why he's rolling on the floor now.
39'
A GREAT run by Carvajal after a pass from James gets SO close to opening the score here, but the Sevilla goalkeeper makes a brilliant save and somehow the score remains 0-0.
34'
SAVE! Hazard and Benzema have a good run all the way to Sevilla goalkeeper Vaclik, but he makes the save near the post after a tight angle prevents Benzema from passing or shooting properly.
32'
James has some space on the left for a free cross into the box, but it's a really poor delivery from the Colombian. He raises his hand to apologise to the numerous team-mates he had waiting in the box for a decent ball.
30'
Half an hour gone and the game is pretty even at the moment! The constant fouling and at times unnecessary interruptions by the referee are slowing down what has otherwise been a very intense pace with decent actions, but the quality you would expect from both sides is not all there (yet?).
28'
An array of yellows tonight. Bale and Reguilion have an altercation, but it's Lopetegui who is shown a yellow for complaining to the fourth official.
26'
Sevilla looking a little blunt at the moment. They're moving the ball well, but there's no real depth when it counts.
25'
And another yellow, this time for Sevilla's Banega. He somehow fouls Casemiro and James simultaneously.
24'
Sevilla are on the attack again, De Jong trying to weave his way into the box, but he's well-marshalled by Carvajal and they win yet another corner
19'
Yellow card for Carvajal for a clumsy challenge to Sevilla's Ocampos, who has been great for the hosts these 20 minutes.
16'
Sevilla are keeping the pressure up at the moment, penning Madrid into their own defensive third. Can they turn this into a goal, though? They haven't threatened Courtois just yet.
14'
Some stats for you! Much has been made of Lopetegui's start this season, but it is actually the same number of wins he had last year with tonight's opponents.
12'
Carvajal to Gareth Bale and it leads to a corner! Strong attacking skills from Real Madrid here. Has Zidane broken through?
8'
Another free-kick awarded in favour of Casemiro, this time Ocampos with the foul. Good play from the Brazilian as it earns his team some respite from a spell of Sevilla pressure.
6'
The counter is strong by Sevilla, but it does not lead to a real chance by the hosts.
4'
Possible foul here as Fernando brings Casemiro to the ground. It leads to a free-kick, and although for a second it looks like the visitors could open the score, Benzema's shot is diverted.
1'
The hosts have started off with the possession here. Lopetegui and Zidane look-on from the sidelines. Tense atmosphere here.
Prev.
The teams are here! Kick-off in 15 minutes.
Prev.
Beyond the current gloom looming for Zidane, Los Blancos' record against Sevilla is also the stuff of nightmares: Sevilla have won seven of the last ten Real Madrid visits to the Ramón Sánchez-Pizjuán Stadium, and Real Madrid's men are now on the fourth consecutive defeat to the Sevilla giants.
Prev.
It's always a weird one for Ramos as he comes back to his native Sevilla, the city where is very proudly from, to play against the club which saw him go through the youth ranks and eventually sold him to the Madrid giants, where he has solidified his status as one of the best defenders in history.
Prev.
Meanwhile, Zidane faces an unbeaten Sevilla side that has been quietly impressive so far this season, with the former Real striker Javier Hernández, alias 'Chicharito', notching against Qarabag in midweek.
Prev.
Real Madrid have come unstuck just once this season, at Paris Saint-Germain on Wednesday, but nevertheless Zinedine Zidane is reportedly already under pressure to add some energy to a low-key start to the season. However, Barça's shock loss to recently promoted Granada could change things.
Prev.
Meanwhile, Zidane makes a single, albeit important change to the team that lost against PSG on Wednesday. Sergio Ramos is in for Militao.
Prev.
In Sevilla, Julen Lopetegui brings out the expected starting eleven. His best players are out with three rotations after the Andalusian's European clash to Qarabang.
Prev.
Real Madrid starting XI (4-3-3): Courtois; Carvajal, Sergio Ramos, Varane, Mendy; Casemiro, Kroos, James Rodríguez; Hazard, Benzema, Bale.
Prev.
Sevilla starting XI (4-3-3): Vaclík; Jesús Navas, Carlos, Carriço, Reguilón; Fernando, Jordán, Banega; Ocampos, Franco Vázquez, De Jong.
Prev.
Let's look at those starting line-ups, shall we?
Prev.
Hello and welcome to our minute to minute coverage of this Sunday afternoon's LaLiga clash between Zinedine Zidane's Real Madrid and Lopetegui's Sevilla, where tensions will be running high as the former Spain and Blancos coach will be meeting his former team for the first time after getting sacked, all while football legend Zidane tries to deliver a better performance amid growing doubts over his ability to bring Real back to the top!