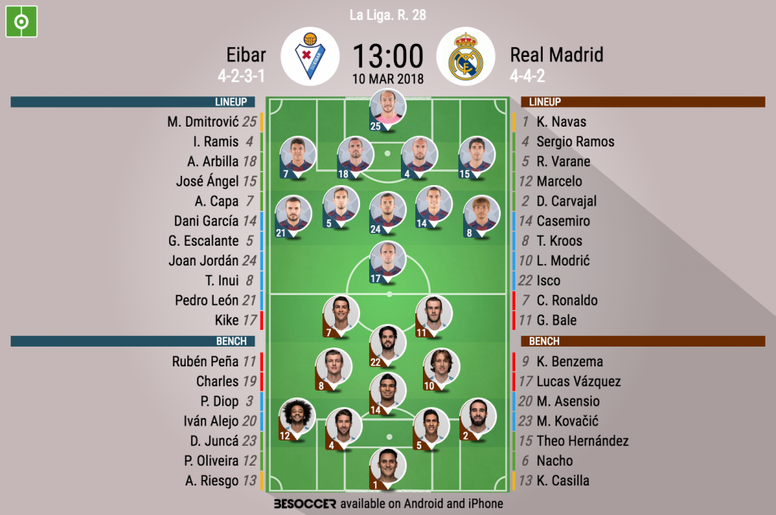 Eibar V Real Madrid - As it happened.
Eibar

Real Madrid

93'
FT: Eibar 1 - 2 Real Madrid - Like the first half, Eibar started strong, and were able to find an equaliser in the 49th minute, but again, Real capitalised on the counter attack, and punished Eibar's high press. Ronaldo bagged his second in the 83rd minute, and Eibar were unable to respond.
92'
Eibar have a last minute chance on the counter, but they can't make it count. Game over.
90'
3 mins of added time to be played. Real sitting deep, can Eibar find a last minute equaliser?
88'
Corner for the home side after some good play down the left. The cross is cleared, then comes back in, but Navas is able to save the following shot.
86'
And another final change for Eibar straight away. Charles comes on for Inui.
83'
GOAL! RONALDO! The big man bags his second of the game, heading in from a few yards out. Modric feeds Carvajal, who crosses well, and Ronaldo meets the cross perfectly, scoring with his head.
79'
CLOSE! Eibar really pushing here. Kike breaks down the left and hits a near post shot, but it goes just wide.
77'
Eibar challenge Navas again, as Oliveira strikes with his foot from a corner. Easy for Navas, though, and he collects.
75'
MISS! Marcelo heads a lofted ball in the box away, but it falls for Inui on the bounce to the left of the keeper. The midfielder attempts to head past Navas, but it goes over the bar.
73'
OUCH! Kike chases after a loose Modric backpass to Navas, and nearly makes it, but is challenged by the keeper. He receives a boot to the knee and goes down in pain, but he's back up and running.
70'
Double change. Benzema and Vazquez on, Kroos and Isco off.
67'
Ronaldo finds space just outside the Eibar box and, as expected, shoots. It deflects off an Eibar player, and Bale doesn't look best pleased. The Welshman was wide open on his left.
65'
The goalscorer Ramis is coming off here after it looks like he picked up a knock. Paulo Oliveira is his replacement.
64'
Very even second half so far, with both teams threatening to score.
61'
CHANCE! Bale is free down the left, and sprints down the wing before whipping a ball in for Ronaldo, who is free at the back post. The striker has just the keeper to beat, but Dmitrovic does well and saves his attempt. The keeper has been fantastic today.
58'
Carvajal skips past one in the box and then attempts to skip past another, but ends up pushing over the Eibar defender for a foul to the hosts.
55'
CLOSE! Modric goes extremely close to putting Real back in front. He shimmies past three Eibar players in the box, and strikes low, but it is just wide of the far post.
53'
Modric lays off to Ronaldo, but his finish goes over the bar.
49'
GOAL! EIBAR! Ramis heads in from a corner. Pedro Leon swings it in, and Ramis was able to lose Sergio Ramos very easily. The ball was perfect. Poor from Real, but game on!
47'
The ref blows for a foul after Ramos takes out an Eibar player. No card, however.
46'
Real get us underway for the second half
45'
HT: Eibar 0 - 1 Real Madrid - Eibar started the half on the front foot, but didn't capitalise on early pressure. Real punished their high line, and Ronaldo took the visitors 0-1 up in the 33rd minute. Madrid then grew into the game, and had more of the ball towards the end of the half.
43'
Lovely play from Modric down the left. The midfielder skins a few players and then strikes, but it is too weak to challenge Dmitrovic.
42'
Great save from Dmitrovic, after Ronaldo was given too much time in the Eibar box. The keeper makes a great reaction save, and the following corner comes to nothing.
41'
Dangerous low cross zipped in by Inui, but Navas collects.
39'
A couple of corners in a row for Real, and Ramos gets his head on the latest, but steers it wide.
37'
Eibar want a foul here, but it's a corner. Isco runs onto a Ronaldo ball in the EIbar box, and slides in on Ramis, bit the referee rules that it's a corner to Real.
33'
That's seven games in a row that Cristiano has found the net now. What a year he's having.
33'
GOAL! RONALDO! Yet another great lofted ball, this time from Modric, and this time it's Ronaldo who is one on one with the keeper. Unsurprisingly, he doesn't miss, slotting it into the bottom left corner of Dmitrovic's net.
32'
Madrid should be 0-1 up. Another good long ball to Bale finds him with just the keeper to beat. Dmitrovic makes a good block, and the ball nearly falls to Ronaldo , but Ramis clears.
31'
Bale is shown the first yellow card of the game, as he is penalised for a high foot on Escalante.
29'
Another chance for Eibar. The home side get a free kick down the right, and and it is crossed in by Pedro Leon. Joan Jordan is completely unmarked and gets a head to it, but doesn't make great contact and it goes wide.
27'
Raphael Varane is having to come off here. He had an aerial collision with Kike, where he clashed heads with the Eibar player, and has a huge bump on his head. Varane off, Nacho on.
25'
Dmitrovic has to rush out to stop Bale running onto a ball behind the defence. He comes out to the right of his box and clears low. The ball falls at Marcelo's feet, but he is pressed off the ball.
23'
A good counter attack from Real. Bale makes a good run, and Kroos then crosses in, finding Isco. The Spaniard shoots, but it is blocked.
18'
Very close! Real lose it in midfield, and Inui plays it on to Kike, who strikes it from 20 yards, curling a shot to the far post that Keylor Navas has to turn away.
17'
Dangerous moment for Eibar! The ball bounces high towards Keylor Navas, and Kike bears down on him, but the keeper does well to leave his box and head the ball away.
15'
Bale latches on to a good crossfield ball, and crosses back to Ronaldo, but the forward's touch is poor, and it's ruled offside regardless.
13'
Eibar impressing so far. They are pressing Real Madrid in their own half, and unsettling the visitors' defence. Nothing to show for it yet though.
8'
Poor touch from Bale. Casemiro hits a lofted ball towards the Welshman, who is in a dangerous position, but his touch isn't good enough and it goes out for a goal kick.
5'
Ronaldo plays a ball into the box in the direction of Bale, but it goes out for a corner. The following delivery doesn't find anyone, however.
3'
First foul of the game is awarded to the hosts, as Varane shoves an Eibar player.
2'
More pressure early on from Eibar, as they force the first corner of the game. It is delivered in high, but the ball misses everyone and goes out of play.
1'
Speedy start from the hosts! Eibar start on top, pushing into the Madrid box, but Inui's shot goes wide.
1'
And Eibar get us underway!
Prev.
The teams are walking out onto the pitch, it's nearly go-time at the Ipurua!
Prev.
Zinedine Zidane has fielded a strong lineup today, with Toni Kroos, Luka Modric and Gareth Bale all starting. Will it pay off for the French coach?
Prev.
Keylor Navas is out warming up ahead of the game
Prev.
Madrid's lineup: Navas, Carvajal, Ramos, Varane, Marcelo, Kroos, Modric, Casemiro, Bale, Isco, Ronaldo
Prev.
Eibar's lineup: Dmitrovic, Ramis, Escalante, Capa, Inui, Dani Garcia, Cote, Kike G, Arbilla, Pedro Leon, Joan Jordan
Prev.
Hello and welcome to the first La Liga game of the day! Eighth placed Eibar host third placed Real Madrid, as the visitors attempt to catch back up to second-placed rivals Atletico Madrid, who have a seven point advantage at the moment.