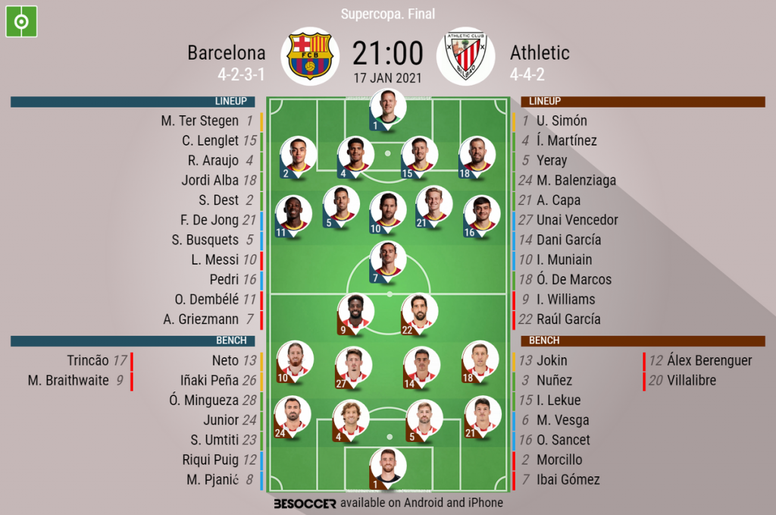 Barcelona V Athletic - As it happened.
120'
It was an incredible game that saw The emblematic number 10 sent off with just a minute to go, five goals in total, and Koeman's Barcelona outclassed by Athletic Bilbao who walk away the deserved winners.
119'
Unbelievable, Messi sees red for violent conduct after striking out at a defender who was grabbing at the player.
117'
Athletic were through one on one but hesitation allowed Barca to track back and stop the attack.
116'
Mingueza connects with it at the near post and sends it over.
115'
Barca corner. COuld be one of the last clear chances of the night.
113'
This will probably be the longest 7 mins of Athletic's life...
112'
Athletic squander yet another chance to put this to bed and two consecutive headers end up over the crossbar.
111'
Athletic corner which will be taken very very slowly...
111'
Griezmann volleys a cross first time wide from the corner of the six-yard box.
110'
FK is delivered into the area and put just wide for a corner. Athletic are just holding on... for now.
110'
Athletic seem to be falling apart. Another yellow for a foul on Riqui Puig in a dangerous position.
109'
Villalibre pulls de Jong cynically and is rightfully booked.
107'
Munian grabs and spins Lenglet. Tensions are high.
106'
Last part of the game! (barring penalties)
105'
End of the first part of the extra time.
105'
De Jong gets flying headbutted in the face and is up just minutes later with what looks like a swollen mouth.
104'
Ball is crossed in and comes just inches from being tapped in. Griezmann touched it last and it is a corner.
103'
Mingueza once again commits a clear foul.
102'
Saying that, even behind in extra time Barcelona seem somewhat sluggish in making their moves.
100'
Barcelona have found their feet at last and are now the ones controlling the attack on Athletic's goal. Athletic hold on for dear life.
96'
Riqui Puig is the one who has been chosen to bring Barcelona back into the game by Koeman.
94'
Martinez comes off for Nuñez
93'
WILLIAMS WONDER GOAL! What a strike! That is one for the history books if they can hold off for the win. Williams picks it up on the edge of the area and curls it into the top corner out of the reach of Ter Stegen. Fantastic stuff!
90'
Extra time! Fascinating fight back from Athletic has punished a complacent Barcelona.
90'
Unbelievable scenes, Athletic have fought hard for it and will continue to fight.
89'
ATHLETIC HAVE DONE IT! Athletic equalise from the FK. Villalibre was the one to strike it in.
88'
Williams brought down on the edge of the area. Athletic have a golden opportunity.
86'
Athletic cross it into Williams who heads it over. Looks like this game will end in a siege of Barcelona's goal!
83'
Dembele makes a full pitch run on the counter and sets up a play that sees de Jong fire at the keeper in the box. Barcelona almost put this one to rest!
82'
Athletic are still pressuring and seem capable of equalising late!
80'
Raul Garcia comes off for Villalibre.
79'
Raul García picks it up on the edge of the area turns and shoots but he's put it way over the bar.
77'
Jordi Alba beat his man on the wing and crossed it in low behind the defensive line for Griezmann to finish it with ease.
76'
Griezmann scores! In an attack that seemed to come from nowhere.
75'
Ball goes to Messi on the wing whose cross is blocked and possession goes back to Athletic.
74'
De Jong is brought down in a central position and Barcelona have an opportunity to create something.
71'
Barcelona failing to find a rhythm to their attacks so far. They have definitely improved in the second half but still haven't looked much like scoring.
66'
Williams shoots just wide from inside the box as Athletic overwhelm Barcelona's defence.
65'
Athletic have regained some of their first half magic and have Barca on the back-foot!
60'
Barcelona have made a much stronger start to the half and have at least been equal with Athletic on chances created so far.
57'
The goal is ruled out after all! Correct decision as Garcia was a tad offside.
56'
Hold fire on the goal, it could be offside. VAR is checking.
56'
Athletic cross it in from the FK and Raul Garcia heads Athletic in front!
55'
Mingueza fouls Munian and somehow protests the decision. It was a clear cut foul.
54'
Griezmann goes for the shot in a tight angle but ends up lightly chipping the ball into the keeper's arms
52'
Messi goes for goal and puts it just wide from the FK, he almost caught the keeper out!
50'
Messi is body blocked and awarded a FK in a dangerous position outside the box.
49'
Williams picks up a through ball in the box but is flagged offside. Athletic have made a decent start to the second half!
47'
The cross is cleared for a Barca throw which Athletic quickly dispossess.
46'
Messi is manhandled and will cross the FK into the area.
46'
Let's see what the second half has in store for us.
45'
What a strange game of football we are in for tonight! Barcelona scored from their only real chance just for Athletico to equalise a minute later. The Bilbao club have had by far the better night so far, Koeman will need to make changes to change the dynamic of the game.
44'
Athletic keep up the pressure but can only muster another headed miss from a wide cross.
41'
ATHLETIC GOAL! Madness as Athletic score a fantastic goal in response to going behind. De Marcos finshed from inside the area after a nice cross picks him out in space.
40'
BARCELONA GOAL. A scramble in the area leads to several deflections but Griezmann was the one who put it away in the end! The play came from a counter and Barcelona quickly had men in the box threatening.
38'
Athletico respond well and string a quick counter together that ends in a headed attempt going well over under pressure from Lenglets.
36'
Messi goes for the long shot and that would have been spectacular! He was comfortably over in the end but it was a good attempt.
32'
Dest and Dembele link up in an advanced position but Dembele can only manage a cross into Simon's arms under pressure.
31'
If things continue as they are, we may just be in for an Athletic win. They have been by far the better team so far.
28'
Dembele breaks and fires a cross way too far over Griezmann in the middle. The first chance Barca have had in a while didn't come to much...
26'
Athletic have surprisingly dominated the last 15 minutes. Ter Stegen has had to push one over the bar and the danger has still not left the final 3rd.
25'
The cross into the area from the FK is promptly collected by Simon.
24'
Messi steps up to take a FK from a tight angle outside the box.
22'
Athletic have definitely made much better use of their possession so far, Barcelona haven't looked very threatening barring a few runs and plays around the area in the first 10 minutes.
18'
Barcelona are in trouble if they can't find a way to break through this Athletic side. Athletic are slowly gaining more and more control over the game even if they haven't yet had many dangerous attacks.
14'
Messi and Pedri haven't had a look in so far. Athletic have dictated the style of play.
10'
Lenglets booked for clearly taking out Williams who had nobody else left to beat.
9'
Athletic have played admirably in the face of this pressure from Barcelona, hard to separate the two teams at the moment as the two take turns in attacking with great pace.
7'
Barcelona look threatening around the box tonight. Athletic have shown that they are capable of taking the game to Barcelona too, we are in for a good game.
5'
Barcelona's breaking attack is stopped emphatically by Balenziaga's big challenge.
2'
Athletic threaten early on down the right wing with some quick passing and a blocked cross into the centre of the box.
1'
And we are off! Can Athletic pull off an upset?
Prev.
Not long until kick-off now. The players are warming up on the pitch.
Prev.
Barcelona go into the game tonight as favourites having recently hit their stride in the league. Koeman could make this the first of several titles this season.
Prev.
Messi is set to start the game tonight despite missing the latest training session. A boon for Koeman!
Prev.
Athletic: Unai Simón; Capa, Yeray, Íñigo Martínez, Balenziaga; De Marcos, Dani García, Vencedor, Muniain; Raúl García and Williams.
Prev.
Barcelona: Ter Stegen; Dest, Araujo, Lenglet, Jordi Alba; Busquets, De Jong, Pedri; Messi, Dembélé and Griezmann.