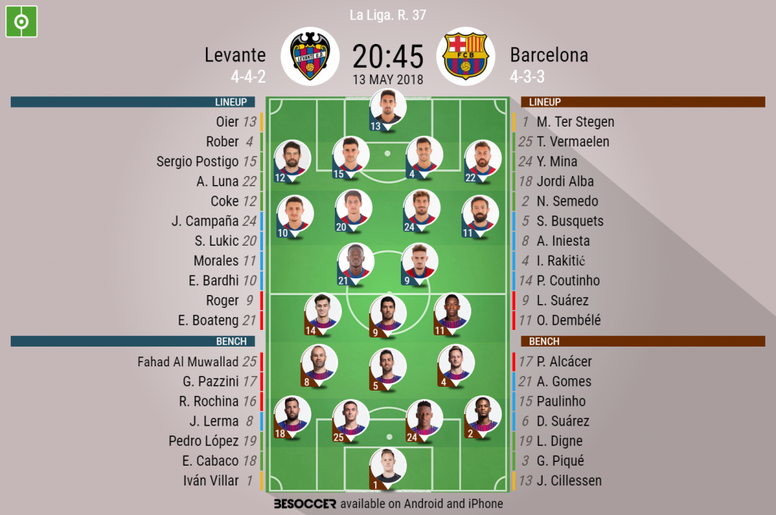 Levante V Barcelona - As it happened.
255'
Thank you for joining us on an historic night! Full report to follow.
93'
One minute... Pique picks up a card. As does Yerry Mina.
91'
There will be FOUR minutes added on.
90'
Rocinha just misses after a shocking back pass sells ter Stegen short! Should have scored.
89'
Tempers flaring now. Denis, the other Suarez, is also in the book for protesting a decision.
88'
Jerma and Luis Suarez clash. They are both into the book.
85'
Morales, arguably Levante's man of the match, has picked up an injury and is replaced by Ruben Rocinha.
84'
Coutinho goes for a fourth but he curls it over.
81'
Morales gets through but his shot is saved by ter Stegen.
79'
Levante have got forward more in the last few minutes, perhaps believing that attack will be the best form of defence.
74'
Suarez heads just over the bar!
71'
GOAL! Suarez scores... One more to go!
70'
Barcelona have a penalty...
64'
GOAL! And now they only need two more... Coutinho has his hat-trick! Another long range effort deflected past the goalkeeper.
60'
Denis Suarez on for Iniesta. Alcacer for Dembele.
59'
GOAL! Countinho pulls one back after some pinball in the box... Half an hour to find another three.
56'
GOAL! It's five! Bardhi!! Barcelona are falling to pieces at the back and they need four to save their season!
54'
An unbelievable start to the second half from Levante - Barca are rocking!
49'
GOAL! 4-1 to Levante! Boateng has his hat-trick! This is unbelievable!
46'
GOAL! Levante have a third! 30 seconds into the half and Bardhi curls home!
46'
And we are back underway!
45'
And that is half time! Levante dominated for 35 minutes before Coutinho pulled one back!
45'
Shouts for a penalty as the ball strikes Pique on the hand in the box. Nothing given...
45'
Shouts for a penalty as the ball strikes Pique on the hand in the box. Nothing given...
42'
Oier saves a vicious shot from Semedo.
38'
GOAL! Coutinho gets one back! His shot from range takes a deflection and the goalkeeper is stranded.
37'
Goalscorer Boateng is into the book.
35'
Barcelona need to find two to preserve their unbeaten record... They have just under an hour to do so!
31'
GOAL! Levante have a second! It's Boateng again afterhe rounds ter Stegen and emphatically smashes home.
29'
Vermaelen is struggling with an injury and it looks as if Gerard Pique will have to come on for him.
27'
Barca are back on top here and controlling possession in the Levante half, but the home side are looking very dangerous when they break with the ball.
22'
The game is a little more settled now. Bardhi has picked up a yellow.
16'
Morales made the goal and now he has won a corner.
13'
Dembele is ruled offside.
11'
And now Levante hit the post! What is going on?!
9'
GOAL! Levante take the lead! Emmanuel Boateng has put the cat amongst the pigeons!
5'
Countinho has had a very bright start and he's just won a foul on the edge of the box. Suarez hits it at the wall.
3'
Corner to Barca after Semedo's cross is cleared. Suarez was lurking. Levante clear.
2'
Barcelona immediately on the attack as Iniesta swings a cross in but it evades everyone.
Prev.
The teams are making their way out onto the pitch now and kickoff is not far away no for the two sides.
Prev.
A few surprises from Ernesto Valverde. Lionel Messi was not in the squad so his exclusion is not one of them but Yerry Mina is given a rare start ahead of Pique, paired with Thomas Vermaelen.
Prev.
Barcelona XI: Ter Stegen, Semedo, Mina, Vermaelen, Jordi Alba, Busquets, Rakitic, Iniesta, Suarez, Dembele, Coutinho
Prev.
Levante XI: Oier, Pier, Roger, Bardhi, Morales, Coke, Postigo, Lukic, Boateng, Luna, Campaña
Prev.
The Catalans will be looking to extend their unbeaten record in the league and they are close to an unprecedented unbeaten season.
Prev.
Good evening and thanks for joining us for live updates of Barcelona's away game at Levante!