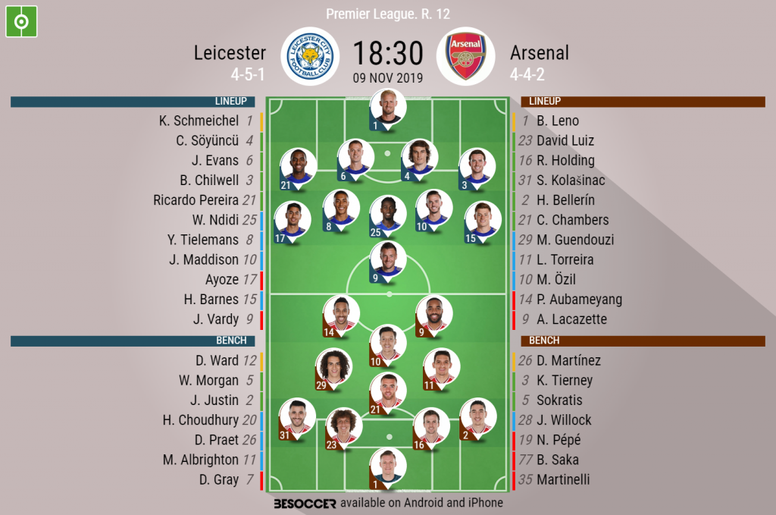 Leicester v Arsenal - as it happened
Leicester City FC

Arsenal

Post.
Thank you for joining us! Make sure to join us tomorrow for the exciting Premier League clash between Liverpool and Manchester City!
93'
FULL TIME! Full Time sees Leicester keep a clean sheet and go up to second in the table, after two second half goals see them beat Unai Emery's struggling Arsenal! A long international fortnight for Arsenal now to ponder where they are going wrong.
87'
Vardy fouled off the ball by Bellerin after he was trying to run into the box and receive the ball. A yellow card for the Spaniard.
85'
Sky have word from Arsenal hierarchy that Unai Emery's job is not under threat, despite being 2-0 down
81'
After 25 away league games, Unai Emery's side have only managed to keep two clean sheets!
79'
Joe Willock replaces Lucas Torreira for Arsenal
79'
Guendouzi clears the second corner away for a third in a row!
78'
Leicester have one corner which is then cleared out straight away for a second!
76'
First Arsenal change, as Holding comes off and is replaced by Pepe
74'
A big statement for Leicester City and a stunning finish from James Maddison, the ball is passed in for Vardy, who knows he can't score from it and so passes it back to Maddison, who confidently volleys it into the back of the net. What a statement goal for Leicester
74'
LEICESTER DOUBLE THEIR LEAD!!!
73'
Free kick for the home side as David Luiz knocks Jamie Vardy!
72'
Leicester make their second change, Harvey Barnes comes off for Praet
71'
Jamie Vardy has another go at goal, but his powerful shot is blocked by the keeper!
68'
A beautiful goal by Leicester, slick one-touch stuff as Tielemans nutmegs Torreira as he passes the ball through to Vardy in the middle of the box, and of course, Vardy does not miss. What a piece of play to put the Foxes ahead, with 20 minutes left to play!
65'
Gray has a shot from long-distance, but the keeper gets to it really well.
61'
Corner for Arsenal, as they are looking strong now
59'
First change for Leicester as Gray comes on for Ayoze Perez!
54'
Aubameyang's goal is disallowed due to being offside and Jonny Evans is awarded a yellow card for an earlier challenge on Ozil. It is VAR checked and offside is given.
52'
The game is opening up a little now, after both teams look threatening. Bellerin aims for the top corner, but cannot get to it and the ball goes wide.
48'
The closest we've come so far!! Ndidi receives the ball from Pereira, but his shot rattles off the bar and is cleared away by Lacazette!!
47'
Due to goal difference, if Leicester can win this, they'll go above Manchester City and Chelsea and into second place
45'
The second half is underway!
45'
No added time in the first half and the referee blows the whistle. No goals at the King Power in the first half, surely this can't be a game that remains goalless? Stay tuned for the second half!
41'
Maddison takes and it was so close! The ball just ripples the roof of the net!!
40'
Torreira fouls Maddison and gives away a free kick in a dangerous area, just outside Leicester's attacking box!
37'
Corner for Arsenal. Schmeichel catches it.
36'
Corner for Leicester. It goes ti Tielemans just outside the box, who tries to volley it into the back of the net, but Ndidi gets a touch to it and it goes wide
35'
Although there has been some dangerous moments at both ends, neither keeper has been over exerted and there has been a lack of goal mouth action
32'
An important touch to deny Jamie Vardy, as Perez passes the ball to him in the box, but Chambers gets the slightest touch to it at the far post and puts Vardy off getting there to score
31'
An ambitious shot from Tielemans from near the centre circle goes well, well over the bar and into the crowd
28'
Threatening play from Leicester as they manage to break through Arsenal's compact midfield and have a bit of clinical, good play in their attacking box, but a good save from the keeper and some good defending means they aren't able to take advantage of this
25'
Ayoze Perez has a shot from outside the box, as Arsenal's back three get themselves in a bit of a tangle, but Perez's shot goes well over the bar
18'
Lacazette has a few shots after Arsenal manage to pressure the home side a little, but his shots are not powerful at all and so Schmeichel is not tested.
16'
Tielemans tries to cross the ball into the box from the right hand side, but Chambers quickly sees this and manages to get the ball away from the danger zone!
12'
Lacazette's ball is just curled wall after a weeping move forward from Arsenal, as Aubameyang gets in the way and it stops Lacazette from making a clean shot
9'
Soyuncu goes down in the box after a free kick is crossed in for him and it was VAR checked for a penalty, but it is denied.
7'
Corner for the Foxes. It is hit straight to the goal line and the keeper catches it easily
6'
Clever interplay by Arsenal, as Lacazette just crosses the ball in for Ozil, who knew where Lacazette was and left the ball for him as he knew he couldn't do much if he touched it. Ozil has a shot from the cross, but it hits the side netting.
4'
Tielemans crosses the ball into the bpx for Vardy, whose shot is fired straight at Leno
4'
Leicester seem to have more possession at the start of this game, although no real chances have been created by either side yet.
Prev.
The home side get us underway!
Prev.
There is also a minute's silence in the game as Remembrance day draws closer!
Prev.
Unai Emery said he changed the formation of his team because he is imposing new ideas in the team. He says it is a very important match for them and they want to get confidence and show that their quality
Prev.
Brendan Rodgers says that there is no easy game in the Premier League and that he has a lot of respect for Arsenal. He says his team have to show their quality and defend well
Prev.
Leicester have won 8 of their last 11 home, Premier League games, including their last four in a row! Can they make it five today?
Prev.
Six points separate these two sides, but there is a lot of difference between the two. Jamie Vardy is the Premier League's top goalscorer and has eight goals in eight games against Arsenal. This will also be Unai Emery's 50th Premier League in charge - none of his previous 49 have ended goalless
Prev.
Arsenal have only won two of the last nine games, so the pressure is building on their manager.
Prev.
The Foxes name an unchanged starting XI for the third successive Premier League game! Mesut Ozil is named in Unai Emery's starting XI after he was hardly considered at the start of the season, Lacazette and Aubameyang are the main men in attack and Hector Bellerin starts for the Gunners!
Prev.
Arsenal: Leno (GK); David Luiz, Holding, Kolasinac, Bellerin; Chambers, Guendouzi, Torreira; Ozil, Aubameyang, Lacazette
Prev.
Leicester: Schmeichel (GK); Soyuncu, Evans, Chilwell, Ricardo Pereira; Ndidi, Tielemans, Maddison, Ayoze; Barnes, Vardy
Prev.
The line-ups are as follows:
Prev.
Join us for live coverage of the Premier League game between Leicester City and Arsenal at the King Power Stadium. Leicester are doing this well this season and will be looking for a win to continue being in the top four. Unai Emery's side are struggling and need to turn around their situation.