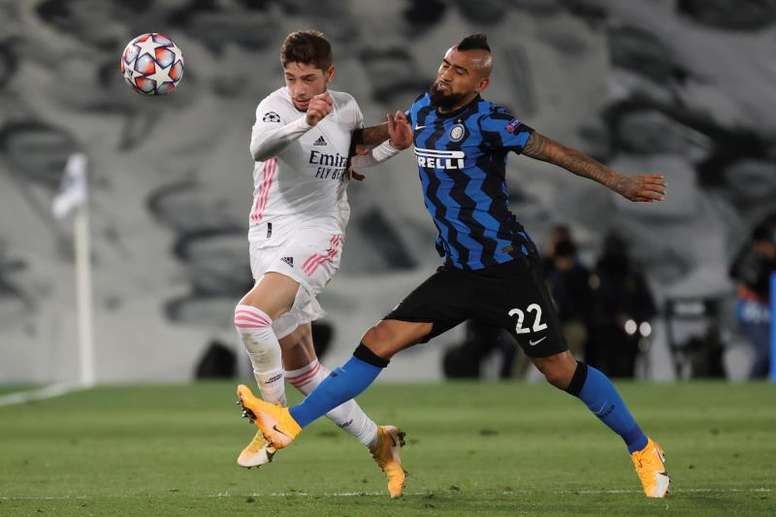 Inter v Real Madrid - as it happened
Inter

Real Madrid

Post.
Gladbach are on 8pts, RM on 7, Shakhtar on 4 and Inter are in real trouble as they have just 2. They need a minor miracle to make the last 16 now. Thanks very much for joining us and see you again soon!
Post.
FT: Inter Milan (10) 0-2 Real Madrid! All over in Milan and it was no contest really. RM got an early penalty which Hazard converted and then Arturo Vidal was sent off after 34 minutes for protesting as he wanted a penalty kick and despite a good start to the second half for Conte's men, Rodrygo's goal seconds after coming on killed the contest. Inter never really looked like scoring and RM were deserved victors.
92'
Vinicius sprints towards the halfway line and looks to make a move towards goal when the ref blows for full-time!
92'
RM keep the ball for a minute and then Eriksen gets a free-kick for the hosts.
90'
Vinicius sees his pass blocked and an Inter counter comes to nothing.
87'
Inter haven't turned up tonight.
86'
Inter sub: Eriksen on for Lukaku.
86'
Sensi is booked for a late foul on Casemiro.
82'
Perisic!!! Nice play by Inter sees the Croatian shoot at goal and force Courtois into a fine save.
82'
Carvajal works his down the near flank and gets into the area and then his pass is intercepted by Young.
79'
Vinicius tries to do a Rodrygo and score seconds after coming on, but he's unable to find the target.
78'
Inter sub: Sensi takes Gagliardini's place.
78'
RM sub: Vinicius on, Hazard off.
76'
Another Inter attack ends up coming to nothing. Apart from 15 good minutes at the start of the 2nd half, they've done practically nothing.
73'
Barella makes a poor challenges on Vazquez and ends up injuring himself. It was knee on knee. The Inter player is up now though.
71'
Perisic!! He goes for a curling shot, but it goes narrowly wide of the far post!!
70'
Hazard!!!! The Belgian has a go from 25 yards which goes wide of the goal.
69'
The free-kick finds Vazquez at the back stick and he volleys into the sidenetting.
68'
A poor challenge on Hazard now sees the visitors get a free-kick just outside the area.
66'
A ball into the box is very easy for Courtois, who jumps and catches.
64'
Inter sub: Alexis Sanchez on for Achraf.
63'
Free-kick to Inter after Vazquez fouls Barrella.
60'
The 10 men had started the half well, but it's very difficult for them now.
59'
Rodrygo scores!!! That's what you an instact impact!! The corner is taken short to Vazquez, he crosses for the Brazilian at the back stick who volleys home seconds after coming on! 0-2.
58'
RM double sub: Odegaard is replaced by Casemiro and Rodrygo is on for Mariano.
57'
Free-kick to RM after a foul.
56'
A cross by Inter is only batted away by Courtois and the RM defence manage to get it away finally.
55'
Mendy is penalised for a handball.
54'
Inter are looking more dangerous here and RM need to wake up.
52'
Penalty shout for Inter!!! Young's free-kick goes into the box, Gagliardini goes down after a shirt pull by Vazquez and play continues. The RM man took a chance there.
50'
Kroos tries to score straight from a corner while the GK isn't ready, but it's off target.
49'
RM having some possession here in Inter's half and Mendy wins a corner for the visitors.
47'
RM attack, they lose the ball, Lukaku then goes down the far side and Nacho slides in to clear.
46'
Mariano has a pop from distance which is easy for Handanovic.
46'
Inter Milan get us going again!!
46'
Inter double sub: D'Ambrossio and Perisic on for Bastoni and Lautaro.
45'
HT: Inter (10) 0-1 Real Madrid!! Half-time in Milan and RM have been comfortable. RM scored through Hazard after a highly controversial penalty award and were very comfortable in the first 45. Arturo Vidal was then sent off for two yellows after 34 minutes for shouting in the ref's face when he felt he was fouled in the box. VAR was checking, but Vidal had too much to say. Back for more in a bit!
45'
A nice move by RM involving Odegaard and Modric sees the Croatian's low shot go wide of the goal.
45'
The corner is dealt with by the Inter defence.
45'
Carvajal gets the corner off De Vrij as two minutes are added.
44'
Mendy has the ball on this near side, Achraf plays the ball off Mendy and Conte's side get the throw.
42'
RM are in complete control here now. Vidal's dismissal has given Inter an uphill task.
39'
Apart from Graham Scott sending Morata of Chelsea off v Norwich, I've never seen an English ref gives simultaneous yellows, but he was right in his face.
36'
Another foul by Inter this time by Hakimi. Inter are very frustrated. I think they have a point on the RM penalty, but the ref got this one spot on.
35'
That is crazy by Arturo Vidal. VAR was checking the penalty, the ref was right and the Chilean was shouting and shouting at the official while it was being checked.
34'
Vidal keeps on shouting and Taylor gives him a second yellow for shouting at Taylor!!! What a stupid thing to do!! Varane wins the ball so it's not a penalty and the VAR was checking. Absolute madness by the Chilean.
33'
Vidal si screaming at Anthony Taylor and is booked for his protests. VAR is checking so there's no need to argue.
33'
Arturo Vidal goes down screaming for a penalty nothing is given!!
31'
Kroos goes for an ambitious effort from long range which doesn't trouble the GK.
30'
RM taking charge again here.
28'
Hazard!!! The Belgian is passed the ball and his 20 yard effort is well saved by Handanovic. Nacho heads from the corner, but it's simple for the goalie.
27'
RM threaten down Inter's left again. Hazard plays in Vazquez and he gets the corner off the defender.
26'
Lukaku goes for a goal and it flies a distance over the crossbar.
24'
Inter picking up now and Vazquez fouls Vidal just outside the area.
23'
The set piece is played short and then Lautaro is unable to connect with the ball into then area.
22'
Free-kick to Inter 30 yards from goal after a foul from behind by Varane on Lautaro.
21'
Inter attack, Hakimi lays the ball off to Vidal just outside the area and the Chilean hits it into the top tier.
19'
Gagliardini is bookled for a clear tug of Modric's shirt.
17'
Mendy!!!! RM, after a very long possession, win the ball back off Inter, Mendy is in the area and he can shoot, but he istead plays a terribly overhit pass and the chance goes abegging.
14'
Vital clearance by Skriniar from Vazquez's pass and then Mariano heads at Handanovic. Zidane's men much better so far.
12'
Off the post by Lucas Vazquez!!! The Real Madrid man hits it from just outside the area, Handanovic is rooted to the spot and the ball strikes the keeper's right hand post!
12'
Barella's ball into the area deflects off Kroos and the deflection is kind for Courtois.
10'
Inter having some possession now, but RM are keeping them out.
8'
That's a big blow for Inter early on.
7'
I think the ref thinks that Barella made some contact on Nacho's leg which made Nacho miss his kick, but it looked to me as if he just missed his kick...
6'
Hazard scores for RM!!! He hits the ball to the keeper's left and Handanovic doesn't reach it despite going the right way.
5'
Penalty to RM!! Long possession by RM here in Inter's half and Nacho is felled in the box. Odegaard played in a lovely pass by Odegaard and Barella claims that Nacho kicked his own foot.
2'
The corner is initially half-cleared, the second ball back in is as well and then Achraf's cross beats everyone for a goal kick.
2'
Inter have the ball down the far side through Lautaro and he wins a corner off Varane.
1'
RM get us going from right to left in white! Inter in blue and black.
Prev.
Minute's silence for Maradona first.
Prev.
The players come out here in Milan!
Prev.
Inter definitely need to win this and RM would definitely like to although a draw may not be too bad for them.
Prev.
This is a huge game for both. Gladbach are thrashing Shakhtar 4-0 in an early kick off and will be top on 8 points, Shakhtar and RM are both on 4 points (this is RM's game in hand) while the Italians have 2 points.
Prev.
Anthony Taylor is the referee for this one while Stuart Attwell is the VAR.
Prev.
6 degrees and dry in Milan this evening.
Prev.
Inter make three changes from the 4-2 win over Torino on Sunday. Skriniar and De Vrij come in for D'Ambrossio and Rannochia in defence while Lautaro Martinez replaces Alexis Sanchez up top.
Prev.
Real Madrid beat Inter 3-2 with a late Rodrygo goal when the two sides met in the Spanish capital three weeks ago.
Prev.
Madrid are unchanged from the 1-1 draw with Villarreal at the weekend.
Prev.
RM XI: Courtois (GK); Mendy, Nacho, Varane, Carvajal; Kroos, Modric; Hazard, Odegaard, L Vazquez; Mariano.
Prev.
Inter XI: Handanovic (GK); Bastoni, de Vrij, Skriniar; Young, Vidal, Gagliardini, Barella, Hakimi; Lautaro Martinez and Lukaku.
Prev.
Hello and welcome to live coverage of the Champions League game between Inter and Real Madrid!