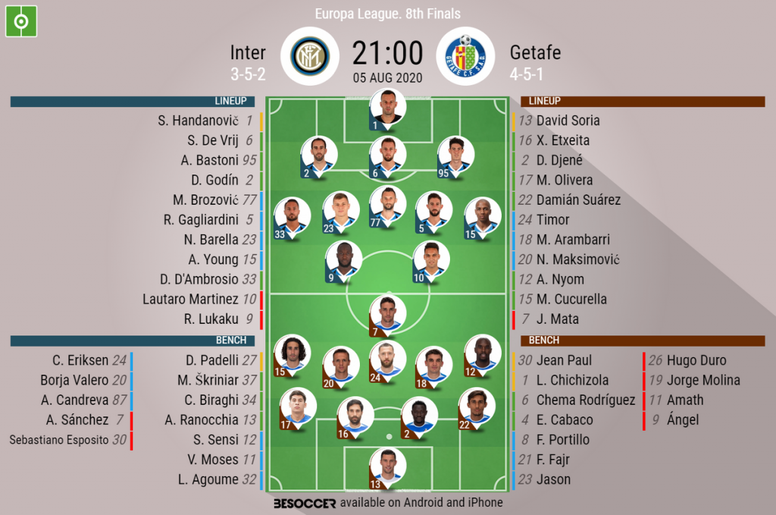 Inter v Getafe - as it happened
96'
FT: Inter 2-0 Getafe!! All over in Gelsenkirchen. Getafe started well in the first 20-25 minutes, but didn't score, Lukaku then gave Inter the lead after 33 minutes and were the better team from then on. Getafe got a VAR penalty 15 minutes from time, but Jorge Molina hit it wide and then when Eriksen made it 2-0, the game was done. Inter go to the QFs while Getafe are out. Thanks for joining us and see you again soon!
96'
Getafe send the ball into the box, Angel heads wide of the goal and it's full time!!
94'
Getafe are trying to get a consolation, but they are not even testing Handanovic.
92'
Timor hits it and it goes past the far post.
92'
Getafe win a free-kick after Jason is fouled by Barella.
90'
Damian Suarez is penalised for a foul and a yellow card comes out.
89'
Alexis goes for a chip on the counter, but it goes well wide.
89'
Getafe double sub: Portillo and Duro on for Olivera and Arambarri.
87'
Inter are comfortable here now and Getafe know this is done and dusted.
83'
Eriksen scores a minute after coming on!! Eriksen gets the ball, he finds D'Ambrosio to his right, Djene doesn't clear the square pass and Eriksen fires home the loose ball. No chance for Getafe now.
82'
Inter sub: Eriksen on for Brozovic.
81'
Angel goes for an overhead kick and it flies wide.
80'
Young sends a cross into the box and it's caught by Soria.
78'
How did Inter miss that? Etxeita is beaten all ends up by Barella, he gives it to Lukaku and he cue ends it!
75'
Molina to take. If he beats Handanovic, we are heading for ET. Molina goes slowly Pogba style and he hits it wide of the goal!
74'
He's going himself and it should be given.
73'
Stuart Attwell is looking at it. In England, it probablt wouldn't be given, but with European rules, it will be given.
72'
VAR are checking a possible penalty for handball by Godin. It could be a penalty to Getafe,
72'
A nice Getafe move sees Timor volley wide of the goal.
70'
Inter sub: Sanchez on for Lautaro.
68'
Getafe double sub: Nyom and Mata off, Jason and Molina on.
66'
What a save by Handanovic!!! A cross into the area by Nyom finds Mata, he heads and Handanovic has to tip it over.
65'
Getafe threaten again, Angel runs, De Vrij slides in, the ball breaks to Arambarri who fires over!
64'
Chance for Getafe!!! Angel makes a good move, but the finish is disappointing and wide of the post.
63'
An Inter ball is sent in and it goes behind for a goal kick.
60'
Etxeita can't cope with Lukaku and the Belgian wins a free-kick just to the right of the box.
59'
Getafe need a goal to take us to extra-time, but it hasn't looked like coming so far.
56'
Getafe sub: Angel on for Maksimovic.
54'
Lukaku is down after a nasty landing.
53'
Timor sends in a free-kick for Getafe and Inter finally clear it.
49'
And again!!! D'Ambrosio goes for an overhead kick and then Mata stops Godin scoring at the back post.
48'
Barella hits one and it goes wide!
47'
Lautaro goes down after lovely play, but no foul is given! Maksimovic is back up. Looked a clear foul.
46'
Maksimovic gets hit in the face with the ball from close distance and is down. D'Ambrosio hit him (accidentally).
46'
Getafe get us going again!
45'
HT: Inter 1-0 Getafe!! Half-time in Gelsenkirchen! Getafe started the better and Maksimovic and Mata could have scored early on. Inter picked up after 20 minutes and Lukaku scored after 33 minutes for the Serie A outfit. They've been the better side since then. Back for more in a bit!
45'
Timor goes down after being caught in the face by Lukaku, but replays show contact was minimal. Ridiculous playacting again, this time by Getafe.
45'
One added minute and Getafe have a free-kick on the far side.
45'
Lukaku is penalised for a foul.
42'
Barella goes down after a foul by Timor and Conte and the Inter players are shouting for a yellow. Just a foul for me. No need for all the imaginary card waving and playacting...
40'
Getafe win a corner now. Timor's corner goes into the box and the ball beats everyone.
36'
The goal was sort of coming as Inter had picked up in the last 10 minutes.
33'
Inter Milan score!!! Lukaku!!! A long punt forward by Bastoni finds Lukaku on the edge of the box, he gets past Etxeita and then hits it into Soria's far corner!
31'
Free-kick for Getafe and Inter head it away.
28'
Inter again! Brozovic's free-kick finds D'Ambrosio at the back stick, but his shot is easily stopped by Soria.
27'
Lautaro again!!! Lukaku combines with Lautaro and Soria saves the effort from just outside the D.
25'
What a stop by Soria!!! Lautaro attacks for Inter with a 20 yard run after an error by Timor and his shot across the goalie is well saved!
22'
Cucurella is penalised for a handball after it looks he's fouled first.
18'
Mata!!!! What an opportunity! Getafe counter, Cucurella sends the ball in from this near side, Mata's strike is deflected by Bastoni into the air and Handanovic easily catches.
18'
Soria comes out of his goal to clear a long punt forward.
16'
Little to report in the last few minutes. Things have calmed down a bit after a fast Getafe start.
13'
Timid shouts for handball in the Getafe box by the Inter players, but Anthony Taylor isn't interested.
12'
Nyom is penalised for a foul on Gagliardini. Free-kick to Inter deep in their own half.
10'
The corner is taken short and then the ball goes into the box, Inter don't deal with it and Etxeita could have scored from close range. Another corner.
9'
Getafe win a corner on the far side.
7'
Damian fouls Lautaro and it's a free-kick for Inter just inside their own half.
7'
Cucurella heads Nyom's cross wide! Getafe are getting joy down that far side.
4'
Getafe have made a really bright start here. Inter still don't look ready.
2'
Handanovic!!!!!! What a save! Damian plays a one-two with Nyom, Maksimovic heads Damian's cross towards goal and the GK makes a top save!
1'
Dangerous move for Getafe! Arambarri wins the ball, Nyom then sends a cross into the box which Mata so nearly reaches!
1'
Inter get us going from left to right in their usual kit! Getafe in yellow.
Prev.
Handanovic and Djene go to the middle for the toss and we will have a minute's silence first.
Prev.
The players are out here!
Prev.
Jason and Angel drop out from the Levante match. Etxeita and Nyom come in.
Prev.
Getafe, on the other hand, haven't played since 19th July. They lost 1-0 at Levante and had 4 goals disallowed (3 by VAR) and missed a penalty. The loss means they will not play in the Europa League next season. They will play in the Champions League though if they win this competition.
Prev.
Inter last played on Saturday in a 0-2 win at Atalanta and they are unchanged from that fixture. Inter finished 2nd and will be in the Champions League next term.
Prev.
28 degrees in Gelsenkirchen.
Prev.
We'll have extra time and penalties here if needed.
Prev.
Anthony Taylor is the referee for this one while Stuart Attwell is the VAR.
Prev.
This Europa League last 16 match is a one off tie in Germany (Gelsenkirchen) as the first leg of this one was unable to be played before the coronavirus stoppage.
Prev.
Getafe XI: Soria (GK); Olivera, Etxeita, Djene, Damian Suarez; Cucurella, Maksimovic, Timor, Arambarri, Nyom; Mata.
Prev.
Inter XI: Handanovic (GK); Bastoni, De Vrij, Godin; Young, Gagliardini, Brozovic, Barella, D'Ambrosio; Martinez and Lukaku.
Prev.
Hello and welcome to our live coverage of the Europa League clash between Inter and Getafe from Gelsenkirchen in Germany!