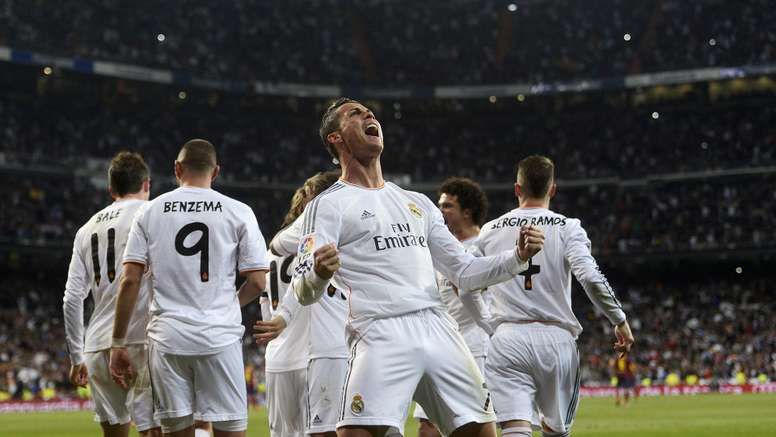 'Gods among men' - Twitter reacts to Cristiano Ronaldo's fourth Ballon d'Or
It's official: Real Madrid star Cristiano Ronaldo has been crowned the latest winner of France Football's prestigious Ballon d'Or title for the fourth time in his career.
There was little doubt over who would be crowned in 2016, a year in which the star led Real Madrid to their 11th Champions League title and also won Euro 2016 with Portugal.
But inevitably, the decision sparked a vibrant debate on Twitter, with social media users flocking to pass judgement on the new Ballon d'Or holder.
One of Ronaldo or Messi would have like 9 Ballon D'or if it weren't for the other. Both gods amongst men.
— BC (@Spursesque) 12 de diciembre de 2016
What a day! Arsenal to face Bayern in the UCL .. Pogba brothers to meet in the Europa and Ronaldo wins Ballon d'Or...
— Seyi Daniels (@iam_seyidaniels) 12 de diciembre de 2016
Congratulations to Cristiano Ronaldo on winning the Ballon d'or.
Well deserved https://t.co/WfYivPMZ1n
— Leo Messi (@messi10stats) 12 de diciembre de 2016
Messi when Ronaldo won Ballon d'Or pic.twitter.com/YQDkWfi1gB
— Frau Neuer (@dijigartal) 12 de diciembre de 2016
Messi has been robbed, since when was the Ballon d'or a team award?
— Sam Randall (@SamRandyRandall) 12 de diciembre de 2016
Wins 3 trophies, scores 55 goals and 17 assists and people still say Ronaldo doesn't deserve the Ballon D'or
— Ryan (@RyanMcN97) 12 de diciembre de 2016
If anyone deserved to win the Ballon d'Or it's Victor Moses neither Messi not Ronaldo
— Foreverblue (@ForeverBlue_07) 12 de diciembre de 2016
Ronaldo winning the 4th ballon d'or is so good in the sense that it separates him from the league from players who have won it thrice.
— Saurav (@ree_casolina) 12 de diciembre de 2016
This season Cristiano Ronaldo has been terrible, wasn't great at the start of the year either. Fact he won Ballon D'or is a disgrace
— jit 910 (@jit_316) 12 de diciembre de 2016
Poor oul Suarez will have to score 200 goals in a season and Ronaldo to break his leg and he might have a chance to win, disgrace
—(@DylanE5555) December 12, 2016
Imagine playing awful for the last 6 months, an awful euros performance wise... And still winning player of year? Ronaldo shouldn't have won
— Percival Graves (@jxmielannister) 12 de diciembre de 2016