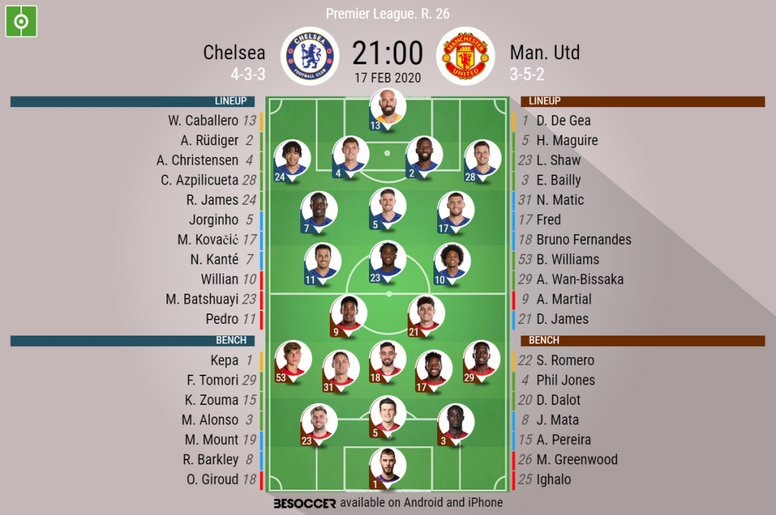 Chelsea v Man Utd - as it happened
Chelsea FC

Manchester United FC

96'
FT: Chelsea 0-2 Man Utd!! All over at Stamford Bridge! Martial and Maguire got the goals for the away side. Chelsea had their chances, but Zouma and Giroud had goals taken away by the VAR at 0-1 and 0-2 respectively. A huge three points for the away side while the fight for 4th and 5th remains tight. That's all from us, thanks for your company and see you again soon!
96'
Mount hooks his shot wide and Man Utd beat Chelsea for the third time this season!
95'
Ighalo is penalised for a foul.
93'
What a save by Caballero to deny Ighalo!! Almost the dream debut.
92'
Man Utd sub: Bruno Fernandes is replaced by Dalot.
91'
Man Utd sub: Ighalo comes on for Martial. Ighalo is the first Nigerian to play for Man Utd.
89'
Mason's free-kick hits the post and De Gea has hurt his shoulder after colliding into the post.
89'
Ighalo's ready to come on!
88'
Fernandes is penalised for a high boot. Chelsea have a free-kick from just outside the box.
88'
Pinball in the United box, but United get it away.
85'
Giroud is penalised for a foul.
83'
Pedro is down getting treatment.
82'
Corner for Chelsea. Pinball in the box and then the move ends with Azpilicueta's scuffed shot being caught by De Gea.
80'
Man Utd sub: James is subbed off and Pereira comes on.
79'
Wan Bissaka is carded after a foul and tensions are running high here. He argues with Azpilicueta. Chelsea upset by the VAR decision.
78'
However, Giroud's foot is offside and the goal is taken away by the VAR!! This is not an armpit, it's quite clear. Still 0-2. VAR has disallowed two Chelsea goals tonight.
77'
Giroud scores for Chelsea!!! Mount's cross from this near side is headed home by Giroud!!
75'
Williams is cautioned for pulling back Willian.
75'
United win a corner, but nothing comes of it.
73'
What a pass by Giroud! He backheels it to Kovacic inside the box and as he pulls the trigger, Bailly slides in to make a great block.
72'
James' ball in beats everyone.
71'
Free-kick to Chelsea on the far side.
70'
Maguire again wins the header from a free-kick and Azpilcueta has to knock away for a corner.
68'
Chelsea sub: Giroud on for Batshuayi.
67'
Chelsea were doing well up until the disallowed goal, but then United were lifted by the VAR intervention and were looking very dangerous.
66'
It's in again!!! What a header by Maguire!!! Fernandes' corner finds Maguire at the back stick and his powerful header beats Caballero who is unsighted. How a game can change after a VAR decision!
65'
This second half is lively. United have been lifted by the disallowed goal and are the stronger side now.
64'
Off the post by Fernandes!!! That was a brilliant free-kick!! The Portuguese's curling free-kick strikes the base of Caballero's left hand post.
63'
Free-kick to Man Utd right on the edge of the box. Pedro clearly pulls back Fred. If it carries on into the box, it's a penalty, but I think Pedro just stops in the nick of time. Pedro is booked.
62'
Another replay of the foul. Azpilicueta pushes Williams with both hands. Fred may have pushed Azpilicueta a bit beforehand, but it looked a lot less.
60'
Corner for Chelsea which Man Utd clear.
58'
It's all kicking off! Zouma goes in hard on Martial, he gets the ball, but he then gets the ball. Players run in from both sides and Fred pushes Azpilicueta. Zouma and Fred see yellow.
56'
The VAR takes it away!!! Azpilicueta clearly pushes Williams to the floor and that allows Zouma to score. The Chelsea fans aren't happy, but that was a quick and simple decision. Clear foul.
56'
Zouma scores for Chelsea!!! Zouma scores after hitting home from a corner. Man Utd protest.
55'
What defence by Wan-Bissaka!!! Pedro does most of the work, a one-two is played by Pedro and then Wan-Bissaka makes a vital block to save the goal.
54'
Great save by De Gea to deny Mount, but play had already been blown dead as Batshayi handled in the build up.
53'
Still 0-1 here. Chelsea with more of the ball, but United are keeping them out of the box.
50'
Willian sends in a cross from this near side, but there's no one there. He immediately raises his hand to apologise.
47'
Rudiger is carded for bringing down Fernandes near the halfway line. He knew what he was doing.
46'
Back underway! Chelsea kicked us off.
45'
Welcome back!! Chelsea HT sub: Zouma replaces Christensen, who took a blow to the nose in the first half.
45'
HT: Chelsea 0-1 Man Utd! Half-time at Stamford Bridge!! A fairly even and exciting first half looked like it was going to be goalless at the break until Martial brilliantly headed home Wan-Bissaka's cross in the 45th minute to give Solskjaer's men the lead. Will Chelsea respond? Join us for more in a bit!
45'
Batshuayi!!!! Chance for the home side! Pedro and Batshuayi involved this time, the Spaniard passes to the Belgian, but his shot across De Gea is poor. It goes well wide.
45'
I would say Chelsea have edged this first half although there hasn't been much in it. A draw would definitely be fair.
45'
Three added minutes and United scored with the first shot on target of the match.
45'
It's in!!! What a goal by Martial!!! Wan-Bissaka plays a one-two with Fred, and turns past Willian before sending a fabulous cross to Martial who heads the ball into the far corner. Martial beat Christensen to the header. Superb goal.
43'
Christensen is getting treatment after getting caught in the face by Martial. The ref gave the foul, but the United man could have been booked. Christensen is bleeding from the nose.
42'
Willian is stretching a bit after picking up a knock a few minutes ago.
41'
Great play involving five Chelsea players and then Mount's pass is intercepted by Wan-Bissaka's heel.
38'
Luke Shaw fires wide! Not sure what he was trying there. A cross to nobody.
36'
Martial combines with Bruno Fernandes and then the Frenchman hits wide.
35'
Willian goes down inside the box, but he's booked for simulation. It looks a clear foul by Bruno Fernandes, but as it's outside the box, the VAR can't intervene. Willian very unfortunate.
35'
Corner for Chelsea as Azpilicueta picks up the loose ball after a good run by Kovacic.
33'
Kovacic gets a corner for the hosts. Harry Maguire wins the ball in.
32'
Four shots for each team up to now, none on target.
31'
Bruno Fernandes goes for a goal from 25 yards! It's rather ambitious and it flies wide.
31'
That was dangerous!! Quality play between James and Williams sees an opponent have to knock it away for a corner kick.
30'
A cross by Azpilicueta goes into the box, but Willian can't direct it goalwards. United then try and counter. It doesn't get far though.
27'
Corner for the United, their third.
26'
What a chance!!! Pedro passes to Mount in the box, he gives it to Batshuayi who hits it first time and wide of the goal! He should've hit the target.
23'
Batshuayi!!!! Willian's deflected pass is almost flicked in by Batshuayi from close range! Chelsea then commit a foul on the counter.
22'
Chelsea corner after Rudiger's ball in is headed behind by Maguire.
21'
Maguire catches Batshuayi after sliding to clear near the touchline. Maguire clears and then raises his foot and catches the Chelsea man in an uncomfortable area. A stupid thing to do, but not enough in it for it to be violent conduct.
20'
Pedro goes down near the Man Utd box wanting a free-kick. Anthony Taylor not interested though.
17'
Chelsea threatening again after Pedro gets past Wan-Bissaka. That was poor by the ex-Palace man. A United player intercepted Pedro's pass though.
16'
Batshuayi slips as he tries to get on the end of Jorginho's pass near the byline. That leads to the ball going out of play and the United fans cheering his misfortune.
15'
United attack again through James on the far side, but his cross into the box is unable to find Martial.
13'
Chelsea sub: Mount on for Kante.
12'
Fred!!! Fred and Fernandes combine brilliantly and then Fred's shot is deflected off Rudiger for a corner.
11'
Kante can't continue and he leaves the park. Mount isn't ready so Chelsea are temporarily with 10. He should have his kit on underneath his tracksuit really.
10'
Kante is down injured here. His left knee seems to be the problem.
9'
This game is incredibly open. Chelsea looking the better and I can't see 0-0 lasting long here.
8'
Another fantastic run by Kovacic into United territory, he's fouled, the ref plays advantage and the ball goes to Willian who fires wide.
8'
Chelsea counter again dangerously, but Willian's pass to Batshuayi is poor.
7'
Corner for the away side.
6'
Chance for R James!!! Kovacic makes a fantastic run, he plays a one-two with Azpilicueta before sending a cross to James at the back post whose shot across goal goes wide.
4'
There's a very fast tempo to this one so far and Chelsea are closing United down at every opportunity.
3'
Bailly has his first touch of the ball in his own half and Pedro dispossesses him. Nothing comes of it though.
1'
A ball sent is sent for James near the Chelsea area, but it's intercepted.
1'
Man Utd get us underway from left to right! Both teams in their usual kits.
Prev.
The players are out here and there is a lights show!
Prev.
The players are in the tunnel here at Stamford Bridge as Parklife rings out around the stadium.
Prev.
Both teams come into this winless in their last 3 league games and with just one victory in their last 5.
Prev.
Man Utd won 1-2 here back in October in the Carabao Cup, but they haven't got Rashford who scored both of the goals that night.
Prev.
8 degrees and dry in West London this evening.
Prev.
It will be Bailly's first appearance since April 2019 which was also against Chelsea.
Prev.
Lindelof is out ill while Pereira and Mata also drop out from the Wolves match. Bailly, Matic and Williams come into the side. Ighalo is on the bench.
Prev.
Caballero remains in goal for Chelsea and they make three changes from the Leicester match. Abraham has not fully recovered from an ankle injury so he does not make the 18. Kovacic is preferred to Mount in midfield while Batshuayi and Willian start. Hudson-Odoi (hamstring) is also out this evening.
Prev.
Chelsea drew 2-2 at Leicester last time out while Man Utd drew 0-0 with Wolves.
Prev.
Man Utd were comfortable 4-0 winners when the two sides met on the opening weekend of the season. Rashford (2), Martial and James were the goalscorers.
Prev.
4th v 9th. 41pts v 35pts.
Prev.
Anthony Taylor is the referee while Chris Kavanagh is the VAR.
Prev.
Man Utd XI: De Gea (GK); Shaw, Maguire, Bailly; Williams, Matic, Fernandes, Fred, Wan-Bissaka; Martial and James.
Prev.
Chelsea XI: Caballero (GK); Azpilicueta, Rudiger, Christensen, James; Kovacic, Jorginho, Kante; Willian, Batshuayi and Pedro.
Prev.
Good evening and welcome to live coverage of the Premier League clash between Chelsea and Man Utd from Stamford Bridge!